Dhulikhel, a beautiful Nepalese town waiting to be discovered, is located deep in the Himalayan foothills. Dhulikhel is located away from the hustle and bustle of the city, offers a diverse range of unique attractions and activities that will satisfy any visitor. Let us become more acquainted with Dhulikhel's hidden treasures: Namobuddha, a Zipline Adventure, Hajar Sidi, and the Devisthan Pick nick spot.
Namobuddha
Namobuddha is a holy hilltop that is associated with spirituality and Buddhist history. The old monastery on this site provides not just a breathtaking view of the surrounding valley, but also a deep immersion in Nepal's rich spiritual heritage.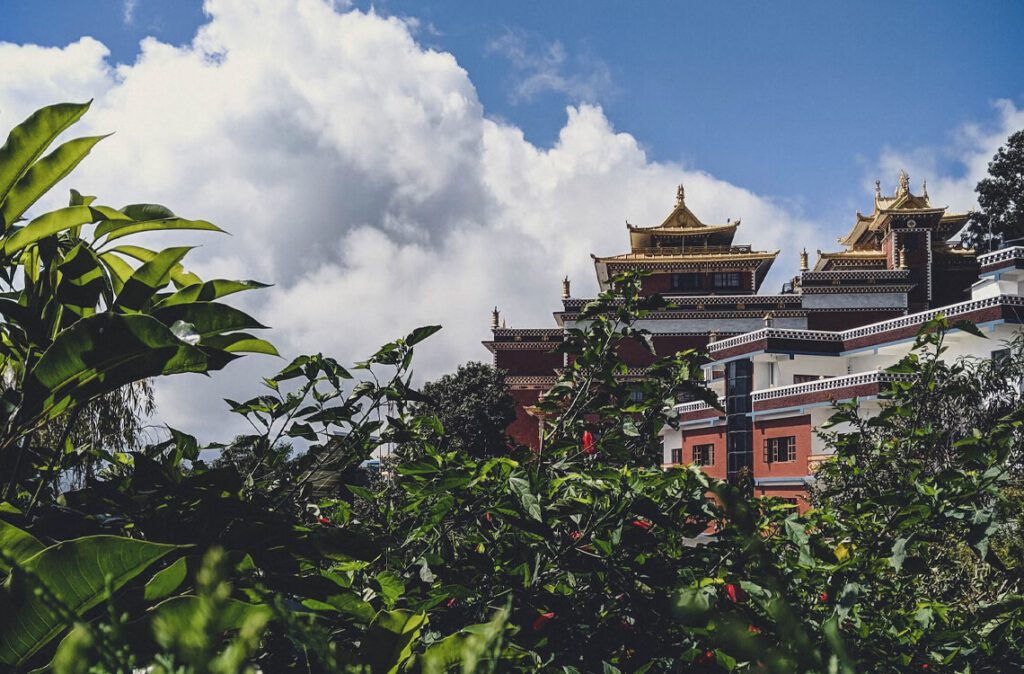 The Namobudhha tale tells the inspiring story of Lord Buddha's noble death, who gave his life to a starved tiger. This makes Namobuddha not just a spiritual highlight, but also a place of meaning. The prayer flags wave in the breeze while the prayer wheels offer their blessing to the people passing by.
Hajar Sidi: A Journey Through The History
Hajar Sidi, which translates as "thousand steps," is a historical stair that leads to a former Newar village. While climbing these ancient steps, you are surrounded by the architecture and culture of the past. Every step appears to be telling a story, offering an insight into the past.
Also Read: Sanga – Major Attraction Near Kathmandu
When you arrive, you are welcomed by a panoramic view of the valley and the majestic mountains in the distance. Hajar Sidi is more than just a stair, it is a time machine that transports you back to a time when craftsmanship and tradition were valued highly.
The Zipline Adventure
Dhulikhel's zipline experience is an adrenaline rush across the wilderness. From the trailhead, it will feel like a world of freedom, surrounded by wooded slopes and mountain streams. The wind is in your hair as you fly through the air at high speed.
What makes this experience so unique is the panoramic view of the valleys and the Himalayan peaks. It's not just a fun activity, but it is also an eye-opening way to appreciate Nepal's natural beauty from a different perspective.
Devisthan Picknick Area
Devisthan can be found in the heart of Dhulikhel and is surrounded by rich and green vegetation and creeks. Here you can get away from all the activity of city life and enjoy a relaxing afternoon in the arms of nature.
With a picnic basket full of delicious snacks, you may immerse yourself in the peace and harmony of this serene setting. While listening to the pleasant hum of the blades and the melodious symphony of birdsongs, you can lose yourself in Devisthan's beauty.
Culinary Delights in Dhulikhel
Aside from natural and adventurous attractions, Dhulikhel has a lot to offer in terms of cuisine. The local kitchen represents Nepal's rich cuisine and offers a selection of delicious meals.
You may also interested in: Bhaktapur: Ancient City of Nepal
Taste the delicious momos, traditional Nepalese dumplings served with tasty dip. Enjoy Dal Bhat, a hearty dish made of stewed rice, lentil soup, and various vegetables. Finish off your meal with a sweet treat like sel roti, a fried rice flour doughnut, or yomari, a sweet rice cake filled with sugar and ghee.
Shopping in Dhulikhel
For those looking for souvenirs or local handicrafts, Dhulikhel also has some charming shops and markets. Here, you can discover handmade crafts, jewellery, clothing, and local products to take home as mementos of your journey.
Accommodation and Stay
Dhulikhel offers a wide range of choices for accommodation, ranging from simple pensions to luxurious hotels. A large number of accommodations are designed in such a way that they maximize the natural beauty of the surroundings, with balconies and terraces that provide a panoramic view of the surrounding mountains.
Dhulikhel is a guarantee for a comfortable and hospitable stay, whether you are looking for a cozy pension or a chic resort.
How to reach
Dhulikhel is accessible from Kathmandu, which is located approximately 32 kilometres to the south of the city. You may reach the city by car, taxi, or bus from Kathmandu. The journey itself provides a spectacular view of Nepal's highlands and green valleys.