Nepal Tour Package for Family- Welcome to the land of the Himalayas, where natural wonders abound and the cultural heritage is unparalleled. Nestled between the majestic peaks of the Himalayan range and the lush green forests, Nepal is a country that will take your breath away. With its vast array of natural beauty, diverse culture, and rich history, Nepal offers an unforgettable family vacation experience.
Whether you're an adventure seeker or a culture enthusiast Nepal has something for everyone. Imagine trekking through the Annapurna region, exploring the rich culture and tradition of the Kathmandu Valley, or enjoying a scenic mountain flight over the snow-capped peaks. Nepal offers a range of activities that will keep the entire family engaged and entertained.
For the adventurous family Nepal offers thrilling activities such as bungee jumping, white water rafting, and paragliding. You can also embark on a challenging trek through the Everest region which is sure to be a once-in-a-lifetime experience.
If you're looking for a more relaxed pace, Nepal has plenty of options as well. You can take a leisurely stroll through the ancient streets of Bhaktapur, a UNESCO World Heritage Site, or spend a day exploring the Chitwan National Park home to a variety of wildlife species.
Nepal also offers a unique opportunity to immerse yourself in the local culture. You can witness traditional dance performances, participate in cooking classes to learn how to make Nepali cuisine or visit local markets to shop for souvenirs.
About Nepal Tour Package
A Nepal Tour Package for Family is a pre-planned itinerary that includes transportation, accommodation, and activities for travelers looking to explore the best of Nepal. These packages are often designed with specific interests or time frames in mind and can range from a few days to several weeks in length. The benefit of booking a Nepal tour package is that it takes care of all the details of your trip allowing you to relax and enjoy your experience without worrying about logistics.
Also Check: Festivals in Nepal
There are numerous tour packages available that cater to families of all sizes and interests. From short trips to week-long tours, Nepal has it all. With so much to offer Nepal is the perfect destination for a family vacation. So, pack your bags, grab your loved ones, and get ready for an adventure of a lifetime!
Kathmandu Valley Tour Package is also good for Tour Package for Family
The Kathmandu Valley Tour Package is a journey through the heart of Nepal's cultural and historical legacy. The valley is home to three of Nepal's most fascinating cities Kathmandu, Patan, and Bhaktapur each of which boasts an array of ancient temples, monasteries, and other cultural landmarks. The tour package is the perfect way to explore these sites with your family, creating lasting memories and a deeper appreciation of Nepal's rich heritage.
The first stop on the tour is Kathmandu the bustling capital city of Nepal. Here, you will have the chance to visit some of the most famous temples and landmarks including Pashupatinath Temple, Boudhanath Stupa, and the Kathmandu Durbar Square. The banks of the Bagmati River hold the sacred Pashupatinath Temple, an important site for Hindus.
Recognized as a UNESCO World Heritage Site, the temple is home to various shrines and spiritual practitioners known as sadhus. Meanwhile, the Boudhanath Stupa which is one of the largest stupas in the world serves as the heart of Tibetan Buddhism. Also a UNESCO World Heritage Site the stupa is a must-visit for those who wish to deepen their understanding of this religion.
The Kathmandu Durbar Square is a fascinating collection of temples, shrines, and palaces all dating back to the medieval period. The square was once the seat of the Nepalese monarchy and is now a UNESCO World Heritage Site. Here, you can explore the intricately carved wooden temples and the impressive palace complex.
Patan, Bhaktapur, and The Monkey Temple
Next on the itinerary is Patan also known as Lalitpur which is famous for its artistic and architectural heritage which is best for Nepal Tour Package for Family. Patan Durbar Square and the Golden Temple are two of the city's top attractions. The Patan Durbar Square features a variety of temples and palaces including the Taleju Bhawani Temple and the Krishna Temple. The Golden Temple also known as the Hiranya Varna Mahavihar is a unique Buddhist monastery with a striking golden façade and intricate carvings.
The final stop on the tour is Bhaktapur a city renowned for its traditional Newari architecture and vibrant culture. Here, you can visit the Bhaktapur Durbar Square a UNESCO World Heritage Site that is home to numerous temples, palaces, and courtyards. The city is also known for its pottery and weaving traditions and you can visit local workshops to see these crafts in action.
The tour culminates with a visit to the Swayambhunath Stupa also known as the Monkey Temple. The stupa is perched on a hilltop and is one of the most famous landmarks in Nepal. The temple is surrounded by a lush forest and is home to numerous monkeys which are considered sacred by Hindus and Buddhists alike.
Nepal Tour Package for Family – Chitwan National Park
One of the most well-known tourist locations in Nepal is Chitwan National Park, which is situated in the country's south-central region. With a total size of 952.63 square kilometers, it is a protected region that is home to a wide variety of flora and animals. The park is renowned for its extensive grasslands, riverine woods, and deep forests all of which provide homes for a diversity of animals.
The Chitwan National Park Tour Package is a great choice for families who wish to see Nepal's animals and natural splendor. A wide variety of animal species, including tigers, rhinos, and elephants call the Chitwan National Park home.
The purpose of the Chitwan National Park Tour Package is to provide visitors with an amazing glimpse of the park's fauna and pristine natural grandeur. Usually, the package comes with lodging, transportation, meals, and guided trips. Depending on their interests and budget, tourists can select from a number of trip packages.
Jungle Safari
One of the highlights of the tour package is the jungle safari. Tourists can explore the park's wilderness by jeep, elephant, or on foot accompanied by an experienced guide. During the safari, you can spot various animals such as tigers, rhinos, elephants, leopards, sloth bears, and many other species. You can also observe a wide range of bird species, including Bengal Florican, Giant Hornbill, and Black Stork.
Apart from the safari tourists can also visit the local Tharu villages to learn about their culture and lifestyle. The Tharu people are indigenous to the region and have a unique culture and tradition. Tourists can enjoy cultural shows, and traditional dances, and feast on authentic Tharu cuisine.
Nepal Tour Package for Family – Pokhara Tour
Pokhara is a beautiful city located in central Nepal approximately 200 km west of the capital city of Kathmandu. It is situated at the base of the Annapurna mountain range and is known for its stunning natural beauty and relaxed atmosphere. The Pokhara Tour Package is perfect for families who want to experience the tranquility of nature and explore the cultural and spiritual sites of Nepal.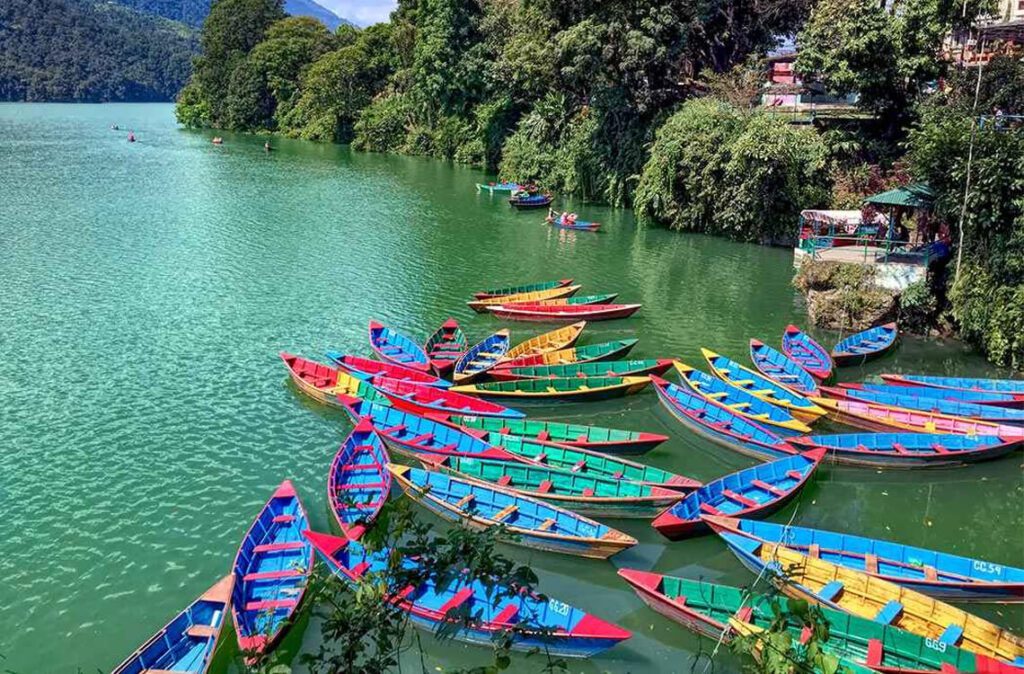 The Phewa Lake tour is one of the highlights of the Pokhara Tour Package. The lake which is the second largest lake in Nepal is encircled by verdant mountains and forests. Take a boat trip on the lake to take in the tranquil surroundings and breathtaking sights. The well-known Tal Barahi Temple, which is located on a little island in the middle of the lake is also a part of the lake. Both tourists and locals like visiting the temple which honors the Hindu goddess Durga.
Bindhyabasini Temple
The Bindhyabasini Temple is another well-liked place included in the Pokhara Tour Package. The temple which is devoted to the Hindu goddess Bhagwati is one of the oldest and most renowned in all of Nepal. The temple occupies a spot on a hill and provides breathtaking views of the city and mountains in the area. Visitors may also watch the local priests execute traditional rites and ceremonies at the temple.
In addition to these cultural and spiritual sites, the Pokhara Tour Package also offers a variety of outdoor activities. Families can take a hike through the lush forests and hills surrounding the city or go paragliding to get a bird's eye view of the stunning landscapes. Other popular activities include zip-lining, bungee jumping, and mountain biking. The city also has several hot springs and waterfalls that families can visit and enjoy a refreshing dip.
The benefit of the Nepal Tour Package for Family
Booking a Nepal tour package offers many benefits, including:
CONVENIENCE:
One of the key benefits of booking a Nepal tour package is the convenience it offers. When you book a tour package all aspects of your trip are pre-arranged meaning you won't have to worry about any of the logistical details of your trip. This can be especially helpful if you're traveling to Nepal for the first time or if you're unfamiliar with the country's customs and practices.
Transportation: A Nepal tour package typically includes transportation from the airport to your hotel as well as any additional transportation required for activities and excursions. This means you won't have to worry about navigating public transportation or arranging private transportation which can be challenging in Nepal's often chaotic and busy cities.


Accommodation: A tour package also includes accommodation that is pre-arranged and booked in advance. This ensures that you'll have a comfortable place to stay that meets your needs and budget. Tour operators typically work with a range of hotels and lodges in different areas of Nepal so you can choose the type of accommodation that suits you best.


Meals: Most package tours will include meals as part of the package. This means you won't have to worry about finding restaurants or figuring out what to eat. The tour company will typically choose restaurants that offer local cuisine so you can experience the flavors of Nepal.


Activities: The tour operator will provide you with a thorough schedule outlining every activity you'll be participating in each day. This might involve participating in adventure sports, wildlife safaris, cultural trips, and trekking. Your trip will be carefully planned so that you may make the most of your time in Nepal.
Cost Effectiveness of Nepal Tour Package for Family:
When it comes to travel, one of the most important factors for many people is cost. A Nepal package tour can be a cost-effective option because tour companies are able to negotiate better prices for accommodations and activities due to their volume of business. Tour companies often have established relationships with hotels and lodges in the area which can allow them to secure better rates than an individual traveler could on their own. This can translate into significant savings on the overall cost of the trip.
Similarly, tour companies often have established relationships with local activity providers such as trekking guides or wildlife safari operators. These relationships can allow tour companies to negotiate better rates than individual travelers could on their own.
Additionally, many tour companies offer discounts for group travel. If you're traveling with a group such as a family or a group of friends, booking a package tour can be an affordable option because the cost is spread out among the group.
Local Knowledge:
Another benefit of booking a Nepal package tour is that tour guides have an in-depth knowledge of the local area which can enhance your trip in many ways. Tour guides are quite knowledgeable about the area attractions and may give amusing information about each one's history and customs. They can assist you in discovering the many tourist attractions allowing you to make the best out of your trip. Additionally, tour guides can assist assure your safety while touring the region because they are well-informed about the local safety precautions. Additionally, they can help in an emergency or other unforeseen circumstances.
Safety and Security
Safety and security are top priorities for tour companies offering Nepal package tours. These companies have strict safety protocols in place to ensure the well-being of their guests throughout their trips. Tour operators frequently use skilled, professional guides who are familiar with the region and any possible threats that could exist while on a tour. These tour leaders have received training in handling crises and ensuring that visitors are safe at all times.
Tour companies also have emergency plans in place in case something unexpected happens. This may include plans for evacuations or medical emergencies as well as communication plans for staying in touch with guests and their families.
The safety of their customers' transportation is a top priority for tour operators who make sure that all of their vehicles are up to standards of safety and are regularly serviced. Additionally, they guarantee that drivers have the necessary training and licenses to operate vehicles in the community.
Cultural Immersion:
Another benefit of booking a Nepal package tour is that it can offer the opportunity for cultural immersion allowing travelers to experience the local culture in a deeper and more meaningful way. As part of their package excursions several travel firms incorporate visits to local communities. These trips provide visitors the chance to meet and engage with locals, learn about their way of life and develop a better knowledge of their culture.