Welcome to the winter wonderland of Pikey Peak Trek! If you're an adventure seeker with a taste for adrenaline and a desire to witness the untamed beauty of the Himalayas, then the Pikey Peak trek in December is your ultimate challenge. Pikey Peak is located in the Solu Khumbu region of Nepal, specifically in the Lower Everest region at an altitude of 4,065 meters.
Strap on your boots, bundle up and get ready for an exhilarating journey through snow–covered trails, icy peaks, and an unforgettable experience that will leave you breathless. In this blog post, we will dive into the thrilling and captivating aspects of the Pikey Peak Trek during the winter season.
Weather Conditions at Pikey Peak Trek in December
In December Pikey Peak experiences cold and challenging weather conditions which makes it a suitable choice for experienced trekkers seeking adventure in a remote and pristine environment. Pikey Peak and its surrounding areas are likely to be covered in snow during December. The higher you climb, the greater the chances of encountering snow on the trails.
A Fresh snowfall can make the trekking paths slippery and more challenging to navigate, requiring proper equipment such as trekking poles and crampons for better traction. Despite the cold and snowy conditions, December can offer spectacular views from Pikey Peak. The winter air tends to be crisp and clear, providing excellent visibility of the surrounding mountain ranges, including Mt. Everest, Makalu, Kanchenjunga, and other prominent peaks.
Highlights of Pikey Peak Trek in December
If you're seeking an extraordinary winter adventure amidst the breathtaking landscapes of Nepal, look no further than the Pikey Peak trek in December. Let's take a look at the highlights that make this trek an unforgettable experience.
Majestic Sunrise from Pikey Peak
Rise early and ascend to the summit of Pikey Peak before the break of dawn. As the first rays of sunlight illuminate the horizon, the snow-covered peaks of the Himalayas emerge in a spectacular display of colors.
Witness the ethereal sight of Mount Everest, Lhotse, Makalu, and a panorama of other towering peaks bathed in hues of gold and pink. It's a moment that will forever be etched in your memory.
Snow-Covered Landscapes
December blankets the Pikey Peak region in a pristine layer of snow, transforming the landscape into a winter wonderland. Trekking through the glistening trails, surrounded by snow-capped hills, is an enchanting experience. The serene beauty of the snow–clad forests, frozen lakes, and undulating valleys will captivate your senses at every turn. Nature paints an awe–inspiring masterpiece, and you're part of the canvas.
Soul-Stirring Sunsets
As daylight fades, prepare to be mesmerized by the enchanting sunsets that grace the Pikey Peak region. The setting sun casts its golden glow over the snow–capped peaks, painting the sky with hues of orange, pink, and purple. Find a vantage point to witness this awe–inspiring spectacle, and let the beauty of nature's brushstrokes leave you in a state of wonder and gratitude.
Off-the-Beaten-Path Exploration
The Pikey Peak trek in December takes you through lesser-explored paths, away from the crowds and tourist hotspots. This off-the-beaten-path experience offers a genuine connection with the natural surroundings and allows you to witness untouched landscapes and authentic village life.
As you tread these less-traveled trails, you'll feel a sense of adventure and discovery, forging a deeper connection with the wilderness and the local communities.
Challenging yet Rewarding Trails
The Pikey Peak trek in December presents its fair share of challenges, but the rewards are unparalleled. The snowy trails may be steep and slippery, demanding careful navigation and a steady pace. The physical exertion required adds an extra layer of satisfaction to your accomplishments. The sense of achievement as you conquer each hurdle along the trail is empowering and leaves you with a lasting sense of fulfillment.
Tranquil Winter Solitude
Trekking to Pikey Peak in December offers a unique advantage—the opportunity to experience the trails in a quieter and more serene setting. Compared to the peak trekking seasons, December sees fewer trekkers, allowing you to immerse yourself in the tranquility of the surroundings. The stillness of the winter landscape creates a sense of solitude and introspection, providing a space for personal reflection and connection with nature.
Photography Opportunities
Winter in the Pikey Peak region presents endless opportunities for photography enthusiasts. From capturing the striking contrast between the snow–clad mountains and vibrant prayer flags to documenting the intimate moments of local village life, every frame tells a story.
Let your creativity flow as you freeze in time the ethereal beauty that surrounds you.
Stargazing Spectacle
December nights in the Pikey Peak region offer a celestial treat for stargazers. With minimal light pollution and clear skies, you'll witness a breathtaking display of stars twinkling overhead. Lay back, marvel at the constellations, and feel a profound sense of wonder as you connect with the vastness of the universe.
Himalayan Sunrise Birdwatching
December is an ideal time for birdwatching enthusiasts to explore the Pikey Peak region. Wake up early and embark on a peaceful birdwatching expedition as the avian inhabitants of the Himalayas greet the day. Spot colorful species like the Himalayan Monal, Blood Pheasant, and various species of eagles and vultures, adding a delightful touch to your trek.
Homestay Cultural Experiences
Immerse yourself in the local culture by opting for homestay experiences along the Pikey Peak trek. Stay with Sherpa families and gain insights into their daily lives, traditions, and customs.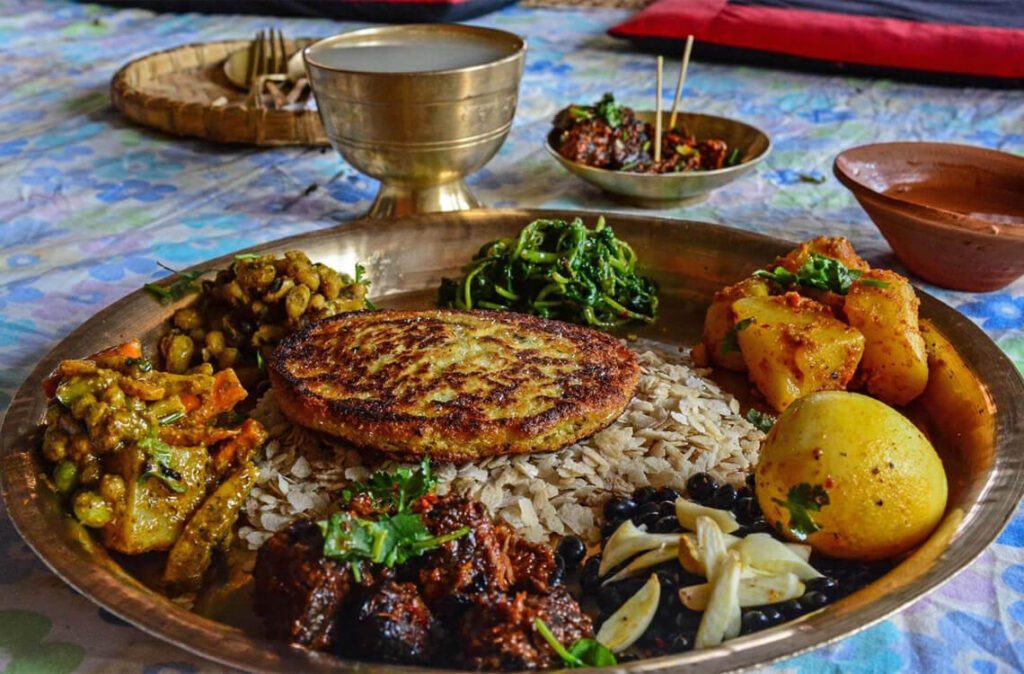 Participate in cooking traditional meals, learn local handicrafts, or simply spend time conversing with your hosts, forging meaningful connections that transcend cultural boundaries.
Local Handicraft Workshops
Engage in hands-on experiences by participating in local handicraft workshops along the Pikey Peak trail. Learn traditional skills like weaving, wood carving, or thangka painting under the guidance of skilled artisans. Create your own unique souvenir, connecting with the rich artistic heritage of the region while supporting local artisans and preserving traditional craftsmanship.
Pikey Peak from Kathmandu
To reach Pikey Peak from Kathmandu, begin by traveling to Dhap which is a village in the Ramechhap district. From Dhap you can embark on a trek to Japre which is the first significant stop on the trail. The path meanders through picturesque landscapes of rhododendron forests and terraced fields.
After spending a night in Jhapre you can continue trekking to Pikey Base Camp which is surrounded by stunning views of the Everest and Kanchenjunga ranges. On the following day, make an early morning ascent to the peak itself, which takes around 2-3 hours. From the summit of Pikey Peak, you can relish the breathtaking panoramic vistas of Himalayan peaks.
For the return journey, you can retrace your steps or opt for the Pikey Peak to Junbesi route while passing through the captivating village of Junbesi. Finally, you will make your way back to Kathmandu. Ensure you're properly equipped, consider hiring a guide, and obtain the necessary permits for a safe and memorable trekking experience.
Festivals
In December, as the winter sets in, Nepal becomes a hub of colorful celebrations. From religious rituals to cultural extravaganzas, let's go through some of the fascinating festivals celebrated in Nepal during this magical time of the year.
Tamu Lhosar in the Gurung Community
Tamu Lhosar, celebrated by the Gurung community, marks the Gurung New Year and is a delightful display of their vibrant culture. Decked in their traditional attire, people gather to perform folk dances, sing traditional songs, and engage in cultural activities. The festival also involves the preparation and sharing of delicious traditional dishes, including the famous Gurung cuisine, giving visitors a taste of their gastronomic delights.
Christmas
Christmas brings a unique blend of cultures as the Christian community celebrates the birth of Jesus Christ. The streets are adorned with festive decorations, and churches hold midnight masses with hymns and prayers. Visitors can experience the warm hospitality, enjoy Christmas markets, and savor delicious Nepali and international cuisines prepared for the occasion.
Yomari Punhi in the Newar Community
Yomari Punhi, also known as Yomari Purnima, is a significant festival celebrated by the Newar community, particularly in the Kathmandu Valley. Falling in December, this festival revolves around the sacred and delicious Yomari, a traditional Newari delicacy made from rice flour dough filled with sweet or savory fillings like molasses, sesame seeds, or spiced lentils.
Difficulties of Pikey Peak in December
Here are some factors to consider regarding the difficulty level of the Pikey Peak Trek in December:
Weather
December falls under the winter season in Nepal, and the weather can be quite cold and challenging. The temperatures can drop significantly, especially at higher altitudes, making it essential to pack appropriate warm clothing and gear.
There is also a higher chance of encountering snowfall, which can make the trek more strenuous and require additional precautions.
Trail conditions
The trail to Pikey Peak may become more challenging in December due to the presence of snow and ice. The snow-covered paths can be slippery and require careful footing, especially during ascents and descents. It is crucial to have trekking poles and sturdy footwear with good traction to navigate safely.
Limited daylight hours
In December, the days are shorter, and daylight hours are limited. This means that trekkers will have fewer hours of daylight to complete each day's trekking itinerary. It is important to start early in the morning and plan the trekking routes accordingly to ensure sufficient time for safe and comfortable progress.
Limited teahouse availability
Compared to the peak trekking seasons, December sees fewer trekkers on the trail, and some teahouses along the route may close for the off-season. This means that finding accommodation and food can be more challenging, and you may need to plan your trek more carefully to ensure availability.
Flora
As the chilly winds of winter sweep across the Nepalese Himalayas, a hidden gem for nature enthusiasts and trekkers awaits—the Pikey Peak Trek. Let's take a look at botanical wonders that thrive amidst the snow-capped landscapes of Pikey Peak in December.
Junipers
As you ascend the trail, keep an eye out for the magnificent Juniper trees that adorn the slopes of Pikey Peak. These resilient conifers, known for their twisted trunks and bluish–green foliage, are revered for their medicinal properties and spiritual significance. In winter, the Junipers stand tall, defying the harsh weather and exuding a mystical aura, providing a sense of tranquility to the surroundings.
Edelweiss
With its soft, velvety white petals and silver-gray foliage, the Edelweiss flower holds a special place in the hearts of adventurers and nature enthusiasts. Spotting this iconic flower in the wild is considered a mark of good luck and courage. Although challenging to find, the Pikey Peak region offers a few secret spots where you might be fortunate enough to catch a glimpse of this symbol of resilience and alpine beauty.
Himalayan Birch
The Himalayan Birch, is a graceful tree with its striking white bark that stands out against the winter landscape. These deciduous trees add elegance and charm to the trail, their slender trunks swaying gently in the mountain breeze.
Oak
While the predominant tree species in the higher elevations are conifers, lower altitudes of the Pikey Peak region may have oak trees. The Oak trees offer a contrasting touch with their broad, deciduous leaves that turn golden in the winter, adding warmth and color to the landscape.
Himalayan Pine
The Himalayan Pine is a prominent tree species that grace the slopes of Pikey Peak. These evergreen conifers have long, slender needles that come together in bundles, creating a distinct appearance.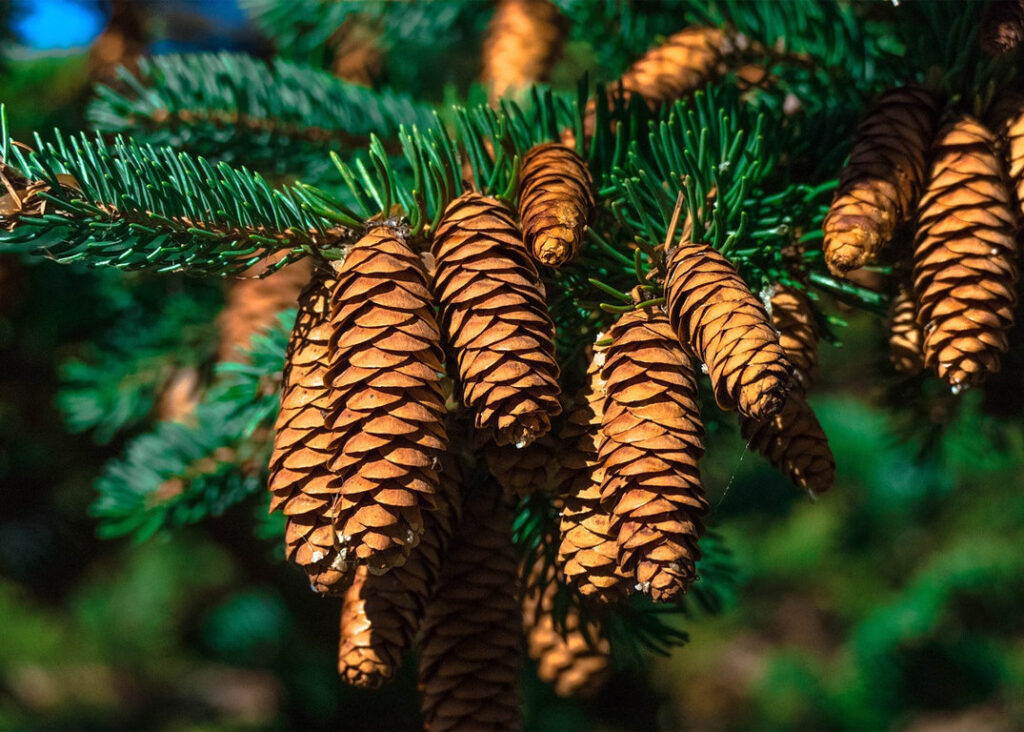 The Himalayan Pine is well-adapted to the harsh mountain conditions, with its deep roots and resinous wood providing protection against cold temperatures and strong winds. As you trek through the winter landscape, keep an eye out for these majestic pines.
Fauna
Pikey Peak trek offers not only mesmerizing vistas but also a unique opportunity to spot some remarkable wildlife. Here are some of the animals that can be spotted during your trek.
Himalayan Monal
Prepare to be dazzled by the vibrant plumage of the Himalayan Monal, a magnificent bird endemic to the Himalayas. December offers an excellent chance to spot this iconic species as it descends to lower altitudes in search of food. With its iridescent feathers combining hues of green, blue, and red, the Monal is a true embodiment of natural artistry.
Snow Leopard
Known as the "ghost of the mountains," the elusive Snow Leopard is a coveted sighting for wildlife enthusiasts. While spotting this enigmatic feline is a rare occurrence, winter increases your chances.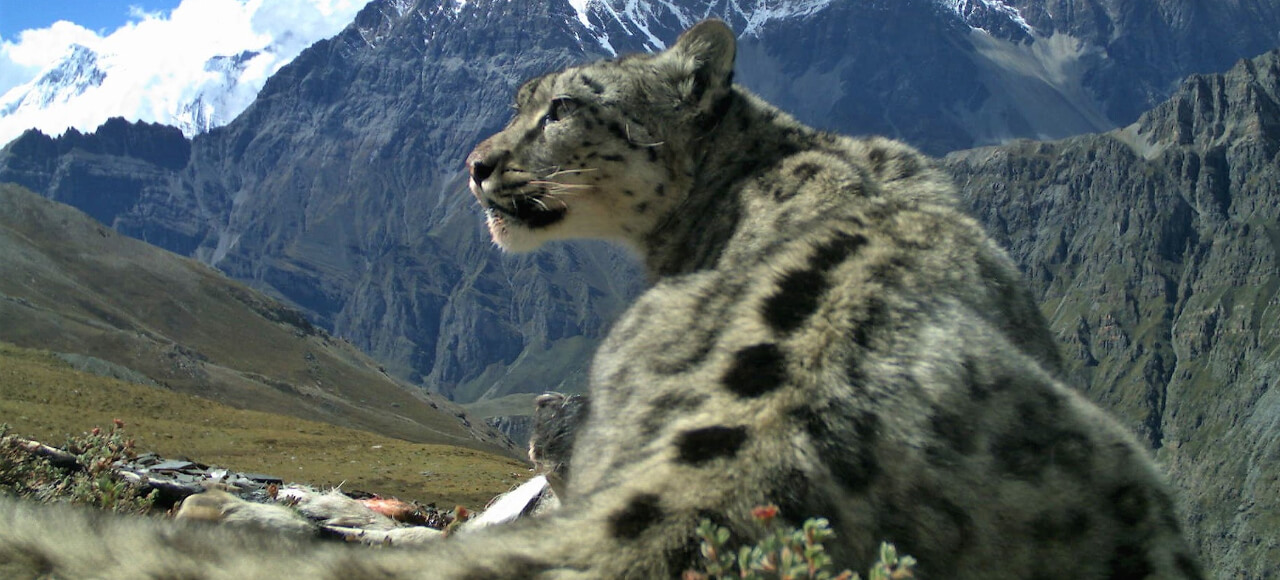 December brings colder temperatures, forcing Snow Leopards to descend to lower elevations in search of prey. Keep your eyes peeled for tracks, signs, or a fleeting glimpse of this majestic creature.
Red Panda
If you're lucky, you might spot one of the most endearing and rare creatures in the region – the Red Panda. Known for their striking rust–colored fur and bushy tails, these arboreal mammals thrive in the temperate forests of the Himalayas.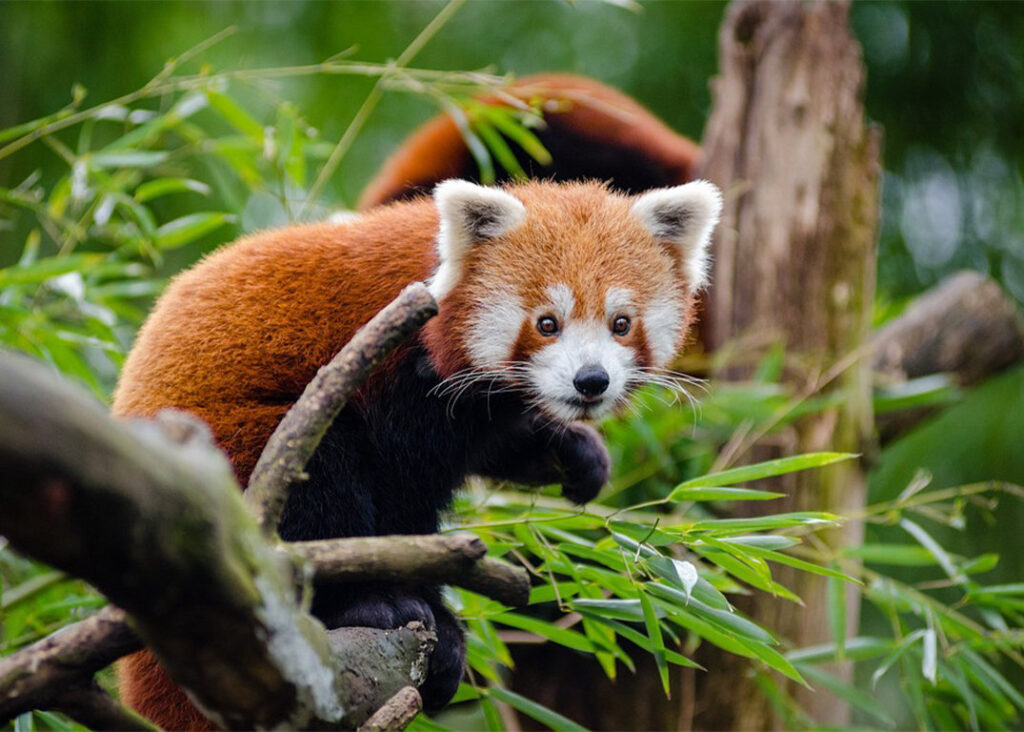 Although Red Pandas are predominantly solitary and elusive, December offers better chances of glimpsing them as they descend in search of bamboo shoots.
Musk Deer
While trekking through the enchanting forests of the Pikey Peak region, keep an eye out for the elusive Musk Deer. Renowned for their musk glands, these small deer are renowned for their captivating scent.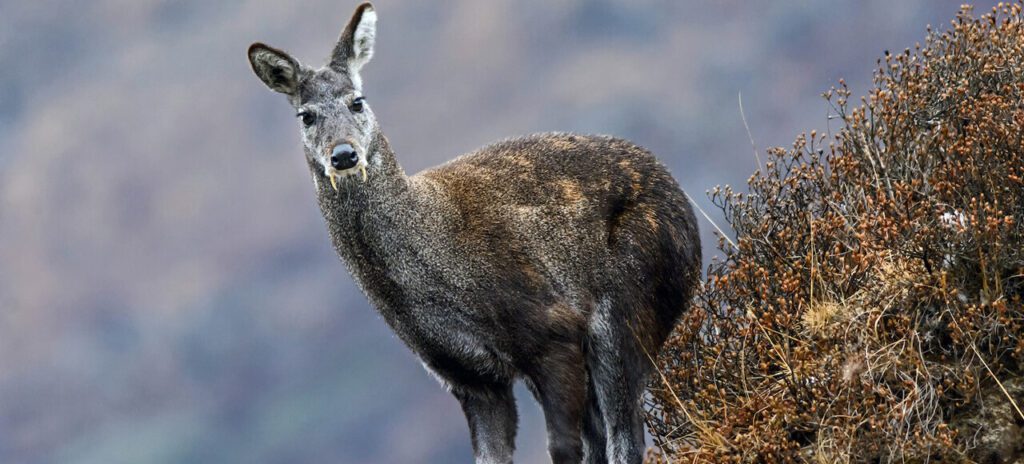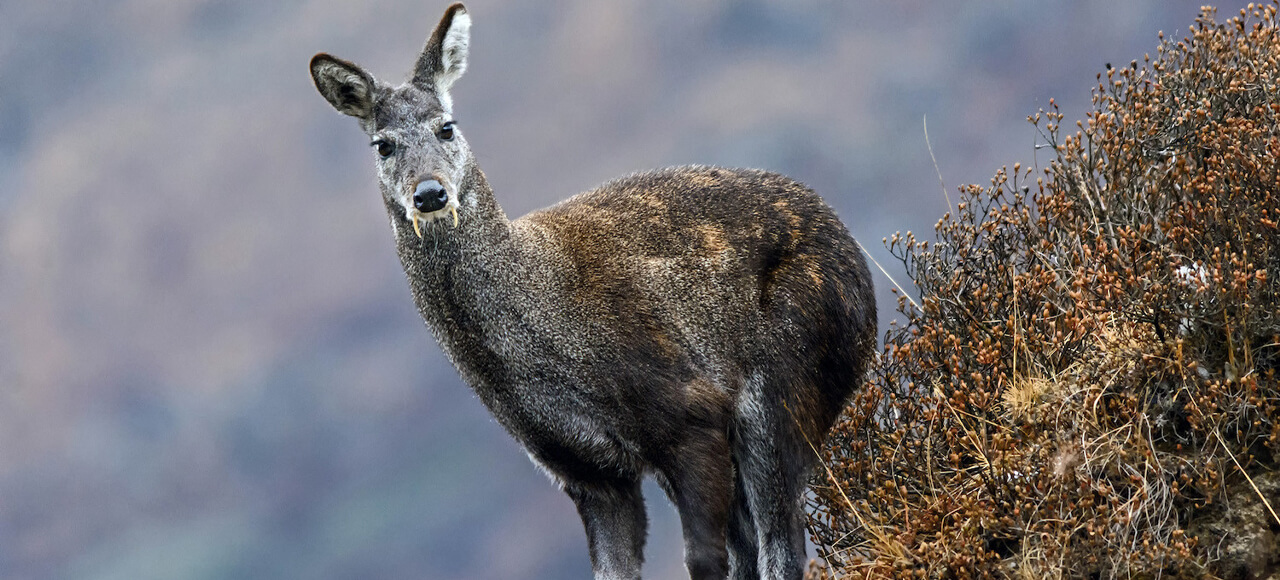 December provides a favorable opportunity to encounter them as they forage for food among the snow-covered undergrowth.
Tips for Pikey Peak Trek in December
Trekking in the Pikey Peak region during December can be a beautiful experience, but it is important to be prepared for the challenges of winter conditions.
Here are some tips to help you make the most of your trek:
Check weather conditions
Before starting your trek, thoroughly research the weather conditions in the Pikey Peak region during December. This will give you an idea of the temperatures, precipitation levels, and any potential storms. Stay updated on weather forecasts throughout your trek.
Dress in layers
Winter in the Pikey Peak region can be quite cold, especially at higher elevations. Dressing in layers allows you to adjust your clothing according to the changing temperatures. Start with a moisture-wicking base layer, add insulating layers like fleece or down jackets, and top it off with a waterproof and windproof outer layer.
Pack appropriate gear
Ensure that you have the necessary gear for winter trekking. Good-quality insulated boots, warm socks, gloves, a hat, sunglasses, and a sleeping bag suitable for low temperatures are essential. Carry a sturdy backpack, trekking poles for stability, and a headlamp with extra batteries.
Be cautious of icy conditions
Winter treks often involve walking on icy and snowy trails. Take extra caution while traversing these sections. Wear crampons or microspikes on your boots for improved traction and consider using trekking poles for stability. It's advisable to learn basic techniques for walking on ice before your trek.