Pikey Peak Trek in March – As the chilly grip of winter slowly loosens its hold on the stunning landscapes of Nepal, the month of March marks the arrival of spring.
This time of the year is perfect for embarking on the Pikey Peak Trek, a hidden gem nestled amidst the breathtaking Himalayas. Offering a captivating blend of awe–inspiring panoramas, cultural immersion, and vibrant rhododendron blooms, the Pikey Peak Trek in March is an experience that truly captures the essence of the region's natural and cultural wonders.
Location and Altitude
Pikey Peak, a majestic mountain located in the Solu–Khumbu region of Nepal, is situated at an altitude of 4,065 meters (13,335 feet), Pikey Peak stands tall amidst the breathtaking landscapes of the Himalayan range.
Also Read: Pikey Peak Trek in February: Weather, Crowd, Difficulty Travel Tips, and More
It is named after the Sherpa surname Pikey and is considered sacred by the local Sherpa community. The peak holds great significance in Sherpa culture and is known as a place of worship and pilgrimage.
Weather Conditions and Temperature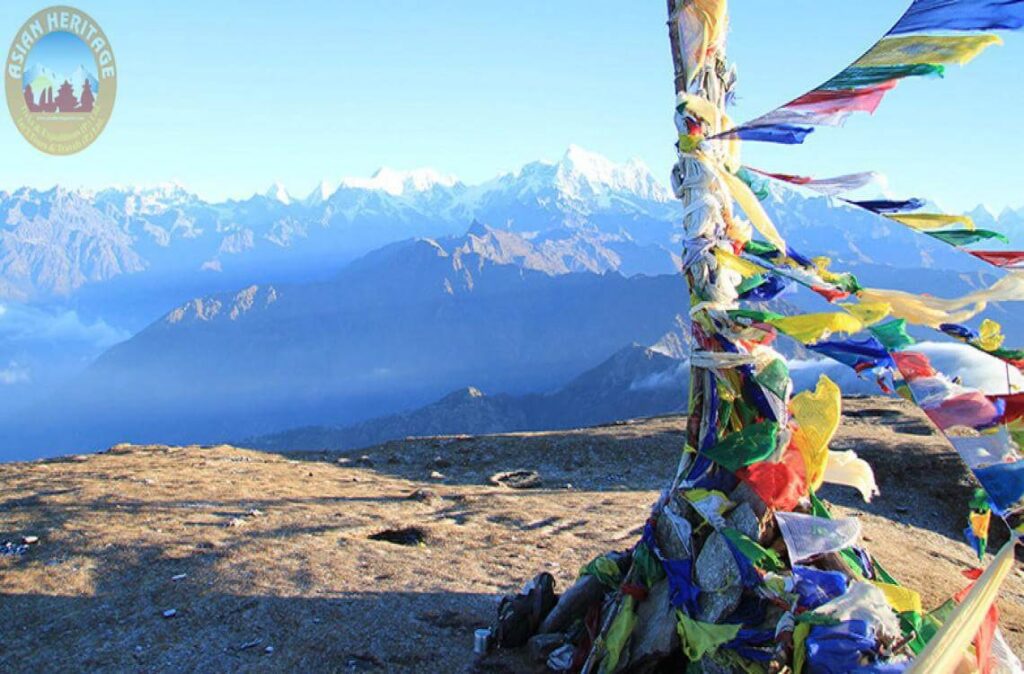 March heralds the arrival of spring in Nepal, rendering it a perfect time for embarking on Himalayan treks. The pleasant weather and clear skies create an ideal setting to revel in the awe–inspiring panoramas of the Himalayas. With agreeable daytime temperatures and refreshing coolness at night, this month offers trekkers an optimal opportunity to relish their adventurous journey through the mountains.
Highlights of Pikey Peak Trek
Pikey Peak trek in March offers a captivating journey through snow–capped peaks, blooming rhododendron forests, and authentic Sherpa villages. Let's delve into the highlights of embarking on the Pikey Peak Trek during the enchanting month of March.
March Magic:
March marks the transition from winter to spring in the Himalayan region. As you set foot on this trek, you'll witness nature's palette gradually transforming from snowy whites to vibrant greens. The weather is generally pleasant during this time, with moderate temperatures and clear skies, allowing for unparalleled views of the surrounding peaks.
Panoramic Views: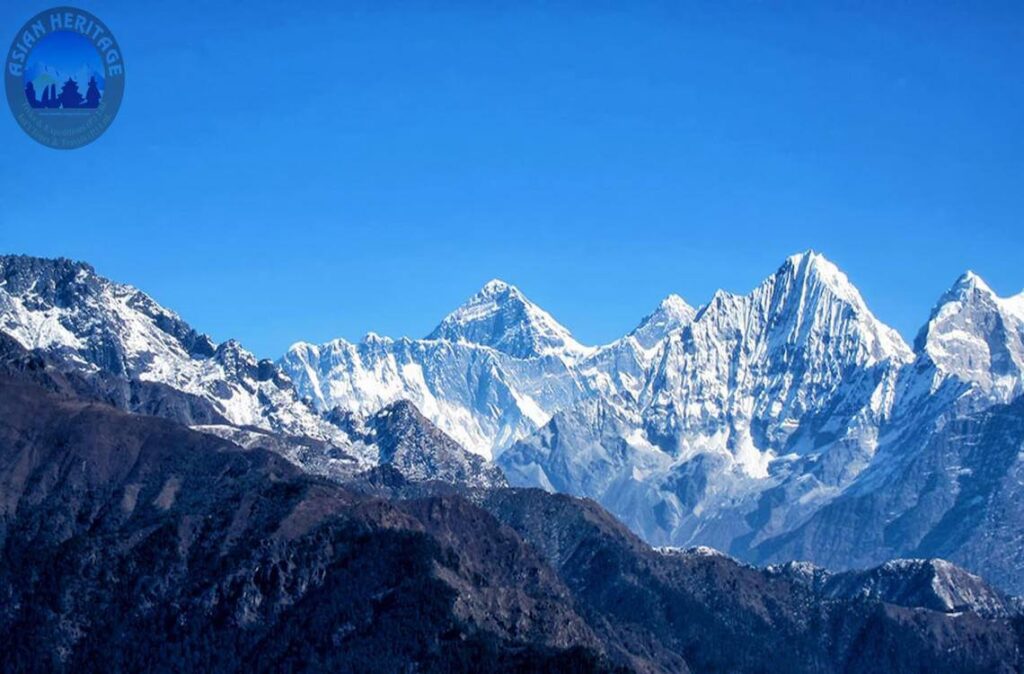 Prepare to be mesmerized by the breathtaking panoramic views that unfold throughout the trek. As you ascend towards Pikey Peak, the vistas of Everest, Makalu, Lhotse, Nuptse, Annapurna, and Kanchenjunga present themselves in all their majestic glory. The clear skies of March provide excellent visibility, allowing you to capture awe-inspiring photographs and create lasting memories.
Starting Point: Phaplu's Gateway:
Our adventure begins at the quaint village of Phaplu, nestled amidst picturesque landscapes. Here, we immerse ourselves in the warm Sherpa hospitality and prepare for the journey ahead. As we step onto the trail, the promise of stunning vistas and cultural encounters beckons.
Sherpa Hospitality:
Experience the legendary warmth and hospitality of the Sherpa people as you pass through their welcoming villages. March is an excellent time to interact with the locals, as they go about their daily routines. Engage in cultural exchanges, savor traditional Sherpa cuisine, and learn about their age-old traditions and customs.
Pikey Base Camp Sunrise:
The pinnacle of your trekking adventure awaits at Pikey Base Camp. Rise early and witness the ethereal beauty of the sunrise as it illuminates the surrounding Himalayan peaks. Watch in awe as the first rays of sunlight paint the snow-capped giants in shades of gold and pink, creating a breathtaking spectacle that words cannot fully capture.
Serene Solitude:
One of the unique advantages of trekking Pikey Peak in March is the serene solitude you can enjoy along the trails. With fewer trekkers compared to the peak season, you can relish moments of tranquility, allowing you to connect more deeply with nature and appreciate the untouched beauty of the region.
Pikey Peak from Kathmandu
To reach Pikey Peak from Kathmandu, there are a few different routes you can take. Here are two common options:
Phaplu Route
Fly from Kathmandu to Phaplu
The most convenient and time-saving option is to take a domestic flight from Kathmandu to Phaplu Airport. The flight takes around 35 minutes and offers stunning aerial views of the Himalayas.
Trek from Phaplu to Pikey Peak
Once you arrive at Phaplu, your adventure to Pikey Peak can commence. This captivating trek usually spans 5-6 days, leading you through breathtaking landscapes, authentic Sherpa villages, and picturesque trails. Along the way to the summit of Pikey Peak, you'll have the opportunity to visit notable communities like Salleri, Junbesi, and Pikey Base Camp.
You may also like: Busy Tourist Cities of Nepal
Return to Phaplu or Lukla
After reaching the summit, you can retrace your steps back to Phaplu or continue the trek towards Lukla, another popular gateway to the Everest region. From Lukla, you can either fly back to Kathmandu or continue your adventure by exploring other trekking trails in the Everest region.
Jiri Route
Drive from Kathmandu to Jiri
You can opt for another alternative which involves embarking on a picturesque bus journey from Kathmandu to Jiri, with a typical duration of approximately 8–9 hours. Jiri is a small and charming hamlet that serves as the entry point to the Everest region.
Trek from Jiri to Pikey Peak
From Jiri, you can begin your trek toward Pikey Peak. The trek from Jiri usually takes around 8–9 days, depending on the chosen route and pace. The trail passes through landscapes, terraced fields, dense forests, and Sherpa villages, providing an immersive experience of the local culture and lifestyle.
Descend and return to Jiri or continue towards Phaplu
Upon conquering Pikey Peak, you are presented with two alternatives: you can either descend and make your way back to Jiri, or if you crave further exploration, continue your trek towards Phaplu or Lukla, following the same routes as previously described for the Phaplu Route.
Required Permit for Pikey Peak Trek
To hike to Pikey Peak in Nepal, you do not need any special permissions or restricted area permits. Unlike popular treks like the Everest Base Camp Trek or the Annapurna Circuit Trek, the Pikey Peak Trek does not require entry into restricted or regulated areas.
More: Tengboche Monastery: The oldest monastery in Khumbu
Nevertheless, it is important to note that information and regulations can change over time. Therefore, it is advisable to verify the most recent facts and rules before embarking on any journey in Nepal.
Festivals
Trekkers can experience and witness some cultural celebrations and festivals that may coincide with their visit. Here are a few notable festivals celebrated in Nepal during March:
Holi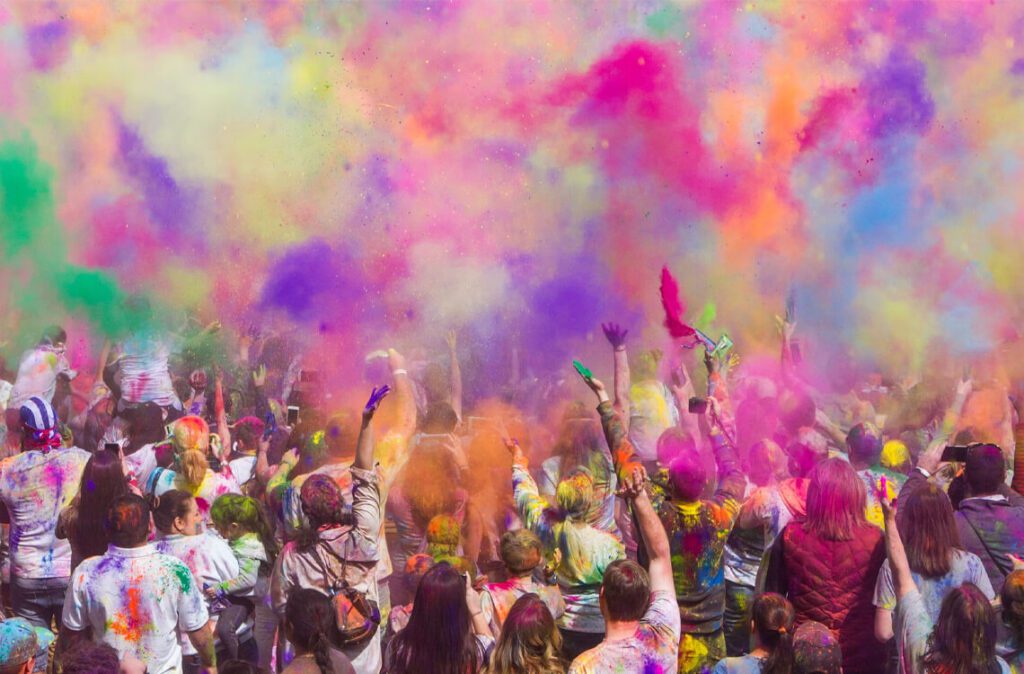 Holi is a vibrant and joyous festival celebrated across Nepal and other parts of India. It usually falls in March marking the arrival of spring. During Holi, people gather in the streets and throw colored powders and water at each other, creating a lively and festive atmosphere. It's a time of celebration, singing, dancing, and enjoying traditional sweets and drinks.
Ghode Jatra
Ghode Jatra is a unique festival celebrated in Kathmandu, the capital city of Nepal which often falls in March. It involves a grand procession of horses and is believed to bring good luck and drive away evil spirits. The Nepal Army showcases various equestrian skills, and spectators gather to watch the spectacular horse race and cultural performances.
Chaitra Dashain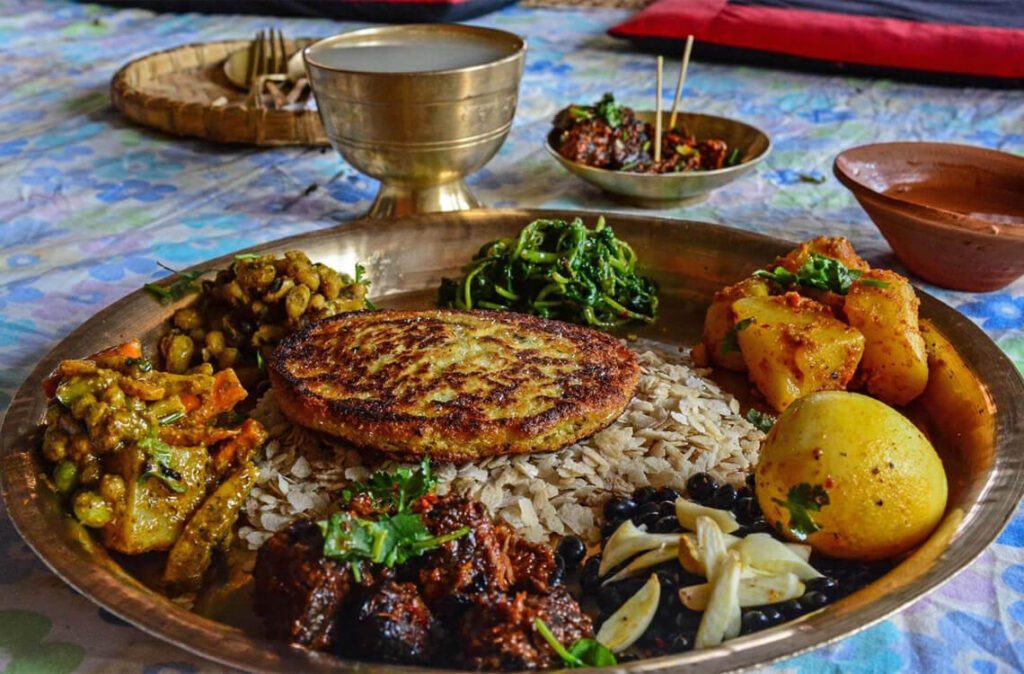 Chaitra Dashain embodies a season of deep spiritual observance, vibrant cultural celebrations, and cherished familial togetherness. It serves as a gateway to delve into the core of Nepali traditions, where ancient mythologies and religious practices are animated, fostering an atmosphere steeped in reverence, joy, and a strong sense of community.
Flora
While the stunning views and cultural experiences along the way are undoubtedly captivating, the region's flora adds an extra touch of magic to the trek. Let's explore the diverse and enchanting flora that graces the path during the start of the spring season.
Rhododendrons: Nature's Vibrant Canopy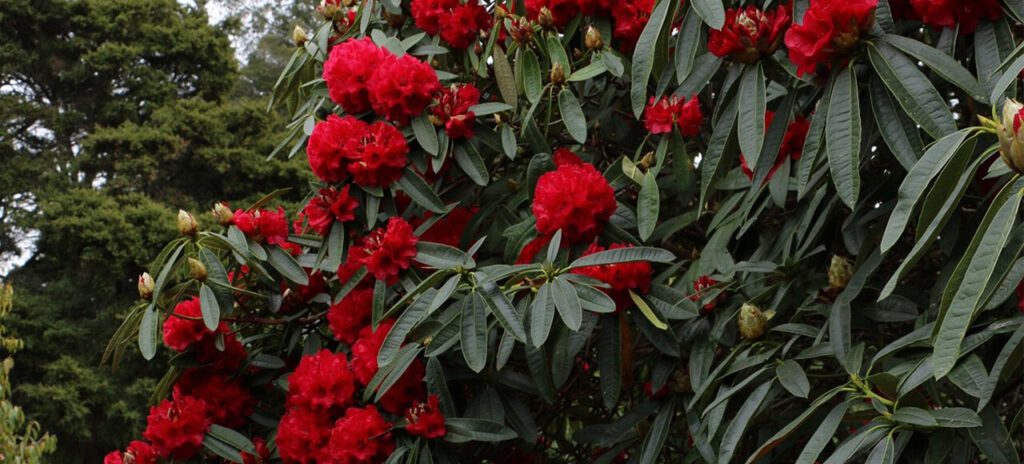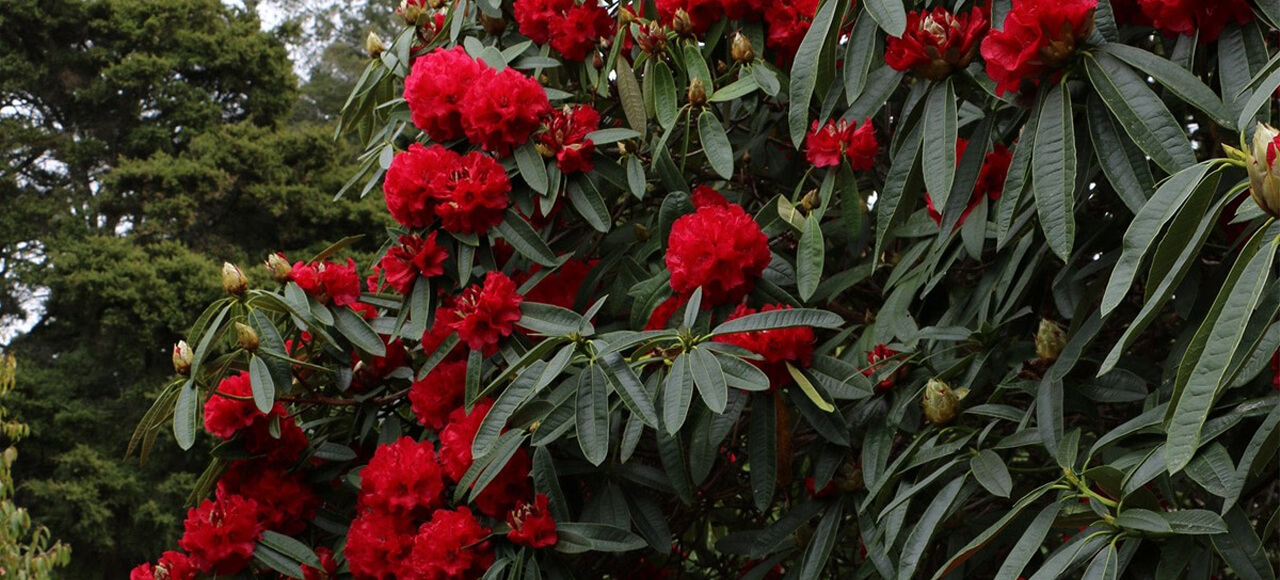 March signals the arrival of spring, and with it comes the blooming of the enchanting rhododendron forests. As you ascend the Pikey Peak Trek, you'll witness a breathtaking display of these magnificent flowers in various vibrant hues. From fiery reds and pinks to delicate whites, rhododendrons transform the landscape into a natural canvas of color, creating a visual spectacle that is truly awe-inspiring. The sheer diversity of these flowering trees adds a touch of magic to every step of your journey.
Primroses: A Splash of Delicate Beauty
March is also the time when primroses make their appearance along the Pikey Peak Trek. These delicate, dainty flowers carpet the meadows, adding a sense of fragility and grace to the rugged terrain. Their soft pastel colors, including shades of yellow, purple, and pink, provide a charming contrast against the backdrop of towering peaks and lush valleys. Stumbling upon a cluster of primroses during your trek is like discovering a hidden treasure amidst nature's grandeur.
Magnolias: Majestic Elegance
As you venture further along the Pikey Peak Trek, you'll encounter the majestic magnolia trees. These iconic and ancient flowering plants, with their large, fragrant blossoms, exude an air of elegance and beauty. The white and pink petals of the magnolia flowers create a striking contrast against the lush green surroundings. The gentle fragrance that accompanies them further enhances the sensory experience immersing you in a world of natural splendor.
Juniper Forests: Aromatic Wonder
Moving higher up the trek, the landscape transitions into dense juniper forests. These aromatic trees release a subtle, refreshing scent, filling the air with a pleasant aroma. Junipers have been revered for centuries for their medicinal and spiritual significance, adding an intriguing cultural dimension to your journey. Walking through these forests in March offers a unique olfactory experience, where the fragrance of junipers mingles with the emerging scents of spring, creating a sensory symphony unlike any other.
Wild Orchids: Ephemeral Grace
One of the most captivating floral gems that you may encounter during the Pikey Peak Trek in March is the wild orchid. These delicate and elusive flowers grace the trail with their ephemeral beauty. Adapting to diverse environments, wild orchids can be found nestled in the nooks and crannies of trees or hidden among mossy rocks. Their intricate shapes and vibrant colors, ranging from delicate whites and pinks to striking yellows and purples, make each encounter with these orchids a moment of wonder and fascination.
More: Tengboche Monastery: The oldest monastery in Khumbu
Fauna
The Pikey Peak Trek in Nepal offers more than just an adventure and scenic beauty; it presents an exceptional chance to explore and appreciate the diverse wildlife of the region. March, in particular, unveils a fascinating array of animals, from elusive alpine creatures to vibrant bird species. Let's delve into the astonishing wildlife encounters awaiting you on the Pikey Peak Trek.
Himalayan Monal: A Feathery Spectacle
One of the most iconic and beautiful birds you may encounter during your trek is the Himalayan Monal, often referred to as the national bird of Nepal. The male Monal's iridescent plumage, with its shimmering blend of green, blue, and copper, creates a breathtaking display against the mountainous backdrop. Keep an eye out for these magnificent birds as they forage for food or engage in their enchanting courtship dances, adding a touch of color and elegance to your trek.
Red Panda: A Shy Wanderer
While spotting a red panda may require a stroke of luck and a keen eye, the Pikey Peak region is known to be home to these adorable and elusive creatures. March offers a favorable time to catch a glimpse of these shy wanderers as they venture out in search of bamboo shoots and other food sources. With their striking red fur and masked faces, red pandas provide a heartwarming sight that will undoubtedly leave you in awe of their natural beauty.
Himalayan Black Bear: The Mountain's Mighty Guardian
The dense forests surrounding the Pikey Peak are also inhabited by the Himalayan Black Bear, a powerful and majestic creature. While encounters with these bears are rare, the signs of their presence, such as claw marks on trees or tracks along the trail, serve as a reminder of the diverse wildlife that calls this region home. The mere knowledge that these magnificent animals roam these mountains adds an element of excitement and respect to your trekking experience.
Musk Deer: Graceful Dwellers of the Forest
With its thick vegetation and pristine forests, the Pikey Peak area provides an ideal habitat for the elusive Musk Deer. These elegant creatures, known for their distinctive elongated canine teeth and musky scent, often remain hidden among the trees and shrubs. However, their tracks and occasional sightings offer a glimpse into the serene world they inhabit. Observing a musk deer in its natural environment is a truly enchanting experience that connects you with the tranquility of the wilderness.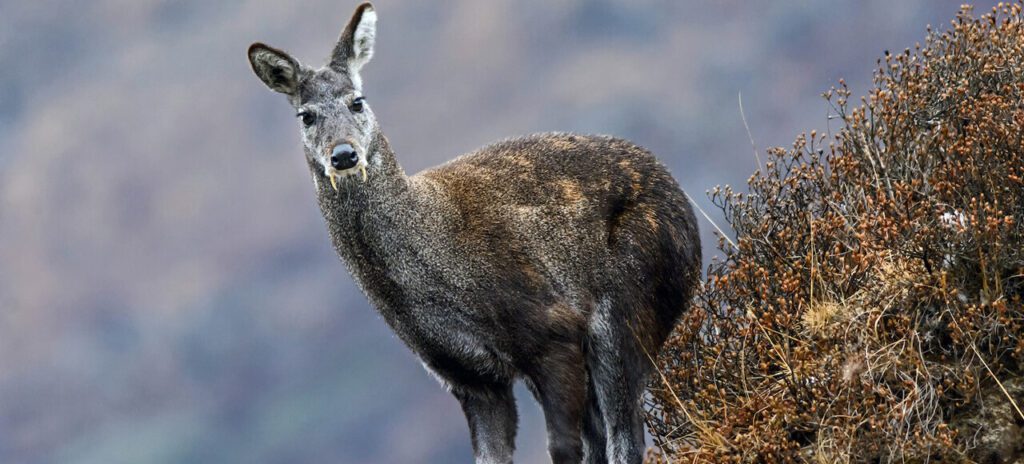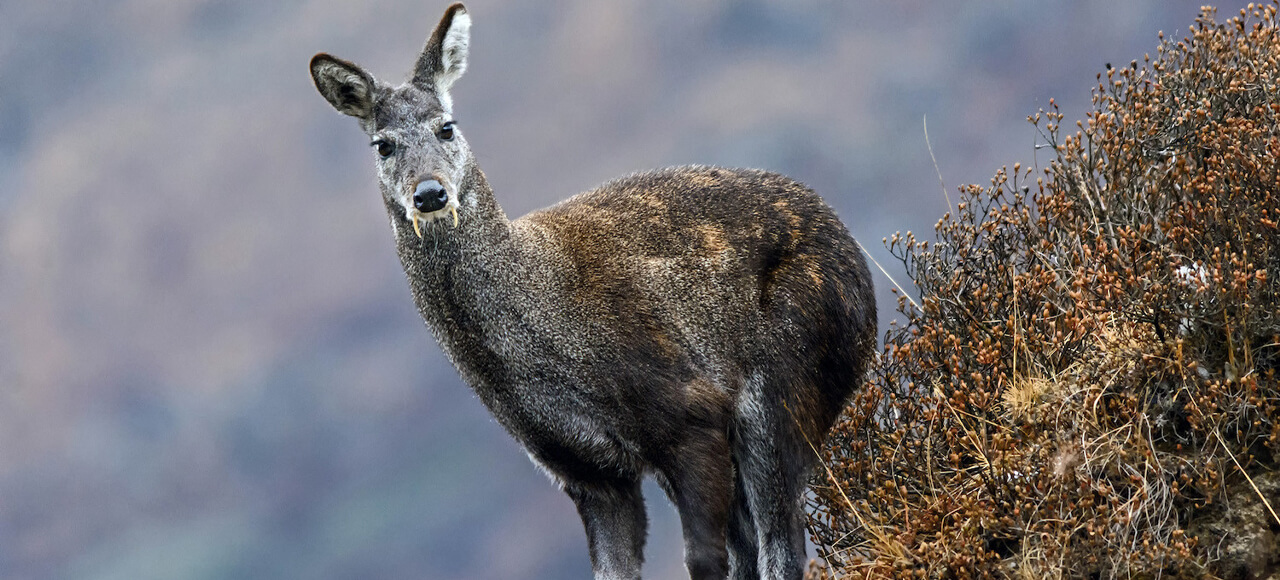 Himalayan Tahr: Majestic Mountain Climbers
Scaling the rocky slopes of the Himalayas, the Himalayan Thar is a sure highlight for wildlife enthusiasts. These robust and agile ungulates, similar in appearance to wild goats, are adept climbers and can be seen gracefully navigating steep cliffs and rocky terrain. Keep your eyes peeled for these magnificent creatures as they traverse the mountain slopes, showcasing their impressive climbing skills and adding a touch of untamed beauty to your trek.
Side Treks
The Pikey Peak trek itself is a remarkable journey, there are several lesser-known side treks that can add an extra dash of thrill and exploration to your experience. Some of them are:
Dudh Kunda Trek: A Sacred Pilgrimage amidst Tranquil Beauty
Imagine reaching a pristine lake nestled amidst the Himalayas, shrouded in myth and mystique. The spiritual significance of this place, combined with its tranquil surroundings and the sight of the towering peaks, makes it an unforgettable journey. In March, the weather is usually pleasant, with clear views of the mountains and lush vegetation along the trail.
Junbesi Village Trek: A Cultural Odyssey through Sherpa Heartland
For those seeking an immersive cultural experience, the Junbesi Village Trek is a must. As you traverse the picturesque landscapes from Pikey Peak, you'll make your way to Junbesi, a traditional Sherpa village. March graces this region with blooming rhododendron forests, enhancing the scenic beauty.
Read: Best time to do Upper Mustang Trek
Explore ancient monasteries, witness the daily lives of the Sherpa people, and relish the warm hospitality they offer. The unique cultural encounters and stunning vistas make this side trek a cherished memory.
Thupten Chholing Monastery Trek: A Glimpse into Monastic Serenity
If you crave a spiritual retreat amidst the mountains, the Thupten Chholing Monastery Trek is an excellent choice. The trail takes you to one of the oldest monastic establishments in the Solu region. March brings clear skies and mild temperatures, making it an ideal time to explore this serene sanctuary. Immerse yourself in the monastic lifestyle, witness mesmerizing prayer ceremonies, and be awed by the surrounding natural beauty. The Thupten Chholing Monastery Trek offers a harmonious blend of spirituality and natural grandeur.
Numbur Cheese Circuit Trek: A Gastronomic and Scenic Delight
Indulge your taste buds and feast your eyes on the Numbur Cheese Circuit Trek. The trail leads you to the Numbur Cheese Factory, where traditional yak cheese is produced. March unveils lush green meadows, blooming flowers, and grazing yaks, painting a picturesque landscape. Immerse yourself in the unique cultural experience of cheesemaking, savor delicious cheese, and revel in the panoramic views of Numbur Himal. This side trek is a treat for both food enthusiasts and nature lovers alike.
Demerits of Pikey Peak Trek in March
While the Pikey Peak trek in March offers beautiful landscapes and unique experiences, there are a few potential demerits to consider:
Weather conditions:
March marks the transition from winter to spring in Nepal's Everest region, bringing chilly temperatures, particularly at higher altitudes, and the potential for snowfall. These conditions can make the trek more challenging, with slippery trails, limited visibility, and possible disruptions to air travel.
Popular: Upper Mustang Trek in December: Travel Tips, Weather, and More
Crowds:
March is a popular month for trekking in Nepal, including the Everest region. Although it is less crowded compared to more popular treks like Everest Base Camp, it may still see an increased number of trekkers in April. The trails and tea houses may be busier, and you might have to compete for accommodation and other facilities.
Flight accessibility:
The Pikey Peak trek often starts with a flight from Kathmandu to Phaplu or another nearby airport. In March, weather conditions can sometimes lead to flight cancellations or delays due to fog, strong winds, or poor visibility. This can disrupt your trekking schedule and require adjustments to your itinerary.