Places to Visit in Nepal for Couples- Imagine a place where snow-capped peaks kiss the clouds, lush jungles teeming with exotic wildlife and rich cultural heritage permeates every corner. Welcome to Nepal, a heavenly abode for lovebirds seeking the perfect romantic escape. With warm hospitality that envelops you like a warm embrace, Nepal beckons to couples from all over the world. Whether you're craving adventure, relaxation, or a mix of both, Nepal has got you covered. Get ready to explore the top places in Nepal that will make your heart sing with joy!
Let's explore some top places in Nepal for the couple:
Pokhara
Are you and your significant other looking for a romantic getaway? Look no further than Pokhara, Nepal! Nestled in the foothills of the Himalayas Pokhara is a breathtaking destination for couples seeking adventure, relaxation, and romance.
First off, the scenery in Pokhara is simply stunning. The city is situated on the banks of Phewa Lake, surrounded by lush green hills and snow-capped peaks. The Annapurna mountain range is one of the most famous trekking destinations in the world which is just a short distance away. Take a hike up to Sarangkot, a nearby hilltop, and watch the sunrise over the mountains. It's a truly unforgettable experience.
If you're looking for something a little more low-key take a boat ride on Phewa Lake. You can rent a small boat for an hour or two and explore the tranquil waters. Pack a picnic and enjoy a romantic lunch with a view of the mountains.
Pokhara is also known for its adventure sports. For the adventurous couple, try paragliding over the city or bungee jumping from a suspension bridge over the raging Seti River. If you'd rather keep your feet on the ground, go on a zip-lining adventure through the forest canopy.
Spa Treatment
Places to Visit in Nepal for Couples – After a day of adventure, relax and unwind with a couples massage or spa treatment. Pokhara has plenty of spas that offer traditional Nepalese treatments using natural herbs and oils.
The World Peace Pagoda must be seen as well for a visit to Pokhara to be considered complete. The surrounding mountains can be seen in all directions from this Buddhist stupa which is placed on a mountaintop above the city.
Kathmandu
Places to Visit in Nepal for Couples- Kathmandu is a city that is rich in history, culture, and romance. It offers a plethora of options for couples to celebrate their love. Whether you prefer the serenity of the mountains or the hustle and bustle of the city, there is something for everyone. So go ahead, plan that romantic getaway, and make memories that will last a lifetime.
Let me take you on a journey to some of the most romantic spots in Kathmandu where you can spend quality time with your partner.
Garden of Dreams:
The Garden of Dreams, also known as the Kaiser Mahal Garden is a neo-classical garden located in the heart of Kathmandu. The garden is an oasis of peace and tranquility with its fountains, pavilions, and lush greenery. It is an ideal place to spend an afternoon with your partner enjoying a picnic or reading a book under the shade of a tree.
Boudhanath Stupa:
The Boudhanath Stupa is a UNESCO World Heritage Site and is one of the largest stupas in the world. The stupa is surrounded by several cafes and restaurants making it a perfect place for a romantic dinner date. This is definitely one of the choices for Places to Visit in Nepal for Couples. Imagine dining under the stars with the lit-up stupa in the background and the sound of prayer flags fluttering in the wind.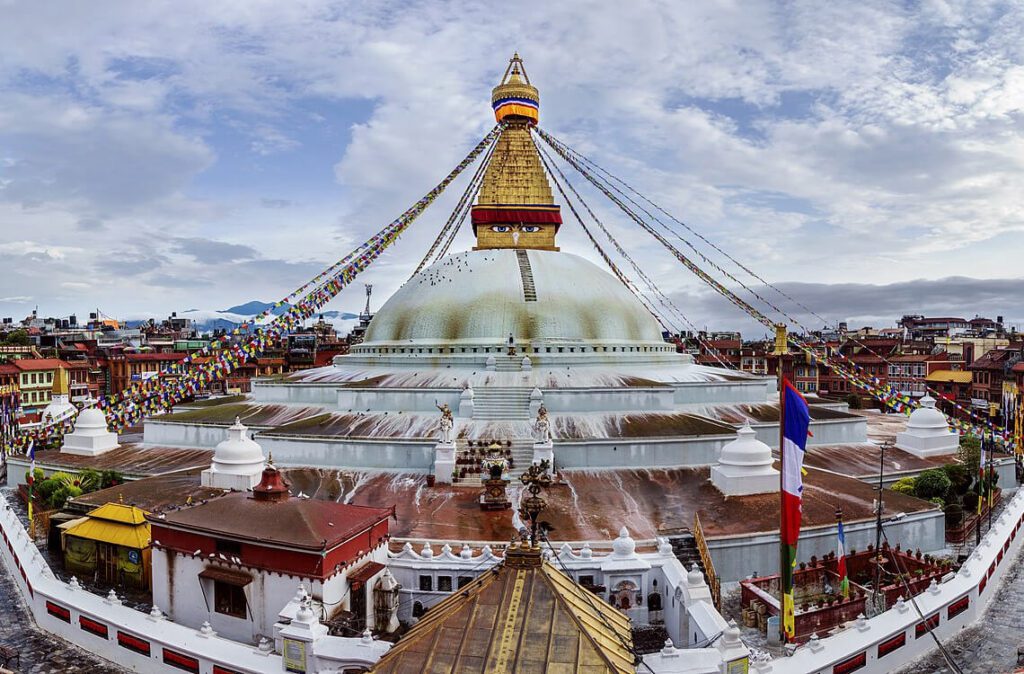 Durbar Square:
Durbar Square is a historic site and is home to several temples and palaces. The intricate architecture and the rich history of the place make for a fascinating visit. Take a leisurely stroll through the square holding hands with your partner and admiring the beauty of the place. You can also enjoy a cup of tea or coffee at one of the many cafes in the area.
Swayambhunath Temple:
Swayambhunath Temple, also known as the Monkey Temple is one of the most revered and sacred Buddhist pilgrimage sites in Nepal. It is located on a hilltop in the Kathmandu Valley and is believed to have been built over 2,000 years ago.
The temple is famous for its iconic white dome-shaped stupa which is adorned with colorful prayer flags and has the all-seeing eyes of Lord Buddha painted on it. The stupa is surrounded by several smaller shrines and temples each with its own unique history and significance.
Chitwan National Park
Nestled in the heart of Nepal lies Chitwan National Park, a nature lover's paradise that offers a perfect escape for couples looking to explore the wilderness and immerse themselves in nature. Chitwan National Park is a UNESCO World Heritage Site and is home to an abundance of flora and fauna that can enchant and delight any visitor. From majestic tigers and one-horned rhinoceroses to lush jungles and glistening rivers, Chitwan National Park has it all.
Chitwan National Park is home to over 700 species of wildlife including the elusive Bengal tiger, the endangered one-horned rhinoceros, and the Asian elephant. Couples can take a jungle safari through the park to witness these majestic creatures in their natural habitat. The experience of seeing these animals up close is unforgettable and will create memories that will last a lifetime.
The Tharu people, an indigenous group that has resided in the region for centuries, also call Chitwan National Park home. A Tharu village may be visited by a couple to explore their distinctive culture and way of life. A must-see for everyone visiting the park is one of the Tharu people's famous traditional dance performances. Couples may also enjoy the mouthwatering original Tharu cuisine.
Luxury Lodges and Resorts
Chitwan National Park is a peaceful and serene environment making it an ideal destination for couples looking to relax and unwind. The park is home to several luxury lodges and resorts that offer a variety of wellness treatments and spa services. Couples can enjoy a couple's massage, soak in a hot tub or simply relax by the pool and soak up the sun.
Also Check: Hollywood Movies Shot in Nepal
For couples looking for some adventure, Chitwan National Park has plenty to offer. You can take an elephant safari or go on a guided nature walk to explore the park's hidden treasures. Couples can also go bird watching, zip-lining or even try their hand at fishing in the Rapti River.
Nagarkot
Nestled amidst the serene and picturesque hills of Nepal. Nagarkot is a hidden gem that exudes romance and tranquility. The breathtaking views of the majestic Himalayan ranges and the lush greenery that surrounds it make it an ideal destination for couples looking to escape the hustle and bustle of city life.
As you ascend the winding roads to Nagarkot you'll feel your heart skip a beat as the awe-inspiring beauty of the landscape unfolds before your eyes. The misty mountain ranges, the vibrant hues of the sunrise and sunset, and the gentle breeze that caresses your face are enough to take your breath away.
The allure of Nagarkot lies not only in its stunning natural beauty but also in the rich cultural heritage that it boasts. The region is home to several ancient temples and monuments that are a testament to the country's rich history and traditions. Exploring these cultural treasures hand in hand with your partner is a wonderful way to deepen your connection and learn more about each other's interests.
One of the most romantic things to do in Nagarkot is to go on a trek or hike together. The trails here are surrounded by lush greenery and the fresh mountain air will rejuvenate your senses. You can pack a picnic lunch and find a secluded spot with stunning views to enjoy each other's company and revel in the tranquility of nature.
Ghandruk
If you're looking for a romantic getaway in the mountains of Nepal look no further than the charming village of Ghandruk. Located in the Annapurna region, Ghandruk offers stunning views of the Himalayas, traditional Nepalese culture, and plenty of opportunities for adventure.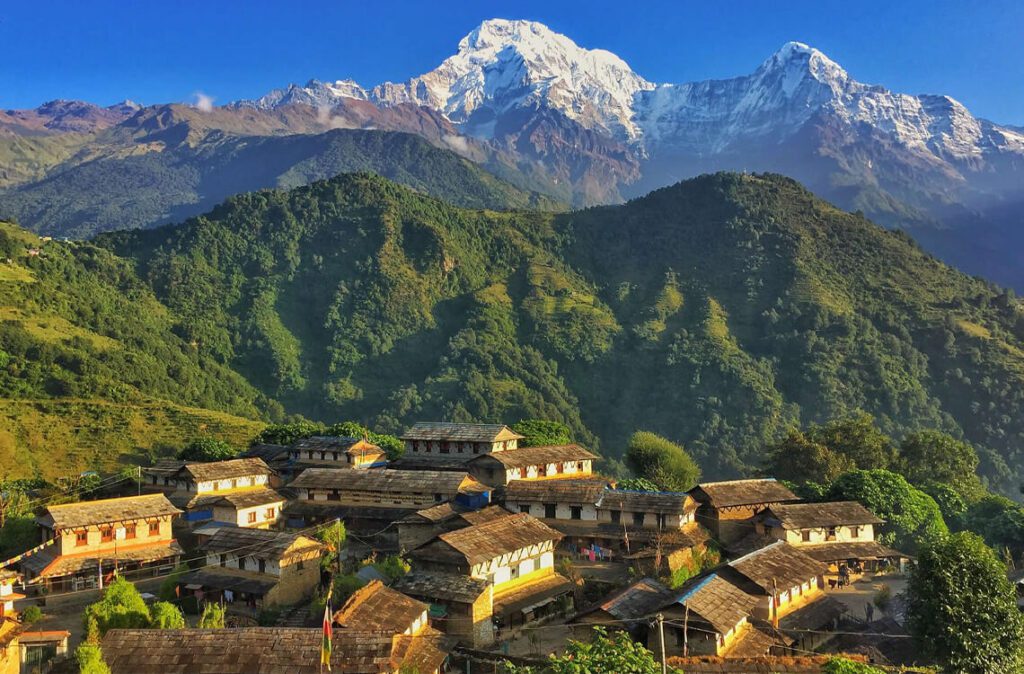 Ghandruk is a perfect destination for couples who love adventure and nature. The village is surrounded by lush forests and mountain vistas making it an ideal place for hiking and trekking. You can take a leisurely walk around the village or explore the nearby Annapurna Conservation Area where you can spot rare wildlife such as the Himalayan tahr and snow leopard.
Ghandruk also offers a glimpse into traditional Nepalese culture. The village is home to the Gurung people, an ethnic group with a rich cultural heritage. You can visit the Gurung Museum to learn more about their customs and tradition or participate in a homestay to experience firsthand their way of life.
Bhaktapur
Couples who enjoy culture, history, and adventure must explore Bhaktapur, a city in the Kathmandu Valley of Nepal. This historic city, which goes all the way back to the 12th century is renowned for the temples, palaces, and shrines that are still in excellent condition.
If you're interested in pottery you'll love the Pottery Square in Bhaktapur. This is where you'll find local artisans making clay pots, vases, and other decorative items. You can even try your hand at making pottery and take home a souvenir.
Bhaktapur has a unique cuisine that's worth trying. Some of the popular dishes include Juju Dhau which is a sweet yogurt made from buffalo milk and Bara, a lentil pancake that's served with chutney. You can also try local street food like samosas, momos, and chow mein.
Nagarkot is a hill station near Bhaktapur that offers a breathtaking panoramic view of the Himalayas. You can hike up to the viewpoint or take a car or bike. The view of the sunrise and sunset from Nagarkot is something that you and your partner will never forget.
Rara Lake
For couples looking to get away from the rush and bustle of city life, Rara Lake is one of the most beautiful and romantic places to visit. Rara Lake is the ideal location for couples seeking privacy and connection in a calm and tranquil setting. It is surrounded by magnificent woods and snow-capped mountains. Rara Lake is breathtaking and its clear waters and verdant surroundings provide it with the ideal romantic setting. Rara Lake is the perfect location to make priceless memories with your significant other whether you want to go for a stroll in the nearby hills or have a romantic boat ride on the lake.
If you are feeling adventurous, you can go trekking in the surrounding hills or explore nearby villages and monasteries. You may come across rare Himalayan wildlife such as musk deer, black bears, and snow leopards. You can also watch the sun as it sets behind the hills, painting the sky with a palette of oranges, pinks, and purples creating the perfect romantic atmosphere for couples to enjoy.
The best time to visit Rara Lake is during the autumn months when the air is crisp, the sky is clear and the colors of the surrounding forests are in full bloom. As you take a leisurely stroll around the lake, you can watch the colors of the surrounding forests change from gold to orange, and red to brown. The stillness of the lake, the serene surroundings, and the sweet chirping of birds will all add to the charm of the place making it an ideal setting for a romantic picnic or a quiet evening under the stars.
Tansen
When seeking a romantic holiday, couples might choose Tansen, a hidden treasure that often goes unnoticed by visitors. Tansen is a town in Nepal's Palpa district that is perched atop a hill. The village is encircled by verdant forests, undulating hills, and breathtaking Himalayan vistas. A stroll through the town's meandering alleys and lanes is among the most romantic things to do in Tansen. The charming shops and cafés that line the streets are ideal for a leisurely stroll with your significant other and the tiny roads are surrounded by ancient, traditional homes that have been lovingly conserved over the years.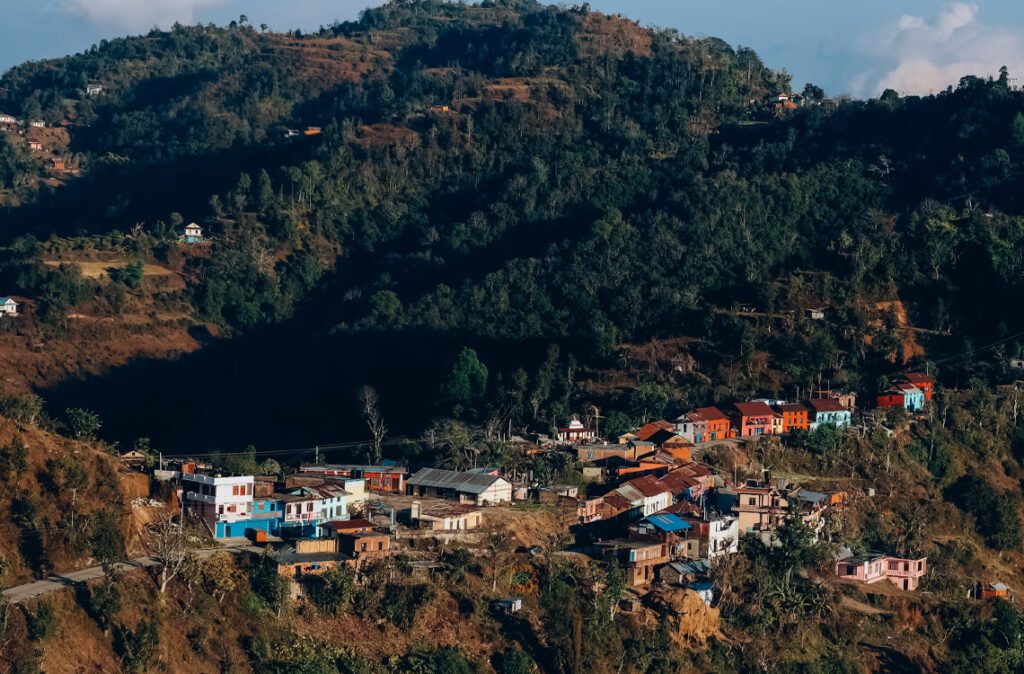 Another romantic activity that you can enjoy in Tansen is watching the sunrise or sunset over the majestic Himalayan range. The panoramic views of the mountains are breathtaking and the experience is one that you and your partner will cherish forever.
Lumbini
Places to Visit in Nepal for Couples- Lumbini, the birthplace of Lord Buddha is a serene and magical place that has captured the hearts of countless people over the centuries. For couples looking for a romantic getaway, Lumbini offers a unique blend of spiritual tranquility and natural beauty that is sure to captivate your hearts and souls.
As you stroll hand in hand through the lush gardens and ancient temples, you will feel a sense of peace and serenity that is truly unmatched. The sacred Bodhi tree where Lord Buddha attained enlightenment is a must-visit for couples seeking a deeper connection with each other and the world around them.
But it's not just the spiritual aspect of Lumbini that makes it so enchanting for couples. The natural beauty of the surrounding countryside is simply breathtaking, with rolling hills, tranquil lakes, and fragrant gardens that provide the perfect backdrop for a romantic picnic or evening stroll.
For a truly unforgettable experience (Places to Visit in Nepal for Couples), be sure to take a hot air balloon ride over the countryside at sunrise or sunset. As you float effortlessly above the treetops, you'll be treated to stunning views of the entire region with the snow-capped Himalayas in the distance.
But perhaps the most romantic aspect of Lumbini is the sense of connection and unity that it fosters between people. As you immerse yourselves in the culture and history of this ancient land you'll find yourselves drawn closer together with a deeper appreciation for the beauty and wonder of life.