Our trip to Mardi Himal Base Camp started on October 26, 2018, as we traveled to Pokhara from Kathmandu with our Guide Shiva from Asian Heritage. The agency gave us a very good and detailed explanation with an itinerary of our custom-made tailor trip as well as had a very professional team which took care of our all needs with quick response.
We started our journey from Kathmandu to Pokhara on a tourist bus with my wife. You can also book a private vehicle but a tourist bus is cheaper if you have fewer companions with you. As it was my third visit to Nepal, I was still shocked by the traffic condition of Nepal. We had stuck for 30 minutes on our way to check posts in Thankot. The bus took us 7 hours to reach Pokhara where we stayed overnight. Pokhara is a beautiful city with a magnificent view of the Annapurna range and Fishtail, our destination. After checking in at the hotel, our guide suggested some nice places to have dinner. I and my wife went to wander the streets of Lakeside and had dinner in the cottage-type restaurant beside the bank of Phewa Lake.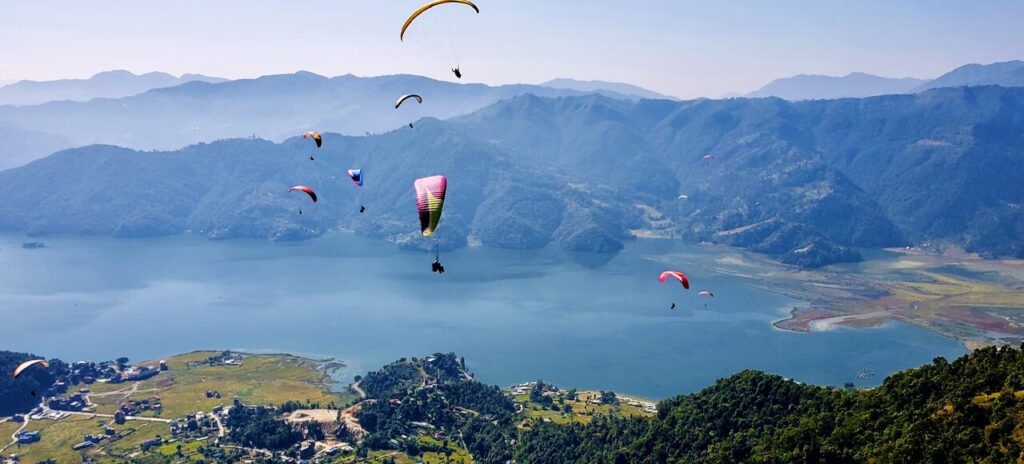 On our second day, we traveled to Sarangkot hill to watch the sunrise. The view was so good with the sunlight hitting the mountain and making it into a golden mountain. I and my wife will cherish the moment forever. Then, we return to our hotel and had our breakfast. We then traveled to a place called Kade or Kande or something (sorry for the confusion) and then started our first hike through the hill to reach Australian Base Camp. Our agency had booked the tents near the cliff which provided an amazing view of the mountains and Pokhara valley on the other side.
Culture, Flora & Fauna, and Mountains
Our third day began with hiking through the dense forest and some small settlements. Our quota for today was 7 hours hiking and low base camp our target. Throughout the journey, our guide, Shiva, shared his knowledge about the culture, flora & fauna, and mountains. Most of the inhabitants were of the Mongolian race and followed Buddhism. After crossing the hurdles along the trail, we reached our destination.
Also Read: NEPAL TREKKING GUIDE
On the fourth day, we had to climb up the hill and reach High Camp (the last place to find a lodge). After a non-stop hike ascent to a place called Batase Hill (Batase = strong wind in Nepali). As we reached the ridge of the hill, the view was spectacular with the clouds flowing through with Annapurna and Fishtail Mountain in the background. From here, our pace was slow as we took our time taking images & videos for a memento. Afterward, we hiked up to the High Camp but the view was not as nice from Batase hill.
Mardi Himal Base Camp
In the early morning, around 5 A.M, we started our hike to Mardi Himal Base Camp. It took us around one and a half hours to reach the upper viewpoint and another hour to get to our destination. The route to the upper viewpoint is a little dangerous as one has to climb the huge rocks and slope. One has to be very careful while climbing these rocks. Even though the trail was a little bit difficult, we reached the lower viewpoint. From here, the view was so much mesmerizing with the sunrise hitting the Mountains. Ahead of us was the beautiful scenery of golden Fishtail & Mardi Himal.
On left, there was the huge Annapurna, and below was the trail to Annapurna Base Camp and Pokhara valley with Siding village on the right. Onward we went to Mardi Himal Base Camp after a small tea break. We slowly hiked to the base camp as which is situated at 4500 m and my wife did not want to hurry. After an hour of walking, we passed the upper viewpoint and finally reached our destination. The scenery was about the same as from the lower viewpoint except for the closeness of the mountains. There was a small teashop at the base camp and the people at the teashop told us that one can also climb the mountain in front of us but with risks included. So, we ditched that idea and enjoyed our view from the base camp.
Trek to Low Camp
After spending some time there, we made our way back to our lodge in High Camp via the same route. There, we had our breakfast and then descended to the Low Camp. From here, our guide took us via another trail leading to Sidhing village which was 3 hours of continuous downhill. Our guide told us that there are jeeps available from Sidhing to Pokhara and this route was used by those who have less time for trekking. Then, we hired a private jeep, and then took two hours to reach Pokhara. At Pokhara, we stayed at 4* Temple Tree resort which was luxurious and amazing.
From here, our contract with our travel agent, Asian Heritage, came to an end as we decided to travel to the lower Mustang by ourselves. Also, we would like to thank Nilam and Devi for the quick management of our flight tickets to Jomsom from Pokhara and for making our visit memorable.