Everest Base Camp – One of the most famous and breathtaking places on Earth is Mount Everest, which towers a remarkable 8,848 meters (29,029 feet) above sea level. For many mountaineers and hikers, who are lured to its iconic peak and stunning panoramas, it is a dream location. Nonetheless, Everest summit climbing is not recommended for those with weak hearts. It takes extensive mountaineering abilities and expertise, as well as months of training and planning. Trekking to Everest Base Camp (EBC) is a great substitute for people lacking the necessary technical knowledge or experience.
World Tallest mountain, Everest Base Camp
When most people think of Everest Base Camp, they likely picture a single campsite at the base of the world's tallest mountain. However, in reality, there are actually two base camps on opposite sides of Mount Everest: the South Base Camp in Nepal, and the North Base Camp in Tibet, China. These camps serve as starting points for expeditions to climb Everest from either the southern or northern side.
However, when people use the term "Everest Base Camp," they're usually referring to the South Base Camp, which is the more popular of the two and attracts thousands of trekkers every year. Located in the Khumbu region of Nepal, the South Base Camp offers breathtaking views of Everest and the surrounding peaks, as well as a chance to immerse oneself in the local Sherpa culture.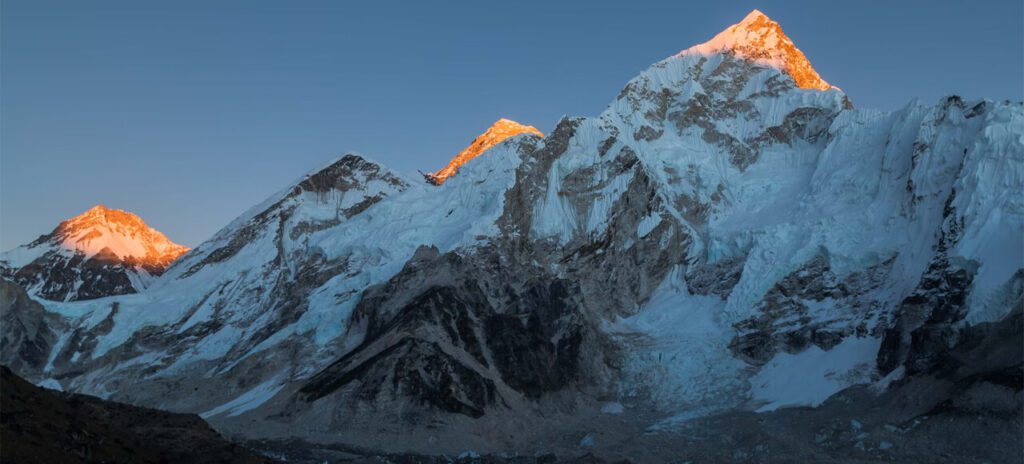 To reach the South Base Camp, trekkers embark on an at least two-week-long journey that takes them through some of the most stunning scenery in the world. The trek starts from Lukla, a small town known for its challenging airport and breathtaking views of the Himalayas. From there, trekkers hike through several Sherpa villages, including Namche Bazaar, Tengboche, and Dingboche, each with their own unique charm and cultural significance.
Also Read: Trek to Beautiful Mardi Himal Base Camp
The trek involves some steep climbs and challenging terrain, as trekkers navigate rocky trails, suspension bridges, and high-altitude passes. As they ascend higher into the mountains, they must also contend with the effects of altitude sickness, which can cause a range of symptoms including headaches, nausea, and fatigue.
Is Everest Base Camp worth it? What does it promise?
Imagine standing at the foot of the world's tallest mountain, surrounded by breathtaking views of snow-capped peaks, vibrant prayer flags fluttering in the wind, and the unique culture of the Sherpa people. This is what a trek to Everest Base Camp promises.
Trekking to Everest Base Camp is not just about the destination, it's about the journey itself. The two-week-long trek takes you through rugged terrain, dense forests, and traditional Sherpa villages, giving you a chance to immerse yourself in the local culture and lifestyle. You can taste the delicious local cuisine, learn about the Sherpa people's traditions and beliefs, and even visit monasteries and museums that offer insights into their way of life.
The trek is a test of endurance and requires proper acclimatization to the high altitudes. However, the rewards are well worth the effort. You will witness the beauty of the Himalayas like never before, with stunning views of Mount Everest, Lhotse, Nuptse, and Ama Dablam, among others. The hike to Kala Patthar is a highlight of the trek and offers a panoramic view of the surrounding peaks, including the majestic Mount Everest.
Preparing for the Journey
If you're serious about climbing to Everest Base Camp, then you need to prepare yourself physically and mentally. Here are some tips to help you get started:
Start training early
You need to be physically fit to undertake this journey. Start training at least six months before your planned departure date. Focus on cardio exercises such as running, cycling, and swimming, and include strength training exercises such as weightlifting and bodyweight exercises to build your muscle strength.
Practice hiking
Hiking is the best way to prepare for climbing to Everest Base Camp. Start with short hikes and gradually increase the distance and elevation gain. You should aim to hike with a backpack that weighs around 10-12 kilograms to simulate the weight you will be carrying on the trek. However, many trekking companies provide porters to carry your heavy backpacks.
Acclimatization
Acclimatization is essential to avoid altitude sickness. You should plan your itinerary in a way that allows for proper acclimatization. This means that you should spend a few days at a lower altitude to allow your body to adjust to the reduced oxygen levels before climbing higher.
Pack the right gear
You need to pack the right gear for the journey. This includes warm clothing, a good quality sleeping bag, a waterproof and windproof jacket, comfortable hiking boots, and a backpack with a capacity of at least 50 liters.
Mental preparation
Climbing to Everest Base Camp is not just a physical challenge but also a mental one. You need to be mentally prepared to cope with the long hours of hiking, the unpredictable weather, and the challenges that come with high-altitude trekking.
You may also be interested in: Nepal Trekking Guide
The Journey to Everest Base Camp
Your adventure starts with a heart-stopping flight to Lukla, where the airport is considered one of the most dangerous in the world. But don't worry, once you land safely, the real adventure begins.
As you trek towards Everest Base Camp, you'll pass through charming villages, cross suspension bridges over gushing rivers, and navigate through rugged terrain. But the journey is not for the faint of heart. You'll be tackling high-altitude passes, including the famous Cho La pass, standing at a staggering 5,420 meters above sea level.
With a trek that can take up to two weeks, you'll need to be prepared for long, grueling days of hiking. But don't worry, you'll have cozy tea houses to rest in at night, and warm meals to refuel.
Finally, after all the hard work and perseverance, you'll reach Everest Base Camp, where you'll be standing on a barren expanse of rock and ice, with a few expedition tents scattered around. From here, you'll catch a glimpse of the majestic Everest and the surrounding peaks, making all the effort worthwhile.
Conclusion
Trekking to Everest Base Camp is not just a physical journey, but a cultural and emotional one as well. Along the way, trekkers have the opportunity to meet locals and learn about their way of life. The Sherpa people are a fascinating group of people with a rich cultural heritage, and visitors to the region are often struck by their warm hospitality and a strong sense of community.
The trek itself is a challenging and rewarding experience that takes trekkers through a variety of landscapes, from lush forests and alpine meadows to barren high-altitude terrain. Each day brings new challenges and breathtaking vistas, and the feeling of accomplishment upon reaching the Base Camp is truly unparalleled.
While the trek requires physical stamina and mental determination, it is important to note that proper preparation and acclimatization can significantly reduce the risk of altitude sickness and other health issues. With the right mindset and guidance, even beginners can tackle this incredible adventure and come away with a newfound appreciation for their own strength and resilience.
In conclusion, Everest Base Camp is an adventure that offers something for everyone, from cultural immersion to physical challenges and stunning natural beauty. It is a journey that will test your limits and leave you with a sense of accomplishment and wonder that will stay with you for the rest of your life.