Tucked away at the base of a magnificent hill, Besisahar remains a well-kept secret, patiently awaiting the arrival of adventurous souls and nature enthusiasts. Blessed with awe-inspiring landscapes, a vibrant cultural heritage, and genuine hospitality, this charming Nepalese city offers an unparalleled experience for travelers yearning to break free from the ordinary.
Join me as we embark on a virtual expedition to uncover the wonders of Besisahar, the captivating city nestled at the base of a hill.
Altitude
Situated at an elevation of approximately 807 meters above sea level, Besisahar offers a pleasant and temperate climate making it an ideal getaway throughout the year. The moderate altitude ensures that visitors can explore the town comfortably without experiencing the extreme cold or thin air associated with higher elevations.
Also Read: Syabrubesi: Junction of Major Trekking Route
This makes it an excellent starting point for trekking and mountaineering adventures in the Annapurna region.
Location
Besisahar is strategically located in the Lamjung District of Nepal's Gandaki Province. It serves as the gateway to the renowned Annapurna Circuit, one of the world's most famous trekking trails. The town is situated at the confluence of the Marshyangdi and Dudh Khola rivers, creating a picturesque setting that is nothing short of awe-inspiring.
The surrounding landscape is adorned with lush green forests, cascading waterfalls, and terraced fields, showcasing the unparalleled beauty of Nepal's natural wonders.
Weather Conditions and Temperature
Let's take a look into the weather conditions and temperature variations that make Besisahar a fascinating destination for nature lovers and adventurers alike.
Spring (March to May)
As winter bids farewell, Besisahar blooms with vibrant colors during spring. The weather during this time is pleasant, with temperatures gradually rising. March may still witness some residual chill, but by April, the temperature begins to climb steadily.
You may also like: Sherpa People: Bravest Heroes of Mountains
It is the perfect time to witness the resplendent beauty of blooming rhododendrons and other wildflowers, which paint the landscape in hues of red, pink, and white.
Summer (June to August)
The summer season in Besisahar is characterized by warmer temperatures and occasional rainfall. June and July are the hottest months, with temperatures ranging from 25°C to 30°C (77°F to 86°F).
The monsoon season commences in June, bringing refreshing showers that rejuvenate the surrounding lush greenery. The rainfall can vary from light drizzles to heavy downpours, adding a mystical charm to the region.
Autumn (September to November)
Considered the best time to visit Besisahar, autumn presents a splendid blend of moderate temperatures and clear skies. The weather during this season is relatively stable with temperatures ranging between 15°C to 25°C (59°F to 77°F).
The skies are usually blue offering unobstructed views of the majestic mountains. Autumn is also the ideal time for trekking enthusiasts, as the trails are dry, and the landscapes are awash with golden hues.
Winter (December to February)
Winter brings a touch of chill to the air, enhancing the mystical appeal of Besisahar. The temperatures during this time range from 5°C to 15°C (41°F to 59°F). The region experiences mild to moderate rainfall, occasionally transforming into snowfall at higher elevations.
The snow-capped peaks and the crisp mountain air create a picturesque winter wonderland, inviting photographers and adventure seekers to explore the region.
Main Attraction of Besisahar
Let's explore the main attractions that make Besisahar a must-visit destination for travelers seeking an authentic and captivating experience.
Lamjung Durbar
Your exploration of Besisahar begins with a visit to the Lamjung Durbar which is a historic palace that stands as a testament to the region's rich heritage. This ancient fortress showcases traditional Nepalese architecture, intricate woodwork, and stunningly preserved artifacts.
As you wander through its halls and courtyards, you can immerse yourself in the grandeur of the past and gain insights into the glorious history of the region.
Marshyangdi River
Prepare to be awe-struck by the breathtaking beauty of the Marshyangdi River, which flows gracefully through the heart of Besisahar. Known for its crystal-clear turquoise waters and dramatic gorges, this river offers an exhilarating experience for adventure enthusiasts.
Also Check: Luxury Tour Packages for Couples in Nepal
Rafting or kayaking along its rapids is an adrenaline-pumping activity that allows you to witness the mesmerizing landscapes surrounding Besisahar from a unique perspective.
Ghalegaun
Escape the bustling town and embark on a short excursion to Ghalegaun, a pristine village located a few kilometers away from Besisahar. Located amidst lush green hills, Ghalegaun offers a glimpse into the traditional lifestyle and culture of the Gurung community.
The warm hospitality of the locals, traditional dance performances, and a chance to savor authentic Nepali cuisine make this village an enchanting retreat.
Manaslu Conservation Area
For nature lovers and trekking enthusiasts, the Manaslu Conservation Area is a paradise waiting to be explored. Home to the eighth highest mountain in the world, Mount Manaslu this protected area offers spectacular vistas, diverse flora and fauna, and a chance to engage with the local wildlife.
Popular: Exploring the Enchanting Architecture of Nepal
Trekking through the region's pristine trails allows you to witness panoramic views of snow-capped peaks, cascading waterfalls, and serene alpine lakes.
Khudi
A short distance from Besisahar lies the scenic village of Khudi. Surrounded by terraced fields and nestled amidst rolling hills, Khudi offers a serene atmosphere and a chance to experience rural Nepalese life.
Take a leisurely walk through the village, interact with the friendly locals, and witness their traditional farming practices. The stunning views of the Annapurna range from Khudi are a photographer's delight.
Annapurna Circuit Trek
Besisahar serves as the starting point for the famous Annapurna Circuit Trek which is one of the most renowned trekking routes in the world. This epic journey takes you through a variety of landscapes including lush forests, alpine meadows, high mountain passes, and traditional villages.
The awe-inspiring views of towering peaks such as Annapurna, Dhaulagiri, and Manaslu, make it a must-do adventure for avid trekkers.
Local Festivals
Immerse yourself in the vibrant cultural tapestry of Besisahar by participating in local festivals. The town celebrates several religious and cultural festivals throughout the year including Dashain, Tihar, Losar, and Maghe Sankranti.
These festivals offer a unique opportunity to witness traditional dances, music performances, and religious rituals, and taste traditional delicacies, giving you a deeper insight into the local way of life.
Besisahar Bazar
Besisahar Bazar, a bustling gem unearthed amidst the breathtaking landscapes of Nepal, holds the enchantment of a timeless tale. As the gateway to the magnificent Annapurna Circuit, this vibrant market town welcomes trekkers and travelers with open arms. Picture narrow alleys adorned with vibrant prayer flags fluttering in the gentle mountain breeze while the aroma of freshly brewed masala tea entices wanderers to linger.
Popular: Best Seasons and Months to Trek in Nepal
Besisahar Bazar is a vibrant tapestry of cultures, where locals clad in traditional attire trade vibrant handicrafts and aromatic spices. Immerse yourself in the melodic chatter of the bustling bazaar where the rich aroma of sizzling momos and spicy curries permeates the air, inviting you to embark on a sensory adventure. Here, ancient traditions and modern aspirations blend harmoniously, and each corner reveals a story waiting to be discovered.
Besisahar Bazar, where the heartbeat of Nepal resonates, is an alluring destination that leaves an indelible mark on the souls of those fortunate enough to wander through its vibrant streets.
Besisahar to Kathmandu
The distance from Besisahar to Kathmandu is approximately 175.7 kilometers. There are several transportation options available to travel between these two cities:
Bus
Taking a bus is one of the most common and economical ways to travel from Besisahar to Kathmandu. Regular bus services operate on this route, and the journey takes around 6-7 hours, depending on traffic conditions.
Private Vehicle
If you prefer a more flexible and comfortable journey, you can hire a private vehicle or taxi to travel from Besisahar to Kathmandu. The travel time can vary depending on road conditions and traffic.
Jeep/Shared Vehicle
Shared jeeps or vehicles are a popular choice for transportation in Nepal. You can find shared jeeps departing from Besisahar to Kathmandu from the local bus park. This option can be faster than a regular bus, but the journey may be a bit more crowded.
Besisahar to Ghale Gaun
To travel from Besisahar to Ghale Gaun, you have a few options. First, you can take a local bus or hire a private vehicle from Besisahar to Khudi, which is approximately 23 kilometers away. From Khudi, you can either trek for around 5-6 hours, enjoying scenic views, to reach Ghale Gaun or hire a jeep or four-wheel-drive vehicle to cover the remaining 20 kilometers by road.
The road journey from Khudi to Ghale Gaun takes about 1-2 hours. It's important to check road conditions and weather forecasts beforehand and pack accordingly if trekking.
Besisahar to Tilicho Lake
There is no direct road or trail connecting the two locations. To reach Tilicho Lake from Besi Sahar, you would typically need to undertake a multi-day trek through the Annapurna region in Nepal. The trek usually takes around 10-14 days and follows the Annapurna Circuit trail.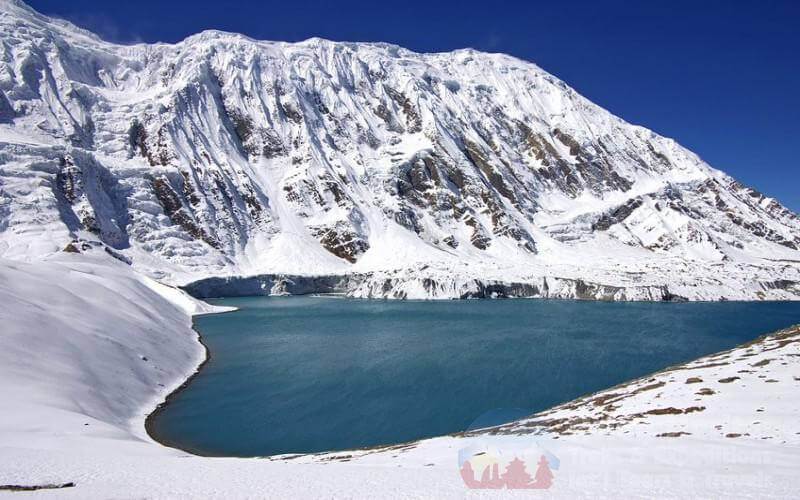 It passes through various villages, offers beautiful landscapes, and requires proper preparation for high-altitude trekking. Tilicho Lake is renowned for its turquoise color and is one of the highest lakes globally. Consulting local trekking agencies or experienced guides is recommended for up-to-date information and assistance.
Accommodation
Let's explore the various options available for accommodation in Besisahar ensuring a delightful experience for every traveler.
Guesthouses and Teahouses
As the starting point for the Annapurna Circuit, Besisahar offers a range of guesthouses and teahouses catering to trekkers. These accommodations are budget-friendly and provide basic facilities such as clean rooms, communal bathrooms, and common dining areas.
More: What makes Nepal different than other countries
Staying in a guesthouse or teahouse allows you to immerse yourself in the local culture, interact with fellow trekkers, and gain insights from experienced guides.
Lodges and Hotels
For travelers seeking a higher level of comfort, Besisahar offers a selection of lodges and hotels. These establishments provide private rooms with attached bathrooms, comfortable beds, and amenities like hot showers, Wi-Fi, and in-house restaurants.
Lodges and hotels in Besisahar offer a more relaxed ambiance making them ideal for travelers who prefer a bit of luxury after a long day of trekking.
Homestays
For an authentic cultural experience, consider staying in a homestay in Besisahar. This option allows you to live with a local family, offering a glimpse into their daily lives, traditions, and customs.
Homestays provide comfortable rooms, home-cooked meals prepared with local ingredients, and a warm, welcoming atmosphere. Engaging with your hosts and participating in their activities can create lasting memories and foster cross-cultural connections.
Eco-Lodges and Resorts
For travelers seeking sustainable and eco-friendly accommodation, Besisahar boasts a few eco-lodges and resorts. These establishments focus on minimizing their environmental impact while providing comfortable and unique experiences.
Eco-lodges often incorporate local materials, renewable energy sources, and organic farming practices. Staying in one of these eco-friendly options allows you to contribute to conservation efforts while enjoying the beauty of Besisahar.
Best Time to visit Besisahar
Let's take a look at the best time to visit Besisahar, taking into account weather conditions, trekking opportunities, and local festivals.
Spring( March to May)
Spring in Besisahar is a magical time when nature awakens from its winter slumber. The weather during these months is mild and pleasant, making it an ideal time for trekking and outdoor activities. The surrounding landscapes come alive with vibrant blooms as rhododendrons, Nepal's national flower, paint the hillsides with shades of pink, red, and white. The clear skies offer breathtaking views of the Annapurna range, providing trekkers with awe-inspiring panoramas. However, it's important to note that spring is a popular season, and the trails may be crowded, especially during the peak months of April and May.
Autumn (September to November)
Considered the best time to visit Besisahar, autumn offers a perfect blend of pleasant weather, stunning vistas, and cultural experiences. The monsoon rains have cleansed the air, resulting in crystal-clear views of the snow-capped mountains. The temperatures are mild, making it comfortable for long treks and exploration. Autumn is also festival season in Nepal, with Dashain and Tihar, the country's biggest Hindu festivals, taking place during this time. You can witness colorful ceremonies, and cultural dances, and enjoy the warm hospitality of the locals.
Winter (December to February)
If you're looking for a quieter and less crowded experience, winter can be an excellent time to visit Besisahar. Although the temperatures can drop significantly, especially at higher elevations, the days are often sunny and clear. The snow-capped peaks create a mesmerizing backdrop, and the absence of monsoon rains ensures excellent visibility. Trekking during winter requires proper preparation, including warm clothing and suitable equipment, but it rewards you with a unique and tranquil experience amidst the serene beauty of the Annapurna region.
Monsoon Season (June to August)
While the monsoon season may not be the ideal time for trekking in Besisahar, it can offer a different perspective for adventurous travelers. The lush green landscapes come alive as the rains rejuvenate the flora and fauna, creating a vibrant and picturesque setting. However, it's important to be prepared for heavy rainfall, landslides, and leeches during this time. Some treks may be challenging or closed due to safety concerns, so it's advisable to check local conditions and seek advice from experienced guides before embarking on any outdoor activities during the monsoon season.