Everest Base Camp in March – Everest Base Camp is one of the bucket lists of people all around the world. The Khumbu region is known for its stunning natural beauty and is a popular destination for trekkers and mountaineers from all over the world. A number of people visit Nepal every year to experience this thrilling experience. Spring season starts to kick off in Nepal in Late March. Even though the spring season officially starts to kick off during this season, temperatures might drop at night time.
Everest Base Camp in March Weather
The Khumbu region is known for its stunning natural beauty and is a popular destination for trekkers and mountaineers from all over the world. Because of the region's severe winter weather, trekking to Everest Base Camp in March can be difficult. In March, the weather at Everest Base Camp can be very cold and uncertain. During this time, there is also a high possibility of snowfall, which can cause delays and difficulties in climbing.
If you intend to trek to Everest Base Camp in March, you must be well-prepared with warm clothing, a good sleeping bag, and appropriate equipment. You should also be aware of the dangers associated with high altitude and seek guidance from experienced mountaineers or local guides. The weather can also be extremely unpredictable, and rainfall is frequent at this time of year. To avoid altitude sickness, it is critical to take appropriate precautions and adapt properly.
The average temperature in March on Everest base camp
At 5,364 meters (17,598 feet) above sea level in the Himalayas, Mount Everest Base Camp experiences year-round temps that can be quite chilly. At Everest Base Camp, March is still regarded as the winter season, and conditions can be very chilly.
March's average daytime temperature at Everest Base Camp ranges from -10°C (14°F) to -15°C (5°F), but it can vary significantly based on the weather. Early morning and late evening are typically when the temperature is at its lowest, and due to wind chill, which is prevalent at high altitudes, these times can feel even colder. As low as -20°C (-4°F) can be reached at night, so it's critical to be adequately equipped for these circumstances. This may necessitate dressing in several layers of warm clothing, such as a down jacket, thermal underwear, warm socks, and insulated boots and gloves. A warm sleeping bag and a sturdy tent are also essential for keeping cozy in the winter.
Festivals at Everest Base Camp in March
You will have the opportunity to enjoy the Losar celebration, which celebrates the Tibetan New Year, held by the Sherpas and Tibetans. Traditional dances, music, and cuisine are used to commemorate this festival. Visitors may come to trek to the base camp and adjacent areas, and they may participate in local festivals or cultural events held in nearby villages. Among the famous March festivals in the region are:
Losar: The Tibetan New Year is commemorated during the Tibetan Buddhist celebration of Losar. Depending on the lunar calendar, it generally takes place between late January and early March when there are Tibetan people. Incense is burned, food is offered to the gods, and prayer banners are hung during the religious observance of Losar. Additionally, they prepare unique dishes like dumplings and sweet rice and take part in customary activities like music and dancing. There are celebrations and community gatherings during the festivities, which usually last for several days.

Gyalpo Lhosar: To commemorate the Tibetan New Year, the Sherpa people hold a celebration called Gyalpo Lhosar. The Sherpa community joyfully celebrates the holiday, which normally takes place in February or March. The Sherpa pays visits to the nearby temple and makes prayers and sacrifices to the gods. The Sherpas perform traditional dances and sing folk songs to mark the celebration. Traditional musical instruments like the Dramnyen are used to accompany the dances, which are typically done in traditional Sherpa costumes. To commemorate the event, Sherpa homes are beautifully decorated with vibrant prayer flags, flowers, and lights. They also prepare special traditional cuisine on the occasion of Lhosar and offer it to relatives, family, and friends. Gyalpo Lhosar is an occasion for the Sherpa community to gather together, celebrate their traditions and culture, and ring in the New Year joyfully.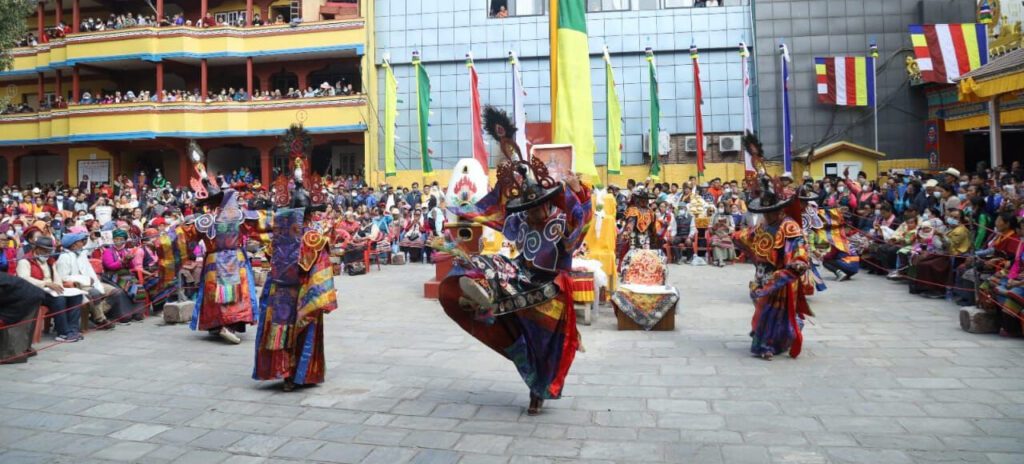 Fagu Purnima/Holi: Fagu Purnima also known as Holi is celebrated enthusiastically in Nepal. Holi is an enthusiastic and dynamic celebration that unites people and pays tribute to the victory of good over evil, the start of spring, and the revival of relationships. The holiday is widely celebrated in Nepal and it involves throwing colored powder and water at one another. It is a moment to gather with friends and family to celebrate. There is also a national holiday in Nepal on the occasion of Holi.

Shiva Ratri: Shivaratri, also referred to as Maha Shivaratri is a Hindu holiday honoring Lord Shiva. According to the Hindu lunar calendar, it is observed on the 14th night of the new moon in the Hindu month of Phalguna (typically in February or March). Shiva devotees regard Shivaratri to be one of the most significant festivals in the Hindu calendar, and it has great meaning for them. It is thought that keeping a fast and engaging in specific rituals on this day can enhance one's luck, peace, and prosperity. As locals in EBC follow different religions you might not able to witness this festival but you can enjoy this festival when you are back in Kathmandu or on your trip to Kathmandu.
Also Read: Everest Base Camp in February
The crowd at Everest Base Camp in March
Along with April and May, March is regarded as one of the busiest months for ascending Mount Everest. The number of tourists starts to skyrocket from the second week of March. There are more climbers and trekkers in the area during this season because the weather is typically more predictable and the climbing conditions are better. During peak season, hundreds of people travel through Everest base camp every day, making it quite crowded there. This might result in lengthy lines at particular locations, like the Khumbu Icefall, which might delay the climbing timetable.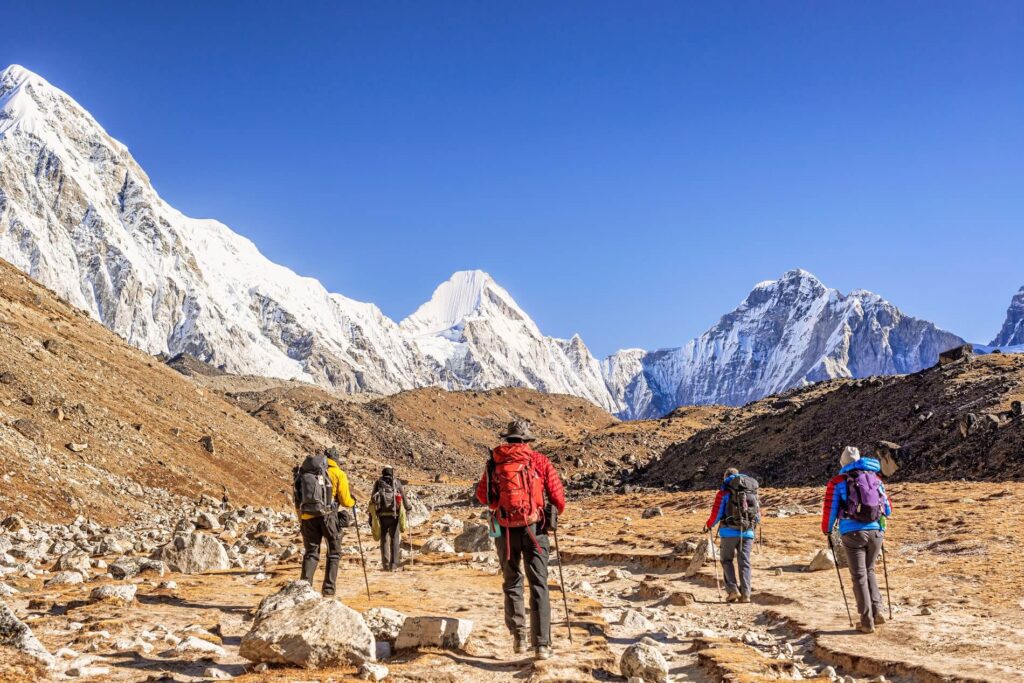 However, the precise number of people at the base camp can change significantly based on a number of variables, including weather conditions, permit restrictions, and international events like pandemics or political unrest. The fact that most tourists to the Everest region trek to neighboring destinations like the Gokyo Lakes or the Everest View Hotel should also be noted, despite the fact that crowds at the base camp can be quite dense. These locations might give a quieter trekking experience and less crowding. It is advised to make advance reservations for lodging and permits if you intend to visit the Everest base camp in March in order to prevent potential problems with crowding or delays.
Plants and Animals
Plants
March weather at the Everest Base Camp is still quite chilly, with typical highs and lows between -10°C and 5°C (14°F and 41°F). The area has a small amount of plant life as a consequence, and lower elevations are where you'll find the majority of the vegetation. Alpine dwarf willow is one of the most prevalent plants in the Everest area. (Salix herbacea). This low-growing shrub, which grows at elevations above 4,000 meters, can endure freezing temperatures and strong winds. The plant has a brief growing season and blooms in the summer with tiny yellow blossoms. Locals also use willow leaves as a traditional herbal remedy to cure a variety of diseases.
In the Everest area, mosses and lichens are also common. These tenacious organisms play a crucial part in the ecosystem by stabilizing soil and supplying habitat for other species. They can develop on rocks and other hard surfaces. In the Everest area, mosses like Bryum Argenteum and Grimmia Laevigata are some of the most prevalent.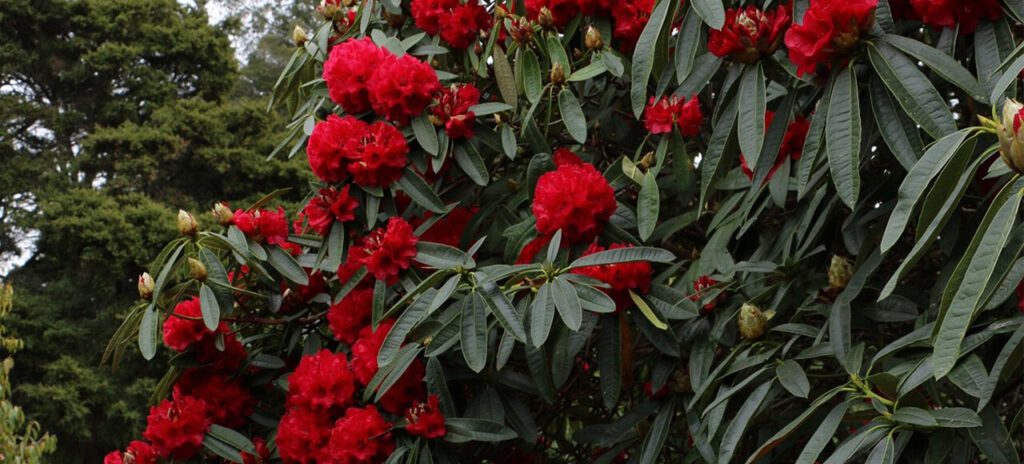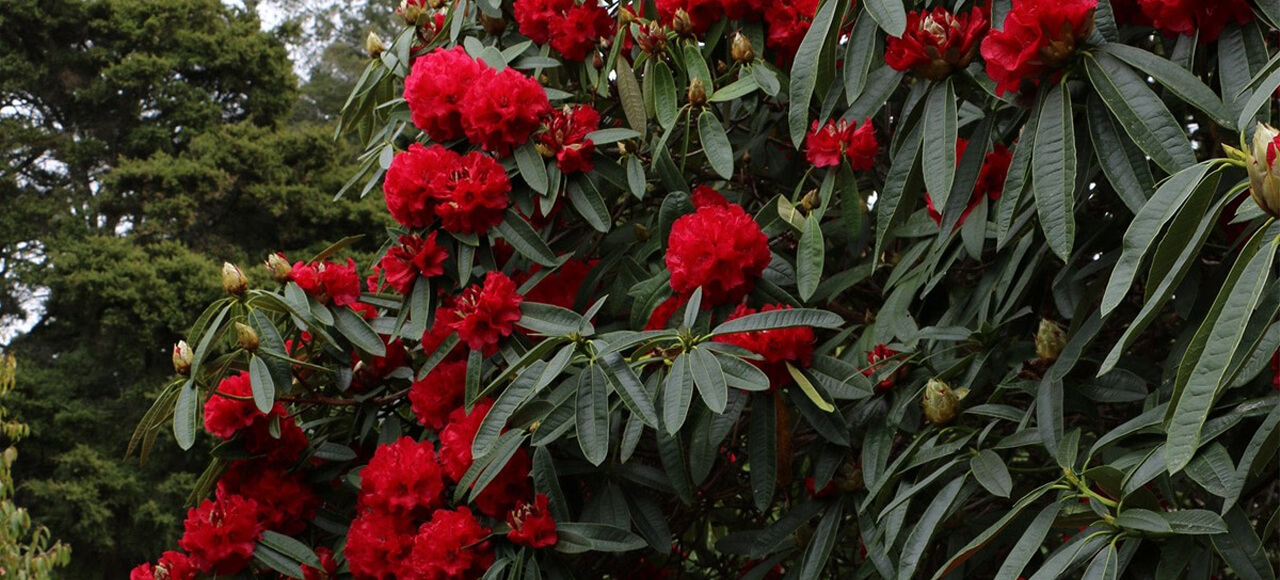 You will also be able to witness the beauty of Rhododendron as it starts to bloom during March. You will be offered the majestic views of the Himalayas accompanied by a jaw-dropping view of Rhododendron.
Local communities have evolved traditional knowledge and practices to sustainably manage the land and preserve its biodiversity, which visitors are encouraged to learn about.
Animals
Everest Base Camp is situated in a high-altitude mountainous area of the Himalayas characterized by extreme weather, rugged terrain, and a lack of vegetation. Very few animals are able to live at such high altitudes because of the harsh environment.
Read More: An Overview of Everest Base Camp
Yaks and dzos are the two animals that are most frequently seen in the Everest area. Yaks are a breed of domesticated cattle that have adapted to live successfully in the challenging environment of the Himalayas. They have thick, shaggy hair that insulates against the cold, making them well suited to the cold environment. Locals use yaks to move supplies and machinery as well as for their meat, milk, and wool.
Dzos, on the other hand, are a cross between domestic livestock and yaks. They are used for transportation as well as a source of meat, milk, and wool and are bigger and sturdier than yaks. Dzos excels at transporting weighty loads over challenging territory.
The Everest area is home to a variety of wild animals in addition to yaks and dzos. These include musk deer, snow leopards, and Himalayan tahrs. A rare and elusive big cat that thrives in the mountains, the snow leopard is well suited to mountain living. They live at high altitudes and are renowned for their stealth and agility. You can also witness Himalayan Tahr also known as a wild goat. They can frequently be seen grazing on steep slopes because they are well adapted to surviving in rocky terrain. The higher altitudes of the Himalayas are home to a species of deer known as the musk deer. They are renowned for having recognizable smell glands that are used to produce musk.
You will be able to witness these animals during your trek to Everest Base Camp in March.
Advantages and Disadvantages of Everest Base Camp in March
Advantages
Comparatively speaking to other months of the year, trekking to Everest Base Camp in March provides a distinctive experience. The following are some benefits of hiking to Everest Base Camp in March:
Fewer Crowds: The number of tourists in the first week of March is comparatively low because of winter. The first week of March is regarded as the off-season for hiking to Everest Base Camp because there are fewer tourists there. As a consequence, there will probably be fewer hikers on the trails, which results in more peace and quiet.
Clear Weather: The ideal month to hike to Everest Base Camp is March due to the clear skies. There is less likelihood of facing severe snowfall or rainfall because the skies are typically clear. Trekking is more comfortable because of the comparatively moderate daytime temperature.
Beautiful Scenery: The winter season in the Everest region ends in March, and the snow starts to melt, revealing the region's beautiful landscapes and scenery. The hills and mountains are snow-covered, and the panoramas are spectacular.
Wildlife Sightings: In the area, March is a great month for spotting wildlife. After a long winter, the animals venture out to enjoy the sunshine, and you might even see some rare species of birds and animals.
Cultural Experience: During March, you can learn about Sherpa culture and customs as the Sherpas celebrate Losar, their New Year.
Disadvantages
There are also disadvantages of trekking during March. Some of them are;
Weather: Because March occurs in the pre-monsoon season, there may be frequent snowfalls, high winds, and sudden temperature drops. This can make trekking more difficult, especially at higher elevations.
Visibility: Because of the frequent snowfall, visibility can be poor during March, limiting the total trekking experience. Cloudy skies may also obscure the breathtaking views of the nearby mountain range.
Trail conditions: Due to snow, the trekking path can be icy and slippery, making it more difficult for trekkers to keep their balance and avoid slipping or falling.
Crowds: Because March is a popular month for trekking to Everest Base Camp, you may meet more people on the trail and in the teahouses, which can detract from the overall experience.
Flight Cancelation: Weather conditions in March can cause aircraft cancellations or delays, particularly in Lukla, the trek's starting point. This can disrupt your plans and create inconvenience.
Tips and Packing List Everest Base Camp in March
Trekking to Everest Base Camp might not be too hard but it's not an easy deal as well. You must be well prepared for what's coming on your way. Following are some tips for you to make your journey memorable and trouble-free:
Train your body: Trekking to Everest Base Camp is a physically demanding exercise that necessitates a high level of fitness. Make sure you prepare your body well in preparation by doing cardio exercises, strength training, and hill trekking.
Stay Hydrated: To stay hydrated during the trek, make sure to consume lots of water. Aim to consume 3–4 gallons of water daily minimum.
Pack smart: Pack lightly, but make sure you have everything you need, including warm clothing, cozy hiking boots, sunscreen, sunglasses, a headlamp, a hat, mittens, and a first aid package.
Acclimate properly: Acclimatization is essential when trekking at greater elevations. Give your body time to adapt to the altitude by taking your time. Don't exert too much pressure on yourself, and take pauses as necessary.
Follow the trail: The trail to Everest Base Camp is well-marked, but if you don't pay attention, it's easy to get lost. Follow the route and don't stray from it.
Hire a guide or porter: Hiring a guide or porter will make your trekking experience much more comfortable and pleasant. They can give you important information about the trail and culture, carry your heavy backpack, and offer assistance in an emergency.
Take care of the environment: Because the Everest region is a fragile ecosystem, it is important that you minimize your environmental effect. Carry all of your trash and correctly dispose of it. Avoid using plastic water jugs and don't litter.
Packing List
This is just a basic list, so you might need to change it to suit your particular requirements and preferences. The weather in the mountains can also be unpredictable, so it's important to bear in mind that it's always best to pack a little extra just in case.
Clothing
It's essential to be ready for a variety of conditions because the weather in the Everest region can be unpredictable. A windproof and waterproof garment is necessary because nighttime lows in March can fall below freezing. For added warmth, you should also pack a fleece or insulated jacket. Quick-drying hiking trousers are cozy and useful, and base layers like long-sleeved shirts and pants are helpful for controlling your body temperature. Bring waterproof, insulated gloves, as well as a warm hat to shield your head and hands from the elements. To safeguard your feet on the rocky and uneven terrain, hiking boots with excellent ankle support are required, along with hiking socks to keep your feet dry and comfortable.
Equipment
For a trek of this duration, a 30–40 liter pack is optimal. You'll need a backpack to carry your gear. Staying warm at night requires a sleeping bag rated for temps below zero, and a sleeping pad will add additional insulation and comfort. A headlamp or flashlight with extra batteries is required for nighttime path navigation, and trekking poles are useful for support on rocky, steep terrain. High-SPF sunscreen is required to protect your skin from the harsh sun, and UV-protective sunglasses are necessary to shield your eyes from the harsh sunlight at high elevations.
More: Food and Accommodation on Everest Base Camp Trek
Lip balm can help avoid chapped lips as well. To remain hydrated throughout the journey, you should pack a water bottle or hydration system with a minimum 2-liter capacity. Bring toilet paper, hand sanitizer, blister pads, pain relievers, and any other required medications in your personal first aid kit. Finally, you can plan your path and navigate the trails with the aid of a trekking map or guidebook.
Electronics
You'll need a camera with additional batteries and memory cards if you want to take pictures or videos of the breathtaking scenery. Your electronic gadgets can be charged while you're on the go with a portable charger or power bank, but you'll need an adapter plug to do so in Nepal. As an alternative, you might want to carry a cell phone with a local SIM card.