Everest Base Camp in April – April is one of the best months to visit Everest Base Camp as it is a transitional period between the winter and summer seasons, making it a relatively stable time with good weather conditions. Clear skies, stunning mountain views, and vibrant rhododendron forests in blossom are all available to you.
Weather at Everest Base Camp in April
Due to the relatively stable weather and mild temperatures, April is typically a good month for trekking in the Everest area. This month's weather is typically mild, with clear, sunny days and chilly evenings. April marks the start of the climbing season on Mount Everest, which means that the weather is warming up and the days are growing longer. Despite the arrival of spring, the weather at Everest Base Camp can still be unpredictable and challenging, and it is critical to be equipped for all weather conditions.
More: Everest Base Camp in March – Weather, Festivals, Crowd & More
You can take in the crystal-clear skies, stunning mountain views, and vibrant rhododendron forests in blossom. The wind can also be a problem at Everest Base Camp, especially in the afternoon when it tends to pick up. Pack suitable windproof clothing to shield yourself from the cold winds. The snowfall is one of the most difficult aspects of reaching Everest Base Camp in April. April marks the beginning of the spring snowfall season, which can bring snowstorms and rain to the region. It can lead raise difficulty in your trekking.
Average Temperature on Everest Base Camp in April
At a height of about 5,364 meters (17,598 feet) above sea level in the Himalayas, where Everest Base Camp is situated, the base camp's weather can be quite chilly even during the day. Everest Base Camp's typical daytime temperature in April, one of the region's best trekking months, varies from 10 to 15 degrees Celsius. (50 to 59 degrees Fahrenheit). This range of temperatures can feel mild, particularly if the sun is out, but it can also be very chilly, especially if there are strong winds or clouds that obscure the sun.
In April, temperatures at Everest Base Camp can drop significantly at night and quickly dip below freezing. At Everest Base Camp, the nighttime temperature in April ranges from -5 to -10 degrees Celsius (23 to 14 degrees Fahrenheit), though it can get even colder on really chilly evenings. It's also essential to keep in mind that, within Everest Base Camp, temperatures can change depending on where you are. Due to the camp's location on a sizable glacier, temperature patterns can vary from one region to another. Areas that experience more direct sunlight, for instance, might be warmer during the day, whereas areas in the shade might be colder.
Festivals at Everest Base Camp in April
Along with majestic views, you will be able to enjoy the Dumje festival. The Dumje festival usually falls in April. A typical Sherpa celebration, the Dumje festival honors Guru Rinpoche's birth on a lotus flower. It occurs precisely two months after the Tibetan lunar calendar's black moon day of Losar (the Buddhist New year). This occurs at the conclusion of spring when cattle are moved to higher pastures. Masked lamas conduct dances, rituals, and prayers over the course of their four-day duration during the Dumje festival. After each celebration day, the local Sherpa villagers get together to celebrate with Sherpa dancing, singing, conversation, and tasty beverages.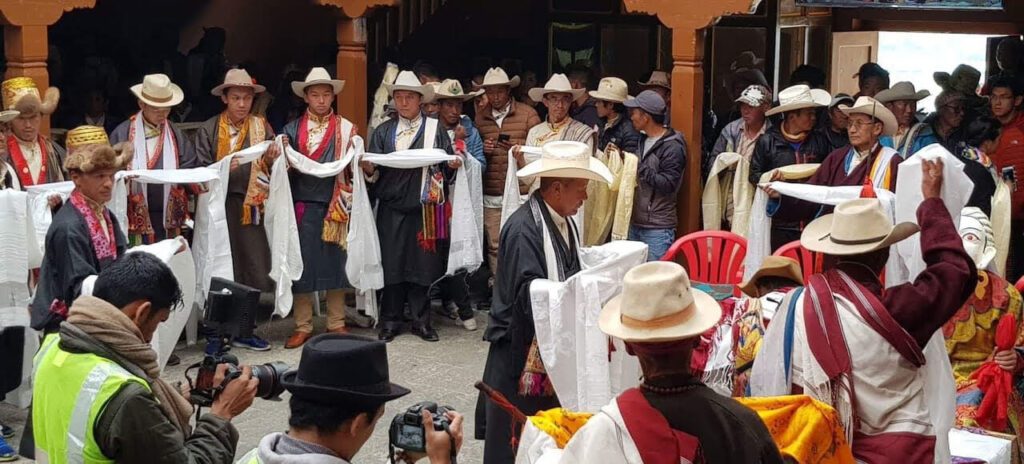 Chaite Dashain is one of the Hindu festivals which is widely celebrated in Nepal. It is also known as small Dashain. It happens in the Nepali month of Chaitra, which typically takes place in late March or early April. This festival is widely celebrated in the hilly regions but as the locals from Everest Base Camp are from different religions they might not celebrate it. But you will be able to enjoy this festival in different parts of Nepal.
Nepalese New Year
Nepalese also celebrates Nepali New Year in April. Instead of the AD, Nepal follows the Bikram Sambat (BS). The different ethnic groups in Nepal observe their own New year, but the national New Year falls in the middle of April. The New Year, known as Nava Barsha, occurs on the first day of the month of Baisakh. It typically falls in the middle of April according to the Gregorian calendar, and Nepal observes it as a national holiday. In order to commemorate the event, people prepare feasts, clean, and decorate their houses. Families and friends get together during this time.
Also Read: An Overview of Everest Base Camp
People attend temples and shrines on the day of the New Year to make prayers and seek blessings for a better future. Many also take part in parades and cultural activities that feature old-fashioned music and performance. The Nepali New Year is a time of celebration and rebirth that is characterized by customs from various religions and cultures that speak to Nepal's particular identity.
Crowds
The peak season for climbing Mount Everest is from mid-April to May when the mountain's weather conditions are most favorable for summit attempts. This month is one of the driest of the year due to little rainfall and comfortable temperatures. There is usually no mud or slippery trails, and the weather is usually pleasant, making it the perfect time for hiking and mountain climbing.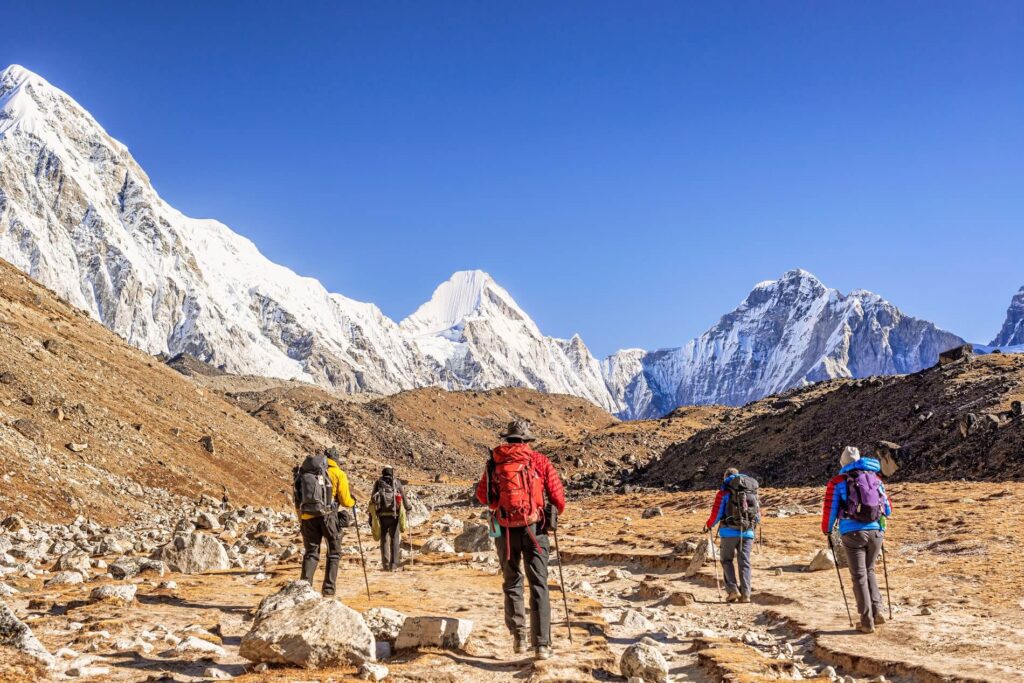 Everest Base Camp can become quite crowded during this period because April is a popular month for trekking and climbing in the Everest region. From mid-April to May is the busiest period for Everest climbs, so you can anticipate a lot of climbers, guides, and assistant staff to be in the EBC area at this time. This could lead to an increase in the number of people around Everest Base Camp.
Plants and animals at Everest Base Camp in April
Plants
There are extreme altitudes, cold temperatures, and unpredictable weather patterns in the Himalayas, where the Everest Base Camp is located. Some species have adapted to the area's conditions and can live there even though it is difficult for both plants and animals to live there. As a result of high altitude, subfreezing temperatures, and strong winds, Everest area plants must endure challenging environmental conditions. In order to preserve water, the plants in this region have evolved special characteristics like small leaves or thick stems.
The area is home to a variety of vegetation, including mosses, lichens, alpine sedges, grasses, and dwarf willows. In the area, rhododendron bushes are also widespread and blossom in early April, bringing a splash of color to the surroundings. During your trip in April, you will able to witness a variety of beautiful flowers along with majestic views of the Himalayas. Here are some flowers that you will be able to witness during your trip to Everest Base Camp in April:
Rhododendrons
Nepal has a diverse variety of flora and fauna, and the rhododendron is one of the most common flowering plants there. Rhododendrons are native to the Himalayan area, and Nepal has over 30 species, making it one of the world's richest nations in terms of rhododendron diversity. The rhododendron is Nepal's national flower and a common ornamental plant in the country. Rhododendrons bloom in the spring and early summer, producing big clusters of showy flowers in a variety of colors ranging from white and pink to bright red and purple.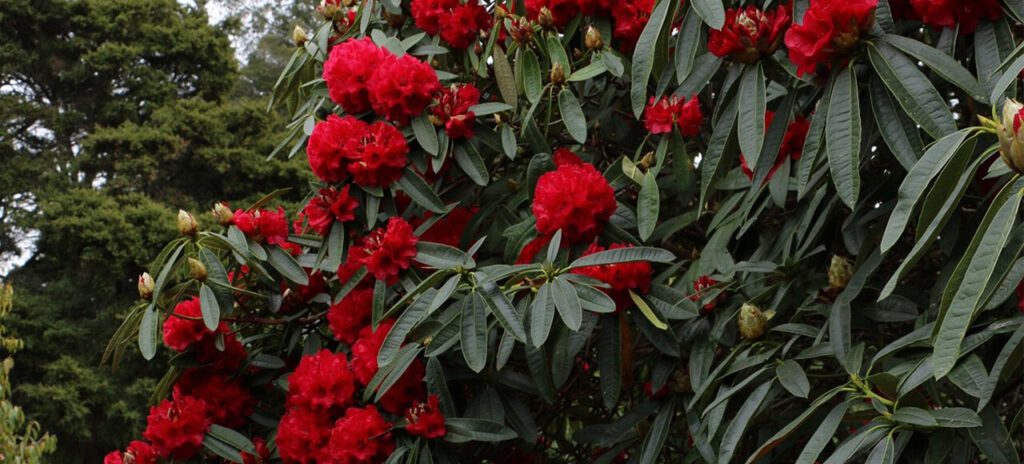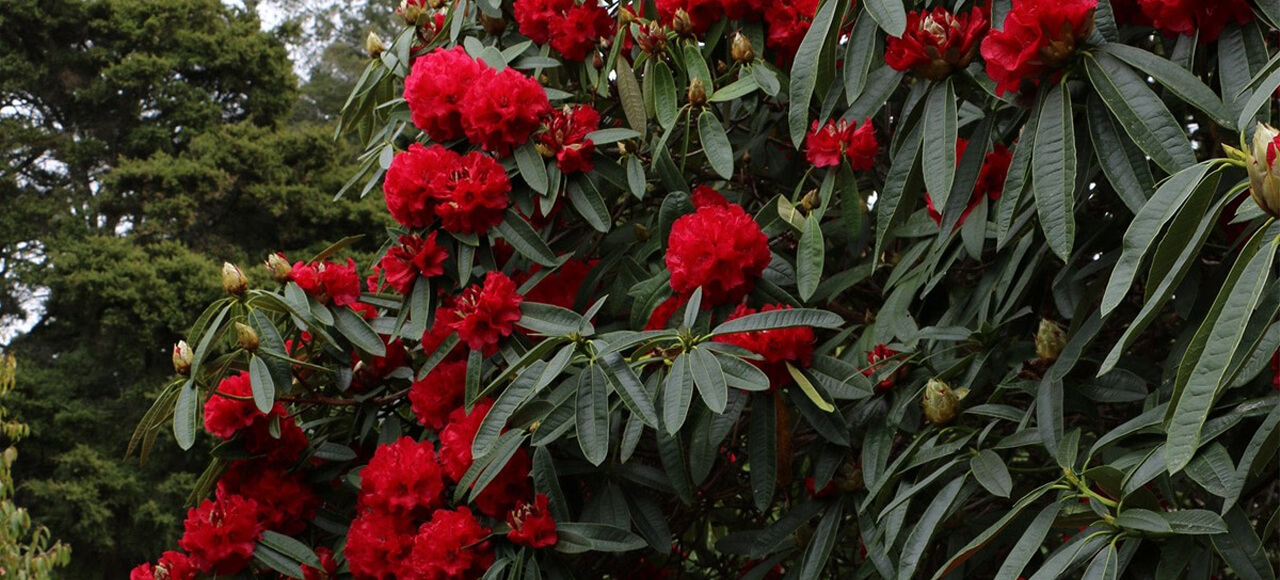 The rhododendron is also essential to the Nepalese economy because its wood is used for fuel and its leaves and flowers are used in traditional medicine. Furthermore, Nepal's rhododendron woods provide critical habitat for a variety of wildlife, including endangered species such as the red panda and the snow leopard. You will be able to witness a variety of Rhododendrons during your trek to Everest Base Camp.
Lily of the Valley
With its brilliant crimson young leaves and showy white blooms, Lily of the Valley is one of the most beautiful plants. These flowers are typically found on shrubs, but they can develop to be as tall as 5 meters. This flower usually blooms from March to May.
Drumstick Primrose
The Drumstick Primrose is one of the most prevalent and widespread primrose species. Its perfectly spherical bouquet is quite a sight, particularly when there are a lot of plants together. Its roots are used to eradicate leeches, and the flowers are used to treat stomach problems. This flower usually blooms from April to May.
Kuamon Iris
These beautiful flowers dot grazing grounds and alpine slopes and are often found in large clumps. The flowers show a wide variation in the petal pattern. The plant can be used as an antidote to opium addiction. This flower starts to bloom from April to July.
Animals at Everest Base Camp in April
Mount Everest Base Camp is a high-altitude location with been known for having harsh weather. The region is usually covered in snow and ice during April, and the temperature can drop significantly below freezing. Even though some animals can endure these challenging circumstances, the diversity of wildlife is comparatively low when compared to other places. Some animals which can still survive this harsh condition are listed below:
Snow Leopard
The snow leopard is among the most well-known creatures to inhabit the area. These big cats are indigenous to the Himalayas and are well-suited to cold climates. Snow leopards which are also known as Ghost of the Mountains, are one of the mountain's most unusual animals. They can easily hunt and move across difficult terrain thanks to their thick fur, which serves as insulation against the weather. The uncommon and elusive small shy cats that are found in and around the high elevations of the Everest Region are the deities of the high mountains.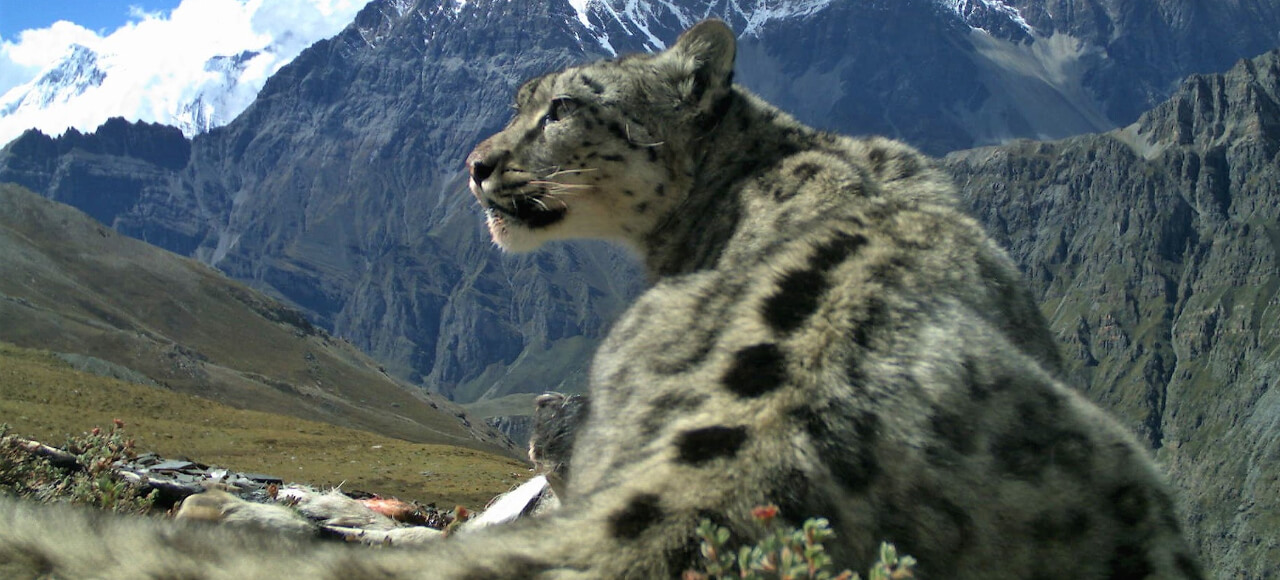 The snow leopard is well suited to chilly conditions and extreme weather. Rarely do they approach human-inhabited regions or trails where people travel, making them difficult to observe. The Gokyo lakes trek side village is the main place to see snow leopards, which are also classified as threatened species by the IUCN. However, if you're fortunate enough, you might occasionally come across these unusual creatures.
Himalayan Tahr
The Himalayan Tahr is another mammal that inhabits the area. This particular species of the untamed goat is also well suited to surviving in the harsh conditions of the Himalayas. They can easily adapt to rocky territory and steep cliffs thanks to their thick fur, which keeps them warm. Himalayan Tahr, which can be found in the altitude region of 2,800 m to 4,200 m, is the most prevalent and frequently spotted animal while trekking at Everest Base Camp. This is also frequently referred to as an alpine goat. They have horns that are bent backward and dense, reddish wool coats. You can see them in a large group close to Pangboche, Dole, Somare, Namche, and other towns, proving that they are able to cope with the challenging mountain climate. The male is larger in height overall and has a thick beard.
Musk Deer
It can be challenging to come across musk deer in the woods because they are regarded to be shy and elusive creatures. They can be found around Kyanjuma village, Debuche village, Tengboche Monastery, Phartse Village, and Thame village and they frequently inhabit rocky terrain and steep slopes and are well suited to life in the Himalayas' frigid and snowy climate.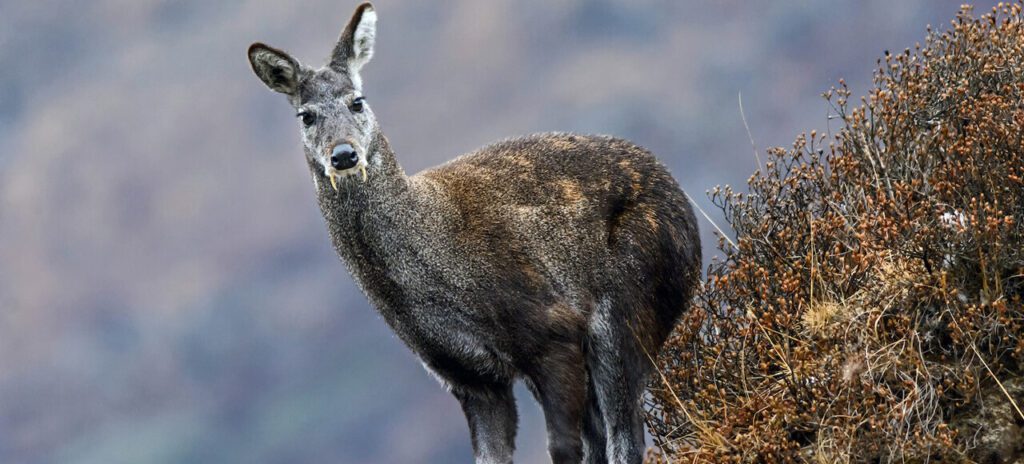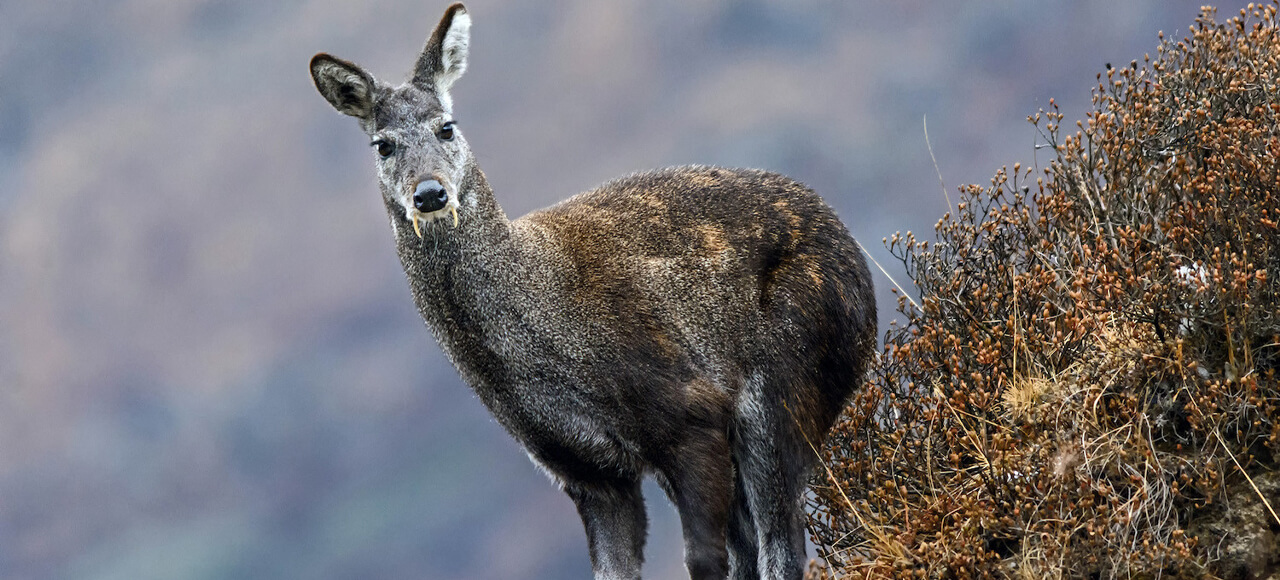 They frequently graze in remote areas far from towns and other human settlements because they tend to avoid areas with a lot of human activity. The precious musk glands found on musk deer are used in traditional medicine. IUCN has listed them as endangered animals.
Himalayan Monal
The Himalayan Monal known as Lophophoraus is the national bird of Nepal. They inhabit Everest Base Camp. You will be able to encounter them during your trip. They have become known for having remarkably attractive and bright coloring that includes shades of copper, blue, green, and purple.
Red Panda
Red pandas are predominantly herbivorous animals that eat fruit, berries, and some small animals like insects and bird eggs in addition to bamboo, which they primarily consume as food. The loss and fragmentation of their habitat, poaching, and inbreeding depression have led to their listing as vulnerable. To safeguard their surviving populations, conservation initiatives are being implemented.
Advantages and Disadvantages of Everest Base Camp in April
Advantages
Due to the pleasant weather, which enables clear views of the nearby scenery, April is a preferred month for trekking. The chance to see animals along the trekking path is also better at this time of year, which improves the overall experience. Here are some of the advantages of trekking Everest Base Camp in April:
Weather: April is typically regarded as a great month for trekking in the Everest area because it is typically dry and warm, making it the perfect time to admire the breathtaking Himalayan views. Although still chilly, the weather is manageable. Additionally, the skies are typically clear, giving you excellent views of the mountains in the area.

Flora and fauna: One of the most significant benefits of trekking in April is the abundance of blooming rhododendron flowers and other colorful vegetation along the path. The hillsides are a riot of hues, making for a stunning and memorable trekking experience. In addition, the wildlife in the region is more active during this period, giving you a better chance of spotting some of the region's unique species.

Lower risk of altitude sickness: Because the weather is warmer in April, there is less chance of sudden temperature changes, which can help reduce the probability of altitude sickness. It's still essential to take things slowly and properly acclimate, but the warmer weather can make the trek easier and more enjoyable.

Availability of Facilities: Facilities are readily available because April comes during the peak trekking season, which means that teahouses and lodges along the trail are frequently open and well-stocked. As a result, trekkers will find the journey more practical and comfortable because they will always have access to food, water, and other necessities.
Disadvantages
There are also some challenges you might face during your trek to Everest base camp. Some of them are:
Crowds: April is one of the busiest months of the year for trekkers to reach Everest Base Camp, so you can anticipate a crowded path. As a result, it might be harder to locate lodging and dining establishments, and there might be a long wait for services like showers.

Cost: Since April is Nepal's busiest trekking month, costs for lodging, meals, and other services may be greater than they are at other times of the year.

Permits: You will need to apply for a permit if you intend to hike to Everest Base Camp in April. During the busiest time of year, permission prices might also increase.

Altitude illness: Trekkers who travel to higher altitudes run the risk of experiencing altitude sickness, and this risk may increase during the busy trekking season when some trekkers may exert too much effort to keep up with the crowds.

Limited availability: If you haven't made reservations in advance, it may be more challenging to find available rooms in the tea houses along the path during peak season due to the high demand for lodging.
Tips and Packing List
Trekking to Everest Base Camp might not be too hard but it's not an easy deal as well. You must be well prepared for what's coming on your way. Following are some tips for you to make your journey memorable and trouble-free;
Train your body: Trekking to Everest Base Camp is a physically demanding exercise that necessitates a high level of fitness. Make sure you prepare your body well in preparation by doing cardio exercises, strength training, and hill trekking.

Stay Hydrated: To stay hydrated during the trek, make sure to consume lots of water. Aim to consume 3–4 gallons of water daily minimum.

Pack smart: Pack lightly, but make sure you have everything you need, including warm clothing, cozy hiking boots, sunscreen, sunglasses, a headlamp, a hat, mittens, and a first aid package.

Acclimate properly: Acclimatization is essential when trekking at greater elevations. Give your body time to adapt to the altitude by taking your time. Don't exert too much pressure on yourself, and take pauses as necessary.

Follow the trail: The trail to Everest Base Camp is well-marked, but if you don't pay attention, it's easy to get lost. Follow the route and don't stray from it.

Hire a guide or porter: Hiring a guide or porter will make your trekking experience much more comfortable and pleasant. They can give you important information about the trail and culture, carry your heavy backpack, and offer assistance in an emergency.

Take care of the environment: Because the Everest region is a fragile ecosystem, it is important that you minimize your environmental effect. Carry all of your trash and correctly dispose of it. Avoid using plastic water jugs and don't litter.
Packing List
This is just a basic list, so you might need to change it to suit your particular requirements and preferences. The weather in the mountains can also be unpredictable, so it's important to bear in mind that it's always best to pack a little extra just in case.
Clothing for Everest Base Camp in April
It's essential to be ready for a variety of conditions because the weather in the Everest region can be unpredictable. A windproof and waterproof garment is necessary because nighttime lows in March can fall below freezing. For added warmth, you should also pack a fleece or insulated jacket. Quick-drying hiking trousers are cozy and useful, and base layers like long-sleeved shirts and pants are helpful for controlling your body temperature.
Also Check: Clothing for the Everest Base Camp Trek: A Comprehensive Guide
Bring waterproof, insulated gloves, as well as a warm hat to shield your head and hands from the elements. To safeguard your feet on the rocky and uneven terrain, hiking boots with excellent ankle support are required, along with hiking socks to keep your feet dry and comfortable.
Equipment for Everest Base Camp in April
For a trek of this duration, a 30–40 liter pack is optimal. You'll need a backpack to carry your gear. Staying warm at night requires a sleeping bag rated for temps below zero, and a sleeping pad will add additional insulation and comfort. A headlamp or flashlight with extra batteries is required for nighttime path navigation, and trekking poles are useful for support on rocky, steep terrain. High-SPF sunscreen is required to protect your skin from the harsh sun, and UV-protective sunglasses are necessary to shield your eyes from the harsh sunlight at high elevations.
Lip balm can help avoid chapped lips as well. To remain hydrated throughout the journey, you should pack a water bottle or hydration system with a minimum 2-liter capacity. Bring toilet paper, hand sanitizer, blister pads, pain relievers, and any other required medications in your personal first aid kit. Finally, you can plan your path and navigate the trails with the aid of a trekking map or guidebook.
Electronics
You'll need a camera with additional batteries and memory cards if you want to take pictures or videos of the breathtaking scenery. Your electronic gadgets can be charged while you're on the go with a portable charger or power bank, but you'll need an adapter plug to do so in Nepal. As an alternative, you might want to carry a cell phone with a local SIM card.