A Nepal Tibet tour is an exciting adventure that offers a unique blend of culture, history, and stunning natural beauty. Nepal is home to the towering Himalayas, while Tibet is a land of ancient monasteries, stunning lakes, and vast plateaus. Together, they create an unforgettable travel experience.
Here are some things to consider before embarking on a Nepal Tibet tour:
Best time of year to visit Nepal and Tibet
The best time to visit Nepal and Tibet is from April to June and September to November. During these months, the weather is pleasant, and the skies are clear, offering the best views of the Himalayas and other scenic landscapes.
Is Nepal Tibet border open?
The Nepal-Tibet border is open, but there are certain restrictions on who can cross it. Foreign nationals need a special permit to enter Tibet, and only organized tours are allowed. The border is also closed during certain times of the year due to heavy snowfall and other natural hazards.
Can you hike from Nepal to Tibet?
It is not possible to hike from Nepal to Tibet due to border restrictions and difficult terrain. The only way to enter Tibet from Nepal is by road or by air.
Do Nepalese need a visa for Tibet?
Nepalese citizens do not need a visa to enter Tibet. However, they must obtain a special permit to travel to certain areas of Tibet.
Also Read: Nepal's Top Adventure Spots
Is it difficult to visit Tibet?
Visiting Tibet can be challenging due to the high altitude, harsh climate, and limited infrastructure. Visitors may also encounter language barriers and cultural differences. However, with proper planning and preparation, a Nepal Tibet Tour can be a once-in-a-lifetime experience.
How long can a visitor stay in Tibet?
Foreign visitors are allowed to stay in Tibet for a maximum of 30 days.
How many days do you need in Tibet?
A minimum of five to six days is recommended to explore the highlights of Tibet, including Lhasa, the capital city, and surrounding areas.
However, a more extended stay is recommended to experience the beauty and culture of the region fully.
How far is Nepal from Tibet by road?
The distance between Nepal and Tibet by road is approximately 1,100 kilometers, and the journey takes around 20-24 hours.
Why is Tibet so expensive?
Tibet is expensive due to the limited infrastructure and high transportation costs. But also, foreign visitors are required to hire a tour guide and travel with a group, which can add to the overall cost.
Why is Tibet so famous?
Tibet is famous for its unique culture, ancient monasteries, amazing natural beauty, and the iconic Potala Palace, which was the former residence of the Dalai Lama. The region is also home to Mount Everest, the highest peak in the world, which attracts adventure enthusiasts from all over the globe.
Itinerary
The itinerary of our Tibet and Nepal Tour are:
DAY 1: Arrival In Kathmandu
As you arrive, Asian Heritage Treks & Travel representative will welcome you at the Airport with your nameplate. Then, you shall immediately be transferred to the hotel. There will be enough time to stroll through the street of Thamel.
DAY 2: Sightseeing In Kathmandu
Kathmandu Durbar Square – Swyambhunath Stupa – Pashupatinath Temple – Boudhanath Stupa.
DAY 3: Sightseeing In Patan And Bhaktapur.
DAY 4: Fly To Lhasa (3650 m)
DAY 5: Visit Drepung Monastery & Sera Monastery
After breakfast, we will drive to Drepung Monastery. We will also visit the Sera Monastery which is sprawl with golden roofs and whitewashed walls.
DAY 6: Lhasa Sightseeing
Today you will visit Jokhang Temple situated in the heart of Old Lhasa. It houses Tibet's most precious religious relic, a golden Shakyamuni Buddha. You can do some shopping in the Barkhor market- a Tibetan crowded city center.
Barkhor Street is a magical place showing the original outlook of Lhasa visitors. Later in the day, we will be visiting the Potala Palace; a legendary palace built atop a single hill. 
DAY 7: Drive From Lhasa To Shigatse (3900 m) Travel Duration: 5 To 6 Hours
In the morning, after breakfast, we will drive from Lhasa to Shigatse. First, we will drive over the Gampala pass (4790 m) for a glimpse of Yamdrok-Tso Lake (4400 m).
After some time, we will reach Shigatse, which is the second-largest city in Tibet.
DAY 8: Sightseeing To Lhasa Via Gyantse
On the eighth day of the Nepal Tibet Highlights Tour, we drive back to Lhasa via Gyantse. You can stand on the viewing platform and view the vast Yalong Riverbed.
Finally, we reach Lhasa. Upon reaching Lhasa, check in to your hotel and have a rest.
DAY 9: Lhasa To Kathmandu & Pokhara Flight
Today we will have a flight from Lhasa to Kathmandu. After you get back to Kathmandu, our representative will pick you up at the airport.
After that, we will arrange flights to Pokhara.
DAY 10: Pokhara Sightseeing
Today, you will be sightseeing the beautiful Pokhara. The enigmatic Davi's Falls is a few minutes drive away. The Pardi Khola, an outflow from Phewa Lake makes the fall. Devi's Fall disappears into a mysterious cavern in the ground as it creates magnificent sprays. Another attraction is the Seti Gandaki River, which flows right through the heart of the town.
The limestone in the soil gives the river its milky color. At certain spots, the Seti Gandaki runs completely underground. Several Tibetan settlements around Pokhara sell handicraft goods & Tibetan carpets. Today we will visit Davi's Waterfall, Gupteswor Mahadev, and International Mountain Museum.
DAY 11: Pokhara Sightseeing II
Today, you begin with an early drive to Sarangkot. Here, we can capture the tranquil and magical view of the city before sunrise. Thereafter, we will go boating at Fewa Lake and we will hike towards Peace Stupa.
Pokhara Shanti Stupa is a Buddhist pagoda-style monument located on Anadu Hill of Kaski. The boat trip crossing Phewa Lake from PumdiBhumdi Bay to Phewa Ghat lasts up to half an hour.
DAY 12: Drive To Lumbini, Driving Duration: 6/7 Hours
You will witness the Ashoka pillar pinpointing the place of birth of the Buddha.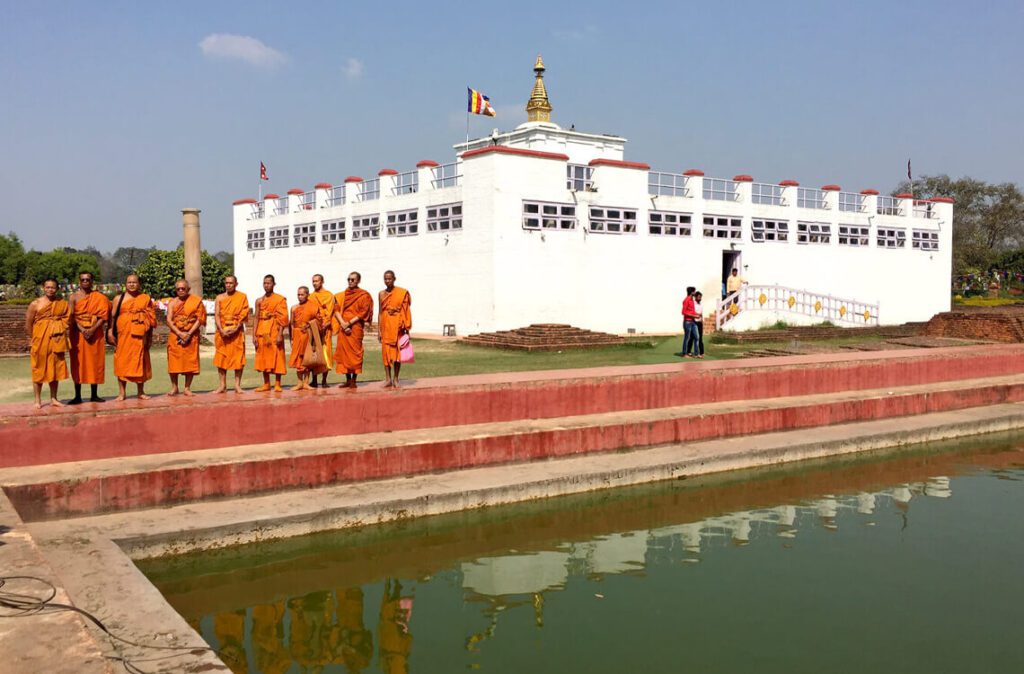 DAY 13: Lumbini Sightseeing And Chitwan Drive
Today we will visit Lumbini in the early morning.
You will explore German Monastery, Chinese Monastery, Thai Monastery, International nuns, and the Golden Temple.
DAY 14: Chitwan Activities
Today we will first walk around the jungle of Chitwan.
Then, we will dive deep down into the forest in the local jeep to trace the footprints of the tiger
DAY 15: Chitwan – Kathmandu Drive Duration: 6-7 Hours
Today we will drive back to Kathmandu. Later on, you can stroll through the street of the Thamel for buying gifts as a token of love for your friends and family.
DAY 16 Departure