Welcome to Pangboche, a hidden gem nestled in the lap of the Himalayas. This picturesque village, located in the Solukhumbu District of Nepal, offers a truly extraordinary experience for those seeking adventure, tranquility, and cultural immersion. Prepare to be enchanted as we unravel the captivating wonders of Pangboche and its surrounding treasures. From sacred monasteries to stunning landscapes, this extraordinary destination has it all.
Location
Pangboche is situated in the Solu-Khumbu district of the Sagarmatha Zone in eastern Nepal. It is perched on the slopes of the Imja River Valley, amidst the rugged Himalayan terrain. The village lies within the boundaries of the Sagarmatha National Park, a UNESCO World Heritage Site renowned for its rich biodiversity and stunning landscapes.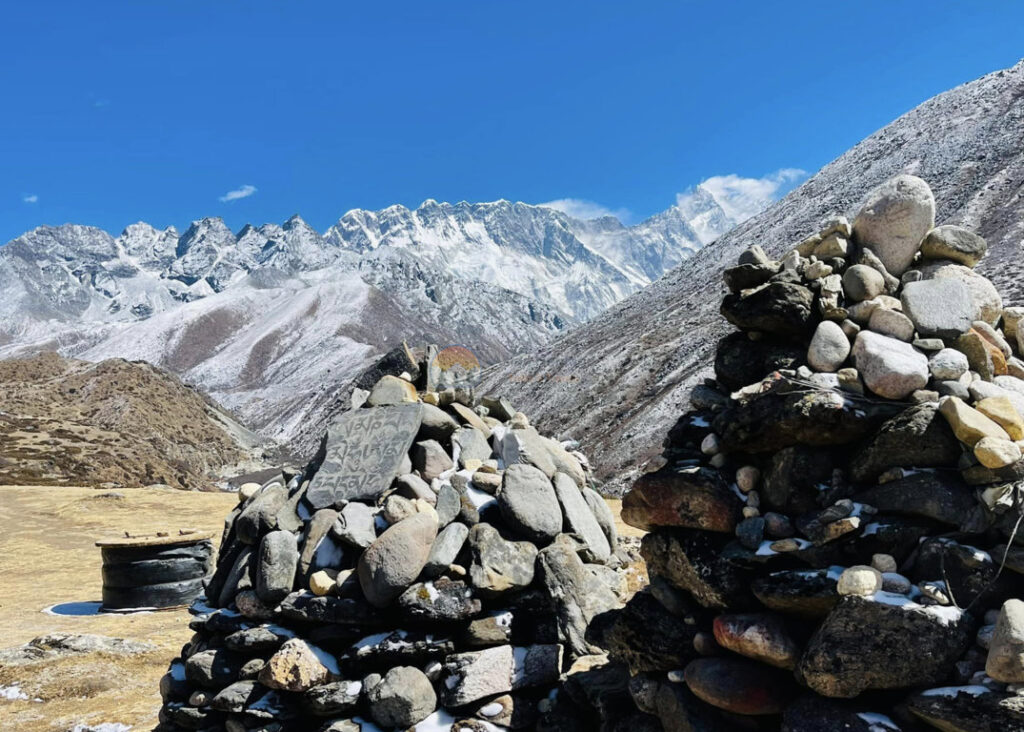 Pangboche is strategically located along the trail leading to Everest Base Camp, making it an important stop for trekkers and mountaineers on their journey to the mighty Everest.
Altitude
The altitude of Pangboche is a notable aspect of its appeal. At an elevation of approximately 3,985 meters (13,074 feet), the village offers visitors a chance to experience the thrill and challenges of high-altitude living.
As trekkers ascend through the Khumbu Valley, Pangboche is often reached on the third or fourth day of the popular Everest Base Camp Trek. The village's altitude provides a gradual acclimatization process, allowing hikers to adapt to the thinning air and reducing the risk of altitude sickness.
Weather Conditions and Temperature
Let's take a closer look at the fascinating weather conditions and temperature patterns of this Himalayan haven.
Spring (March to May):
As winter bids adios, Pangboche awakens with the arrival of spring. This season offers a remarkable transformation as the village bursts into an array of vibrant colors. The temperatures begin to rise, although mornings and evenings can still be chilly.
During the day, the mercury hovers around 5°C to 15°C (41°F to 59°F), while the nights can drop to -5°C to 5°C (23°F to 41°F). Spring also brings intermittent rainfall, so it's advisable to carry appropriate rain gear while exploring the region.
Summer (June to August)
Summer in Pangboche brings milder temperatures and a welcoming atmosphere for outdoor enthusiasts. Daytime temperatures range from 10°C to 20°C (50°F to 68°F), providing a pleasant climate for trekking and enjoying the beauty of the surroundings. The nights become milder, with temperatures ranging from 5°C to 10°C (41°F to 50°F).
However, it's worth noting that summer also marks the monsoon season, with occasional heavy rainfall and cloudy skies. Be prepared for rain showers and carry waterproof clothing to fully enjoy your adventures.
Autumn (September to November)
Considered the best time to visit Pangboche, autumn unveils a picturesque panorama with clear blue skies, breathtaking vistas, and comfortable temperatures. The days are sunny, and temperatures range from 5°C to 15°C (41°F to 59°F).
As the nights start getting colder, temperatures can drop to 0°C to -5°C (32°F to 23°F). Autumn also marks the end of the monsoon season, resulting in drier conditions and excellent visibility, making it the preferred time for trekkers and mountaineers who want to experience the beauty of the Himalayas.
Winter (December to February)
Winter casts a spell on Pangboche, transforming it into a snow-cloaked wonderland. This season brings cold temperatures, freezing nights, and a peaceful ambiance. During the day, temperatures range from -5°C to 5°C (23°F to 41°F), while at night, they can plummet to -15°C to -5°C (5°F to 23°F).
Snowfall is common, blanketing the landscape with a pristine white cover. Winter offers a unique opportunity for those seeking a quieter retreat amidst the ethereal beauty of the Himalayas. Warm clothing and proper gear are essential to withstand the cold temperatures.
Pangboche History
The history of Pangboche Monastery is shrouded in mystery and spirituality, captivating the imagination of those who visit this ancient place of worship. Nestled amidst the majestic Himalayan peaks in the Khumbu region of Nepal, this monastery holds a rich and fascinating history that spans several centuries.
Legend has it that the Pangboche Monastery was founded by Lama Sange Dorje, a revered Tibetan Buddhist master. Lama Sange Dorje was said to have been guided by divine visions that led him to this sacred spot in the Khumbu Valley. Recognizing its spiritual significance, he decided to establish a monastery there, becoming the founding father of Pangboche's religious legacy, 350 years back.
Over the years, Pangboche Monastery gained prominence as a vital religious and cultural center for the Sherpa community. It served as a place of worship, meditation, and learning, attracting scholars, monks, and pilgrims from far and wide. The monastery became a hub of Buddhist teachings where the profound wisdom of the faith was imparted and preserved.
Kathmandu to Pangboche
Travel from Kathmandu to Lukla
The first leg of the journey involves a scenic flight from Kathmandu to Lukla, the gateway to the Everest region. Enjoy breathtaking aerial views of the Himalayan peaks as you fly into one of the most thrilling airports in the world.
Once in Lukla, take some time to acclimatize to the altitude before proceeding with your trek.
Trek from Lukla to Namche Bazaar
From Lukla, follow the well-marked trail that winds through the rugged terrain, crossing suspension bridges and passing through picturesque Sherpa villages.
The trek to Namche Bazaar, the bustling hub of the Khumbu region, takes approximately 6–7 hours. Enjoy panoramic views of mountains like Thamserku and Kongde Ri along the way.
Acclimatization in Namche Bazaar
Spend a day in Namche Bazaar for acclimatization. Explore the vibrant local markets, visit the Sherpa Culture Museum, and hike up to the Everest View Hotel for a stunning glimpse of Everest and its neighboring peaks.
Acclimatization is crucial to avoid altitude-related illnesses, so make sure to take it easy and allow your body to adjust.
Trek from Namche Bazaar to Tengboche
Leaving Namche Bazaar behind, the trail leads to Tengboche, home to one of the most important monasteries in the region.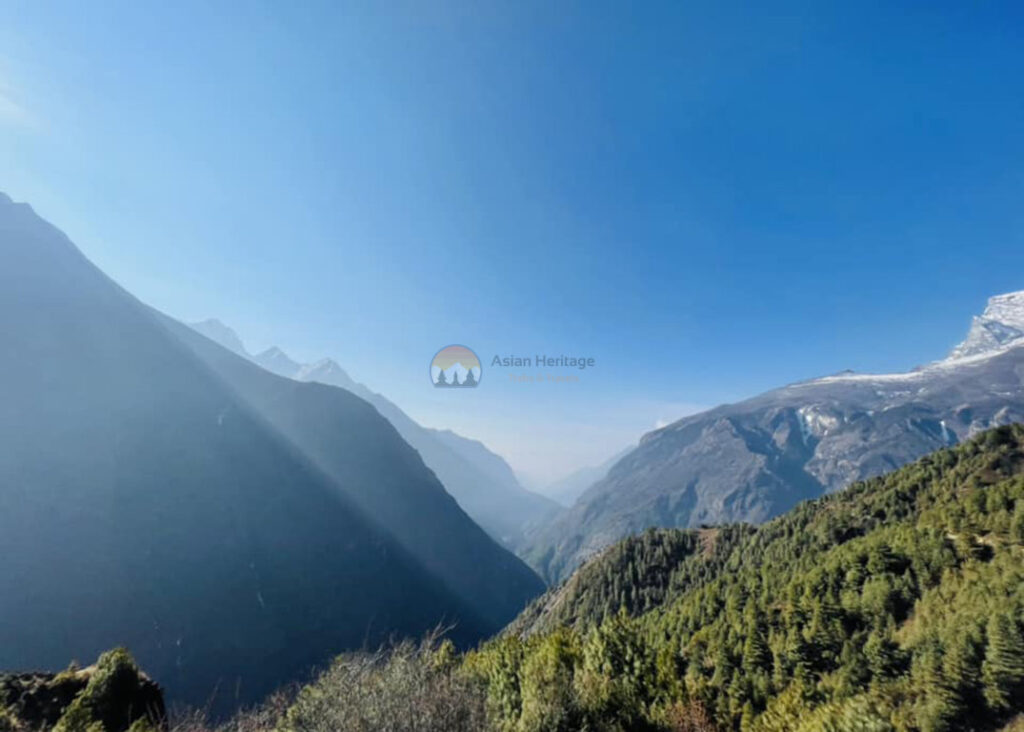 The trek offers breathtaking views of Ama Dablam, Everest, and Lhotse, making it a photographer's paradise. Attend a prayer ceremony at Tengboche Monastery and immerse yourself in the serene ambiance.
Final Leg: Tengboche to Pangboche:
From Tengboche, continue your trek toward Pangboche. The trail gradually descends through rhododendron forests, picturesque valleys, and charming Sherpa settlements.
Enjoy the pristine beauty of the surrounding landscapes and keep an eye out for wildlife, such as musk deer and Himalayan thar. After approximately 3-4 hours of trekking, you'll reach the village of Pangboche.
Highlights of Pangboche
Let's take a look at the captivating highlights of Pangboche and discover what makes this Himalayan gem truly special.
Spectacular Himalayan Scenery
Pangboche is blessed with awe-inspiring natural beauty that will leave you spellbound. Surrounded by towering snow-capped peaks including the iconic Mount Everest, the village provides an incredible backdrop for exploration.
As you venture through the region, you'll be treated to panoramic views of pristine valleys, glistening rivers, and lush forests, making it a paradise for nature enthusiasts and photographers.
Ancient Monasteries and Spiritual Sanctuaries
Pangboche is home to some of the oldest and most revered monasteries in the Khumbu region. The Pangboche Monastery, dating back over 300 years is a significant cultural landmark.
Its intricate architecture, vibrant mural, and serene ambiance create a sense of tranquility and reverence. Visitors can immerse themselves in the spiritual practices of the local monks and gain insights into the unique blend of Buddhism and Sherpa traditions.
Sherpa Culture and Hospitality
The Sherpa people are renowned for their warmth, resilience, and deep connection with the mountains. In Pangboche, you'll have the opportunity to engage with the local Sherpa community and experience their unique way of life.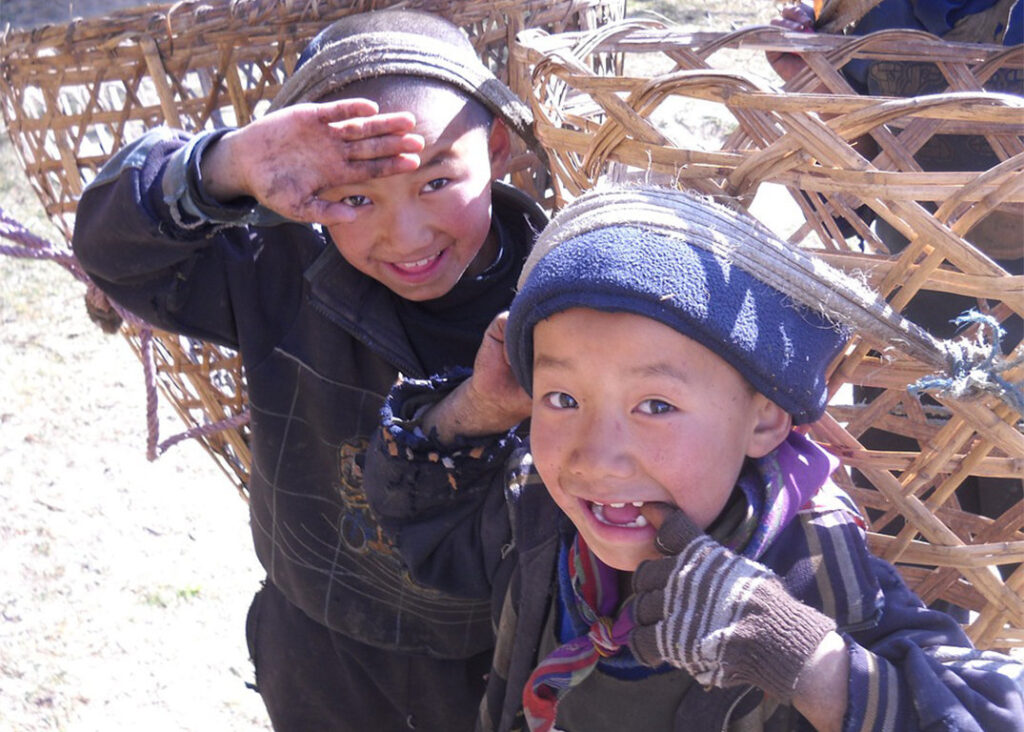 Interact with the friendly locals, savor traditional Sherpa cuisine, and gain a deeper understanding of their rich cultural heritage. You may even have the chance to witness traditional Sherpa dances and music performances, which are a true delight to behold.
Trekking and Adventure
Pangboche serves as an ideal base for various Himalayan treks, offering adventurers an opportunity to embark on thrilling expeditions. Whether you're a seasoned mountaineer or a beginner trekker, there are numerous trails to suit every level of expertise.
Also Read: Tengboche Monastery: The oldest monastery in Khumbu
The popular Pangboche to Everest Base Camp trek is a bucket-list experience, providing a once-in-a-lifetime opportunity to witness the grandeur of Everest up close.
Wildlife and Biodiversity
Pangboche is located within the Sagarmatha National Park, a UNESCO World Heritage site known for its rich biodiversity. The park is home to a variety of rare and endangered species, including the elusive snow leopard, musk deer, and Himalayan monal.
Nature enthusiasts can embark on guided wildlife tours, explore lush rhododendron forests, and witness the harmony between the flora and fauna of the region.
Pangboche Accommodation
Let's explore the captivating charm of Pangboche accommodation and why it should be on your list of places to stay during your Himalayan adventure.
Himalayan Hospitality
Pangboche, known for its rich Sherpa culture and warm hospitality, welcomes visitors with open arms. The local guesthouses and lodges in the village are run by friendly Sherpa families who are eager to share their traditions, stories, and local knowledge.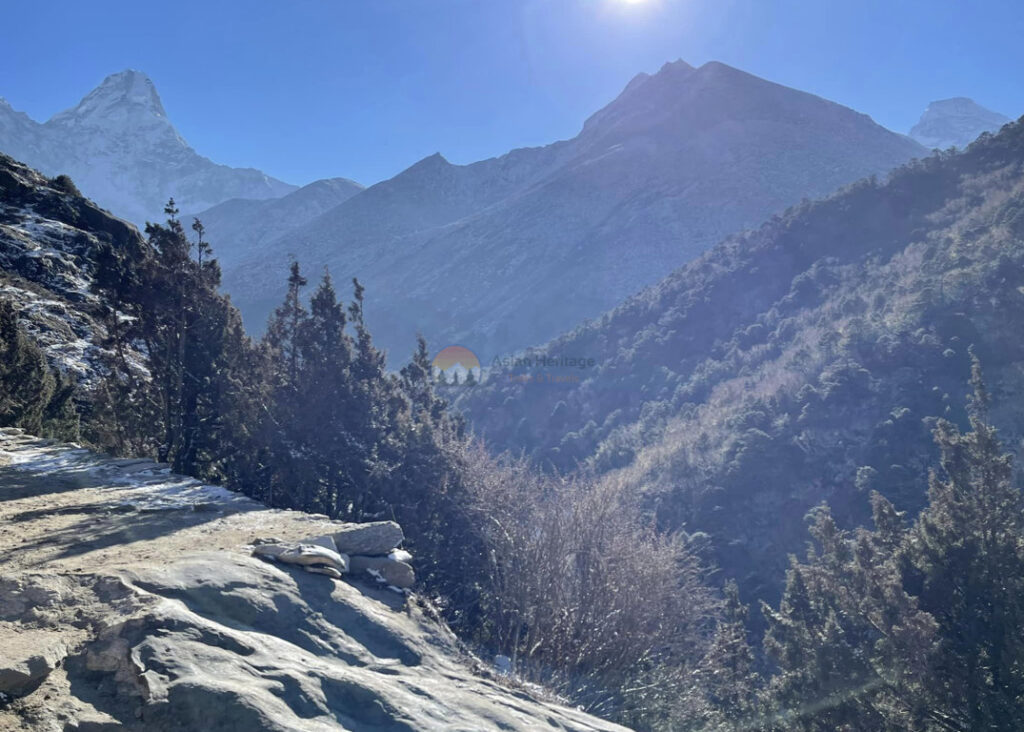 Staying in one of these accommodations gives you an authentic experience of the Sherpa lifestyle, as you indulge in hearty meals, cozy rooms, and engaging conversations with the locals. It's an opportunity to immerse yourself in the local culture and forge connections that will leave a lasting impression.
Scenic Surroundings
Situated at an altitude of approximately 3,985 meters (13,074 feet), Pangboche offers breathtaking views of the surrounding Himalayan peaks, including Ama Dablam, Thamserku, and Everest itself. Accommodation options in Pangboche are strategically located to maximize these awe-inspiring vistas, allowing you to wake up to the majestic mountains right outside your window.
Imagine sipping a cup of hot tea on a sunny terrace, watching the sun's first rays paint the snow-capped peaks in shades of pink and gold—it's a visual spectacle that will leave you in awe.
Comfort and Amenities
While Pangboche maintains its rustic charm, the accommodation options available in the village provide a comfortable and cozy stay for weary trekkers. From well-appointed rooms with comfortable beds and warm blankets to clean shared bathrooms with hot showers, these accommodations strike a balance between simplicity and modern comforts.
Also Check: 19 You Need To Know Before Visiting Nepal
Many lodges also offer amenities such as Wi-Fi connectivity, charging facilities for electronic devices, and common areas where trekkers can relax, share stories, and make new friends.
Nutritious Sherpa Cuisine
Sherpa cuisine is renowned for its hearty and nutritious nature, providing trekkers with the energy needed to conquer challenging trails. Pangboche accommodations typically include delicious meals prepared with locally sourced ingredients.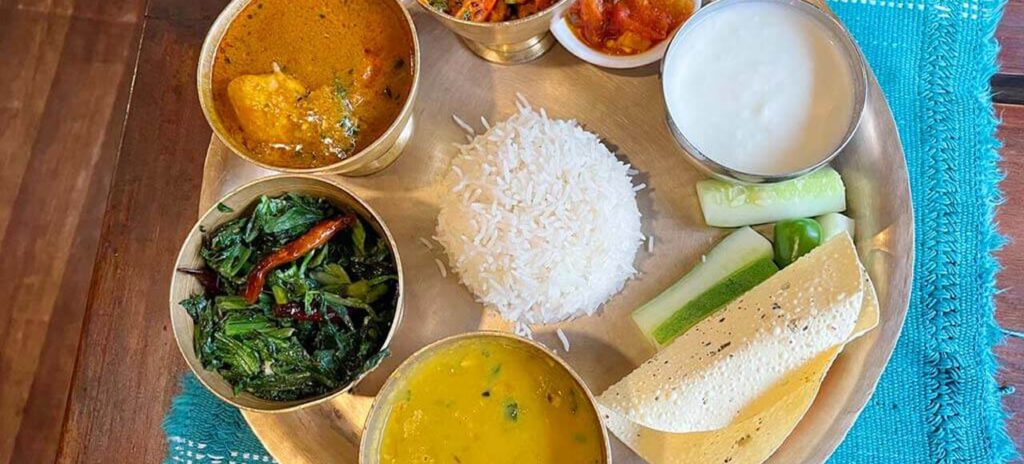 You can relish authentic Sherpa dishes like momo (dumplings), Thukpa (noodle soup), dal bhat (lentil soup with rice), and yak meat delicacies. The warm dining halls in these accommodations become communal spaces, fostering a sense of camaraderie among trekkers sharing their adventures and exchanging tips for the journey ahead.
Pangboche Monastery
Pangboche Monastery which is also known as Pangboche Gompa is a famous Buddhist monastery located in the village of Pangboche in the Khumbu region of Nepal. Situated at an elevation of approximately 3,985 meters (13,074 feet) it is one of the oldest monasteries in the Everest region and holds significant cultural and religious importance.
The monastery complex consists of several buildings, including the main prayer hall, living quarters for the resident monks, and other structures for religious ceremonies and practices. The architecture of Pangboche Monastery reflects a blend of Tibetan and Sherpa styles characterized by colorful murals, intricate woodwork, and traditional Buddhist motifs.
Pangboche Monastery is a hub of religious activities, serving as a center for Buddhist teachings, rituals, and ceremonies. The resident monks, known as lamas, are responsible for performing daily prayers and conducting religious festivals throughout the year. The monastery is especially vibrant during important Buddhist festivals like Mani Rimdu, attracting devotees and tourists from far and wide.
Pangboche to Dingboche
The distance between Pangboche and Dingboche is approximately 5.9 kilometers when following the main trail. This distance can be covered in approximately 1.5 to 2 hours, depending on your pace and the conditions of the trail.

It is important to note that the actual time taken may vary based on individual fitness levels and the need for acclimatization. Let's embark on this incredible journey and discover the wonders that await along the Pangboche to Dingboche trek.
Pangboche: A Serene Himalayan Village
The trek begins in the quaint village of Pangboche, nestled at an altitude of 3,985 meters. Pangboche offers a serene and authentic Himalayan experience, with its traditional stone houses, vibrant monasteries, and friendly Sherpa inhabitants. As you set foot on the trail, we are greeted by mesmerizing views of Ama Dablam, one of the most stunning peaks in the region. The trek from Pangboche to Dingboche is a relatively short distance, but the beauty and grandeur of the surroundings make every step worthwhile.
Enchanting Landscapes: Rhododendron Forests and Alpine Meadows
Leaving Pangboche behind, we venture into a world of enchanting landscapes. The trail takes us through dense rhododendron forests, their vibrant blooms adding a splash of color to the surroundings.
As we ascend further, the vegetation changes, and we find ourselves in the midst of alpine meadows, dotted with grazing yaks and wildflowers. The breathtaking views of the snow–capped peaks, including Everest, Lhotse, and Nuptse, become more prominent with each passing day.
Exploring Dingboche: Gateway to Everest Base Camp
As we reach Dingboche, situated at an altitude of 4,410 meters, we are greeted by a picturesque village nestled against the backdrop of towering peaks. Dingboche serves as a crucial acclimatization stop for trekkers heading towards Everest Base Camp or Island Peak.
The village offers cozy teahouses, providing much-needed warmth and comfort for weary trekkers. Take a stroll around the village, interact with locals, and witness their rich Sherpa culture and way of life.
Pangboche to Namche Bazaar
Pangboche: The Gateway to the Himalayas
It is a small Sherpa village nestled at an elevation of 3,985 meters, serving as the starting point of this remarkable trek. Located approximately 9.1 kilometers from Namche Bazaar, Pangboche provides trekkers with a serene environment, traditional Sherpa homes, and stunning views of the surrounding peaks.
Tengboche Monastery: A Spiritual Interlude
Continuing along the trail, you'll reach Tengboche, home to the renowned Tengboche Monastery. This iconic Buddhist monastery, perched at an altitude of 3,867 meters, is approximately 6 kilometers (3.7 miles) from Pangboche. The trek from Pangboche to Tengboche offers captivating views and takes approximately 2–3 hours to complete, depending on your pace.
The Enchanting Khumbu Valley
As you leave Tengboche behind, the trail winds its way through the picturesque Khumbu Valley. The distance from Tengboche to Namche Bazaar is approximately 10 kilometers (6.2 miles) and takes around 4–5 hours to trek.
Along the way, you'll encounter mesmerizing landscapes, lush greenery, rhododendron forests, and the melodic sound of rushing rivers.
Namche Bazaar: The Heart of the Khumbu Region
After several days of trekking, you'll arrive at Namche Bazaar, the bustling hub of the Khumbu region. Situated at an altitude of 3,440 meters, Namche Bazaar is approximately 10 kilometers (6.2 miles) from Tengboche.
The trek from Tengboche to Namche Bazaar usually takes around 5-6 hours, allowing you to soak in the captivating views and immerse yourself in the vibrant Sherpa culture.
Return Journey: Reflecting on an Incredible Adventure
After thoroughly immersing yourself in the vibrant ambiance of Namche Bazaar, it's time to embark on the return journey. While retracing your steps, you'll have the opportunity to appreciate the landscapes from a different perspective, create lasting memories, and bid farewell to the breathtaking Himalayan peaks.
Best Time to visit Pangboche
Let's explore the best time to visit Pangboche allowing you to make the most of your adventure in this breathtaking corner of the world.
Spring: A Blooming Wonderland
As the frost of winter fades away, Pangboche awakens to a spectacle of vibrant colors during the spring months of March to May. Rhododendrons, magnolias, and various wildflowers paint the hillsides with their blossoms, creating a picturesque wonderland.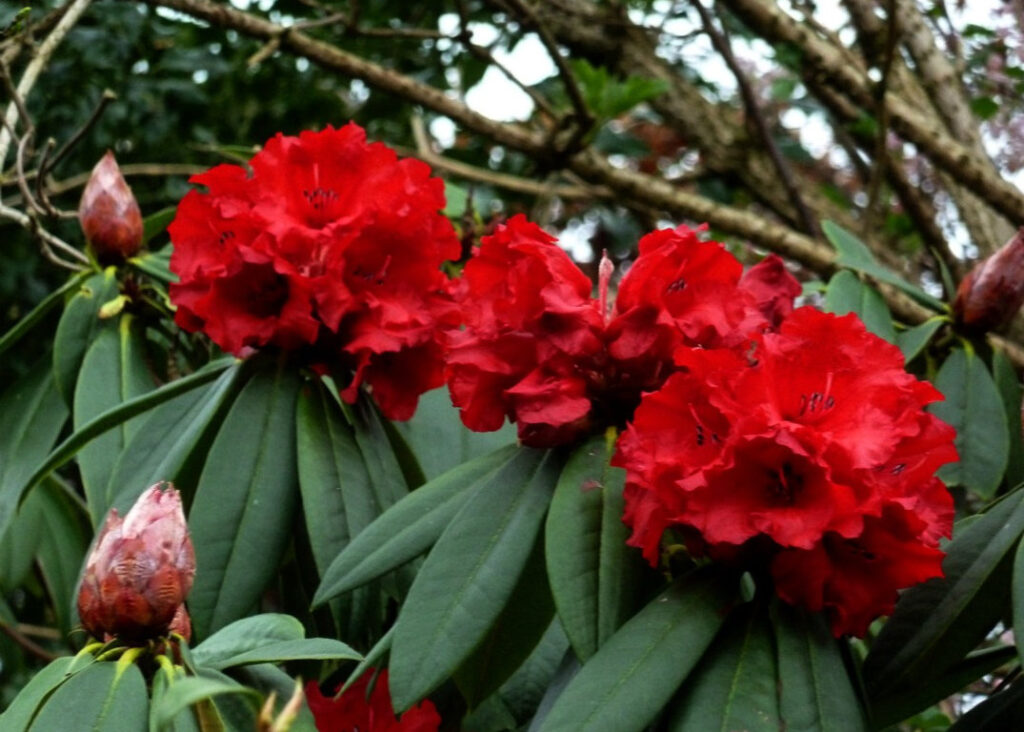 The weather is generally stable, offering pleasant daytime temperatures and clear skies, which provide awe-inspiring views of the surrounding snow–capped peaks. Spring is also a bustling time in the region, as climbers make their attempts on Mount Everest, infusing the air with electrifying energy.
Autumn: A Feast for the Senses
From September to November, Pangboche experiences the magic of autumn. The weather is mild, with comfortable daytime temperatures and cool evenings. The skies are clear and the air is crisp, allowing for uninterrupted vistas of the towering Himalayan giants.
Autumn is a perfect time for trekking, as the trails are less crowded compared to the peak season in spring. It offers a sense of tranquility and serenity, allowing you to fully immerse yourself in the natural wonders of the Khumbu region.