Pikey Peak Trek in April – As winter surrenders its icy grip to the gentle touch of spring, the Pikey Peak trek in Nepal emerges as an extraordinary adventure, offering a mesmerizing blend of natural wonders and cultural encounters.
Pikey Peak is located in the Solu–Khumbu region of Nepal, within the Solu district. It is a prominent peak in the Mahalangur Himalaya range, which is part of the larger Himalayas. Situated at an altitude of 4,065 meters (13,335 feet),
Join us on a journey through the majestic Himalayas as we delve into the breathtaking beauty of the Pikey Peak trek in April, where rhododendrons bloom, mountains beckon, and an unforgettable experience awaits.
Weather Conditions and Temperature
In April, Pikey Peak and its vicinity typically experience pleasant and cozy temperatures, with daytime averages ranging from 10 to 15 degrees Celsius (50 to 59 degrees Fahrenheit). As you ascend toward the summit, the temperature gradually decreases.
Also Read: Pikey Peak Trek in March: Weather, Difficulty Travel Tips, and More
April is renowned as a parched and steady month in Nepal, featuring minimal possibilities of precipitation and unobstructed horizons, rendering it a prime period for trekking. The climate in April commonly entails radiant days and panoramic vistas of the grand mountain ranges. It is important to acknowledge that mountainous weather can be capricious, and circumstances can swiftly fluctuate, particularly at elevated elevations.
Crowd at Pikey Peak Trek in April
It's generally considered a less crowded time compared to the peak trekking seasons in Nepal. April presents an ideal opportunity for trekking in Nepal, and the ascent of Pikey Peak is increasingly attracting attention from adventurers seeking a more serene alternative to the bustling routes of Everest Base Camp or Annapurna Circuit. Although it's challenging to ascertain the exact count of hikers on the trail during this period, you can anticipate a moderate level of traffic.
Highlights of Pikey Peak Trek in April
With its moderate difficulty level and stunning panoramic views, embarking on the Pikey Peak Trek in April during the spring season promises an unforgettable experience. Let's delve into the reasons why April is the perfect time to embark on this remarkable adventure.
The Weather
April marks the onset of spring in Nepal, bringing with it pleasant temperatures and clear skies. The weather during this time is generally stable, with mild days and cool nights. The spring season adds a touch of magic to the trek, as rhododendron forests burst into a riot of colors, painting the trail with vibrant hues of red, pink, and white. The awe-inspiring views of blooming flowers against the backdrop of snow–capped peaks create a picturesque setting that will leave you breathless.
Panoramic Views:
Pikey Peak stands at an altitude of 4,065 meters, offering one of the most panoramic views of the Himalayan range. From the summit, trekkers are rewarded with jaw–dropping vistas of majestic peaks such as Mount Everest, Kanchenjunga, Makalu, and Annapurna. In April, the skies are generally clearer, providing excellent visibility and ensuring that you can fully soak in the beauty of the snow-capped giants that surround you.
Off the Beaten Path:
Unlike the popular Everest Base Camp and Annapurna Circuit treks, the Pikey Peak Trek remains relatively untouched by mass tourism. This means you can enjoy the serenity and tranquility of the trail, allowing for a more immersive and personal experience. April, offers an ideal opportunity to explore the path less traveled, ensuring you can fully appreciate the pristine beauty of the surrounding nature.
Wildlife and Biodiversity:
April is an excellent time for nature enthusiasts to witness the diverse wildlife and lush vegetation of the region. As the snow melts, the forests come alive with various species of birds and animals. The Pikey Peak region is home to rare Himalayan species such as musk deer, Himalayan tahr, and colorful pheasants. The chance to encounter these magnificent creatures amidst their natural habitat adds an exciting element to the trek.
Pikey Peak from Kathmandu
To reach Pikey Peak from Kathmandu, you can choose from various means of transportation, depending on your preferences and budget. Here are the common modes of transportation available:
Private Vehicle:
To ensure a delightful and convenient journey, opting for a private mode of transportation like a car or jeep is an excellent decision. The road from Kathmandu to Dhap, Jiri, or Phaplu is generally well-maintained, although certain stretches might have uneven surfaces. By hiring a private vehicle, you have the freedom to set your own schedule and make stops along the way for sightseeing or capturing photographs.
Public Bus:
In Nepal, public buses are a popular and cost-effective mode of transportation. From Kathmandu, you may take a bus to Dhap, Jiri, or Salleri. Depending on the route and road conditions, the bus ride might last several hours. Buses are frequently full, and the journey might be rough, but it gives an opportunity to engage with people and learn about their way of life.
Flight:
If you prefer a quicker and more convenient option, you can take a domestic flight from Kathmandu to Phaplu. Several airlines operate regular flights to Phaplu and the duration of the flight is approximately 35–40 minutes. From Phaplu, you can start your trek toward Pikey Peak.
Shared Jeep:
Shared jeeps are a common mode of transportation in Nepal, especially in remote areas. You can find shared jeeps departing from Kathmandu to various towns en route to Pikey Peak, such as Jiri or Salleri. Shared jeeps can be a cost-effective option, but they can get crowded and may not always follow a fixed schedule.
You may also like: Pikey Peak Trek in February: Weather, Crowd, Difficulty Travel Tips, and More
Festivals
In the month of April, a remarkable array of festivities take place in the Pikey Peak region, making it an ideal time to witness the region's cultural tapestry come alive. Let's explore the fascinating festivals celebrated in this enchanting corner of the world.
Rhododendron Festival:
April is the month when the lush rhododendron forests in the Pikey Peak region burst into a riot of colors. The Rhododendron Festival celebrates the blossoming of these majestic flowers, transforming the landscape into a living canvas. Trekking through the vibrant trails, visitors are greeted by a breathtaking spectacle as the hillsides are carpeted with shades of pink, red, and white. The festival offers a chance to immerse yourself in nature's beauty, capturing stunning photographs, participating in guided walks, and engaging in cultural activities organized to honor this floral extravaganza.
Buddha Jayanti:
April is a month of immense significance for Buddhists worldwide as it marks the birth, enlightenment, and passing of Gautama Buddha. In the Pikey Peak region, Buddha Jayanti is celebrated with great fervor and reverence. Monasteries come alive with devotees performing rituals, reciting prayers, and engaging in meditation. The atmosphere is serene, offering a unique opportunity for visitors to witness Buddhist traditions up close and gain a deeper understanding of the philosophy that guides the lives of the local communities.
Bisket Jatra:
Bisket Jatra is one of the most popular and lively festivals celebrated in the Bhaktapur region of Nepal. It usually takes place in mid-April and marks the Nepali New Year. The highlight of this festival is the chariot procession of Lord Bhairava and Goddess Bhadrakali accompanied by music, dances, and cultural performances. The festival is known for its vibrant atmosphere, the pulling of chariots, and the exciting tug-of-war between different communities.
Nepali New Year (Naya Barsha):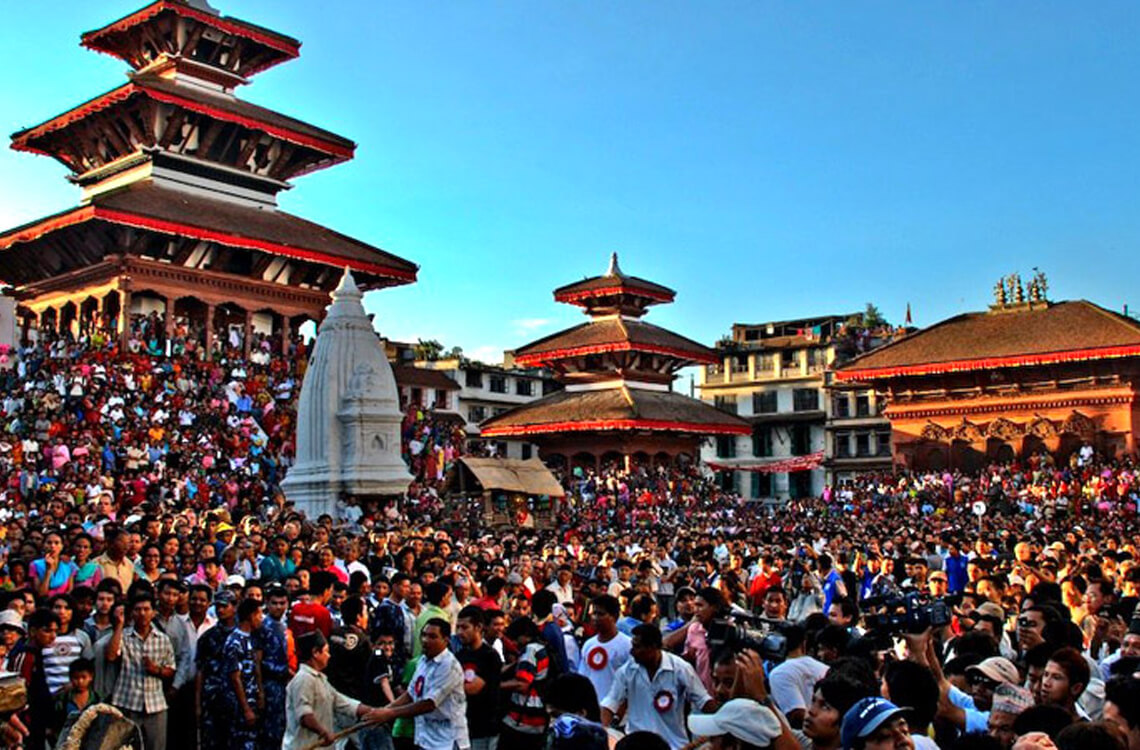 Nepali New Year, also known as Naya Barsha or Navavarsha, falls on the first day of the Nepali month of Baisakh (mid-April). It is a national holiday and is celebrated with great enthusiasm throughout the country. People clean their houses, wear new clothes, visit temples, and exchange greetings and gifts. Various cultural programs, feasts, and fairs are organized to welcome the New Year.
Flora
Let's embark on an exploration of the flora that adorns the Pikey Peak trail during the month of April, painting a picturesque tapestry of nature's wonders.
Rhododendrons: The Majestic Blooms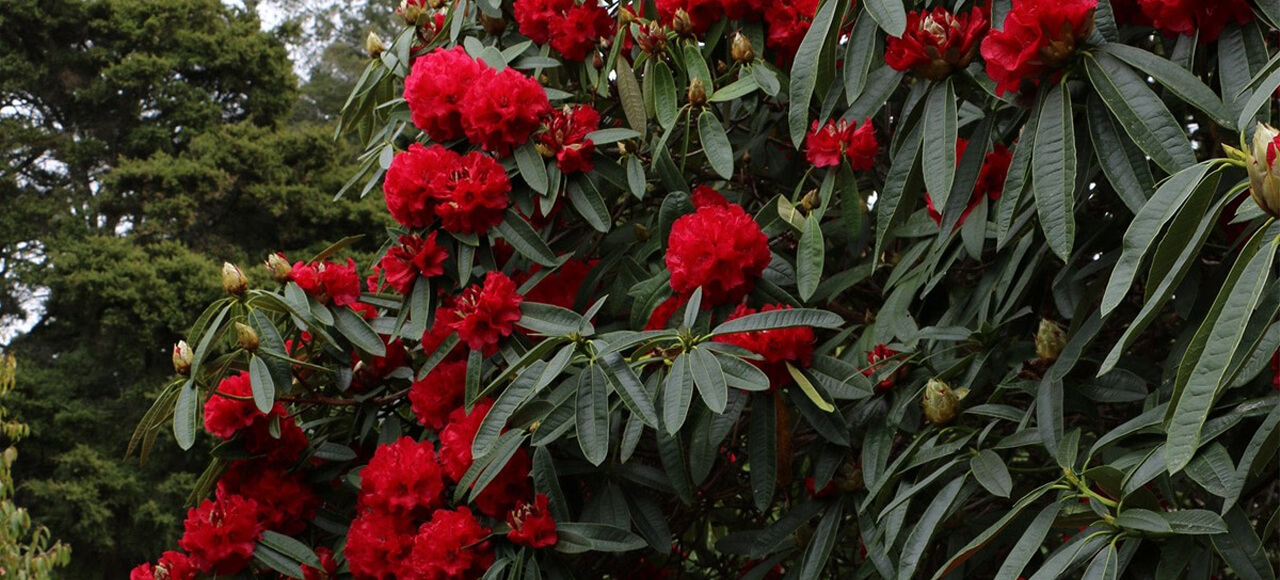 One cannot talk about the spring flora of Nepal without mentioning the enchanting rhododendrons. April is the perfect time to witness these majestic blooms, as entire hillsides transform into a riot of colors. Along the Pikey Peak trail, you'll encounter various species of rhododendrons, including the national flower of Nepal, Rhododendron arboreum, with its scarlet blossoms. From fiery reds to delicate pinks and pristine whites, these vibrant flowers create a truly awe-inspiring spectacle.
Primroses and Orchids: Delicate Beauties
In April, a delightful array of primroses and orchids graces the surroundings, bestowing an air of elegance upon the environment. These exquisite flowers can be discovered beneath moss–laden rocks, alongside babbling brooks, and amidst verdant meadows. The primroses, adorned in soft pastel hues, and the intricate and aromatic orchids, add a delicate charm to the otherwise rugged terrain of the Himalayas.
Popular: Busy Tourist Cities of Nepal
Wildflowers: A Kaleidoscope of Colors
As you traverse the Pikey Peak trek, you'll encounter a vast array of wildflowers, each contributing to the kaleidoscope of colors that define the springtime landscape. Meadows carpeted with daisies, buttercups, asters, and forget-me-nots present a picturesque sight. These vibrant bursts of color, interspersed with lush greenery, create a harmonious blend that will captivate your senses at every turn.
Juniper Forests: Ancient Guardians
Moving further along the trail, you'll find yourself immersed in the enchanting ambiance of juniper forests. These ancient guardians of the Himalayas provide not only a soothing and mystical atmosphere but also a refreshing fragrance that invigorates your senses. The gnarled branches and twisted trunks of these resilient trees add a touch of mystique to the trek, making it a truly unforgettable experience.
Medicinal Herbs: Nature's Pharmacy
The Himalayan region is known for its rich biodiversity, and the Pikey Peak trek is no exception. April offers a unique opportunity to discover the medicinal herbs that have been cherished by local communities for generations. From juniper berries and nettle leaves to wild garlic and yarrow, these natural treasures hold immense healing properties. Observing the locals harvesting these herbs provides a fascinating insight into the sustainable practices deeply rooted in the region's cultural heritage.
Fauna at Pikey Peak Trek in April
Pikey Peak trek in April offers not only breathtaking views of the snow-capped Himalayas but also a chance to witness an array of fascinating fauna. As the spring season breathes life into the region, let's delve into the captivating wildlife that awaits intrepid trekkers along the Pikey Peak route.
Read: Tengboche Monastery: The oldest monastery in Khumbu
Himalayan Monal:
With its striking plumage and majestic presence, the Himalayan Monal is a true gem of the Pikey Peak region. This resplendent bird, known for its vibrant multicolored feathers, is often spotted perched on high rocky ridges. In April, as the snow begins to melt, the Monals become more active, creating a mesmerizing spectacle against the backdrop of the Himalayan peaks.
Red Panda:
Among the most elusive creatures found in the Pikey Peak area is the adorable Red Panda. This charming arboreal mammal is known for its thick fur, reddish-brown coat, and distinctive masked face. Although spotting a Red Panda requires a keen eye and a stroke of luck, the forested slopes and bamboo thickets around the trekking route offer a suitable habitat for these rare and endangered creatures.
Musk Deer: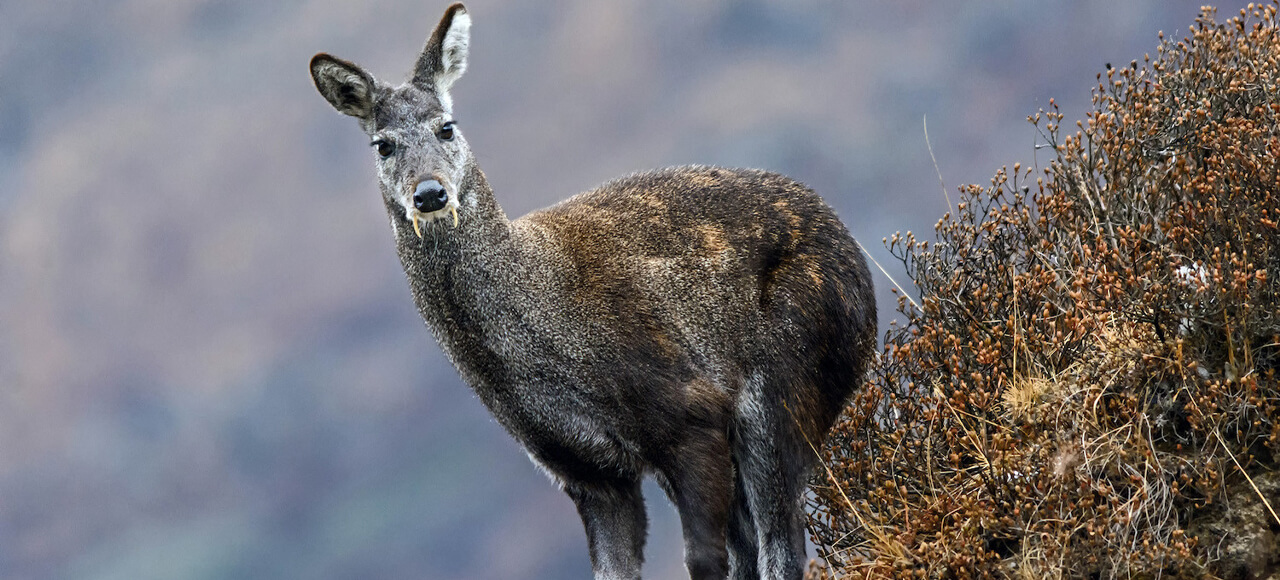 As you ascend the trails of Pikey Peak, keep an eye out for the elegant and elusive Musk Deer. Known for its unique elongated canine teeth and musk gland, this solitary creature is a treat for wildlife enthusiasts. The region's mixed forests provide an ideal environment for the Musk Deer, making it possible to catch a glimpse of this graceful herbivore during the trek.
Himalayan Tahr:
At higher altitudes, around the rocky cliffs and alpine meadows of Pikey Peak, you may encounter the Himalayan Tahr. These sure-footed ungulates are adept at navigating steep terrains and are often seen grazing on alpine vegetation. Their impressive curved horns and shaggy coat make for a memorable sighting, especially when silhouetted against the pristine mountain landscapes.
Side Treks
Did you know that this Pikey Peak trek also offers an array of favorable side treks that can enhance your overall experience? Get ready to immerse yourself in the beauty of the Himalayas and unlock hidden gems along the way!
Junbesi to Everest Base Camp Trek: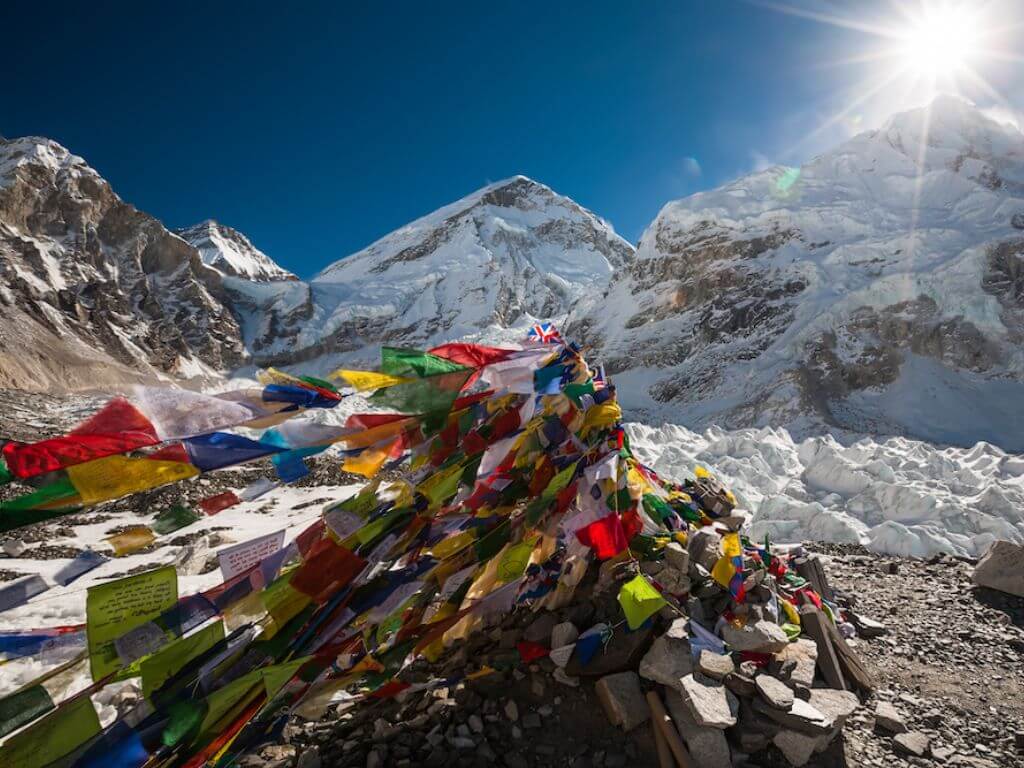 For the intrepid souls seeking an extended adventure, the Junbesi to Everest Base Camp Trek is an epic journey worth considering. This trek combines the Pikey Peak route with a detour towards the iconic Everest Base Camp. Starting from Junbesi, you'll traverse rugged mountain trails, cross high passes, and witness picturesque landscapes. Immerse yourself in Sherpa culture as you visit monasteries, encounter yak herders, and pass through traditional villages. Reaching Everest Base Camp, standing at the foot of the mighty Everest, is an awe-inspiring achievement that will forever be etched in your memory.
Dudh Kunda Lake Trek:
If you're seeking an enchanting detour during your Pikey Peak trek, the Dudh Kunda Lake trek is an excellent choice. Located at an altitude of 4,610 meters, this sacred lake holds immense religious significance for both Buddhists and Hindus. The trek to Dudh Kunda offers mesmerizing views of Mount Everest, Numbur Himal, and other snow-capped peaks. Moreover, you'll have the opportunity to immerse yourself in local Sherpa culture as you traverse quaint villages and encounter friendly locals.
Thupten Choling Monastery Trek:
For those interested in spiritual exploration, the Thupten Choling Monastery trek is a hidden gem worth discovering. Situated near the village of Junbesi, this serene monastery is known for its tranquility and breathtaking surroundings. As you venture through rhododendron forests, crossing suspension bridges and passing prayer wheels along the way, you'll find solace in the peaceful ambiance of Thupten Choling. Don't miss the chance to witness the monks' enchanting chants and observe their daily rituals.
Taksindu Monastery and Numbur Cheese Circuit Trek:
Combining cultural immersion and gastronomic delights, the Taksindu Monastery and Numbur Cheese Circuit Trek is a delightful side trek from Pikey Peak. This trail takes you through picturesque Sherpa villages, lush valleys, and beautiful terraced fields.
More: Buddhists Holiest Festival: Mani Rimdu Festival
As you make your way to Taksindu Monastery, be sure to savor the delicious Numbur Cheese, a local specialty renowned for its unique flavor. The trek offers insights into Sherpa traditions, ancient monasteries, and panoramic mountain views, making it a truly enriching experience.
Chiwong Monastery and Everest View Trek:
For a captivating blend of spirituality and breathtaking views, the Chiwong Monastery and Everest View Trek is an excellent choice. Located near the village of Solu, this trek takes you through verdant forests, terraced fields, and traditional Sherpa settlements. At Chiwong Monastery, perched on a hilltop, immerse yourself in the tranquility of the surroundings and witness the monks' daily rituals. The highlight of this trek is the Everest Viewpoint, offering a panoramic spectacle of the world's highest peak, Mount Everest, along with the stunning Himalayan range.
For the intrepid souls seeking an extended adventure, the Junbesi to Everest Base Camp Trek is an epic journey worth considering. This trek combines the Pikey Peak route with a detour towards the iconic Everest Base Camp. Starting from Junbesi, you'll traverse rugged mountain trails, cross high passes, and witness picturesque landscapes. Immerse yourself in Sherpa culture as you visit monasteries, encounter yak herders, and pass through traditional villages. Reaching Everest Base Camp, standing at the foot of the mighty Everest, is an awe-inspiring achievement that will forever be etched in your memory.