Upper Mustang Trek in January- Imagine trekking through rugged, isolated terrain in the middle of winter surrounded by snow-capped peaks and frozen rivers. As you make your way through the breathtaking landscape, you encounter ancient Buddhist monasteries and witness colorful festivals that have been celebrated for centuries. This is the Upper Mustang trek in January, an unforgettable adventure that takes you deep into the heart of Nepal's remote and mysterious region. With the right preparation and mindset, you can experience the beauty and culture of this unique destination in a way that few others have. So pack your warmest gear, lace up your boots, and get ready to embark on a journey that will leave you with memories that last a lifetime.
Location and Altitude at Upper Mustang Trek in January
Upper Mustang is a remote region located in the northern part of Nepal, bordering Tibet. It is situated at an altitude ranging from 4,000 meters above sea level. The region is known for its unique landscape, including barren cliffs, deep canyons, and the world-famous Himalayan mountain range.
Weather Conditions and Temperature of Upper Mustang in January
Upper Mustang is located in the Himalayan region of Nepal and January is one of the coldest months of the year in this area. The temperature during the day in Upper Mustang in January can range from -5°C to 5°C (23°F to 41°F), while at night, the temperature can drop to as low as -20°C (-4°F). However, the temperature can vary based on the altitude and the specific location within Upper Mustang.
The weather conditions in Upper Mustang in January are generally cold and dry. This region typically receives very little precipitation during the winter months with January being one of the driest months of the year. However, there can be occasional snowfall, especially at higher altitudes which can affect travel and trekking plans
The crowd in Upper Mustang during January
January is considered the winter season in Mustang and the crowd during this time can vary. Typically, the number of tourists visiting Upper Mustang in January is relatively low compared to the peak season of March to November.
Also Read: Upper Mustang Trek Cost: Permits, Expenses, and More
The main reason for this is the harsh winter weather conditions, which can make traveling to the region difficult. The temperatures in Upper Mustang during January can drop below freezing, and the region can receive heavy snowfall making the roads and trails inaccessible.
Highlights of Upper Mustang Trek in January
Trekking in Upper Mustang during January can be a unique and rewarding experience for those who are prepared for the cold weather and winter conditions. Some of the highlights of the trek during this season are:
Stunning Winter Landscapes: The snow-capped mountains, frozen rivers, and barren landscape of Upper Mustang create a surreal and serene winter landscape that is breathtakingly beautiful.


Cultural Festivals: January is the time for several cultural festivals in Upper Mustang, such as the Lhosar festival celebrated by the ethnic Tibetan community. This provides an opportunity to witness the local culture and traditions.


Unique Trekking Experience: Trekking in Upper Mustang during January can be a unique and challenging experience, as you may encounter snow-covered trails, icy patches, and freezing temperatures. This provides a sense of adventure and a memorable trekking experience.


Peaceful Trekking Experience: As the number of trekkers during January is lower compared to the peak season, you can enjoy a more peaceful and less crowded trekking experience. The tea houses and accommodations are also less busy, providing you with more personalized attention and service.


Unobstructed Views: In January, the skies are generally clear, and there is less dust and haze, providing you with unobstructed views of the stunning Himalayan landscapes. You can get a clear view of the snow-capped mountains, frozen rivers, and arid landscapes that Upper Mustang is famous for.


Local Food: During the off-season, the local food is more authentic and less influenced by Western cuisine. You can enjoy some of the traditional Tibetan and Nepali dishes, such as Thukpa, Momos, and Yak meat which are hearty and perfect for the cold weather.
How to get to Upper Mustang from Kathmandu
Upper Mustang is a remote and restricted region in Nepal, and getting there can be a bit challenging. However, here are some ways to get to Upper Mustang from Kathmandu:
By Flight: The easiest and quickest way to get to Upper Mustang is by taking a flight from Kathmandu to Jomsom, which takes about 20 minutes. From Jomsom, you can hire a jeep or trek to Upper Mustang.


By Road: Another way to get to Upper Mustang is by taking a jeep from Kathmandu to Pokhara, then to Jomsom, and finally to Upper Mustang. The road journey can take around 10-12 hours, depending on the road condition and traffic.


By Trekking: Trekking is a popular way to get to Upper Mustang, and it takes about 10-14 days from Kathmandu, depending on your trekking route and pace. You need to obtain a special permit to enter Upper Mustang, which can only be arranged through a registered trekking company
Festivals
Upper Mustang celebrates "Maghe Sankranti" in January, which typically occurs in mid-January on the first day of the Nepali month of Magh. The festival is marked by various cultural activities, including the consumption of traditional Nepali food such as "sel roti" and "ghee".
Permit for Upper Mustang Trek
It is a restricted area, and therefore, a special permit is required to undertake this trek. The trek requires a special permit as it is located in the Mustang region of Nepal, which used to be an independent kingdom until the 1950s. The Mustang region was opened for trekking in 1992, and since then, it has become a popular destination among trekkers worldwide.
To undertake the Upper Mustang Trek, you need to obtain two types of permits: the Restricted Area Permit (RAP) and the Annapurna Conservation Area Permit (ACAP). The RAP is issued by the Department of Immigration in Kathmandu, and the ACAP is issued by the Annapurna Conservation Area Project (ACAP) office in Pokhara.
To obtain the RAP and ACAP, you must provide a copy of your passport, visa, and two passport-sized photographs. It is important to note that you cannot trek in the Upper Mustang region without these permits. The authorities strictly enforce the permit requirements, and you may face fines or other penalties if you are found trekking without the proper permits.
Difficulty Level
The difficulty level of the trek can vary depending on the season and the specific route you choose. If you are considering trekking in the Upper Mustang region in January, it is important to be aware of the potential challenges and difficulty levels you may encounter.
Weather:
January is one of the coldest months of the year in Nepal, and temperatures in the Mustang region can drop below freezing. This means you will need to be well-prepared for the cold weather with warm clothing and proper gear such as insulated jackets, gloves, and hats. Additionally, snow and ice are common during this time of year, which can make the trails more challenging to navigate. It is essential to have the appropriate footwear and possibly even crampons or other specialized gear to ensure your safety on the trails.
Altitude:
The Mustang region is known for its high-altitude trekking with some parts of the Upper Mustang trek reaching over 4,000 meters above sea level. Altitude sickness is a common concern for trekkers in this region, and the colder temperatures in January can make it even more challenging to acclimatize to the higher elevations.
You may also like: Experience the Rich Culture of the Tamang People at the Langtang Trek Festival
It is important to take the necessary precautions and allow sufficient time for your body to adjust to the altitude before continuing on the trek.
Trail Conditions:
The trails in the Mustang region can be rocky and uneven with steep ascents and descents. In January, snow and ice can make the trails even more challenging to traverse, requiring more careful footing and possibly even the use of specialized gear such as crampons. It is important to be physically fit and prepared for the potentially demanding conditions of the trek.
Side Treks/Activities
While the trek itself is undoubtedly the main attraction, there are plenty of side treks and activities that can make your journey even more memorable. Here are a few ideas to get you started:
Visit Lo Manthang:
Lo Manthang is the capital of the Mustang region and is famous for its ancient monasteries, palaces, and narrow streets. It's a great place to spend a day or two exploring the local culture and history.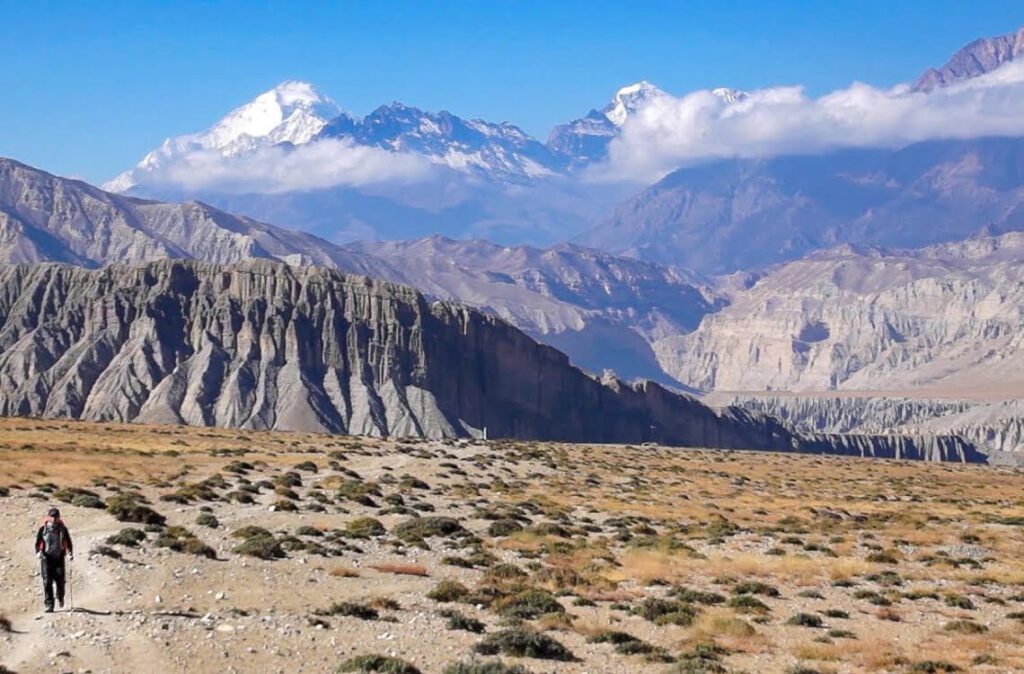 Explore the Caves:
The Mustang region is home to hundreds of ancient caves that were once used by monks for meditation and as living quarters. Some of the most famous caves include the Sky Caves of Mustang, which are believed to date back more than 2,000 years.
Visit Kagbeni:
Kagbeni is a small town located at the junction of two rivers, and it's a great place to stop for a few hours or even overnight. You can explore the town's narrow streets, visit the local monastery, and enjoy a meal at one of the traditional restaurants.
Go Horseback Riding:
Horseback riding is a popular activity in the Mustang region, and it's a great way to see the area's stunning landscapes. You can arrange a guided horseback ride through local tour operators in Jomsom or Kagbeni.
Try Local Cuisine:
The Mustang region has a unique cuisine that is influenced by Tibetan and Nepalese flavors. You can try local dishes such as momos (dumplings), Thukpa (noodle soup), and yak meat while on the trek.
Tips for the Upper Mustang Trek in January
Trekking in Upper Mustang requires proper planning and preparation, especially during the winter months. Here are some essential tips to keep in mind before embarking on the Upper Mustang Trek:
Plan your trekking season: The best time to trek in Upper Mustang is during the spring and autumn months, from March to May and September to November. However, if you're up for the challenge, the winter months, including January, can also be an excellent time to trek if you're prepared for the cold temperatures and potential snowfall.


Get the proper gear: Trekking in Upper Mustang requires specialized gear to help you cope with the cold and harsh conditions. Be sure to pack a warm sleeping bag, down jacket, thermal underwear, and gloves. A good pair of trekking shoes with proper traction is also essential.


Acclimatize properly: Trekking in Upper Mustang takes you to high altitudes, which can cause altitude sickness. It's essential to take your time and acclimatize properly before moving to higher altitudes. Be sure to drink plenty of water and rest as needed.


Hire a guide: Hiring a licensed guide or a porter who is familiar with the terrain and can help you navigate difficult routes is highly recommended. They can also provide valuable insight into the local culture and customs.


Carry enough cash: There are no ATMs in Upper Mustang, so it's essential to carry enough cash to cover your expenses during the trek. You can also exchange your currency at the local tea houses.