Bhutan Tour Packages from Nepal- Bhutan is a small and beautiful country. The country is known for its vibrant culture, stunning landscapes, and generational long spiritual traditions. It is a popular destination for travelers from all over the world, including Nepal. If you are interested in visiting Bhutan from Nepal, here we will give some information about Bhutan tour packages, costs, and travel.
Best places to visit in Bhutan?
Bhutan is home to a wide range of cultural and natural attractions that are worth exploring. Some of the best places to visit in Bhutan include the iconic Tiger's Nest Monastery, the ancient Punakha Dzong, the stunning Paro Valley, the capital city Thimphu, and the remote Haa Valley:
Tiger's Nest Monastery
Tiger's Nest Monastery also known as Paro Taktsang, is one of the most iconic landmarks in Bhutan. This sacred place is perched on a cliff 900 meters above the Paro Valley. This unique location offers breathtaking views of the surrounding mountains and valleys. According to legend, Guru Rinpoche, a revered Buddhist master flew to this site on the back of a tiger and meditated there for several months. The monastery is a popular pilgrimage destination for Buddhists and non-Buddhists alike. Visitors can hike to the monastery or even ride a horse up the mountain.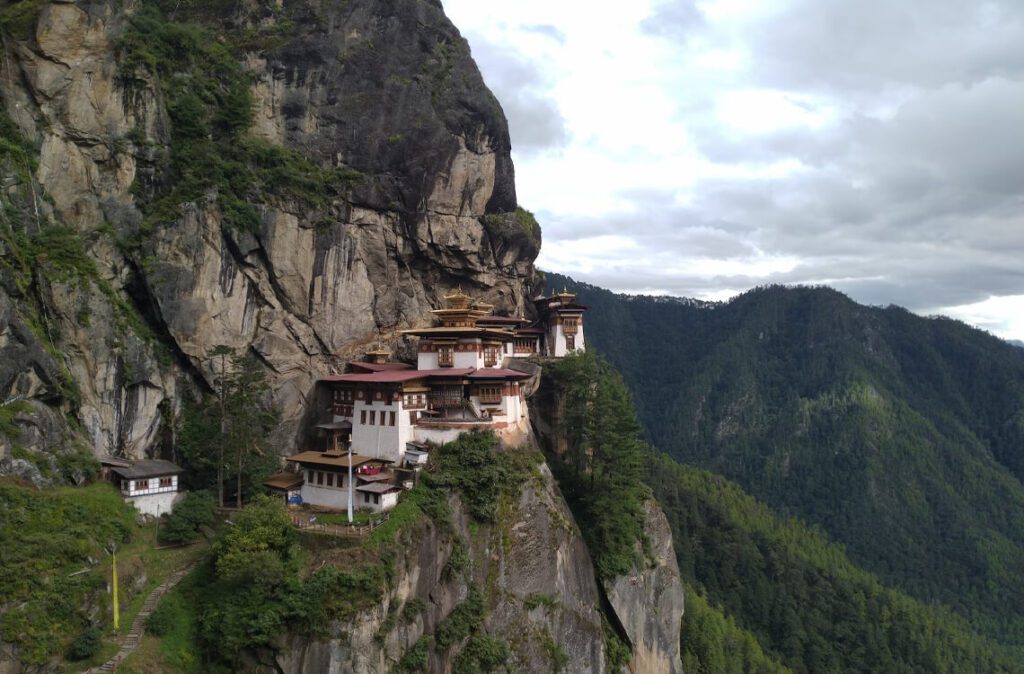 The Punakha Dzong
The Punakha Dzong, also known as the Palace of Great Happiness, is an ancient fortress and administrative center in the Punakha Valley. The dzong is a masterpiece of Bhutanese architecture, built in the 17th century. It features intricate carvings, painted murals, and beautiful gardens. It is also the winter residence of Je Khenpo, the chief abbot of Bhutan. Lastly, it is considered one of the most important cultural sites in the country.
The Paro Valley
The Paro Valley is a picturesque valley in western Bhutan known for its lush forests, terraced fields, and traditional architecture. The valley is home to several important cultural sites, including the Tiger's Nest Monastery, the National Museum of Bhutan, and the Paro Dzong. Visitors can also explore the charming town of Paro, known for its handicrafts, traditional architecture, and lively markets.
Thimphu
Thimphu is the capital city of Bhutan and it is the largest city in the country. Despite its modern amenities and bustling streets, Thimphu has managed to preserve its traditional Bhutanese culture and architecture. Visitors can explore the city and its many attractions. attractions like the Tashichho Dzong, the Buddha Dordenma statue, and the National Memorial Chorten. Thimphu is also a great place to experience Bhutanese cuisine, music, and dance.
The Haa Valley
The Haa Valley is a remote and pristine valley located in western Bhutan. The valley is known for its stunning natural beauty. There are snow-capped mountains, pristine forests, and crystal-clear rivers. Visitors can explore the valley's traditional villages, hike to remote monasteries, and enjoy the local cuisine. The Haa Valley also has several cultural sites, including the Lhakhang Karpo and Lhakhang Nagpo temples.
Best season to travel to Bhutan?
The best time to visit Bhutan is during the spring (March to May) and autumn (September to November) seasons. These periods offer pleasant weather, clear skies, and a chance to witness the stunning natural beauty of Bhutan in full bloom.
Also Read: Things you must Know Before the Langtang Valley Trek
How long is a tour to Bhutan from Nepal?
A typical Bhutan tour package from Nepal can last anywhere from 5 to 10 days, depending on your preferences and budget. However, it is recommended to spend at least 7 to 10 days in Bhutan to really get an understanding of the country's culture, traditions, and natural beauty.
How much does it cost to visit Bhutan from Nepal?
A Bhutan tour package from Nepal can vary in cost depending on the duration of your trip, the number of people traveling, and the level of luxury you like to have. However, the minimum daily package for tourists in Bhutan is set by the government at $200 per person per day during the peak season and $165 per person per day during the low season.
This fee covers your accommodation, meals, transportation, and tour guide fees. Bhutan is known for these high fixed government-set prices. but since it includes everything it is not such a big amount as it seems on first notice. 
How do I get from Kathmandu to Bhutan?
Bhutan Tour Packages from Nepal– There are two main ways for people to travel from Kathmandu to Bhutan: by flight or by land. The easiest and most convenient option is to take a flight from Kathmandu to Paro. Paro is the only international airport in Bhutan. The other option is to take a scenic drive from Kathmandu to Phuentsholing, which is the entry point to Bhutan from the Indian side.
Is the Bhutan tour expensive?
Bhutan is known for its high daily tourist tariff, which can make the country seem expensive to some travelers. However, this fee includes all your travel expenses, accommodation, meals, and tour guide fees, making it a good value for money. Additionally, the unique cultural and natural experiences that Bhutan offers are priceless.
Which is the cheapest season to visit Bhutan?
The low season, which is from December to February and June to August, is the cheapest time to visit Bhutan. During this period, the daily tourist tariff is lower, and accommodation and flight prices are also much more affordable. However, the downside is that the weather during these months can be colder and wetter. you should pack accordingly for this weather.
Can Nepali go to Bhutan without a visa?
Nepali citizens can visit Bhutan without a visa for up to 30 days. However, they must have a valid passport, and their visit must be arranged through a registered tour operator.
You may also like: Places to Visit in Nepal for Couples
Is the food in Bhutan expensive?
The cost of food in Bhutan varies depending on your preferences and location. Local Bhutanese cuisine is generally affordable and delicious, while international cuisine can be more expensive. However, most Bhutan tour packages include meals, so you do not need to worry about food costs during your trip.
Is Nepal or Bhutan cheaper?
Both Nepal and Bhutan have their own unique charms, and the cost of traveling to each country vary depending on your travel style and preferences. In general, Bhutan is considered a more expensive destination due to the minimum daily tourist tariff set by the government. besides that, Nepal offers a wide range of budget-friendly options for accommodation, food, and transportation, making it a more affordable destination for budget-conscious travelers.
Conclusion
In conclusion, a Bhutan tour package from Nepal offers many unique opportunities to explore one of the most beautiful and culturally rich countries in the world. You should consider the best places to visit in Bhutan, the best season to travel, and the cost of a tour package. This way you can plan a memorable trip that fits your budget and preferences. With its stunning natural beauty, amazing vibrant cultural traditions, and warm hospitality, Bhutan is sure to leave you with memories that will last a lifetime.