"Everything you need to know about Dingboche, a hidden gem along the Everest trail, beckons adventure enthusiasts with its thrilling terrain, breathtaking vistas, and adrenaline-pumping activities. Situated at an altitude of 4,410 meters (14,469 feet), this rest point offers trekkers a chance to catch their breath, indulge in exhilarating adventures, and immerse themselves in the raw beauty of the Himalayas."
Weather Conditions and Average Temperature
Let's take a look into the climatic patterns that shape this beautiful village and gain insights into the average temperatures you can expect throughout the year.
Spring (March to May):
Spring in Dingboche is a delightful time to visit, as the weather starts to warm up, and nature awakens from its winter slumber. March sees a gradual rise in temperatures, with daytime averages ranging from 5°C to 10°C (41°F to 50°F).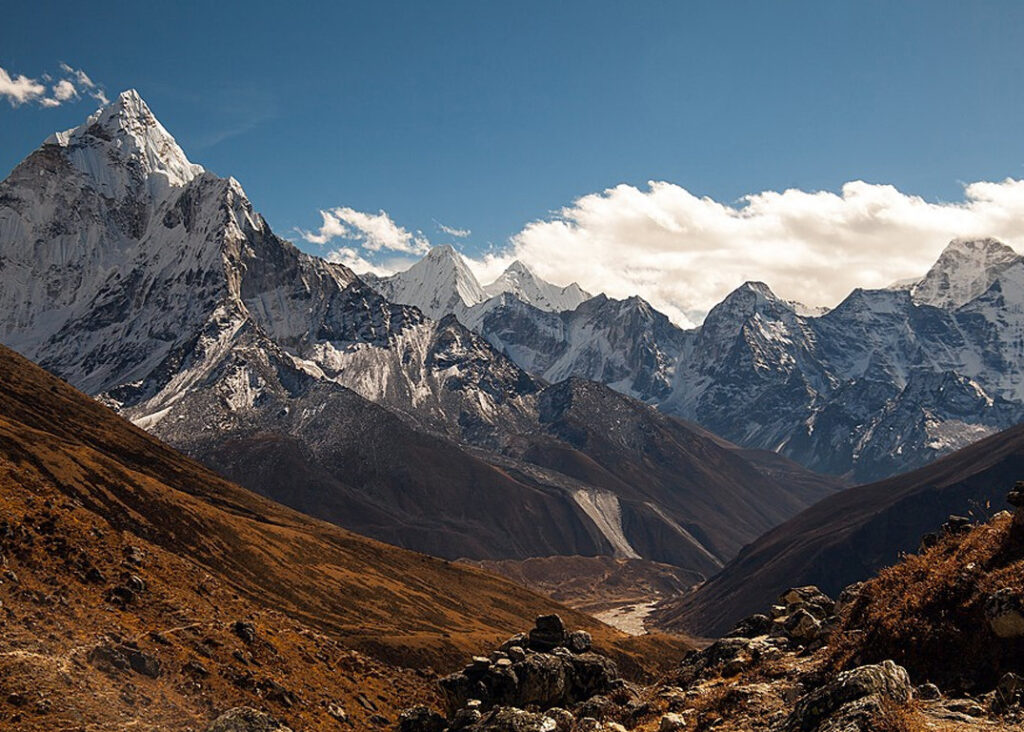 As the season progresses into April and May, temperatures continue to climb, with average highs ranging between 10°C and 15°C (50°F to 59°F). However, it's important to note that mornings and evenings can still be chilly, with temperatures dropping below freezing, so packing appropriate layers is essential.
Summer (June to August):
Dingboche experiences its monsoon season during the summer months. While trekking during this period can be challenging due to increased rainfall and cloud cover, it offers a unique perspective on the surrounding landscapes.
Also Read: Tengboche Monastery: The oldest monastery in Khumbu
Average temperatures in Dingboche during the summer range from 15°C to 20°C (59°F to 68°F), with occasional variations due to rainfall. The lush greenery and blooming flora make for a visually stunning experience, but trekkers should be prepared for rain showers and occasional muddy trails.
Autumn (September to November):
Autumn is widely regarded as the best time to visit Dingboche. The weather is generally stable, and the skies are clear, offering breathtaking views of the snow-capped peaks. September starts with mild temperatures, averaging around 15°C (59°F), gradually dropping as the season progresses.
By November, daytime temperatures range from 5°C to 10°C (41°F to 50°F), with cooler nights and mornings. This is peak trekking season, and it's recommended to book accommodations in advance to secure a spot during this popular period.
Winter (December to February):
Winter in Dingboche brings cold temperatures and challenging conditions. The village is blanketed in snow, adding a magical touch to the already mesmerizing surroundings. Average temperatures during winter range from -5°C to 5°C (23°F to 41°F), with January being the coldest month.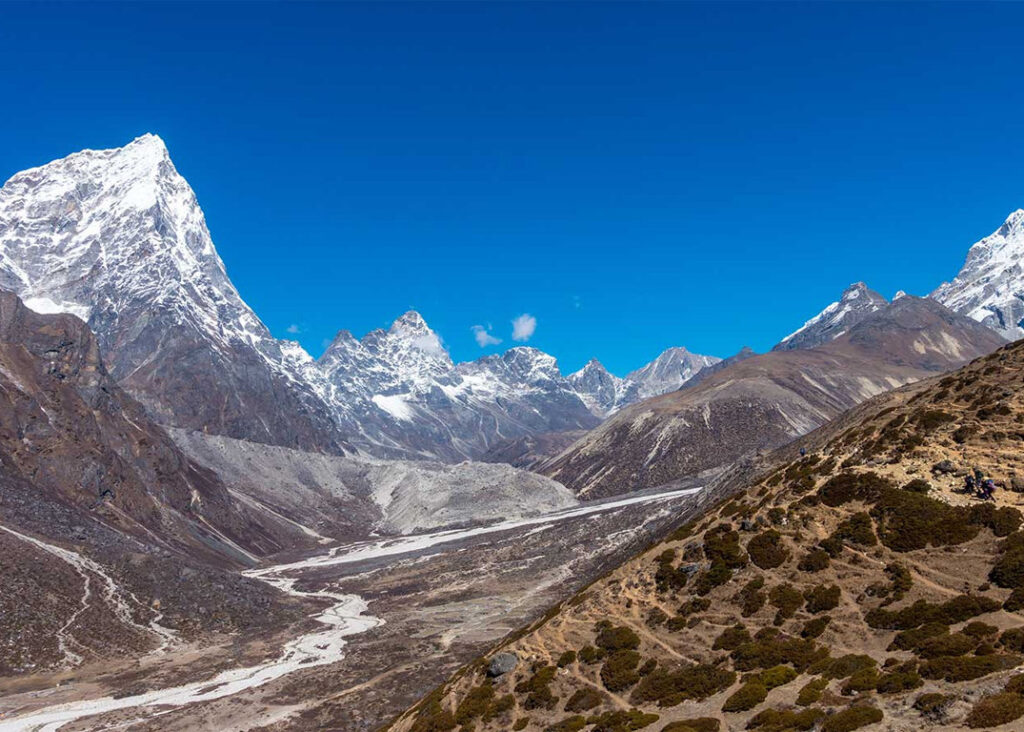 It's crucial to pack adequate cold-weather gear, including thermal layers, down jackets, and sturdy boots. Treks during this time require careful planning and an experienced guide due to potential snowfall and icy trails.
Highlights of Dingboche
Let's explore the highlights of Dingboche which is a place that embodies the essence of Himalayan splendor.
Spectacular Mountain Panoramas
Dingboche boasts an unrivaled location that treats visitors to unparalleled views of towering peaks. As you traverse the trails leading to Dingboche, you'll be captivated by the sight of majestic mountains like Ama Dablam, Lhotse, Nuptse, and Island Peak.
The breathtaking vistas offer an awe-inspiring backdrop that will leave you spellbound and in constant awe of the grandeur of nature.
Immerse in Sherpa Culture
Dingboche provides a unique opportunity to experience the rich cultural heritage of the Sherpa people. Sherpas are renowned for their mountaineering skills and their warm hospitality.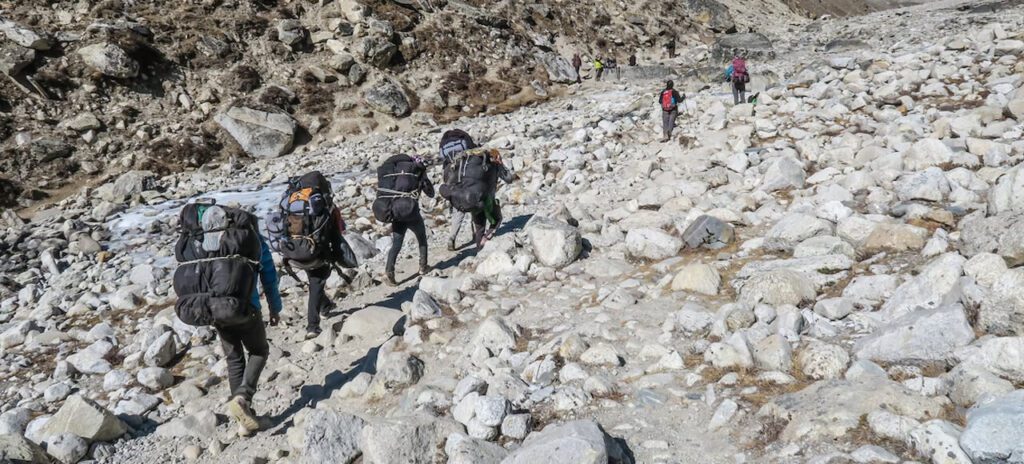 Take some time to interact with the locals, visit traditional Sherpa houses, and gain insights into their way of life. You may even have the chance to savor delicious Sherpa cuisine and learn about their traditional practices and festivals.
Chhukung Ri Hike
For adventurous souls seeking to conquer greater heights, Dingboche serves as a starting point for the challenging Chhukung Ri hike. This trek takes you to the top of Chhukung Ri (5,546 meters/18,192 feet), offering panoramic views of the Everest region.
The trek rewards you with awe-inspiring vistas of glaciers, icefalls, and an up-close encounter with the magnificent Amphu Laptsa pass. This challenging yet immensely rewarding hike is a must for those craving an adrenaline rush.
Unique Flora and Fauna
Dingboche is home to diverse flora and fauna, thriving in this harsh but breathtaking environment. As you explore the surroundings, you'll encounter beautiful alpine flowers, including primroses, poppies, and edelweiss, adding vibrant colors to the landscape.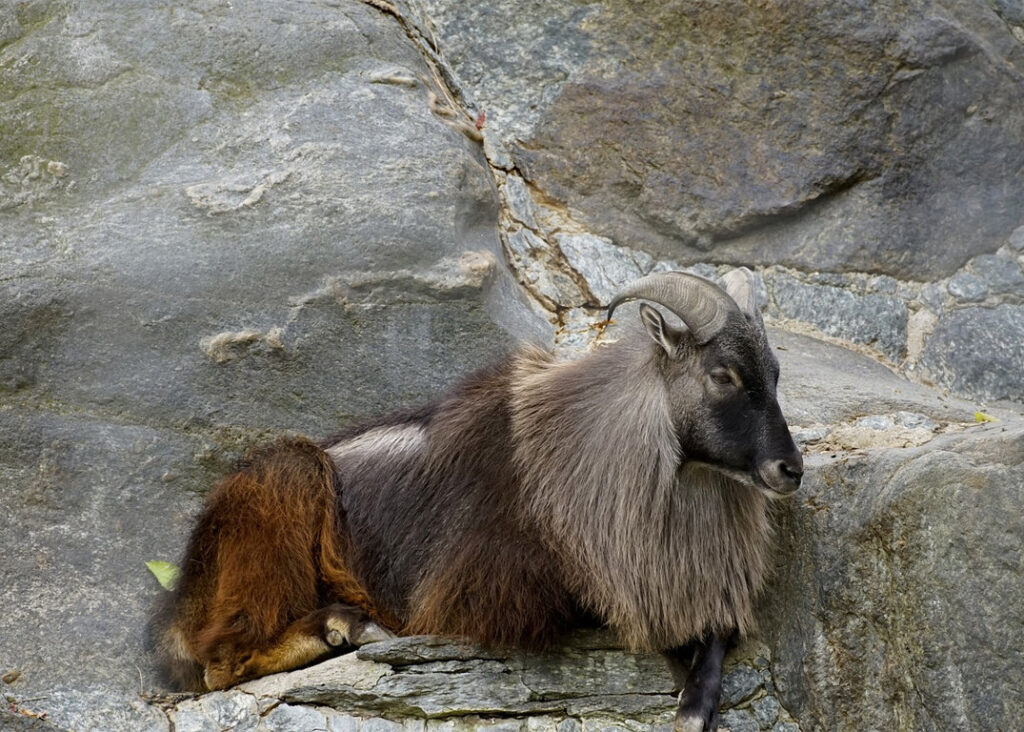 If you're lucky, you might spot Himalayan Tahrs, musk deer, and various species of birds, including the elusive Snow Partridge. Dingboche is a nature lover's paradise, offering an abundance of opportunities for wildlife enthusiasts and birdwatchers.
Gateway to Everest Base Camp
Dingboche serves as an essential acclimatization stop for trekkers on their journey to Everest Base Camp. Located at a higher altitude than Namche Bazaar, Dingboche provides trekkers with a crucial rest and acclimatization period.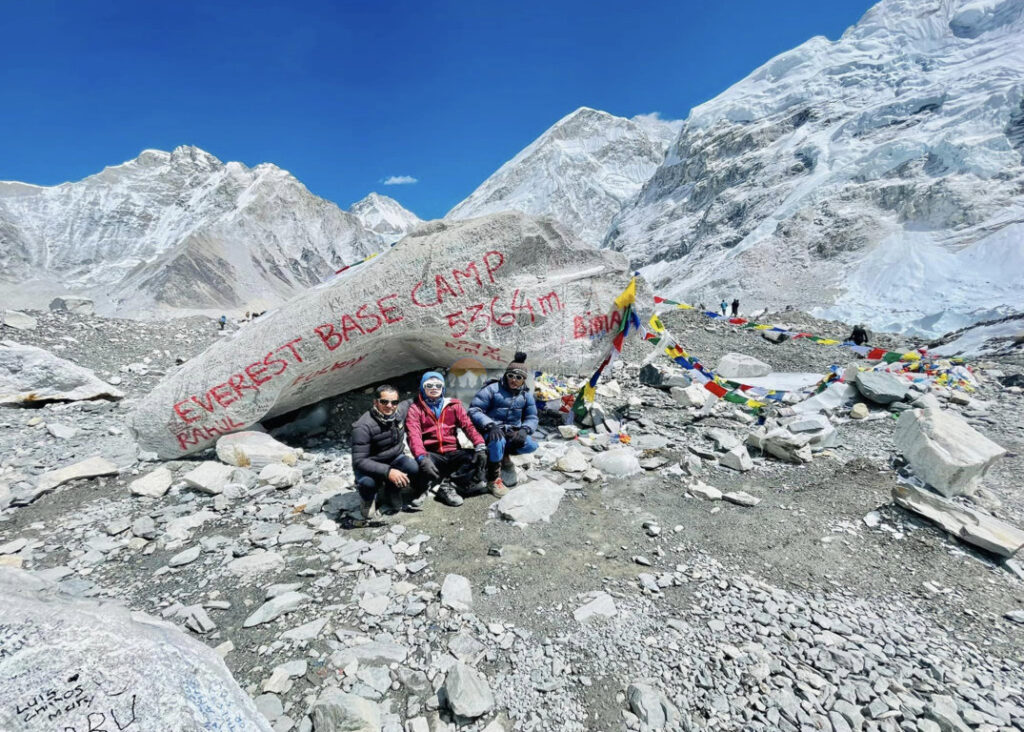 Spend a day exploring the surroundings, adjusting to the altitude, and enjoying the breathtaking scenery. The village offers a range of accommodations, teahouses, and facilities to cater to trekkers' needs, making it a perfect base for the Everest adventure.
Imposing Everest Base Camp Trek
Dingboche serves as a crucial stop on the iconic Everest Base Camp trek. From Dingboche, trekkers continue their journey to Gorak Shep and eventually reach the Everest Base Camp.
This challenging trek takes you through rugged terrain, glacial moraines, and the famed Khumbu Icefall. Standing at the base camp of the world's highest peak, Mount Everest is a truly awe-inspiring and humbling experience.
Immerse in Spiritual Serenity
Dingboche is dotted with ancient monasteries and sacred sites that exude tranquility and spiritual energy. One such monastery is the Dingboche Monastery, also known as the Imja Tse Monastery.
You may also like: Ghandruk: Gurung Cultural Gem
Take a moment to soak in the peaceful ambiance, spin prayer wheels, and observe monks going about their daily rituals. The serenity of these monastic sites offers a chance for introspection and connection with the spiritual traditions of the region.
Adventure in Island Peak
Dingboche serves as a base for climbers venturing to conquer Island Peak ( ImjaTse), one of the most popular trekking peaks in Nepal. Island Peak stands at an impressive height of 6,189 meters (20,305 feet) and offers a thrilling climbing experience for both novice and experienced mountaineers.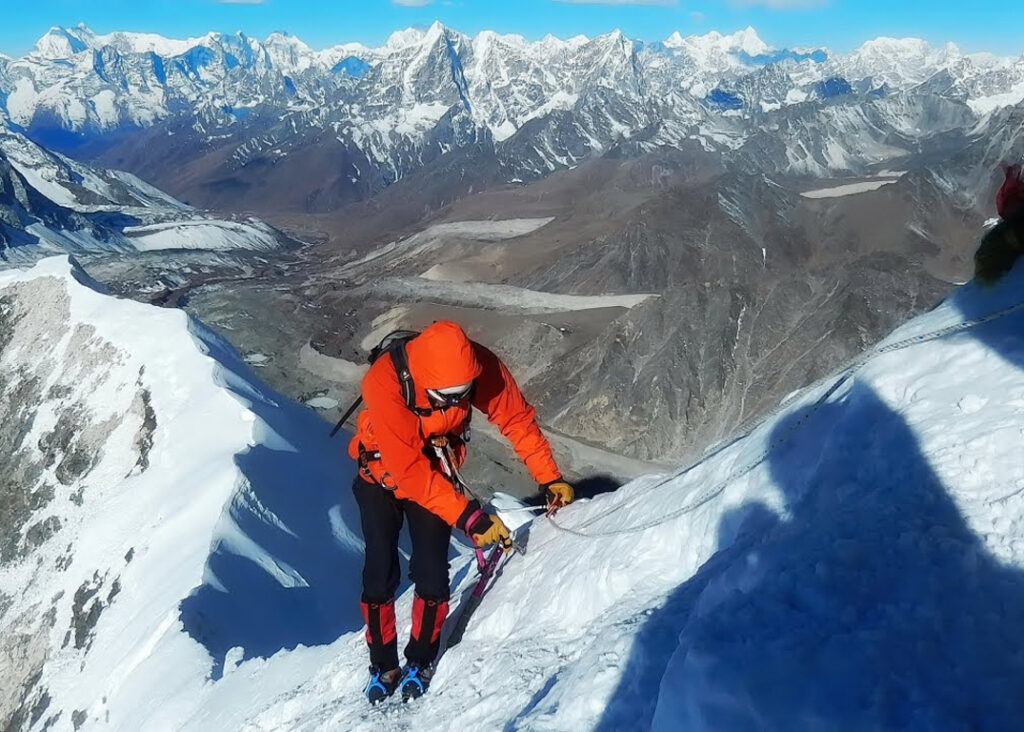 Embark on an unforgettable expedition, navigate icy slopes, and be rewarded with breathtaking views from the summit.
Trekking in the Off-Season
While Dingboche experiences a surge in visitors during the peak trekking seasons, the village holds its charm even during the off-season.
If you prefer a quieter and more secluded experience, consider trekking to Dingboche during the shoulder seasons of spring or autumn. The trails are less crowded, allowing you to immerse yourself fully in the natural beauty and tranquility of the region.
Photography Paradise
Dingboche presents endless opportunities for photography enthusiasts. From capturing the play of light on the towering peaks to capturing the delicate beauty of alpine flowers, every frame is a masterpiece waiting to be captured.
Whether you're a professional photographer or an amateur with a keen eye, Dingboche offers a myriad of captivating subjects that will leave you with unforgettable visual memories.
Astronomy and Stargazing
Dingboche's high altitude and remote location make it an ideal spot for stargazing and astronomy enthusiasts. With minimal light pollution and clear skies, you can witness a mesmerizing celestial display.
On a clear night, the stars seem to shine brighter, and you may even catch a glimpse of the Milky Way stretching across the sky. Set up your camera or simply lie back and marvel at the wonders of the universe.
Unique Trekking Routes
While Dingboche is most famous as a stop on the Everest Base Camp trail, it also offers alternative trekking routes for those seeking a different adventure. The Dingboche to Lobuche trek takes you through rugged landscapes, and glacial moraines, and offers stunning views of the surrounding peaks.
Additionally, you can explore the less-trodden paths toward the stunning Gokyo Lakes, which provide an alternative and equally captivating trekking experience.
Kathmandu to Dingboche
The journey from Kathmandu to Dingboche stands out as an unforgettable experience. We will guide you through the mesmerizing route from the bustling capital city to the picturesque village of Dingboche, located in the Everest region.
Kathmandu to Lukla
The journey begins with a scenic flight from Kathmandu to Lukla, a small town known as the gateway to the Everest region. The flight itself offers breathtaking views of the Himalayan peaks, making it an exhilarating experience.
Due to the mountainous terrain and unpredictable weather, flights may occasionally be delayed or rescheduled. It is essential to factor in some buffer time in your itinerary.
Lukla to Phakding and Namche Bazaar
From Lukla, the trek heads towards Phakding which is a charming village located alongside the Dudh Koshi River. The trail passes through lush forests, suspension bridges, and picturesque Sherpa settlements.
After a night's rest in Phakding, the trek continues towards Namche Bazaar, the vibrant trading hub of the Everest region. Namche Bazaar offers stunning views of Everest and is an ideal place for acclimatization.
Acclimatization in Namche Bazaar
Acclimatization is a vital aspect of high-altitude trekking to prevent altitude sickness. Spend an extra day in Namche Bazaar to allow your body to adjust to the increasing elevation.
During this rest day, you can explore the local markets, visit the Sherpa Culture Museum, or hike to the Everest View Hotel for breathtaking panoramic views of the Himalayas.
Namche Bazaar to Tengboche
The trail from Namche Bazaar to Tengboche is a mix of steep ascents and descents providing incredible views of Ama Dablam, Lhotse, and Everest.
Tengboche is home to the famous Tengboche Monastery, the largest Buddhist monastery in the Everest region. Take some time to soak in the spiritual ambiance of the monastery and witness the morning or evening prayers.
Tengboche to Dingboche
Leaving Tengboche, the trek heads towards Dingboche, situated at an elevation of 4,410 meters (14,468 feet). The trail passes through beautiful rhododendron forests and opens up to vast alpine meadows.
Dingboche offers breathtaking views of Ama Dablam and the surrounding peaks. The village also serves as a crucial acclimatization point before ascending to higher altitudes.
Enjoying Dingboche
Dingboche is a perfect place to rest and acclimatize further before continuing your journey. Take a day to explore the village, interact with the locals, and immerse yourself in the serene Himalayan ambiance. You can hike to nearby viewpoints, visit the local bakery, or simply enjoy the majestic mountain vistas.
Popular: Kagbeni: Untouched Mystical realm of the Himalayas
Return Journey
After relishing the beauty of Dingboche, you can retrace your steps back to Namche Bazaar and eventually reach Lukla.
From Lukla, you'll take a flight back to Kathmandu, filled with incredible memories of your Himalayan adventure.
Population
Dingboche, a small village nestled in the Khumbu region of the Solu Khumbu district in Nepal, is known for its stunning natural beauty and its unique position as a popular stopover for trekkers heading towards Everest Base Camp. The population of Dingboche, although relatively small, reflects the importance of this village as a vital resting point for climbers and adventurers.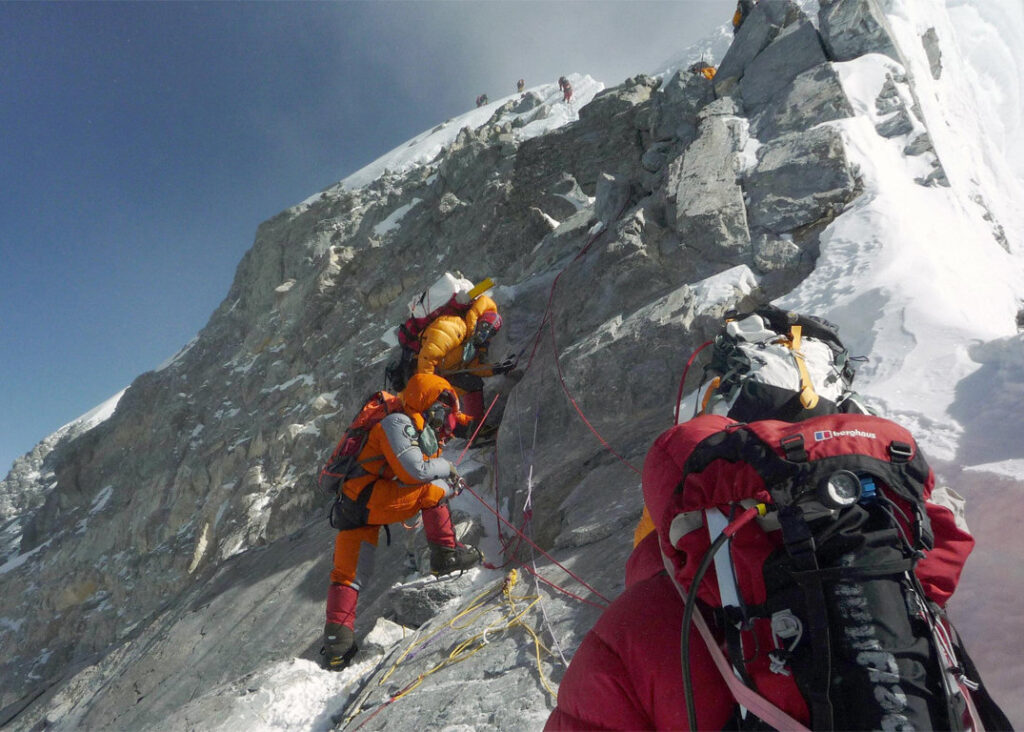 With a population of approximately 200 residents, Dingboche provides essential services and accommodations, such as teahouses and lodges, to cater to the needs of visitors. Despite its modest size, the village boasts breathtaking views of towering peaks, including Ama Dablam and Lhotse, and offers a warm and welcoming atmosphere to all who visit.
Monasteries in Dingboche
Join us as we discover the enchanting monasteries of Dingboche and delve into the spiritual realm they embody.
Tengboche Monastery
Tengboche Monastery located a short distance from Dingboche, is one of the most revered and iconic monasteries in the Khumbu region. Perched on a hill at an elevation of 3,867 meters (12,687 feet), it offers stunning panoramic views of Everest, Ama Dablam, and other Himalayan peaks.
Tengboche Monastery is the largest gompa in the region and is renowned for its annual Mani Rimdu festival, a vibrant celebration of Buddhist rituals and masked dances.
Pangboche Monastery
Pangboche Monastery, situated slightly higher than Dingboche at an elevation of 3,985 meters (13,074 feet), is another significant spiritual center. It is believed to be the oldest monastery in the Khumbu region and holds great historical and cultural value.
The monastery houses ancient artifacts, religious scriptures, and intricate murals that depict Buddhist teachings and legends. Pangboche Monastery also offers breathtaking views of Everest, Nuptse, and Lhotse.
Dingboche Monastery
The eponymous Dingboche Monastery, located in the heart of the village, holds a special place in the hearts of the local Sherpa community. This humble yet captivating monastery serves as a spiritual refuge for villagers and trekkers alike.
The monastery's tranquil ambiance, adorned with prayer flags and prayer wheels, invites visitors to immerse themselves in meditation and reflection. Interacting with the resident monks provides a unique insight into their monastic life and daily rituals.
Imja Tse Monastery
Also known as the Island Peak Monastery, Imja Tse Monastery is situated near Chhukung, a picturesque village close to Dingboche. This small yet picturesque monastery offers a serene environment for contemplation and prayer amidst the stunning Himalayan landscape.
Also Read: All about Trekking Junction, Besisahar
Imja Tse Monastery is a popular stopover for climbers embarking on the challenging ascent of Island Peak, a nearby peak that attracts mountaineers seeking adventure and breathtaking views.
Dingboche to Lobuche
Trekking from Dingboche to Lobuche is a captivating journey through the Khumbu region of Nepal. Covering a distance of 6.6 kilometers, this segment of the Everest Base Camp trek offers stunning views of towering peaks, including Everest and Ama Dablam. Dingboche serves as an acclimatization stop, with its Sherpa village charm and panoramic vistas.
As trekkers move towards Lobuche, the landscape becomes more rugged, following the Khumbu Glacier's lateral moraine. Lobuche, nestled in a picturesque valley, provides a sense of remoteness and tranquility. With basic yet comfortable accommodations, this trek promises a memorable adventure amidst the majestic Himalayas.
Dingboche to EBC
Trekking from Dingboche to Everest Base Camp offers a captivating journey through Nepal's Khumbu region. The distance between the two destinations is approximately 12.4 kilometers, but the trek takes around 3 to 4 hours due to the varied terrain. Starting in Dingboche, trekkers pass through Pheriche, known for its acclimatization facilities, and continue to Dughla, where memorials commemorate fallen climbers.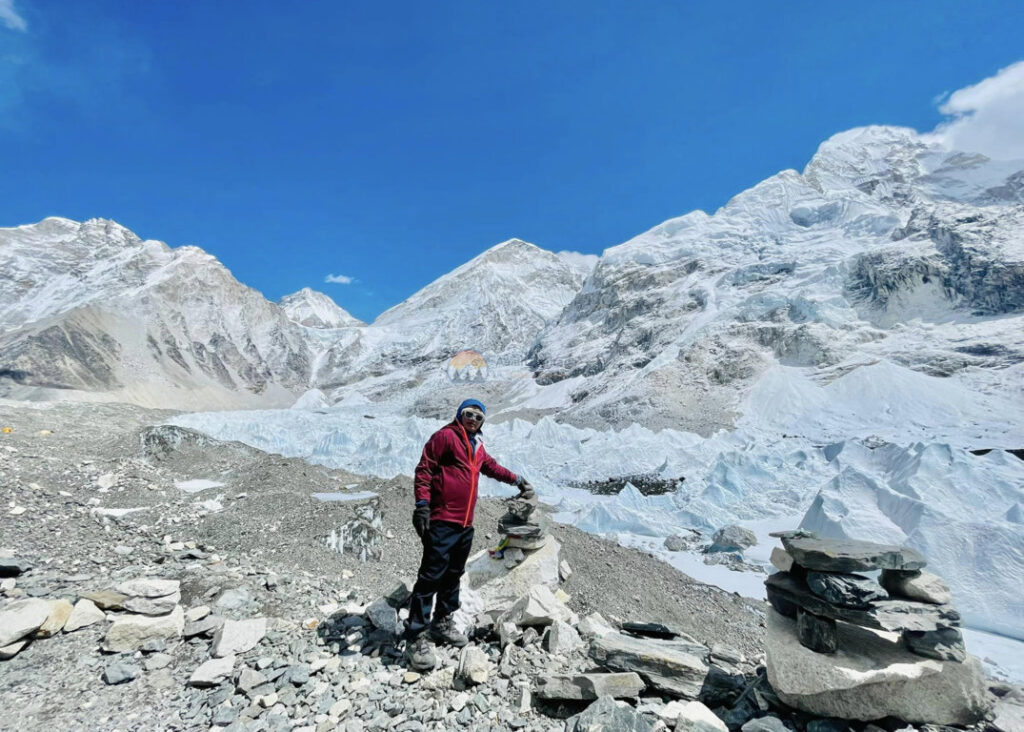 The trail then climbs the Khumbu Glacier moraine, leading to Lobuche and finally Gorak Shep. From there, a hike to Everest Base Camp reveals the awe-inspiring Khumbu Icefall and the bustling camp during the climbing season.
This trek offers a mix of stunning landscapes, breathtaking views, and a deep sense of accomplishment at the foot of the world's highest peak.
Dingboche to Chhukung
The trek from Dingboche to Chhukung covers a distance of approximately 4.1 kilometers in the stunning Himalayan region of Nepal. Starting from the village of Dingboche, trekkers are treated to breathtaking views of Ama Dablam, Lhotse, and Island Peak. The trail follows the Imja Khola River, offering serenity amidst rugged landscapes.
As the journey progresses, trekkers can take a side trek to Chhukung Ri for panoramic views of surrounding peaks. Arriving in Chhukung, the beauty of snow-capped peaks and the Imja Tsho glacial lake awaits. Chhukung also serves as a base camp for climbers aiming to conquer Island Peak. This trek offers a remarkable experience, showcasing the grandeur of the Himalayas and the hospitality of the Sherpa people.
Dingboche to Gorakshep
The trek from Dingboche to Gorakshep covers a distance that takes adventurers through the magnificent Himalayas of Nepal. Starting from the charming village of Dingboche, trekkers embark on a journey of approximately 10 kilometers. Along the way, they are treated to panoramic views of majestic peaks, cultural encounters with the Sherpa people, and insights into their rich traditions.
The trail leads to Tengboche Monastery, located at an altitude of 3,867 meters (12,687 feet), where trekkers can soak in the spiritual ambiance and capture breathtaking views of Everest. As the trek continues through the alpine wilderness, spanning rocky terrains and crossing suspension bridges, a distance of about 15 kilometers (9.3 miles) lies ahead.
Finally, reaching Gorakshep, situated at an elevation of 5,164 meters (16,942 feet), marks the end of the approximately 9.9-kilometer journey. The sense of accomplishment and the awe-inspiring views of Everest make this trek an unforgettable experience in the heart of the Himalayas.
Dingboche to Island Peak
The journey from Dingboche to Island Peak in the Himalayas is a captivating adventure for trekkers and mountaineering enthusiasts. Dingboche serves as a starting point, providing a serene atmosphere for acclimatization. The distance from Dingboche to Island Peak Base Camp is approximately 9.6 kilometers.
The trail passes through Chhukung, offering stunning views, before reaching the base camp. The final ascent involves technical climbing skills. Along the way, trekkers are treated to breathtaking landscapes, glacial lakes, and diverse flora and fauna. Altitude sickness and harsh conditions pose challenges, making proper preparation and experienced guides crucial.
Accommodation
Let's explore the enchanting accommodations available in Dingboche, providing a comfortable and rejuvenating stay for every traveler.
More: Boudhanath: Buddhist Religious Heritage
Teahouses and Lodges
Dingboche, like many other trekking destinations in the Everest region, primarily offers teahouses and lodges as accommodation options. These establishments provide trekkers with basic but cozy rooms, communal dining areas, and shared bathroom facilities. Teahouses are an integral part of the trekking culture in Nepal and offer a unique opportunity to connect with fellow adventurers from all around the world.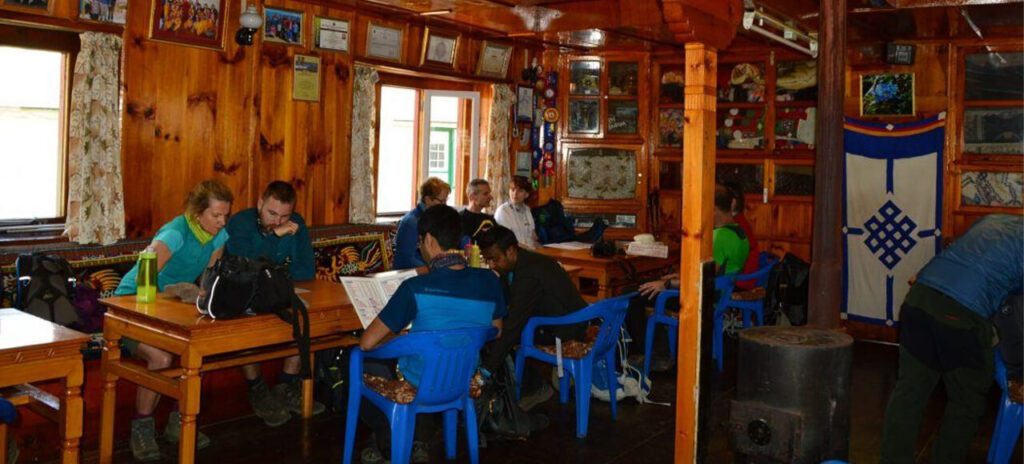 Most teahouses in Dingboche are family-run, providing an authentic experience that allows you to immerse yourself in the local culture. The rooms are simple yet comfortable, typically furnished with twin beds, warm blankets, and a small table. While amenities may vary, you can generally expect hot showers (at an additional cost), charging facilities, and delicious Nepali meals to refuel after a day of exploration.
Sherpa Lodges
Dingboche is primarily inhabited by the Sherpa community, renowned for its mountaineering expertise and warm hospitality. Sherpa lodges, managed by Sherpa families, offer a unique opportunity to experience their traditional way of life.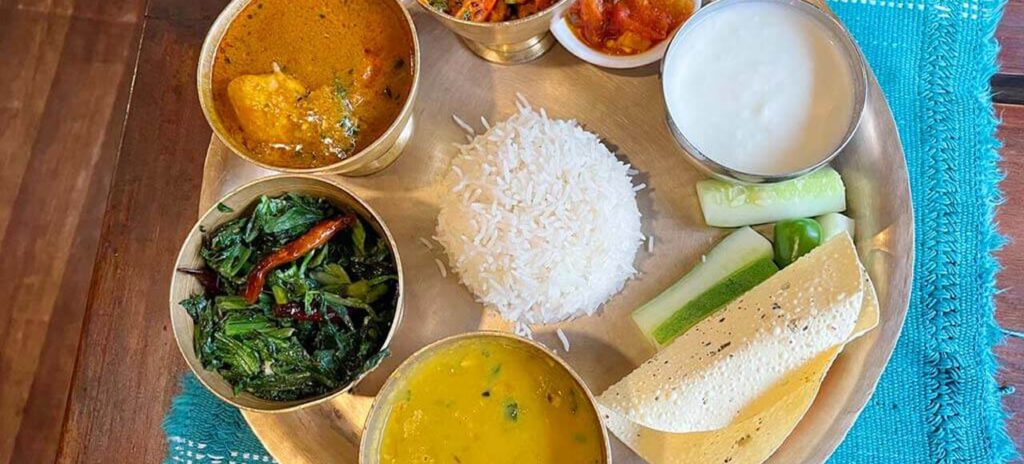 Staying at a Sherpa lodge allows you to gain insights into their culture, traditions, and the challenges they face in the high-altitude environment.
These lodges typically offer comfortable rooms with traditional decor and stunning views of the surrounding mountains. Sherpa hosts take pride in providing delicious meals, often including local specialties like Dal Bhat (rice with lentil soup), Sherpa stew, and momos (steamed dumplings).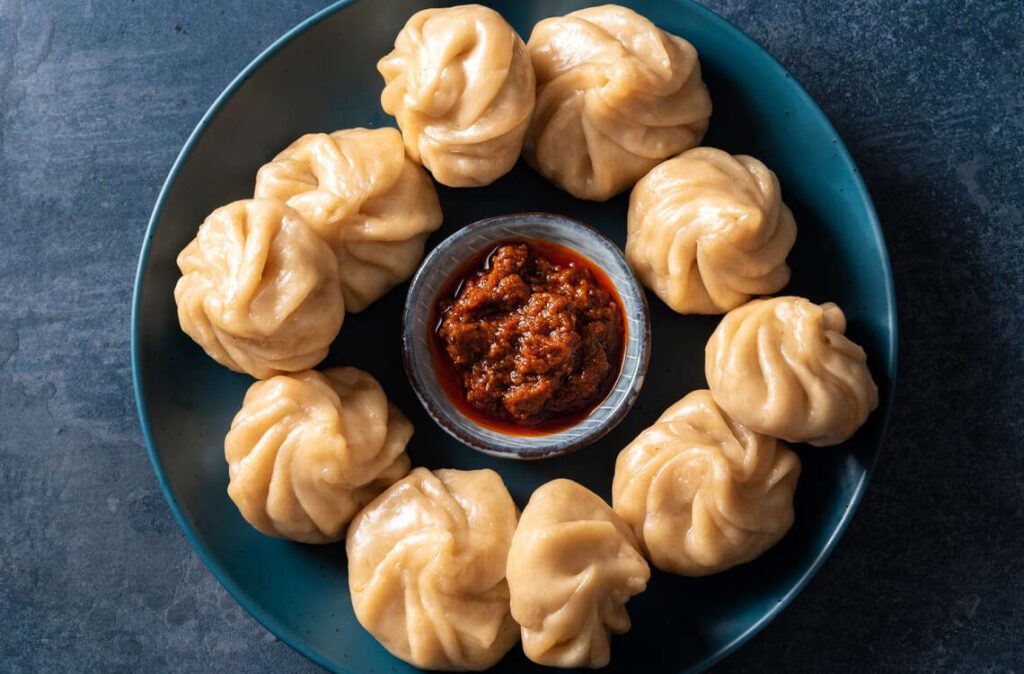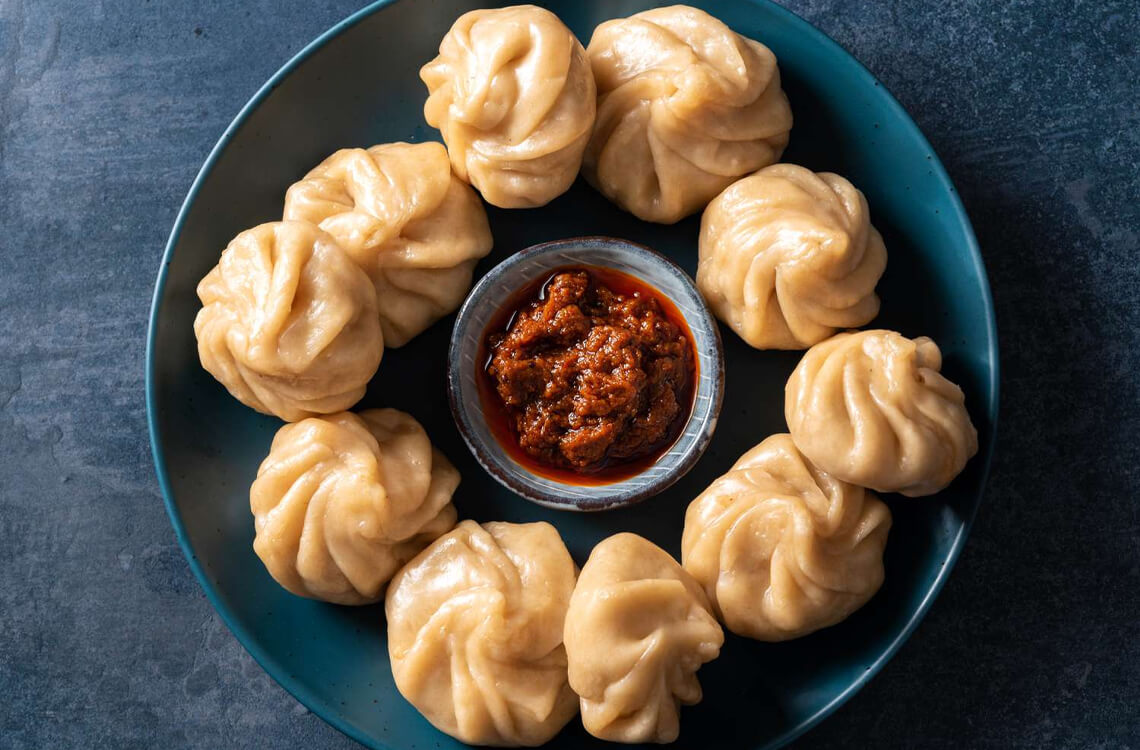 Engaging in conversations with the Sherpa hosts can offer valuable insights into the local customs and mountaineering traditions.