In the heart of the Annapurna region of Nepal, a hidden jewel awaits adventurous souls seeking a truly extraordinary experience. Welcome to Ghandruk, a village that effortlessly weaves together the threads of natural beauty, rich culture, and heartwarming hospitality. Ghandruk is a beautiful village in the Annapurna Mountains of Nepal. It is located at an altitude of 2,012 meters and is surrounded by stunning mountains including Annapurna South, Annapurna II, and Machhapuchhre.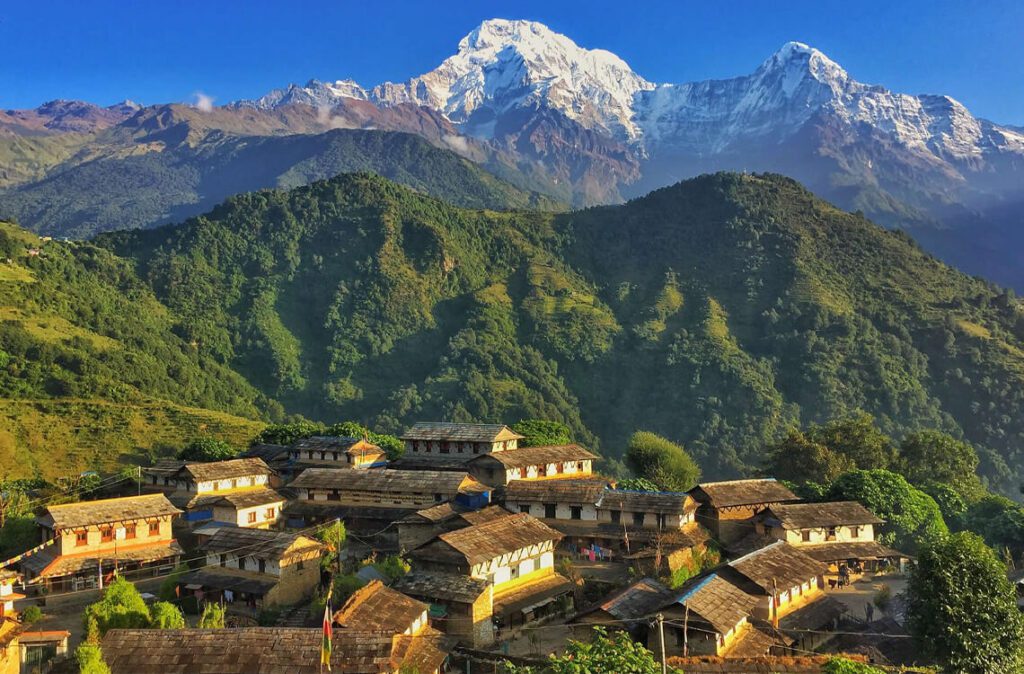 In this blog, we embark on a captivating journey through the enchanting tapestry of Ghandruk, where every moment is filled with wonder, excitement, and profound beauty.
Weather Conditions and Temperature
Let's take a look into the mesmerizing weather patterns and temperature range that make Ghandruk a must-visit location for weather enthusiasts and adventure seekers alike.
Ghandruk's Climate: A Seasonal Kaleidoscope
Ghandruk experiences a subtropical highland climate which means it has four distinct seasons that offer diverse weather conditions throughout the year. Let's explore each season and what it brings to this picturesque village:
Spring (March to May)
As the snow melts, Ghandruk transforms into a vibrant landscape during spring. The temperature begins to rise, ranging from mild to moderately warm, with average daytime temperatures hovering between 15°C (59°F) and 25°C (77°F). The weather remains pleasant, with occasional rainfall, making it an ideal time for nature lovers to witness blooming rhododendrons and lush greenery.
Summer (June to August)
Ghandruk experiences its monsoon season during summer, characterized by increased humidity and frequent rainfall. Temperature ranges from 20°C (68°F) to 30°C (86°F), creating a refreshing atmosphere. While rainfall can interrupt outdoor activities, the rain-washed landscapes and clear skies after showers offer breathtaking vistas for adventurous photographers.
Autumn (September to November)
Considered the best time to visit Ghandruk, autumn showcases the village at its finest. The temperature cools down to a pleasant range between 10°C (50°F) and 20°C (68°F), creating comfortable days and cool evenings.
The skies are usually clear, and the surrounding mountains are beautifully visible, making it an ideal time for trekking and mountain exploration.
Winter (December to February)
Winter brings chilly temperatures and occasional snowfall to Ghandruk. The average daytime temperature ranges from 5°C (41°F) to 15°C (59°F). While the colder weather makes some trails challenging, it offers a unique opportunity to experience Ghandruk in a tranquil and snow-blanketed setting.
Main Attraction of Ghandruk
Let's explore the enchanting charms that make Ghandruk an absolute must-visit destination.
Majestic Himalayan Views
Ghandruk offers an unparalleled opportunity to immerse yourself in the grandeur of the Himalayas. Towering peaks, including Annapurna South (7,219 m) and Machapuchare (6,993 m), dominate the horizon, creating a jaw-dropping backdrop.
Whether it's witnessing the sunrise painting the mountains in hues of gold or marveling at the moonlit peaks, the vistas from Ghandruk are truly awe-inspiring.
Cultural Heritage
The village of Ghandruk is predominantly inhabited by the Gurung community, renowned for their bravery as former Gurkha soldiers. The rich Gurung culture is deeply ingrained in every aspect of daily life in Ghandruk. Take a stroll through the village to encounter traditional stone houses, intricately carved wooden windows and vibrant prayer flags fluttering in the wind.
Also Read: Kathmandu Heritage Tour
Don't miss the opportunity to participate in cultural performances, such as the traditional Gurung dance, where locals showcase their vibrant attire and melodic tunes.
Gurung Museum
To delve deeper into the Gurung culture and history, a visit to the Gurung Museum is a must. The museum exhibits a fascinating collection of traditional artifacts, ancient weaponry, and historical photographs.
Gain insight into the Gurung people's lifestyles, rituals, and their remarkable contributions to the Gorkha Army. It's an enriching experience that adds context to the warm hospitality and unique traditions of Ghandruk.
Hiking Trails
For adventure enthusiasts and nature lovers, Ghandruk serves as a gateway to an extensive network of hiking trails.
Embark on the famous Annapurna Base Camp Trek or the Ghorepani–Poon Hill Trek both of which offer incredible vistas of the surrounding mountains, lush forests, and charming villages. Experience the thrill of navigating rugged terrains and enjoy the serene beauty of the Annapurna Conservation Area.
Homestay Experience
To truly immerse yourself in the local way of life, opt for a homestay in Ghandruk. The warm and welcoming Gurung families open their homes to visitors, offering a unique opportunity to learn about their customs, traditions, and cuisine.
Indulge in delicious local delicacies, learn to cook traditional dishes, and listen to captivating stories passed down through generations. A homestay in Ghandruk promises an authentic cultural experience like no other.
Breathtaking Waterfalls
Ghandruk is blessed with numerous cascading waterfalls that add to its natural allure. A short hike from the village leads to the stunning Jhinu Danda, where you can relax in natural hot springs amidst lush greenery.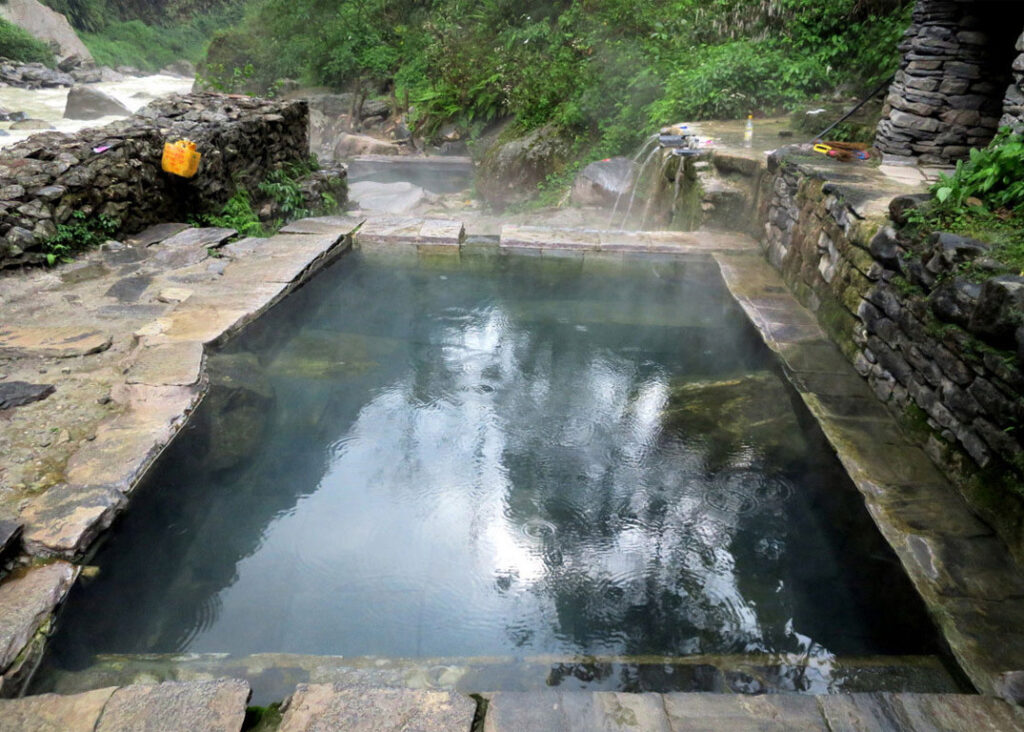 Another must-visit waterfall is the Gurung Waterfall where you can feel the mist on your face as you admire the pristine beauty of nature.
Annapurna Conservation Area
Ghandruk is located within the Annapurna Conservation Area, a protected region known for its incredible biodiversity. Explore the lush forests teeming with diverse flora and fauna, including rhododendron forests, orchids, and elusive wildlife such as snow leopards, and musk deer.
The conservation area is a paradise for nature enthusiasts and offers opportunities for birdwatching and wildlife spotting.
Sunrise and Sunset Views
Witnessing the sunrise and sunset from Ghandruk is a magical experience. Wake up early to catch the first rays of the sun painting the Himalayan peaks in hues of pink and gold, creating a mesmerizing spectacle.
In the evening, as the sun sets behind the mountains, the sky transforms into a palette of vibrant colors, casting a serene glow over the entire landscape.
Traditional Handicrafts
Ghandruk is renowned for its skilled craftsmen who produce exquisite traditional handicrafts. Take a stroll through the village and browse the local shops to find intricately woven textiles, handmade rugs, wooden carvings, and traditional Gurung jewelry.
Purchasing these unique handicrafts not only supports the local economy but also allows you to bring home a piece of Ghandruk's artistic heritage.
Photography Opportunities
For photography enthusiasts, Ghandruk offers endless opportunities to capture awe-inspiring moments. Whether it's the majestic mountains, the traditional architecture, or the vibrant cultural events, every corner of Ghandruk presents a picture-perfect frame. Capture the essence of this Himalayan village and create lasting memories through your lens.
Accommodation
Let's take a look into the diverse and charming accommodation options that Ghandruk has to offer, ensuring a memorable stay for all.
Homestays
Immerse yourself in the local culture by choosing a homestay in Ghandruk. This option allows you to experience the warm hospitality of the Gurung community, one of the predominant ethnic groups in the region.
Homestays provide a unique opportunity to live with a local family, sharing their traditions, cuisine, and way of life. The cozy rooms are often adorned with traditional decor, and you'll wake up to stunning views of the snow-capped peaks right from your window.
Tea Houses
Tea houses are a popular accommodation choice for trekkers visiting Ghandruk. These guesthouses are strategically located along the trekking routes and offer comfortable rooms and basic amenities.
Also Read: Kagbeni: Untouched Mystical Realm of the Himalayas
Tea houses provide a cozy atmosphere and an opportunity to connect with fellow travelers, sharing stories of adventure and forging new friendships. The hearty meals served at tea houses are a welcome treat after a day of exploring the picturesque trails.
Lodges and Resorts
For those seeking a more luxurious stay, Ghandruk offers a range of lodges and resorts that blend seamlessly with the natural beauty of the surroundings. These establishments often feature well-appointed rooms with modern amenities such as en–suite bathrooms, comfortable beds, and stunning mountain views.
Lodges and resorts in Ghandruk also provide on-site restaurants serving a variety of cuisines, including authentic Nepali dishes, ensuring a delightful culinary experience.
Eco-Lodges
For environmentally-conscious travelers, eco-lodges in Ghandruk are an ideal choice. These accommodations prioritize sustainability and have minimal impact on the pristine environment. Built using locally sourced materials, eco-lodges provide a rustic yet comfortable experience.
They often incorporate eco-friendly practices such as rainwater harvesting, solar power, and organic gardens. Staying at an eco-lodge allows you to enjoy the natural beauty of Ghandruk while minimizing your carbon footprint.
Camping
For adventurous souls, camping in Ghandruk is an experience like no other. The village and its surrounding areas offer several picturesque camping sites, allowing you to immerse yourself in nature.
Wake up to the melodious sounds of birds, breathe in the crisp mountain air, and witness the sunrise painting the Himalayan peaks in golden hues. Camping in Ghandruk gives you the ultimate freedom to explore the wilderness and create lasting memories under the starry night sky.
Top Things to Do in Ghandruk
Let's take a look at an exploration of the top things to do in Ghandruk.
Trekking Amidst Spectacular Landscapes
Ghandruk serves as a gateway to the world-renowned Annapurna Circuit and Annapurna Base Camp treks. Lace up your boots and set off on an unforgettable adventure, as you traverse through lush forests, terraced fields, and picturesque villages.
The trek rewards you with awe-inspiring views of snow-capped peaks, including Annapurna South, Machapuchare, and Hiunchuli.
Immerse Yourself in the Gurung Culture
Ghandruk is predominantly inhabited by the Gurung community, one of Nepal's indigenous ethnic groups. Take the opportunity to immerse yourself in their rich cultural traditions. Visit the Gurung Museum, which showcases artifacts, costumes, and historical relics, providing a fascinating insight into the community's heritage.
Engage in a warm conversation with the locals, indulge in their traditional cuisine, and witness mesmerizing cultural performances.
Explore the Traditional Village
Ghandruk is renowned for its traditional Gurung architecture, with houses built in a unique style using stone, mud, and slate. Take a leisurely stroll through the narrow, winding alleys of the village, admiring the intricately carved wooden windows and doors.
Explore the vibrant markets, where you can find locally made handicrafts, handwoven textiles, and exquisite Gurung jewelry. Don't forget to capture the stunning panoramic views of the Annapurna range from various vantage points in the village.
Witness Sunrise at Poon Hill
Poon Hill, located close to Ghandruk, is a popular vantage point for witnessing the majestic sunrise over the Himalayas. Embark on an early morning hike to this viewpoint, and be rewarded with a breathtaking panorama of the Annapurna and Dhaulagiri mountain ranges painted in hues of gold and pink.
The awe-inspiring sight is an experience that will remain etched in your memory forever.
Engage in Nature Photography
Nature enthusiasts and photographers will find Ghandruk to be a paradise. The village's idyllic setting amidst terraced fields, rhododendron forests, and gurgling streams provides ample opportunities to capture mesmerizing shots. Whether it's the play of light on the mountains, colorful prayer flags fluttering in the breeze, or the warm smiles of the locals, Ghandruk offers a plethora of frames waiting to be captured.
Indulge in Local Cuisine
Savor the delectable flavors of authentic Nepalese cuisine in Ghandruk. Try local specialties like Dal Bhat (lentil soup with rice) and Gundruk (fermented leafy greens).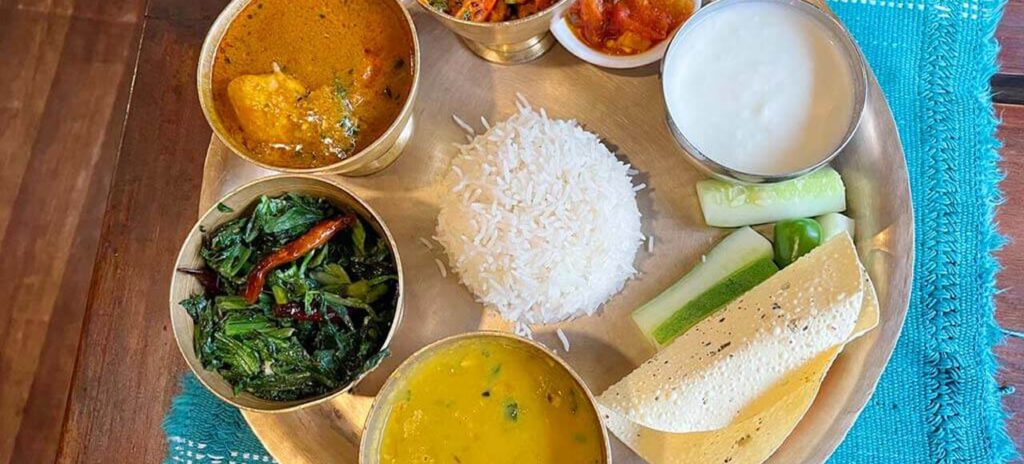 Visit a local home and participate in a traditional cooking class to learn the art of preparing these delightful dishes, using locally sourced ingredients and age-old recipes.
Kathmandu to Ghandruk
Ghandruk is a popular trekking destination in Nepal known for its stunning views of the Annapurna range. Here are two common routes you can take:
Kathmandu to Ghandruk by Road and Trek
Take a bus or hire a private vehicle from Kathmandu to Nayapul. It is approximately a 6 to 7-hour drive.
From Nayapul, begin your trek to Ghandruk. The trek takes around 4 to 6 hours, depending on your pace and fitness level. The trail passes through picturesque villages, terraced fields, and forests.
Spend the night in Ghandruk or any of the guesthouses available.
Kathmandu to Ghandruk by Flight and Trek
Take a flight from Kathmandu to Pokhara. Several airlines operate daily flights between these two cities, and the flight duration is around 25 to 30 minutes.
From Pokhara, hire a taxi or take a local bus to Nayapul. It's approximately a 1.5 to 2–hour drive.
Start your trek from Nayapul to Ghandruk, which takes around 4 to 6 hours.
Stay overnight in Ghandruk.
Ghandruk to Pokhara
The journey from Ghandruk to Pokhara takes you through the mesmerizing landscapes of the Annapurna region in Nepal. Starting in Ghandruk, a charming village surrounded by mountains, you'll trek through rhododendron forests, cross suspension bridges, and encounter the warm hospitality of the locals.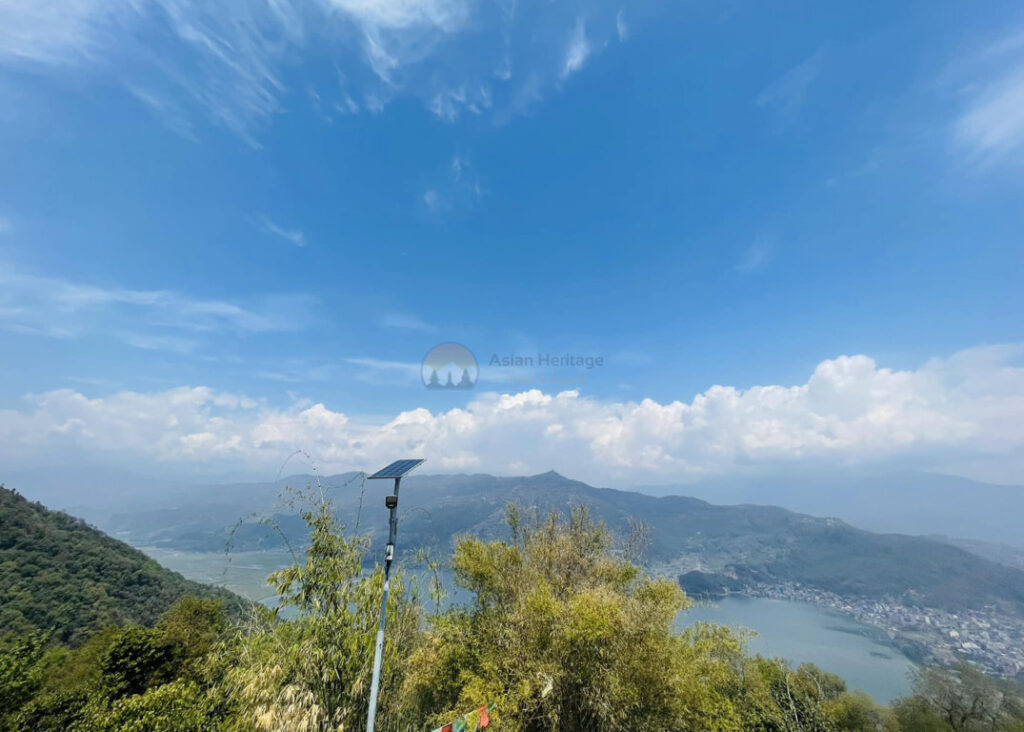 Upon reaching Nayapul, the trek ends, and you'll travel to Pokhara, known for its stunning lakes and mountain views. In Pokhara, you can enjoy a boat ride on Phewa Lake, engage in adventure activities like paragliding, explore caves and waterfalls, and immerse yourself in the vibrant lakeside atmosphere. The journey offers a blend of nature, culture, and adventure making it an unforgettable experience in Nepal.
Ghandruk to ABC
The trek from Ghandruk to Annapurna Base Camp is a popular and scenic route in the Annapurna region of Nepal. Starting from Ghandruk, the trail takes you through landscapes, traditional villages, and dense forests. You'll pass through Chhomrong, Bamboo, and Deurali, gradually ascending towards Machhapuchhre Base Camp and finally reaching the breathtaking Annapurna Base Camp.
Along the way, you'll be surrounded by majestic mountain peaks and stunning natural beauty. After enjoying the views at the base camp, the trek retraces the path back to Bamboo, then continues to Jhinu Danda, where you can relax in natural hot springs. Finally, the trek concludes at Nayapul, and from there you can return to Pokhara. It's advisable to seek guidance from local experts for a safe and enjoyable experience.
Ghandruk to Forest Camp
The trek from Ghandruk to Forest Camp is a scenic journey through the Annapurna region of Nepal. Starting from Ghandruk, a charming Gurung village, the trail takes you through beautiful landscapes and forests.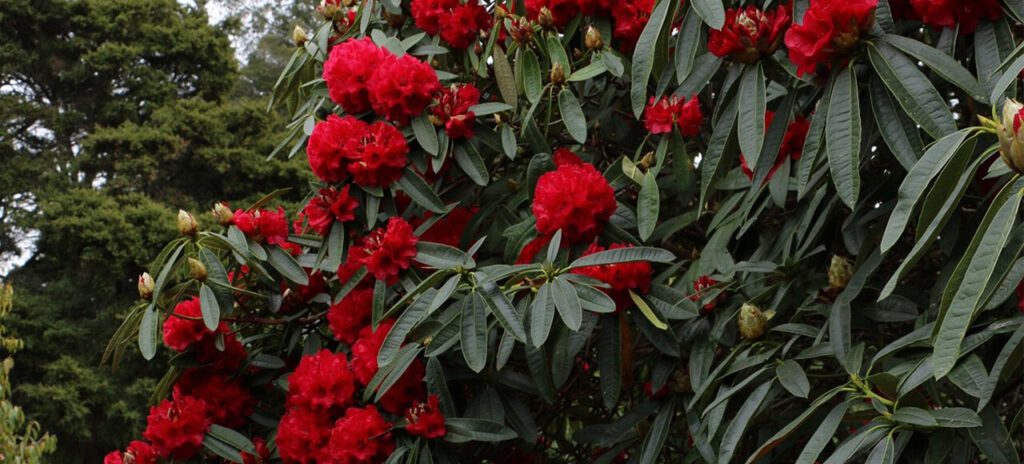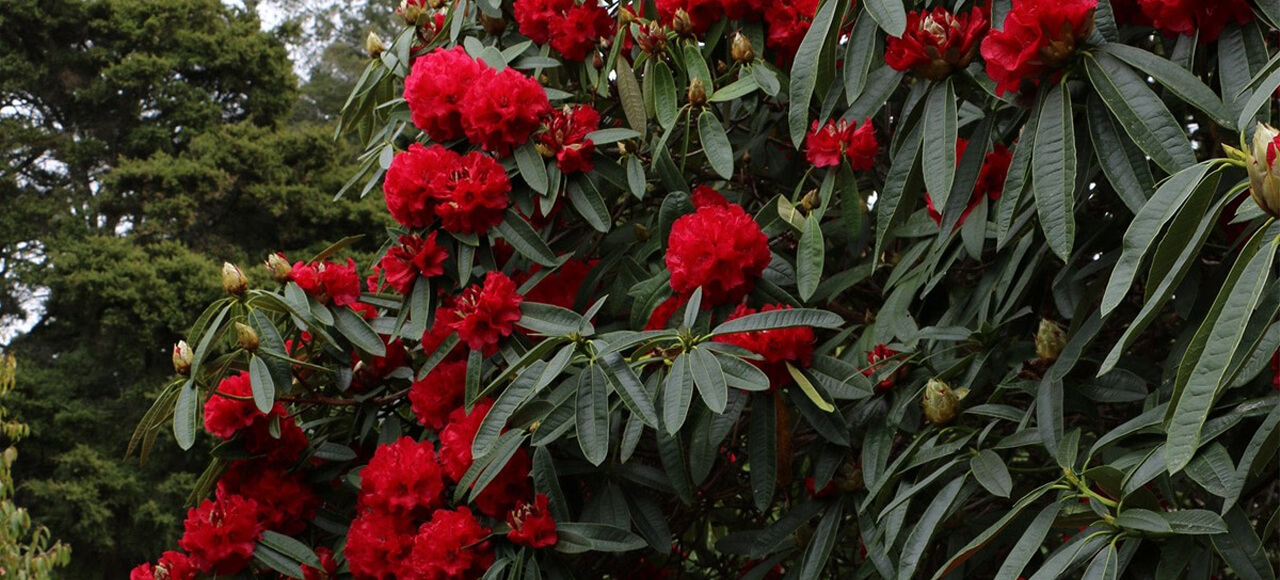 As you descend to Landruk, you'll witness terraced fields and picturesque views. From there, the trek continues to Tolka, where you'll ascend through rhododendron forests and enjoy panoramic mountain vistas. Finally, the trail leads to Forest Camp, nestled in the serene forested surroundings of oak, bamboo, and rhododendron. It's recommended to consult with local guides for accurate details and ensure a safe and enjoyable trekking experience.
Ghandruk to Mustang
The trek from Ghandruk to Mustang takes you from the Annapurna region to the culturally rich Mustang region in Nepal. Starting from Ghandruk, the trail descends through forests and terraced fields to Tatopani, known for its hot springs. From there, you trek northward through picturesque villages and apple orchards, reaching Marpha and Kagbeni.
Continuing on, you'll arrive at Muktinath, a revered pilgrimage site, before reaching Jomsom, the administrative center of Mustang. The trek offers diverse landscapes, mountain views, and insights into the unique culture of the region. It's important to be aware of the special permits and restrictions for trekking in Mustang and to seek guidance from local experts for an organized and fulfilling experience.