Manaslu Trek in July – Nestled in the Himalayas of Nepal, the Manaslu region offers a pristine and awe-inspiring trekking experience. With its stunning landscapes, diverse flora and fauna, and the mighty Mount Manaslu itself, this region has become a popular destination for adventure seekers.
Let's take a look at weather conditions, remarkable flora and fauna, the trek's surroundings, essential gear, crowd levels, festivals, transportation options from Manaslu to Kathmandu, intriguing side treks, and the trek's difficulty.
Highlights of the Manaslu Trek in July
The Manaslu Trek is renowned for its unparalleled natural beauty and cultural richness. The key highlights of this trek include:
Rich Cultural Experience
One of the major highlights of the Manaslu Trek is the opportunity to immerse yourself in the unique culture and traditions of the region.
Popular: Manaslu Trek in May
As you pass through traditional villages, such as Sama Gaon, Lho, and Samdo, you'll have the chance to interact with friendly locals, observe their daily routines, and gain insight into their age-old customs. The warm hospitality of the people will leave a lasting impression on your journey.
Breathtaking Mountain Views
The Manaslu Trek offers spectacular panoramic views of the surrounding Himalayan peaks. As you ascend higher, the vistas become even more mesmerizing.
The highlight, of course, is the sight of Mount Manaslu itself, standing majestically as the eighth-highest peak in the world. The breathtaking views of other towering peaks like Himalchuli, Ganesh Himal, and Ngadi Chuli will leave you in awe of nature's grandeur.
Charming Traditional Villages
The trek takes you through picturesque traditional villages that seem untouched by time. These settlements are adorned with intricately carved wooden houses, Buddhist monasteries, and prayer flags fluttering in the wind.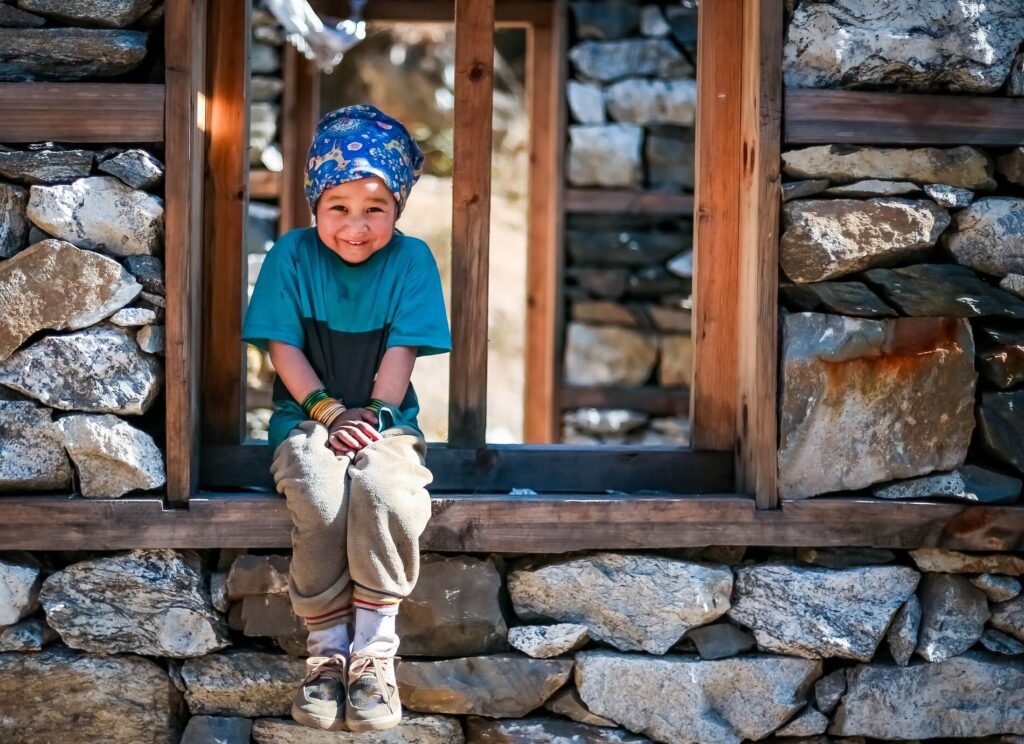 The vibrant cultural heritage of the local communities, along with their warm smiles and welcoming nature, adds a special charm to the trek.
Crossing the Larkya La Pass
The Larkya La Pass, standing at an altitude of 5,160 meters, is one of the most thrilling and challenging parts of the Manaslu Trek. Crossing this high mountain pass offers a sense of achievement and rewards you with breathtaking views of the surrounding Himalayan peaks.
The experience of conquering the past and witnessing the vastness of the Himalayas from this vantage point is truly unforgettable.
Pristine Nature and Scenic Landscapes
The Manaslu region is a paradise for nature enthusiasts. The trail winds through diverse landscapes, including lush forests, terraced fields, glacial rivers, and alpine meadows.
The serenity and untouched beauty of the surroundings create a tranquil atmosphere. You'll also encounter stunning waterfalls cascading down the hillsides, adding an extra touch of magic to the journey.
Wildlife Encounters
The Manaslu Conservation Area is home to a rich variety of wildlife. While trekking through the region, keep an eye out for Himalayan tahr, musk deer, langur monkeys, and colorful bird species.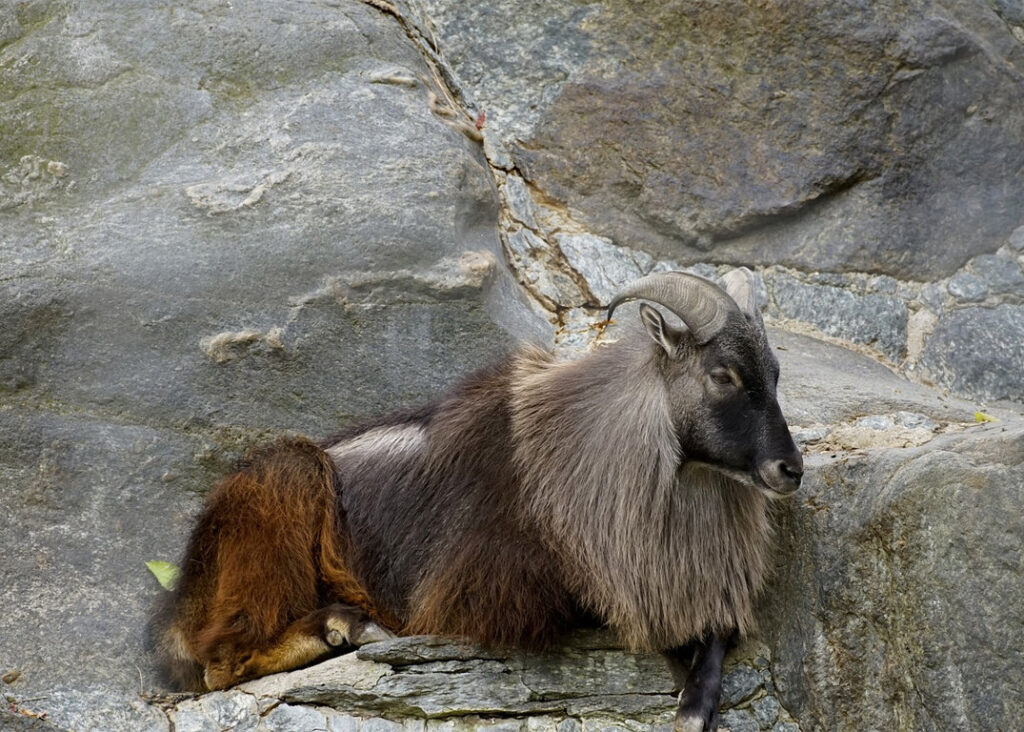 The chance to spot these animals in their natural habitat is an exciting aspect of the trek, offering a deeper connection with the natural world.
Cultural Festivals
If you undertake the Manaslu Trek in July, you have the opportunity to witness and even participate in the Ropai (Rice Plantation) festival celebrated by the locals. This festival provides a glimpse into the agricultural traditions of the region as villagers come together to plant rice, sing traditional songs, and celebrate the bountiful harvest to come. Participating in such cultural festivities allows for an immersive cultural experience.
The Manaslu Trek in July is a captivating adventure that combines natural beauty, cultural immersion, and a sense of accomplishment. With its stunning mountain views, traditional villages, diverse landscapes, and unique cultural experiences, this trek offers a memorable journey through the heart of the Himalayas.
Weather Conditions at Manaslu Trek in July
July marks the monsoon season in Nepal, and the Manaslu region is no exception. The weather during this time can be challenging, with intermittent rainfall and cloudy skies. It is important to be prepared for wet conditions, muddy trails, and limited visibility. Despite the rain, the landscapes become even more vibrant and lush, offering a unique and ethereal experience.
July falls within the monsoon season in Nepal, and the Manaslu region is affected by the southwest monsoon. Here are some key points about the weather conditions you can expect:
Rainfall
July is characterized by intermittent rainfall throughout the day, which can vary in intensity. Rain showers are common, and it's essential to be prepared for wet conditions during the trek. The rainfall contributes to the lush greenery and vibrant landscapes, transforming the region into a breathtaking sight.
Cloudy Skies
The monsoon clouds tend to dominate the sky during July, resulting in limited visibility. The mountain peaks may be partially or completely obscured by clouds, reducing the chance of clear panoramic views. However, the clouds can add a mystical and ethereal atmosphere to the trek, creating a unique ambiance.
Also Read: Manaslu Trek in June: Weather, Difficulty, Travel Tips, and More
Muddy Trails
The rainfall can make the trails muddy and slippery, especially in the lower sections of the trek. It's crucial to have proper footwear with good traction to navigate these conditions safely. Trekking poles can also be helpful in maintaining balance on slippery surfaces.
Leeches:
Another aspect to be aware of during the monsoon season is leeches. These small blood-sucking creatures thrive in moist conditions and are most active during periods of rainfall.
Wearing leech socks or applying insect repellent can help prevent leech bites.
Fewer Crowds:
One advantage of trekking in July is that the Manaslu region tends to have fewer trekkers compared to the peak trekking seasons. The rainy weather deters some visitors, resulting in less crowded trails. This can provide a quieter and more peaceful trekking experience, allowing you to immerse yourself in nature and enjoy a sense of solitude.
It's important to be prepared for the weather conditions during the monsoon season. Pack appropriate rain gear, waterproof layers, and quick-drying clothing to stay comfortable and dry. It's also advisable to carry a waterproof cover for your backpack to protect your belongings from moisture.
While the weather in July may present some challenges, it also offers a unique and refreshing perspective of the Manaslu region. The lush landscapes, misty mountains, and vibrant flora create a surreal and captivating ambiance, making it an unforgettable trekking experience.
Flora and Fauna found at Manaslu trek in July
The Manaslu region boasts a rich variety of flora and fauna. While trekking through the lower elevations, you will encounter dense forests of rhododendrons, oak, pine, and bamboo, adding splashes of color to the surroundings. The region is also home to several wildlife species such as Himalayan tahr, musk deer, langur monkeys, and a wide array of bird species.
Flora
Lush Forests
The lower elevations of the Manaslu region are adorned with dense forests, primarily composed of rhododendron, oak, pine, and bamboo.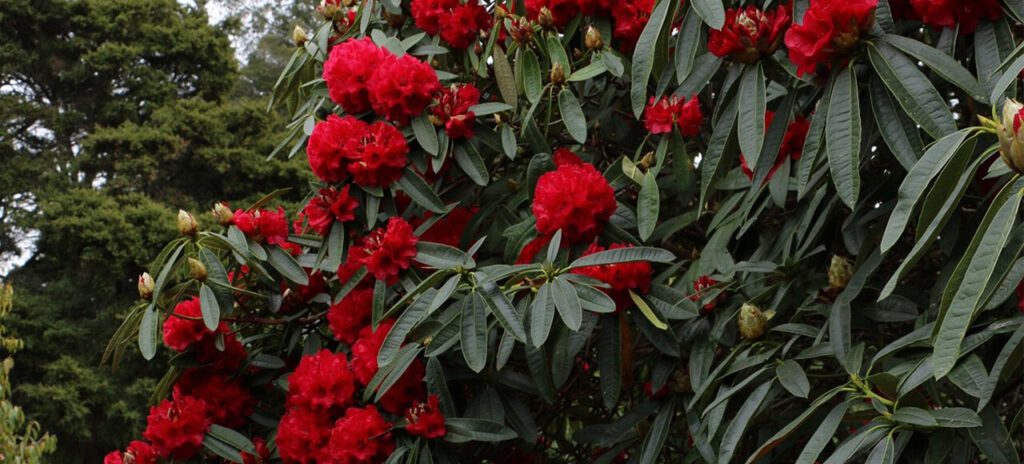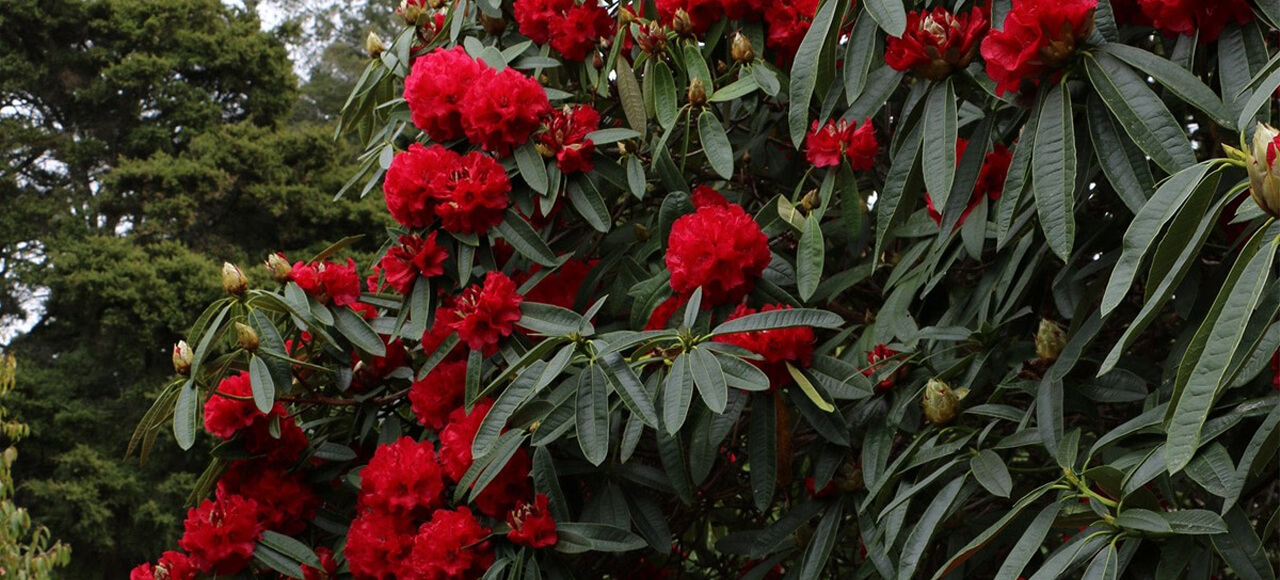 These forests create a vibrant and colorful backdrop, especially during the monsoon season when the rainfall nourishes the flora, resulting in lush greenery.
Rhododendron Blooms
The Manaslu Trek showcases the beauty of rhododendron blooms, especially during the spring season (April and May). These magnificent flowers come in various hues, ranging from vibrant red and pink to subtle white and yellow. The sight of rhododendron forests in full bloom is truly mesmerizing.
Alpine Meadows
As you ascend to higher altitudes, you'll encounter alpine meadows sprinkled with wildflowers. These meadows are carpeted with a diverse range of colorful blossoms, including primulas, gentians, and anemones.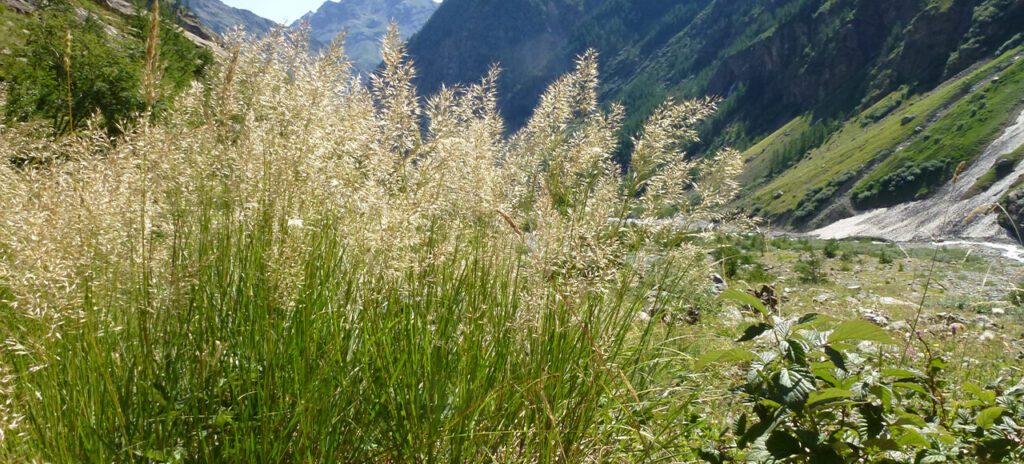 The alpine meadows provide a picturesque setting against the backdrop of snow-capped peaks.
Fauna
Himalayan Tahr
The Manaslu region is home to the Himalayan tahr, a wild goat species. These sure-footed creatures can often be spotted grazing on steep mountain slopes.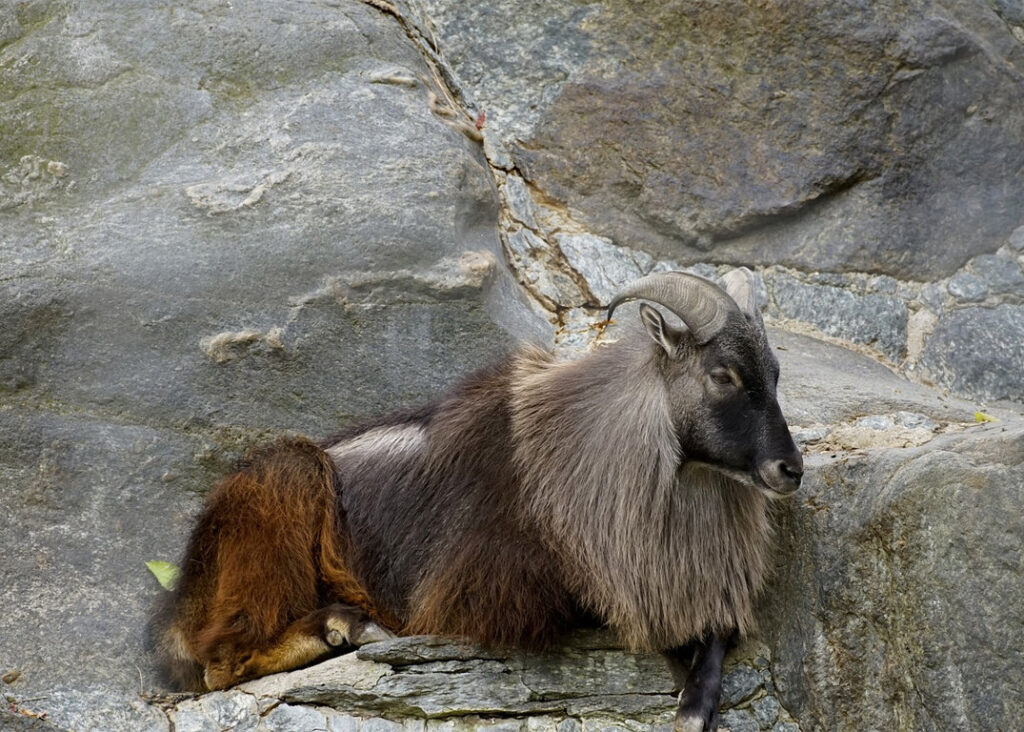 With their thick fur and curved horns, Himalayan tahr adds to the region's wildlife diversity.
Musk Deer
Another fascinating species that inhabits the Manaslu region is the musk deer. Known for their distinct aroma-producing glands, musk deer are elusive and primarily active during dusk and dawn.
With a little luck and patience, you might catch a glimpse of these graceful creatures.
Langur Monkeys
The forests of the Manaslu region are inhabited by langur monkeys, a species of Old World monkeys. These intelligent and agile primates can be seen swinging through the treetops and foraging for food. Their playful antics and unique appearance add to the trek's wildlife sightings.
Bird Species
The Manaslu region is a haven for birdwatching enthusiasts. You'll have the opportunity to spot various avian species, including the colorful Danphe (Himalayan Monal), Impheyan pheasant, Eurasian Griffon, Himalayan griffon, and a variety of other Himalayan birds. Their melodies and vibrant plumage enhance the natural symphony of the region.
The diverse flora and fauna of the Manaslu region add depth and enchantment to the trekking experience. From the vibrant rhododendron forests to the elusive wildlife, each encounter with nature's wonders becomes a cherished memory along the Manaslu Trek.
Surroundings
Throughout the trek, you will be surrounded by the mesmerizing beauty of the Manaslu Conservation Area. This protected area is adorned with tranquil lakes, glistening glaciers, and towering mountains. As you ascend higher, the terrain becomes more rugged, showcasing the raw and majestic nature of the Himalayas.
Essential Gear
To tackle the Manaslu Trek in July, it is crucial to pack appropriate gear. Here are some essentials:
More: Manaslu Trek in April: Weather, Difficulty, Travel Tips, and More
Clothing Layers
Pack lightweight and breathable clothing layers to accommodate varying temperatures and weather conditions. Include moisture-wicking base layers, long-sleeved shirts, hiking pants, and a warm fleece or a down jacket for colder sections of the trek. Carry a waterproof and windproof jacket and pants to protect against rain and wind.
Rain Gear
Due to the monsoon season, rain showers are common during the trek. Pack a high-quality waterproof jacket with a hood and waterproof pants to keep yourself dry.
It's also advisable to carry a rain cover for your backpack to protect your gear.
Sleeping Bag
A good quality sleeping bag suitable for lower temperatures is essential, especially for higher elevations. Check the temperature rating and choose a bag that can keep you warm in freezing temperatures.
Backpack
Invest in a comfortable and durable backpack with adequate capacity to carry your essentials. Look for a backpack with a padded hip belt and shoulder straps for better weight distribution.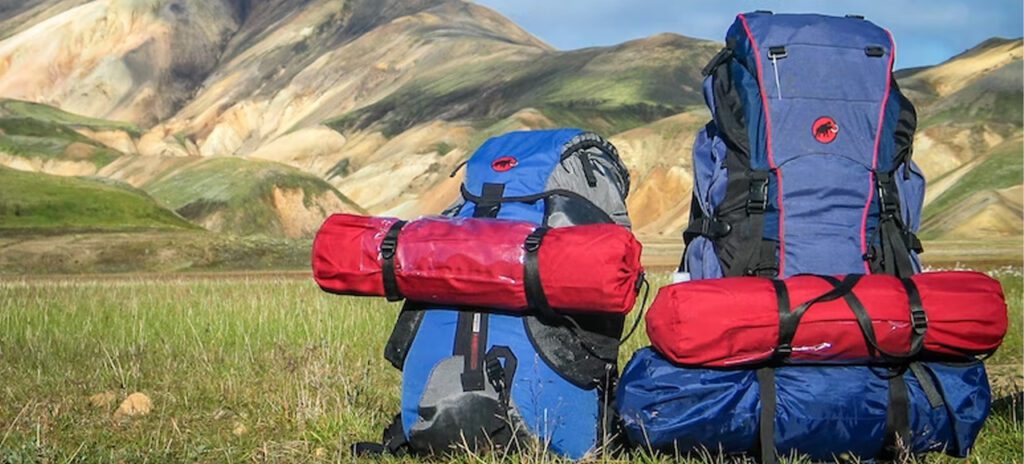 Ensure it has a rain cover to protect your belongings from moisture.
Trekking Poles
Trekking poles provide stability and reduce strain on your knees and legs, especially during steep descents and slippery trails.
They are particularly helpful during the monsoon season when trails can become muddy and slippery.
Headlamp
A reliable headlamp is essential for navigating in low-light conditions, especially during early morning starts or if you plan to trek during dusk or after sunset.
First Aid Kit
Carry a well-stocked first aid kit that includes essential items like bandages, antiseptic ointment, blister pads, painkillers, and any necessary personal medications.
Also, carry a comprehensive medical kit for altitude-related illnesses, as well as any other specific medical needs.
Other Essentials
Don't forget to pack other essential items such as sunglasses, a sun hat, sunscreen with a high SPF, lip balm, a water bottle or hydration system, quick-drying towels, toiletries, and a lightweight sleeping pad.
Additionally, hiring a professional trekking company or guide can provide valuable insights into gear requirements and ensure you are well-prepared for the trek.
You may Interested: Manaslu Trek in March: Weather, Difficulty, Travel Tips, and More
Having the right gear will enhance your comfort and safety during the Manaslu Trek, allowing you to fully enjoy the stunning landscapes and cultural experiences along the way.
Crowd Levels
Manaslu Trek in July Compared to the popular Everest and Annapurna regions, the Manaslu Trek attracts fewer trekkers, making it a perfect choice for those seeking solitude and a more off-the-beaten-path experience. In July, due to the monsoon season, the number of trekkers is typically lower than during the peak trekking seasons.
Festivals and Cultural Experiences
Manaslu Trek in July coincides with the vibrant celebration of the Ropai (Rice Plantation) festival in the Manaslu region. This festival offers a unique opportunity to witness and participate in traditional farming practices alongside the local communities. Embrace the cultural richness and warm hospitality of the region during this festive time.
Transportation from Manaslu to Kathmandu
After completing the Manaslu Trek, you can return to Kathmandu via several transportation options. The most common and convenient way is to hire a private jeep or a shared public bus from the trek endpoint, usually in Besisahar or Dharapani, to Kathmandu.
The journey takes around 7-9 hours, depending on road conditions and traffic. Alternatively, you can arrange a helicopter charter for a quicker and more scenic return to Kathmandu, although it is a pricier option.
Side Treks and Exploration
While the Manaslu Trek itself is captivating, there are several side treks and exploration options available for adventurous souls. Some popular side treks include:
Tsum Valley Trek
Embark on an extended journey to the sacred Tsum Valley, renowned for its ancient monasteries, unique culture, and breathtaking landscapes.

Pungen Glacier Trek
Explore the stunning Pungen Glacier, located near Sama Gaon. This side trek offers magnificent views of glaciers, high-altitude lakes, and the surrounding peaks.
Ganesh Himal Base Camp Trek
Venture towards the Ganesh Himal Base Camp to witness the pristine beauty of the Ganesh Himal range and its hidden valleys.
Trek Difficulty and Preparation
The Manaslu Trek is considered a moderately challenging trek, demanding a good level of fitness and prior trekking experience. The trail involves steep ascents, descents, and the crossing of high passes. Trekking at high altitudes also requires acclimatization.
It is recommended to engage an experienced guide and ensure you have adequate time for acclimatization stops along the trail. Pre-trek physical conditioning and mental preparation will contribute to a safer and more enjoyable experience.