As the snow-capped peaks of the Annapurna Himalayas begin to thaw, the enchanting trails of the Mardi Himal Trek in May come alive with vibrant colors and breathtaking views. Nestled in the Annapurna region of Nepal, this hidden gem offers a mesmerizing journey through lush forests, charming villages, and breathtaking panoramas.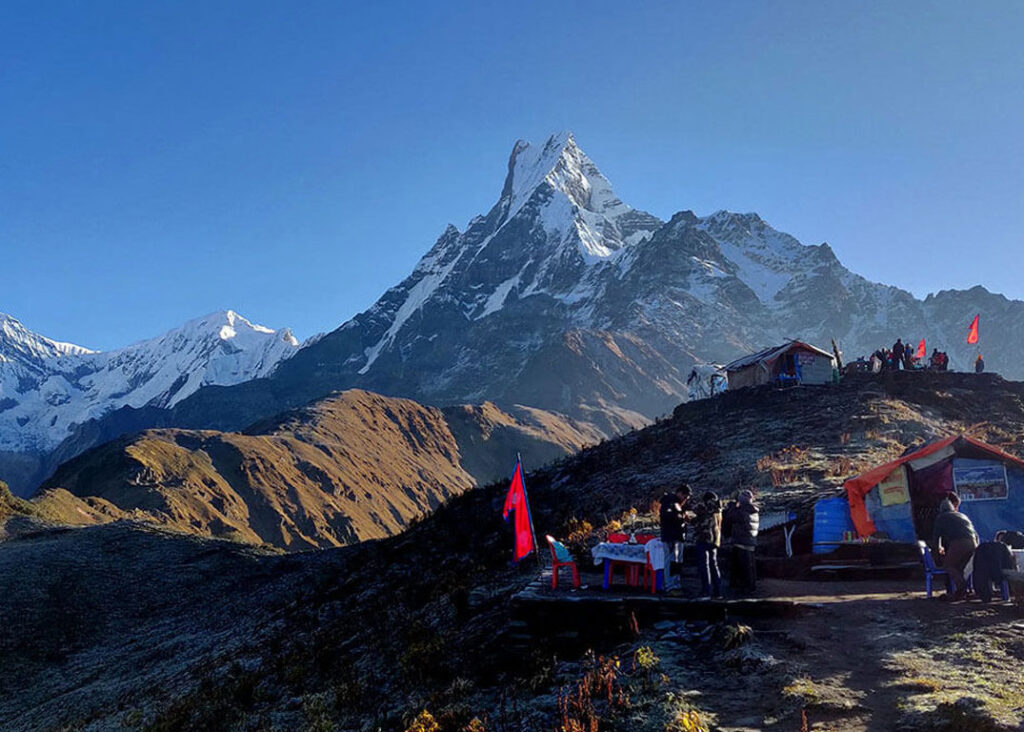 May, in particular, brings forth a unique blend of natural beauty and favorable weather conditions, making it an ideal time to embark on this extraordinary adventure. Let's dive into the captivating world of the Mardi Himal Trek in May, where every step uncovers new surprises.
Weather Conditions and Temperature
Let's take a look into the weather patterns and temperature range you may encounter while trekking the Mardi Himal route in May.
Spring Season in Nepal
Spring is widely regarded as one of the best times to visit Nepal for trekking enthusiasts. From March to May, the country experiences mild and pleasant weather, making it an ideal time to explore the Himalayas.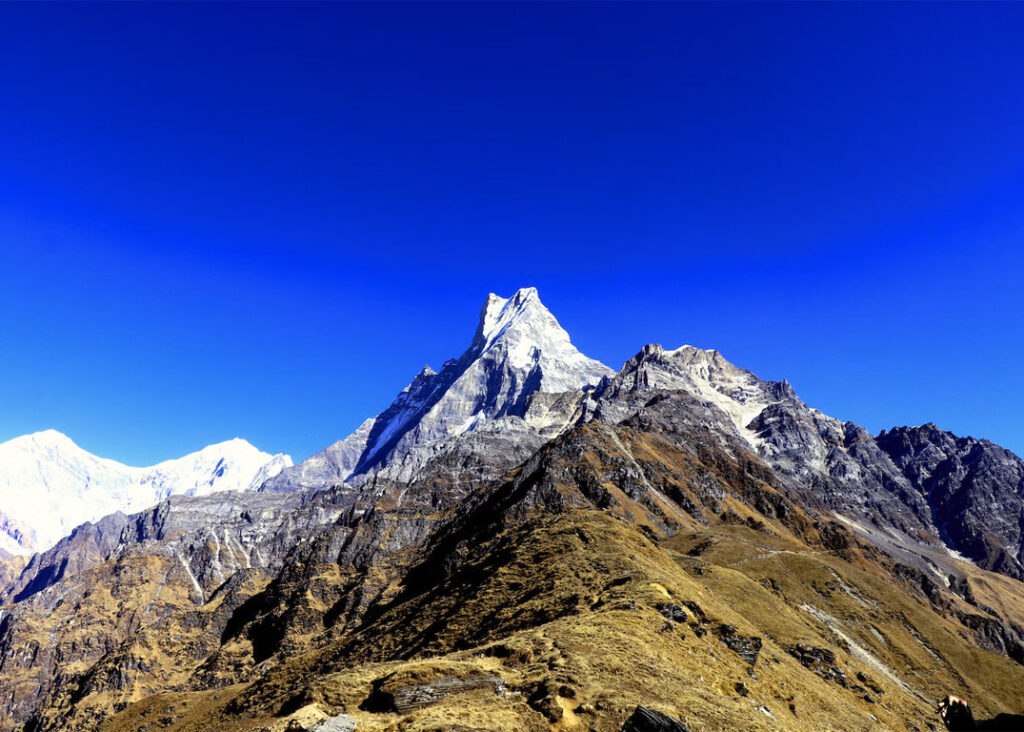 During this season, the frigid temperatures of winter gradually give way to warmer days and cooler nights. Additionally, spring brings forth vibrant foliage and an explosion of colorful flowers, transforming the landscape into a picturesque paradise.
Weather Conditions in May
May marks the end of spring in Nepal and offers favorable conditions for trekking. It's important to note, however, that weather conditions can vary, and it's always wise to be prepared for unforeseen changes. Here's what you can generally expect in terms of weather conditions during the Mardi Himal Trek in May:
Temperature Range
Daytime: The daytime temperatures in May usually range from 15°C to 25°C (59°F to 77°F). It can feel quite warm, especially as you ascend lower altitudes.
Also Read: Mardi Himal Trek in January: Weather, Difficulty, Temperature, Travel Tips, and More
Nighttime: As you move higher into the mountains, the nighttime temperatures can drop significantly. During the night, temperatures can range from 5°C to 10°C (41°F to 50°F). At higher altitudes, near the Mardi Himal Base Camp, temperatures can fall below freezing, reaching around -5°C to -10°C (23°F to 14°F).
Precipitation
May is considered a transitional period between spring and summer with a minimal chance of rainfall. However, it's always wise to pack rain gear and be prepared for occasional showers, as weather patterns can be unpredictable in the mountains.
Visibility and Cloud Cover
May offers good visibility, allowing trekkers to enjoy breathtaking vistas of the Annapurna and Dhaulagiri ranges.
However, cloud cover can increase as the day progresses, obscuring some of the panoramic views. Early mornings tend to provide the clearest views, so starting your trek early is advisable.
Wind
Wind speeds in May are generally mild, especially in the lower altitudes. As you gain elevation, especially around higher passes and ridges, the wind may pick up, so having windproof outer layers is essential.
Highlights of Mardi Himal Trek in May
Let's take a closer look into the highlights of the Mardi Himal Trek in May and inspire you to plan your next escapade into the heart of the Himalayas.
Spring Blossoms
May marks the beginning of spring in the Annapurna region, and the trek unveils a vibrant tapestry of blooming rhododendron forests. As you ascend through lush greenery, you'll be enchanted by the bursts of colors from these majestic flowers, painting the trail in shades of red, pink, and white.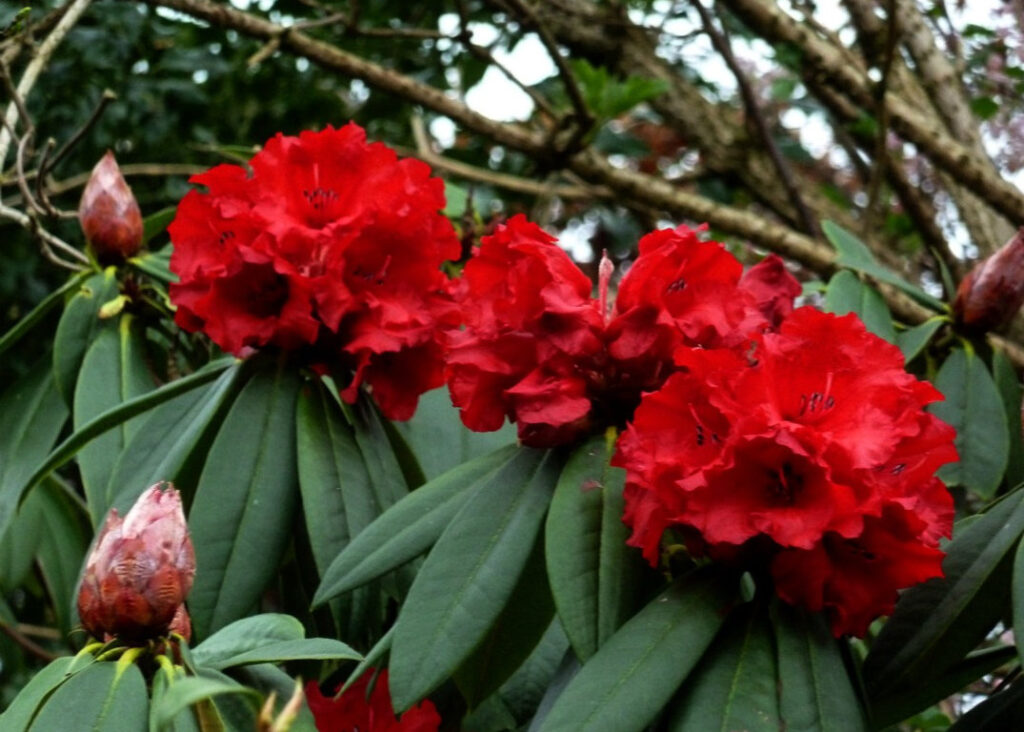 The fragrant aroma and the sight of these blossoms against the backdrop of the towering mountains create an awe-inspiring experience.
Spectacular Mountain Views
The Mardi Himal Trek offers breathtaking views of some of the world's highest peaks, including Annapurna, Dhaulagiri, Machhapuchhre (Fishtail), and Hiunchuli. In May, the skies are generally clear, providing excellent visibility and allowing you to witness the grandeur of these majestic giants.
Whether it's the panoramic vistas from the Mardi Himal Base Camp or the surreal sunrise over the snow-capped mountains, every moment will leave you spellbound and in awe of nature's magnificence.
Serene and Less Crowded Trails
Compared to popular treks like the Annapurna Circuit or Everest Base Camp, the Mardi Himal Trek remains relatively untouched and less crowded, providing a tranquil escape into nature.
In May, the trails are less populated, allowing you to fully immerse yourself in the serene surroundings and appreciate the peaceful solitude. It's the perfect opportunity to connect with nature, engage in introspection, and experience the true essence of the Himalayas.
Cultural Encounters
The Mardi Himal Trek offers a glimpse into the local Nepalese culture and a chance to interact with the warm and welcoming Gurung and Magar communities. As you pass through traditional villages, you'll have the opportunity to witness their unique way of life, charming architecture, and ancient customs.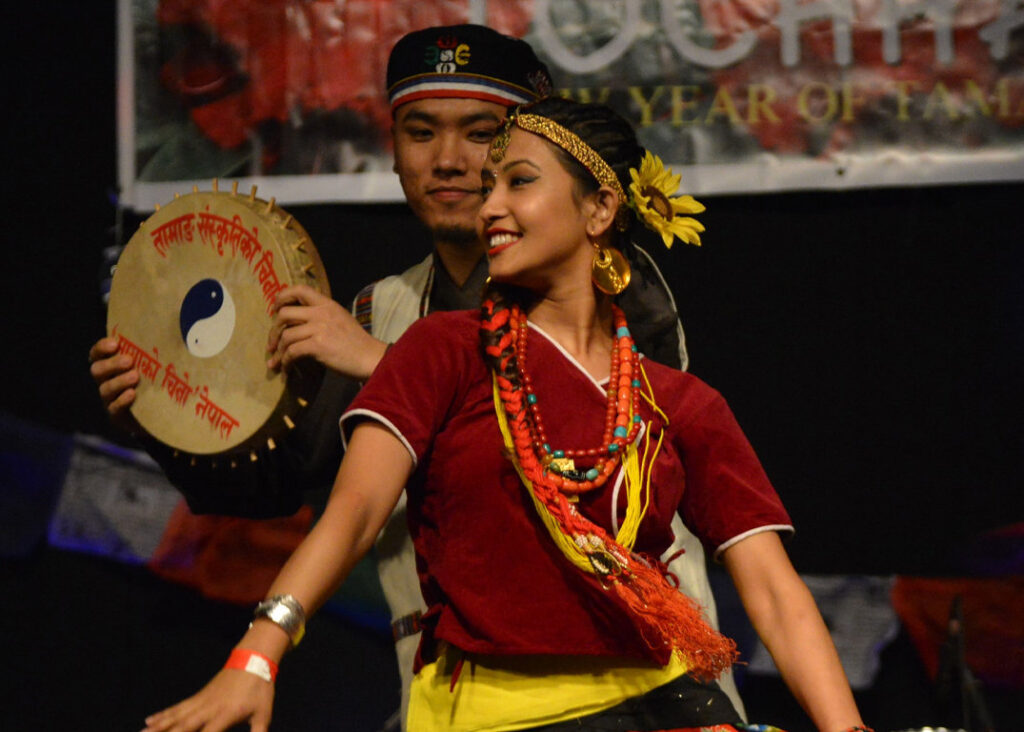 Engaging with the locals and experiencing their warm hospitality adds a cultural dimension to your trek, leaving you with cherished memories and a deeper understanding of the region.
Diverse Landscapes
From dense forests to alpine meadows, the Mardi Himal Trek showcases a diverse range of landscapes. In May, you'll witness nature at its best as the vegetation comes alive, transforming the trail into a lush green paradise.

As you ascend, the scenery transitions, and you'll find yourself surrounded by rugged terrain, glacial moraines, and pristine snowfields. This remarkable contrast in landscapes adds to the allure of the trek, providing ever-changing vistas that will leave you captivated at every step.
Pleasant Weather
May offers favorable weather conditions for trekking in the Mardi Himal region. The temperatures are generally mild, with comfortable daytime temperatures ranging from 15 to 20 degrees Celsius (59 to 68 degrees Fahrenheit) at lower altitudes.
Also Read: Mardi Himal Trek in February: Weather, Difficulty, Travel Tips, and More
The evenings and mornings might be cooler, but with proper layering, you can enjoy pleasant temperatures throughout the trek. The clear skies and gentle breeze further enhance the overall trekking experience.
Adventure off the Beaten Path
If you're seeking a sense of exploration and a break from the crowds, the Mardi Himal Trek is an excellent choice. The trail takes you through remote and less-traveled paths, allowing you to connect with nature and revel in the solitude.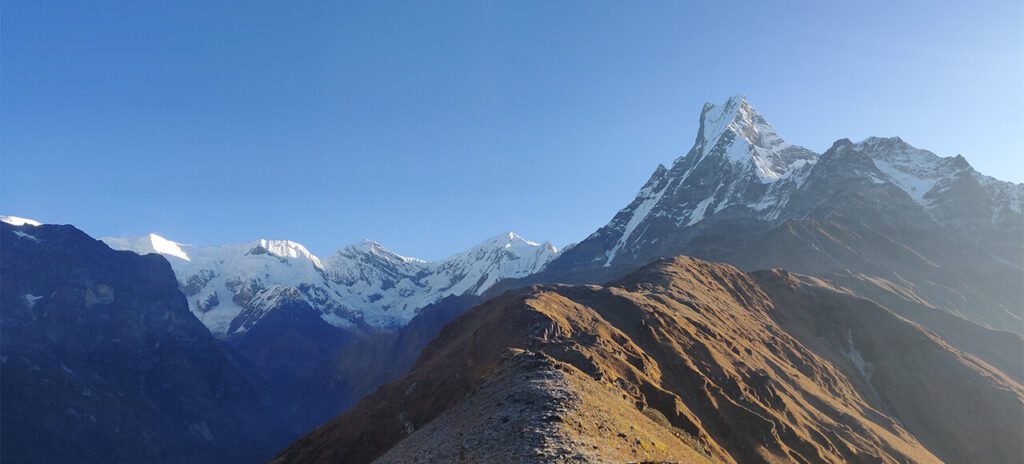 With fewer trekkers in May, you'll have ample opportunities to soak in the tranquility, listen to the sounds of nature, and create an intimate bond with the mountains.
Varied Trekking Difficulty
The Mardi Himal Trek caters to a wide range of trekking abilities, making it accessible to both beginners and experienced trekkers. The trail offers a mix of gentle ascents, moderate climbs, and some steep sections, providing a well-rounded trekking experience.
Read: Mardi Himal Trek In March: Weather, Difficulty, Route, Travel Tips, and More
With the right level of fitness and determination, anyone can undertake this adventure and savor the sense of accomplishment that comes with conquering the heights.
Postcard-Worthy Photography Opportunities
If you're an avid photographer or simply love capturing the beauty of nature, the Mardi Himal Trek in May provides a treasure trove of postcard-worthy moments.
From the vibrant rhododendron blooms to the awe-inspiring mountain vistas and picturesque villages, every frame offers an opportunity to capture the essence of the Himalayas. Be prepared to fill your memory cards with captivating images that will transport you back to this extraordinary adventure.
The Thrill of Reaching Mardi Himal Base Camp
The ultimate highlight of the Mardi Himal Trek is reaching the enchanting Mardi Himal Base Camp. Located at an altitude of around 4,500 meters (14,764 feet), this pristine mountain sanctuary offers a sense of accomplishment and awe-inspiring views.
Also Check: Mardi Himal Trek in April: Temperature, Difficulty, Travel Tips, and More
As you stand amidst the rugged landscape, surrounded by snow-capped peaks, you'll be overwhelmed by the sheer beauty and serenity of the place. The panoramic vistas of Annapurna, Machhapuchhre, and other towering giants create a breathtaking backdrop that will forever remain etched in your memory.
Adventurous Side Trip to Sidhing Village
For those looking to add an extra dose of adventure to their Mardi Himal Trek, a side trip to Sidhing Village is highly recommended. This picturesque village is nestled amidst terraced fields and traditional houses, providing a glimpse into the rural Nepalese way of life.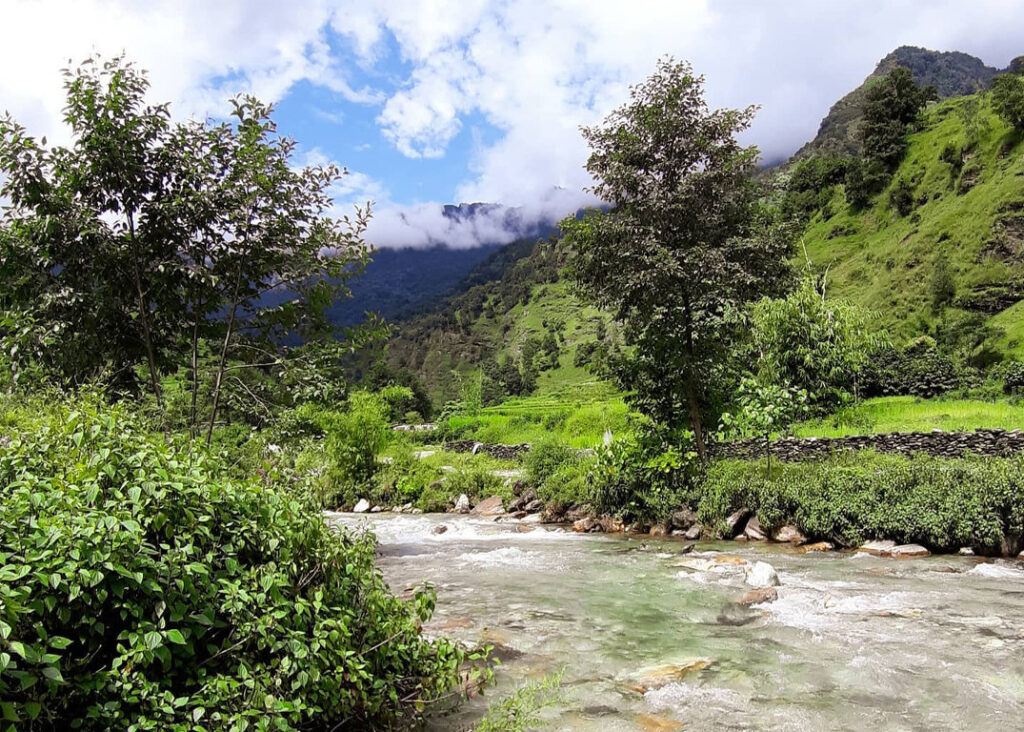 The trail to Sidhing offers stunning views of the surrounding landscapes, and interacting with the friendly locals provides insights into their daily routines and cultural traditions.
Personal Growth and Inner Reflection
Trekking in the Himalayas is not just a physical challenge but also a journey of self-discovery. The Mardi Himal Trek in May provides ample opportunities for personal growth, introspection, and a deeper connection with nature.
You May Also Like: Trek to Beautiful Mardi Himal Base Camp
The serene surroundings, away from the chaos of everyday life, allow you to disconnect and find solace in the mountains. As you push your limits, overcome obstacles, and immerse yourself in the beauty of the Himalayas, you'll discover newfound strength, resilience, and a profound appreciation for the world around you.
Kathmandu to Mardi Himal Trek
Here's a guide on how to reach the starting point of the trek from Kathmandu:
Travel to Pokhara
From Kathmandu, the most common way to reach the starting point of the Mardi Himal Trek is by traveling to Pokhara.
Pokhara is a beautiful city located approximately 200 kilometers west of Kathmandu and serves as the gateway to many popular trekking destinations including Mardi Himal. You can choose to travel to Pokhara by either flight or road:
Interesting: Mardi Himal Trek in April: Temperature, Difficulty, Travel Tips, and More
Flight
Several domestic airlines fly daily from Kathmandu to Pokhara. The trip lasts around 30-40 minutes and provides a breathtaking view of the Himalayan highlands.
Road
If you prefer a more budget-friendly option or want to experience the countryside you can take a tourist bus from Kathmandu to Pokhara. The bus journey takes around 6-7 hours depending on the road conditions and traffic.
Travel from Pokhara to Kande
Once you reach Pokhara, you'll need to make your way to Kande which is the starting point of the Mardi Himal Trek.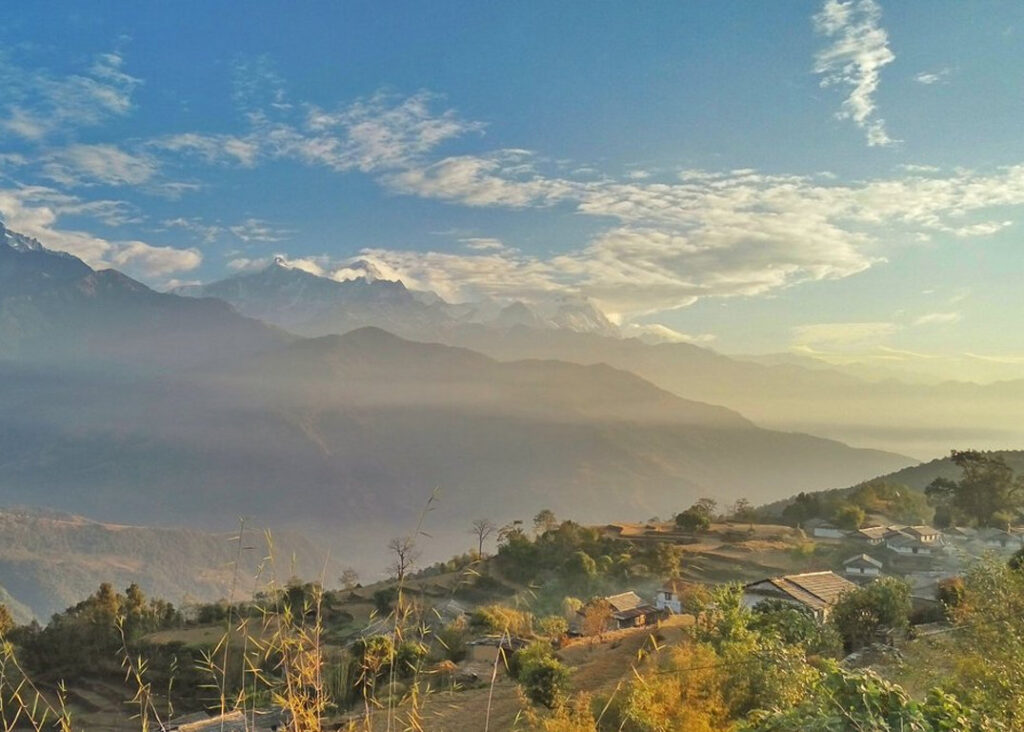 To get to Kande, you have a couple of options:
Private Vehicle
You can hire a private taxi or jeep to take you directly from Pokhara to Kande. It's a scenic drive that takes around 1-2 hours, depending on road conditions.
Public Transportation
Alternatively, you can take a local bus or shared jeep from Pokhara's Baglung Bus Park to reach Phedi. From Phedi, you can either hike or take a taxi to Kande, which is approximately a 30–minute drive.
Trek to Mardi Himal
Once you reach Kande, you'll begin your trek to Mardi Himal. The trail is well-marked and offers stunning views of the Annapurna and Dhaulagiri mountain ranges.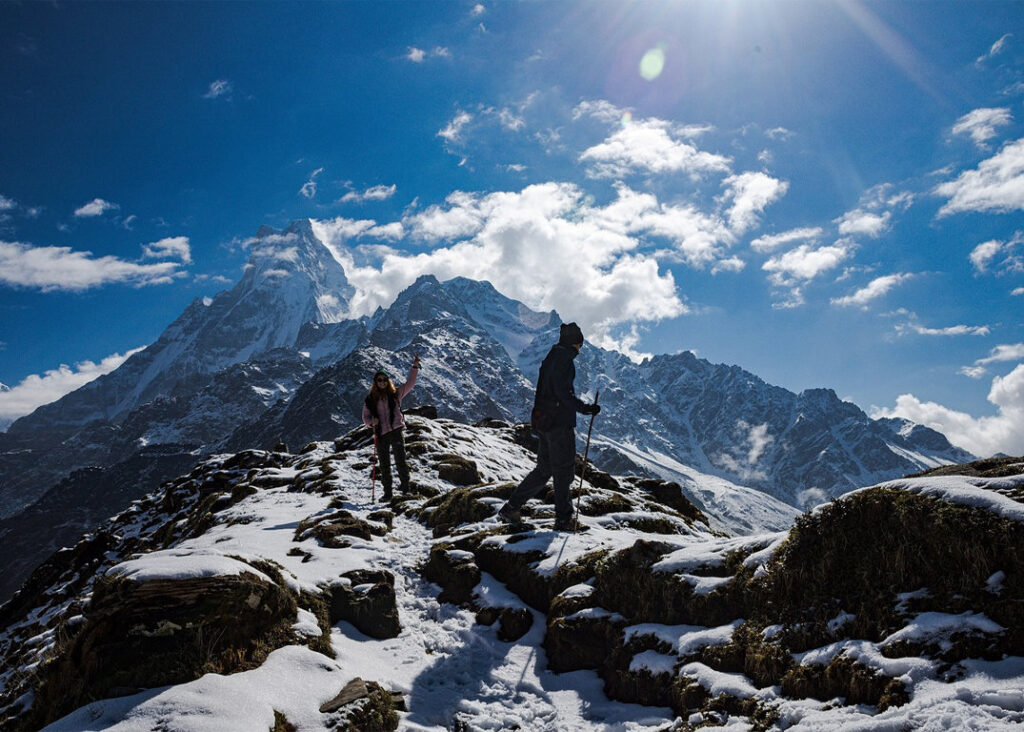 The trek generally takes around 5-7 days, depending on your pace and the itinerary you choose.
Festivals
Although May is not known for being a peak festival season in Nepal, you might still come across some local festivities that add charm and cultural richness to your trek. Here is a popular festival you might encounter during your Mardi Himal Trek in May:
Buddha Jayanti
Buddha Jayanti, also known as Buddha Purnima, is a significant festival for Buddhists worldwide. It commemorates the birth, enlightenment, and death (Nirvana) of Gautama Buddha. The festival typically falls in May and is celebrated with great reverence and joy.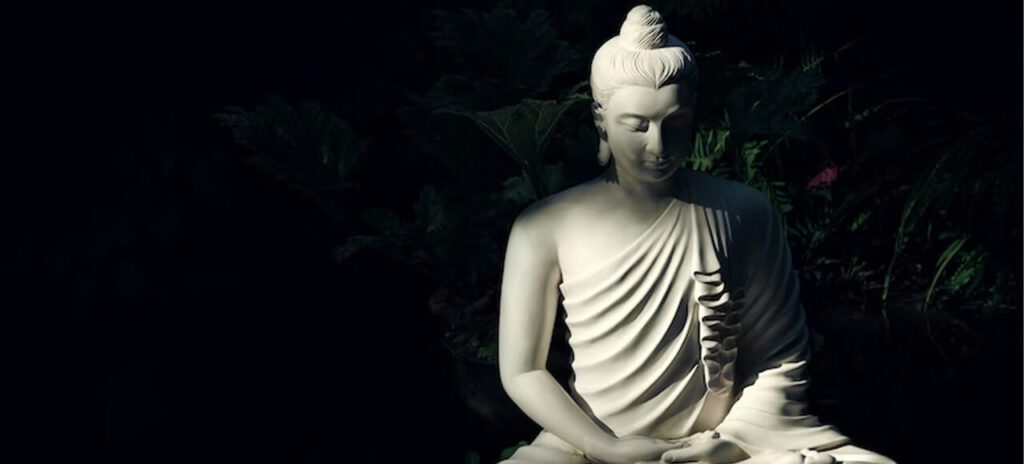 Buddhists engage in prayers, visit monasteries, light candles, and perform acts of kindness. You may encounter Buddha Jayanti celebrations in towns such as Pokhara or Nayapul, which are usually visited before or after the Mardi Himal Trek.
Interesting: Mardi Himal Trek in February: Weather, Difficulty, Travel Tips, and More
Difficulty Level of Mardi Himal Trek in May
The difficulty level of the Mardi Himal Trek in May can be considered moderate, making it suitable for trekkers with a reasonable level of fitness and some prior hiking experience. In May, the weather conditions in the Annapurna region are generally favorable for trekking.
The days are usually sunny with mild temperatures, and the views of the surrounding peaks are often clear and breathtaking. However, it is essential to be prepared for sudden weather changes and be equipped with appropriate clothing and gear.
The Mardi Himal Trek involves moderate ascents and descents with some steep sections along the way. The trail passes through lush forests, charming villages, and alpine landscapes, providing a diverse trekking experience. Trekkers should be prepared for 5-6 hours of walking per day, covering distances of around 8-12 kilometers.
Accommodation options along the Mardi Himal Trek can be more basic compared to some of the more popular routes in the region. Tea houses or lodges are available, but they may have limited facilities. It is recommended to carry essential items such as a sleeping bag, trekking poles, and appropriate clothing to ensure your comfort throughout the trek.
TIPS
Here are some tips for trekking to Mardi Himal in May:
Check the weather
May is part of the spring season in Nepal, and the weather can vary. While the days are generally warm and pleasant, the nights can be chilly, especially at higher altitudes. Check the weather forecast regularly and pack accordingly.
Pack appropriate clothing
Layering is key when trekking in the Himalayas. Bring lightweight, moisture-wicking clothing for the day, including t-shirts, long-sleeved shirts, and breathable pants. Also, pack a warm-down jacket, thermal layers, hat, gloves, and a good pair of hiking boots to stay comfortable during colder moments.
Stay hydrated
Hydration is crucial during any trek. Carry a reusable water bottle and drink plenty of fluids throughout the day to stay hydrated. Purify your water using tablets or a water filter to avoid any waterborne illnesses.
Also Read: Trekking Gear Essentials 
Acclimatize properly
Altitude sickness can affect trekkers at higher elevations. Take your time to acclimatize as you ascend, allowing your body to adjust to the thinning air. It's essential to follow a gradual ascent profile and take rest days as needed.