While most trekkers flock to the popular trails during peak seasons, exploring the Pikey Peak trek in July offers a distinct charm and unparalleled natural beauty. Join us as we delve into the wonders of this offbeat adventure, where misty landscapes, lush greenery, and cultural encounters await!
Location and Altitude
The exact location of Pikey Peak is in the Solu-Khumbu district, within the Solu region of eastern Nepal. The peak is part of the Lower Solu Trekking Trail which is an alternative route to the more famous Everest Base Camp Trek.
In terms of altitude, Pikey Peak reaches an elevation of 4,065 meters (13,333 feet) above sea level. Although it may not be as high as some of the other towering peaks in the region, its location provides incredible panoramic views of the surrounding Himalayan ranges.
Average Temperature and Weather Condition
During July, the weather in the Pikey Peak area is generally characterized by monsoon rainfall. The monsoon season in Nepal typically starts in June and lasts until September with July being right in the midst of this period. The monsoon brings heavy rainfall to the region, resulting in lush green landscapes and blooming vegetation. The rainfall can vary in intensity, ranging from light showers to heavy downpours. It is essential to be prepared for wet weather conditions and bring appropriate rain gear, including waterproof jackets, pants, and sturdy hiking boots.
In the lower sections, normal daily temperatures vary from 15 to 20 degrees Celsius, while higher altitudes might be significantly colder. It should be noted, however, that temperature and meteorological conditions might change based on height and time of day.
Pikey Peak Trek in July Highlights
Let's embark on this monsoon escapade and explore the highlights of Pikey Peak during the rainy season.
Serene Beauty amidst the Monsoon Mist
During July, the monsoon paints the region with lush greenery, rejuvenating flora, and misty landscapes. Pikey Peak offers an ethereal experience as clouds dance around the peaks which is shrouding it in an otherworldly ambiance.
Also Read: Pikey Peak Trek in February: Weather, Crowd, Difficulty Travel Tips, and More
The rain-washed forests and terraced fields provide a picturesque backdrop as you make your way through the verdant trails.
Spectacular Sunrise and Panoramic Views
One of the major highlights of climbing Pikey Peak is witnessing the spellbinding sunrise over the Himalayan range. As the sun emerges from behind the clouds, it casts a golden hue upon the snow-capped peaks, including Everest, Kanchenjunga, and Makalu.
The panoramic view from Pikey Peak is awe-inspiring, showcasing nature's grandeur in all its glory. The rainy season brings clearer skies and lesser haze, enhancing visibility and allowing you to capture breathtaking photographs.
Refreshing Waterfalls and Streams
The monsoon season breathes life into numerous waterfalls and streams along the trekking routes. The rainfall rejuvenates the cascading water bodies, creating a symphony of rushing water and a refreshing respite for weary trekkers. Take a moment to pause and soak in the natural beauty of these glistening waterfalls and dip your toes in the crystal-clear streams along the trail.
Authentic Local Cuisine
Nepalese cuisine is a delightful blend of flavors and spices, and experiencing it during the monsoon season adds an extra touch of authenticity. Local teahouses and guesthouses along the Pikey Peak trek offer a range of traditional dishes, such as dal bhat (lentil soup with rice), momos (steamed dumplings), and Thukpa (noodle soup).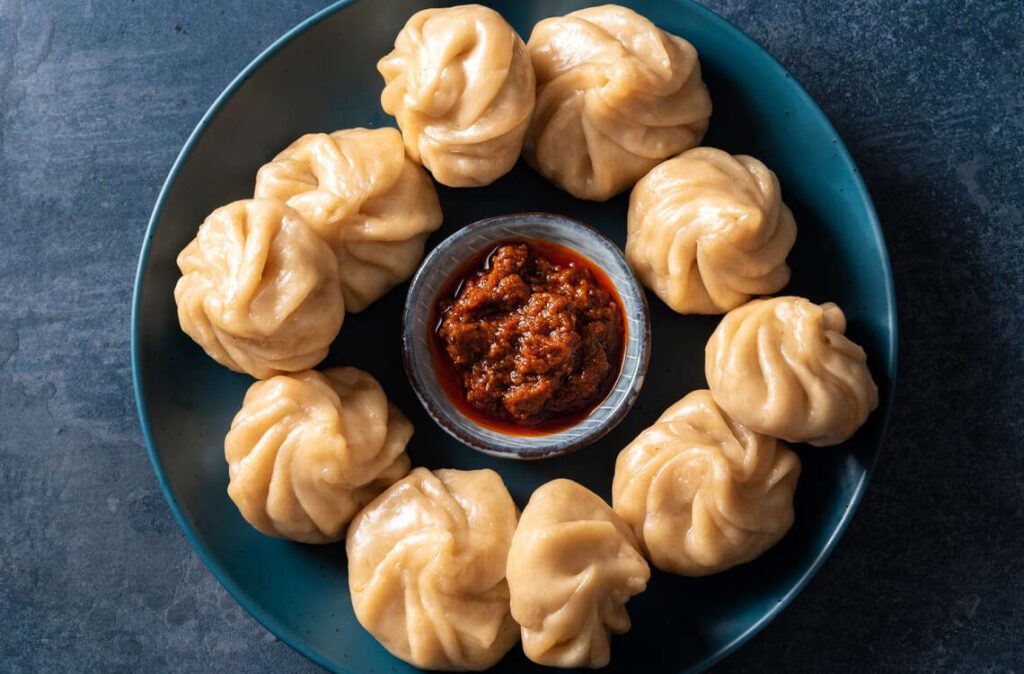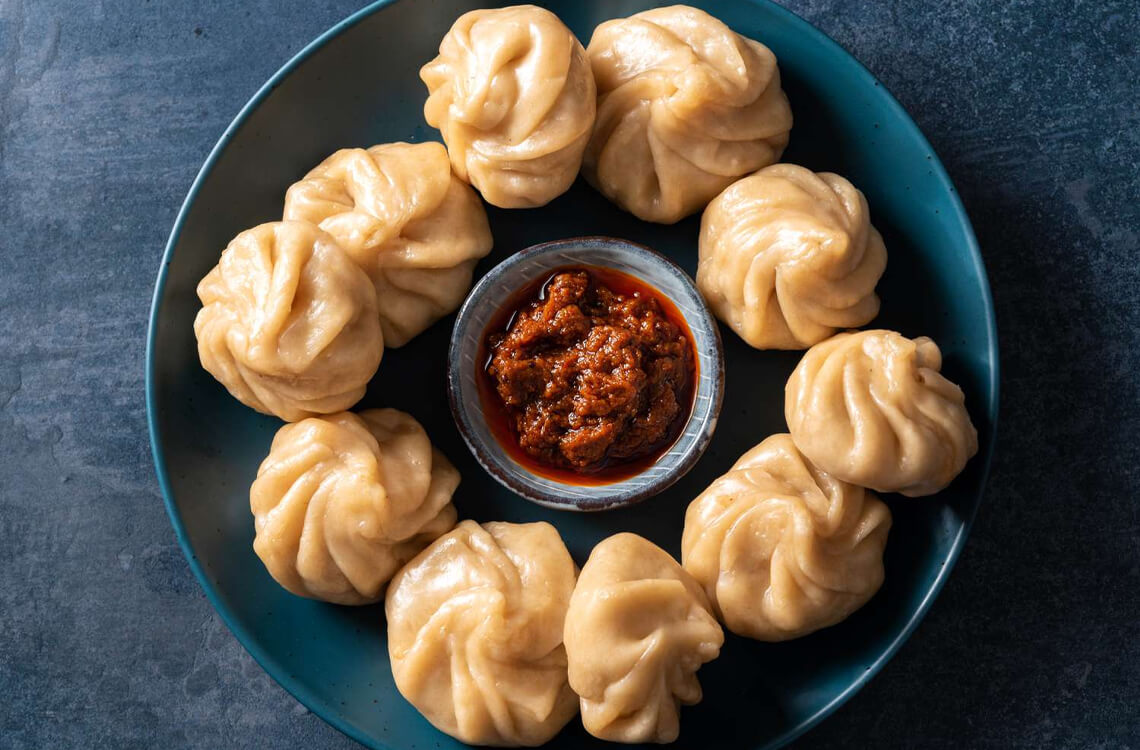 Savoring these warm and hearty meals while listening to the rain pitter-patter outside creates a cozy and memorable dining experience.
Monsoon Photography
While the monsoon season may present some challenges with unpredictable weather, it also offers unique opportunities for stunning photography. The interplay of light and shadows amid the mist, vibrant green landscapes, and rain-soaked scenery create a photographer's paradise. Capture the essence of Pikey Peak during the monsoon season through your lens, documenting the raw beauty and evocative moments that will become cherished memories.
You may also like: Pikey Peak Trek in March: Weather, Difficulty Travel Tips, and More
Authentic Homestay Experience
To delve deeper into the local culture, consider staying in traditional homestays along the Pikey Peak trek. This allows you to immerse yourself in the day-to-day lives of Nepalese families and forge meaningful connections. Experience their warm hospitality, savor home–cooked meals, and share stories around the warmth of the hearth. This authentic homestay experience offers a unique glimpse into the traditions, customs, and warmth of the local communities.
Rural Farming Life
The monsoon season is a time of intense agricultural activities in the rural villages surrounding Pikey Peak. Observing and even participating in farming practices provides a unique insight into the daily lives of the locals.
From plowing fields and planting crops to tending to livestock, you can experience the hard work and resilience of the farming communities. Engage in conversations with farmers, learn about traditional farming techniques, and appreciate the harmonious relationship between the land and its people.
Kathmandu to Pikey Peak
To reach Pikey Peak from Kathmandu, begin by traveling to Dhap which is a village in the Ramechhap district. From Dhap you can embark on a trek to Japre which is the first significant stop on the trail. The path meanders through picturesque landscapes of rhododendron forests and terraced fields.
After spending a night in Jhapre you can continue trekking to Pikey Base Camp which is surrounded by stunning views of the Everest and Kanchenjunga ranges. On the following day, make an early morning ascent to the peak itself, which takes around 2–3 hours. From the summit of Pikey Peak, you can relish the breathtaking panoramic vistas of Himalayan peaks.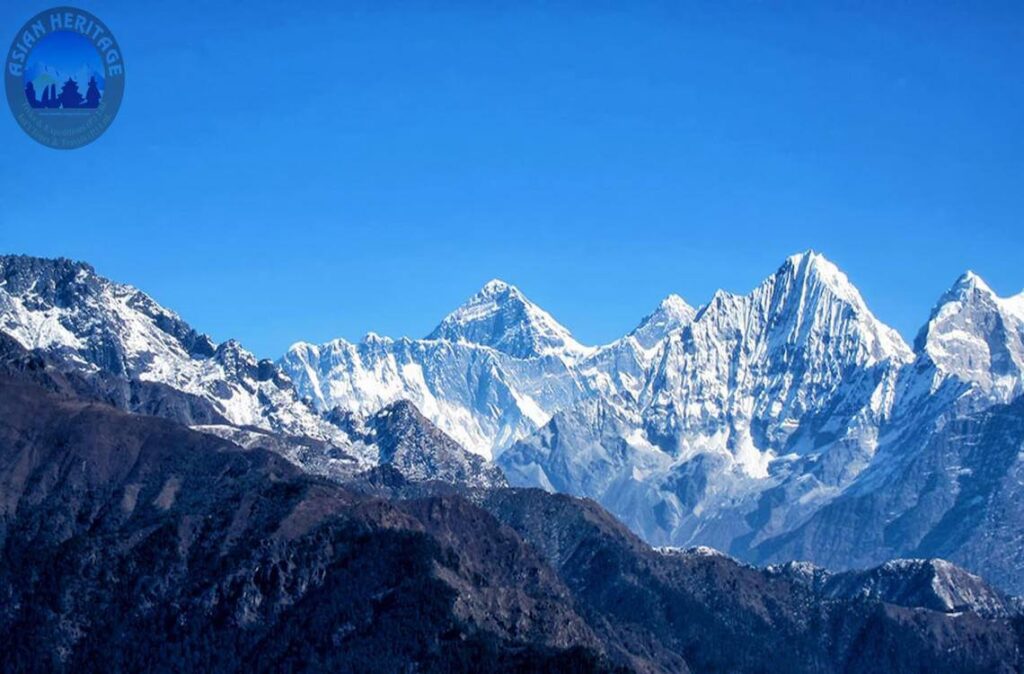 For the return journey, you can retrace your steps or opt for the Pikey Peak to Junbesi route while passing through the captivating village of Junbesi. Finally, you will make your way back to Kathmandu. Ensure you're properly equipped, consider hiring a guide, and obtain the necessary permits for a safe and memorable trekking experience.
Festivals
Guru Purnima
Guru Purnima is a festival dedicated to spiritual and academic teachers. It usually falls in July, although the date varies each year based on the lunar calendar. On this day, disciples express their gratitude and respect toward their teachers or gurus. People visit monasteries, schools, and universities to honor their teachers and offer them gifts and flowers.
Dumji Festival
The Dumji Festival is celebrated in the Everest region including the areas around Pikey Peak. The Dumji Festival is a significant festival of the Sherpa community, known for its strong presence in the Solu-Khumbu region.
It is a time of cultural celebration, religious ceremonies, and traditional performances. The festival revolves around the local monasteries, particularly Tengboche Monastery where elaborate rituals and dances are performed.
Flora
In the month of July, the Pikey Peak Trail comes alive with an array of vibrant and diverse plant life, making it a paradise for botanical enthusiasts.
Here are some of the plants that can be spotted during the Pikey Peak Trek in July:
Edelweiss
As you ascend further into the alpine meadows, you might encounter the unmistakable Edelweiss which is a rare flower symbolizing resilience. These velvety white blossoms bestow an otherworldly charm upon the surrounding alpine landscape.
Juniperus Indica
At higher elevations along the route, you'll find the Juniperus indica plant thriving. Known for its aromatic leaves, this plant is often utilized in medicinal practices, particularly for treating respiratory ailments.
Birch
Birch trees are a common sight in the higher regions of the Pikey Peak Trek. These deciduous trees have distinctive white bark that peels off in papery layers. They add a touch of elegance to the landscape with their slender trunks and delicate leaves.
Popular: Pikey Peak Trek in April: Weather, Crowd, Difficulty Travel Tips, and More
Willow
Willow trees are often found near streams and water bodies along the Pikey Peak Trek. They have slender branches and elongated leaves that sway gracefully in the breeze. These trees provide a soothing ambiance and are often associated with medicinal uses.
Pine
Pine trees can be found in the higher altitudes of the Pikey Peak region. These majestic evergreen conifers have long needles and bear cones. Their presence adds to the scenic beauty of the trek.
Bamboo
In certain sections of the Pikey Peak Trek especially in lower elevations, you may come across bamboo groves.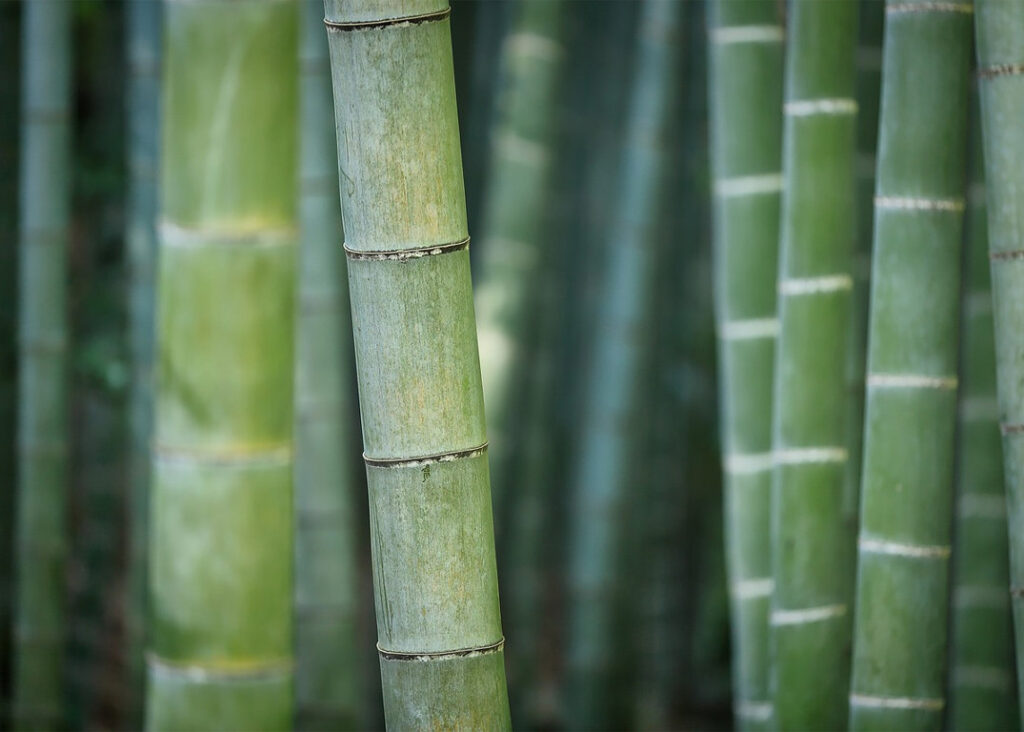 These tall, woody grasses create a unique and serene environment. The rustling sound of bamboo leaves in the wind adds a magical touch to the trek.
Ferns
The Pikey Peak region is also home to various species of ferns which adds lush greenery to the landscape. Ferns thrive in the moist and shaded areas along the trail, often forming dense carpets on the forest floor.
Moss and Lichens
Throughout the trek, you'll notice an abundance of moss and lichens adorning rocks, trees, and forest floors. These primitive plants thrive in moist and cool environments, adding texture and color to their surroundings. Take a closer look to appreciate the intricate patterns and diversity of moss and lichen species.
Fauna
Let's take a look at the enchanting fauna that awaits you on the Pikey Peak trek.
Musk Deer
As you venture through the lush forests and rhododendron-covered trails, keep an eye out for the elusive musk deer. Known for their remarkable scent glands, these enchanting creatures often graze in the lower regions of the trek.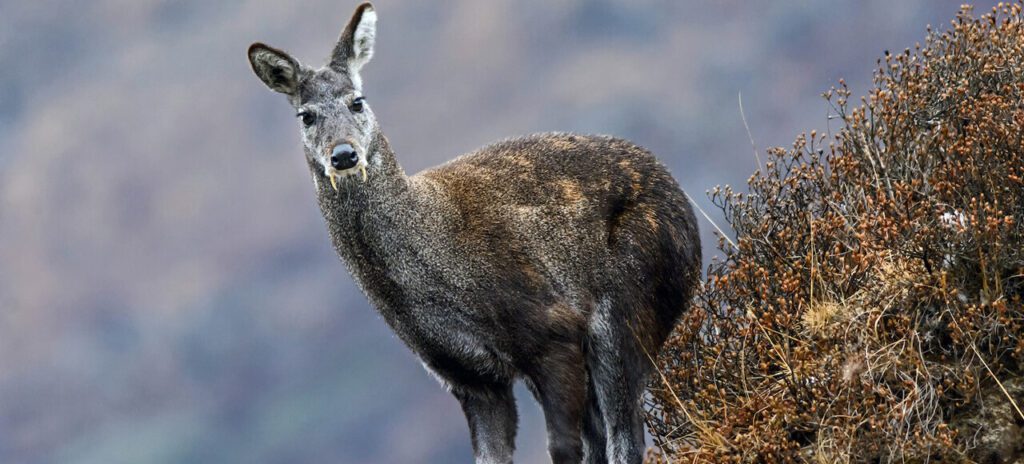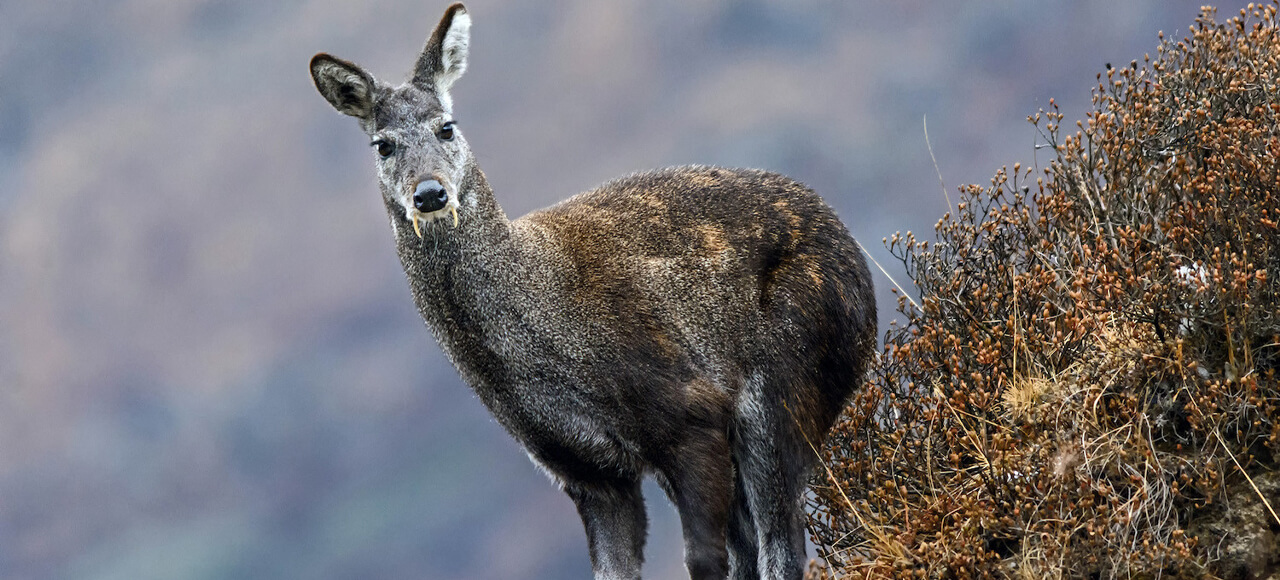 With their large, expressive eyes and graceful movements, musk deer offer a mesmerizing sight for nature enthusiasts and photographers alike.
Himalayan Tahr
Ascending further into the rugged terrain, you might come across the Himalayan thar, a robust and sure-footed mammal well-adapted to mountainous environments.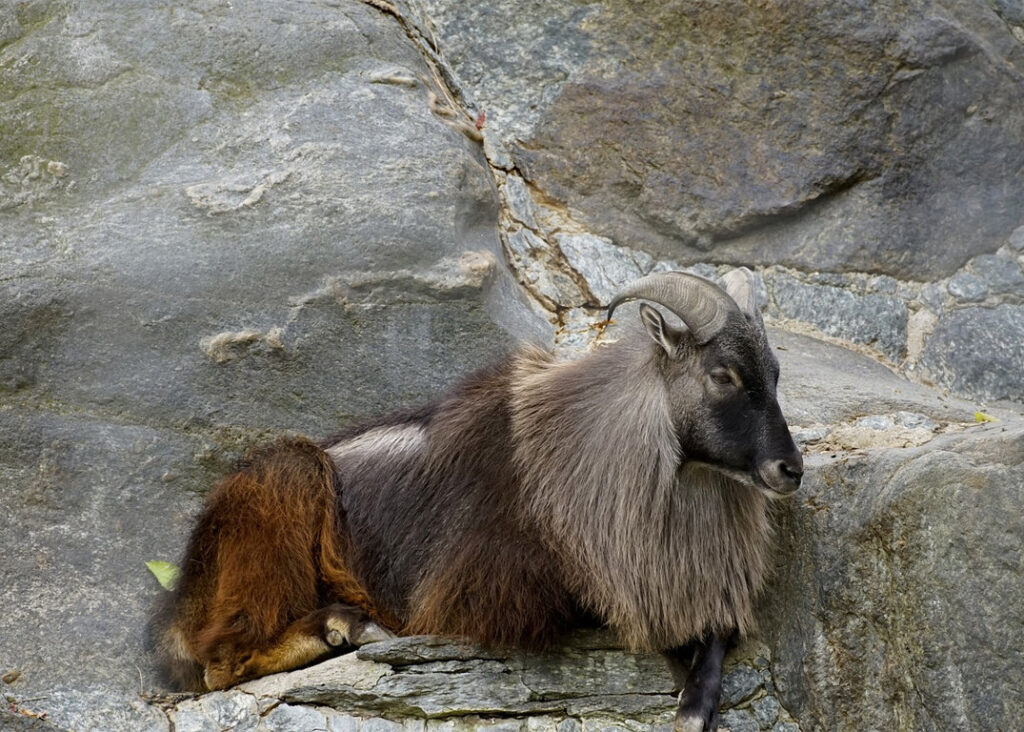 With their thick, shaggy coats and impressive curved horns, these wild goats are an awe-inspiring sight to behold. Spotting a herd majestically navigating the steep slopes is an experience that will stay with you forever.
Red Panda
The dense forests of the Pikey Peak region are also home to the charming and endangered red panda. With its vibrant red fur and distinctive white markings, this elusive creature is a true gem of the Himalayas.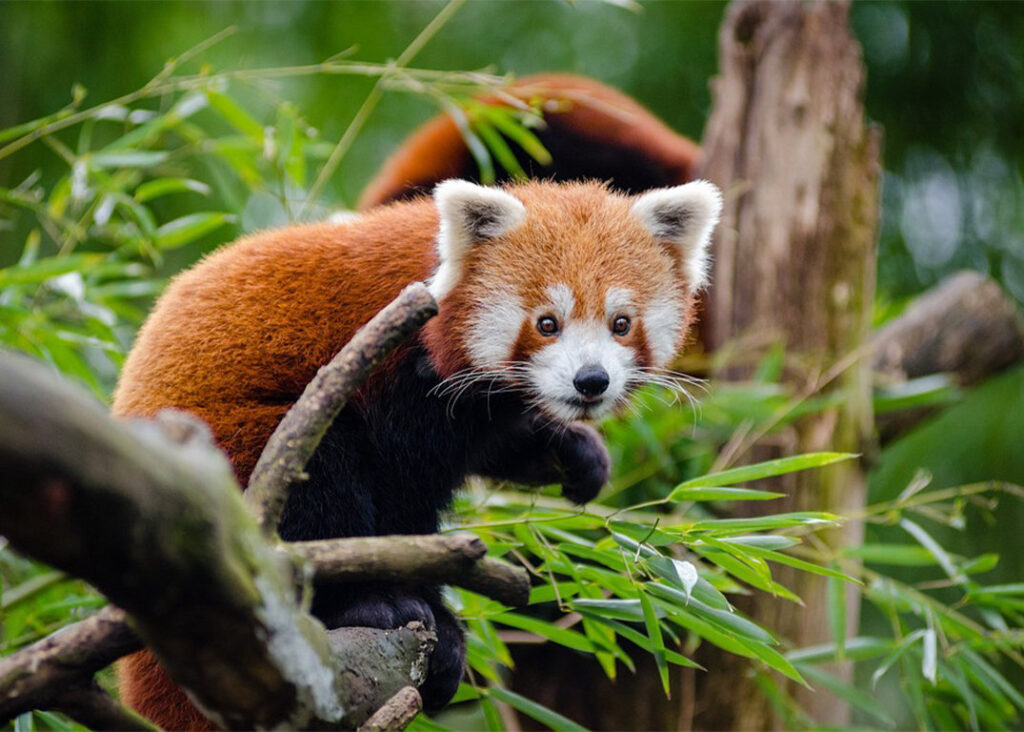 Though sightings can be rare, July offers an increased chance of catching a glimpse of this adorable mammal as it forages through the bamboo groves.
Himalayan Monal
Prepare to be dazzled by the resplendent colors of the Himalayan Monal, Nepal's national bird. With its iridescent plumage displaying a mesmerizing combination of greens, blues, and gold, the male Monal is a breathtaking sight.
These magnificent birds can often be spotted gracefully flying through the alpine meadows and forested valleys, adding a touch of ethereal beauty to the trek.
Difficulty Level on Pikey Peak Trek in July
July falls within the monsoon season in Nepal which can present some challenges and affect the overall difficulty of the trek. The weather conditions can be unpredictable, and rain showers are frequent, making the trails wet, slippery, and muddy. The increased rainfall can lead to swollen rivers and occasional landslides, which may require cautious navigation and alter the trekking routes.
The monsoon season often brings cloudy and foggy conditions, reducing visibility and potentially obstructing the panoramic vistas. The constant rain and fog can also dampen the overall trekking experience and make it challenging to capture clear photographs.
Tips for Pikey Peak Trek in July
July is the monsoon season in Nepal, so trekking during this time requires some additional considerations. Here are some tips for the Pikey Peak Trek in July:
Weather and Season
July falls during the monsoon season in Nepal, so expect rain and occasional showers. The weather can be unpredictable, with cloudy skies and limited visibility. It's essential to check the weather forecast and be prepared for wet conditions.
More: Pikey Peak Trek in May: Weather, Difficulty Travel Tips, and More
Trekking Duration
The Pikey Peak Trek typically takes around 6–8 days. In July, it's advisable to allocate a few extra days for potential weather delays or route adjustments due to slippery trails. Be flexible with your schedule to account for any unforeseen circumstances.
Packing
Pack lightweight, waterproof clothing to protect yourself from the rain. Carry a good-quality rain jacket, rain pants, and a waterproof backpack cover to keep your belongings dry. Sturdy hiking boots with good traction are crucial for slippery trails. Bring insect repellent and a first aid kit as well.
Trail Conditions
The monsoon season brings increased rainfall, which can make the trails muddy, slippery, and potentially hazardous. Take extra caution while walking on steep sections and consider using trekking poles for stability. Keep an eye on the trail conditions and adjust your pace accordingly.
Leeches
July is the peak season for leeches in Nepal. These small blood-sucking creatures can be found in the forested areas along the trekking route.
To protect yourself from leeches, wear long pants tucked into your socks and use leech socks or insect repellent with leech deterrent properties.
Hydration and Drinking Water
Stay hydrated throughout the trek by drinking plenty of water. Carry water purification tablets or a water filter to treat the water available along the trail. Avoid drinking untreated water from streams or taps to prevent waterborne illnesses.