Pikey Peak Trek in November – Imagine yourself surrounded by majestic snow–capped peaks, breathing in the crisp mountain air, and embarking on an adventure that takes you to new heights both physically and spiritually. Welcome to the Pikey Peak trek in November, the perfect time to experience the wonders of Nepal's Solu–Khumbu region which is standing at an altitude of 4,065 meters. In this blog, we'll explore why November is considered the best time for this trek and why it should be on every adventurer's bucket list.
Weather Condition of Pikey Peak Trek in November
In November, Nepal experiences the end of the autumn season, transitioning into the winter months. The weather during this time is generally stable and pleasant for trekking, with favorable conditions for outdoor activities. November is known for its clear skies and excellent visibility, providing breathtaking views of the Himalayan mountain range.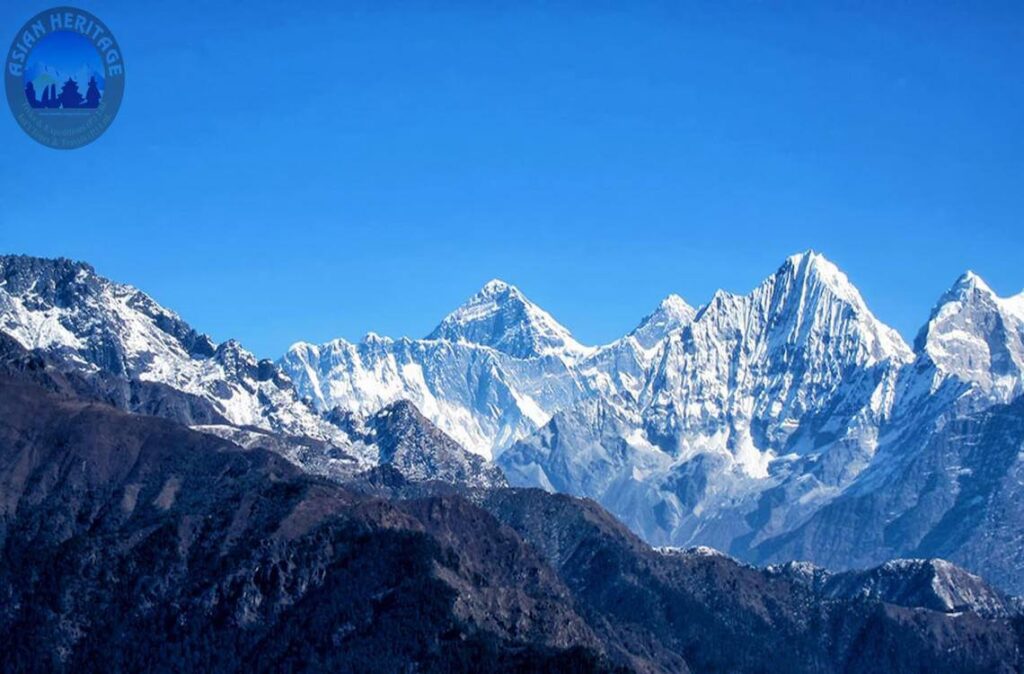 The panoramic vistas from Pikey Peak are especially remarkable during this time. You can expect crisp, clear views of the snow-capped peaks, deep valleys, and picturesque landscapes along the trail.
Highlights of Pikey Peak Trek in November
November is a fantastic time to embark on this trek, as the weather is generally clear and stable, allowing for excellent visibility and pleasant hiking conditions.
Here are some highlights you can look forward to during the Pikey Peak Trek in November:
Captivating Mountain Panoramas
Imagine standing at an altitude of 4,065 meters on Pikey Peak, gazing at the world's highest peaks painted in radiant hues. In November, the weather is typically clear and stable, providing incredible visibility of iconic mountains like Mt. Everest, Lhotse, and Kanchenjunga.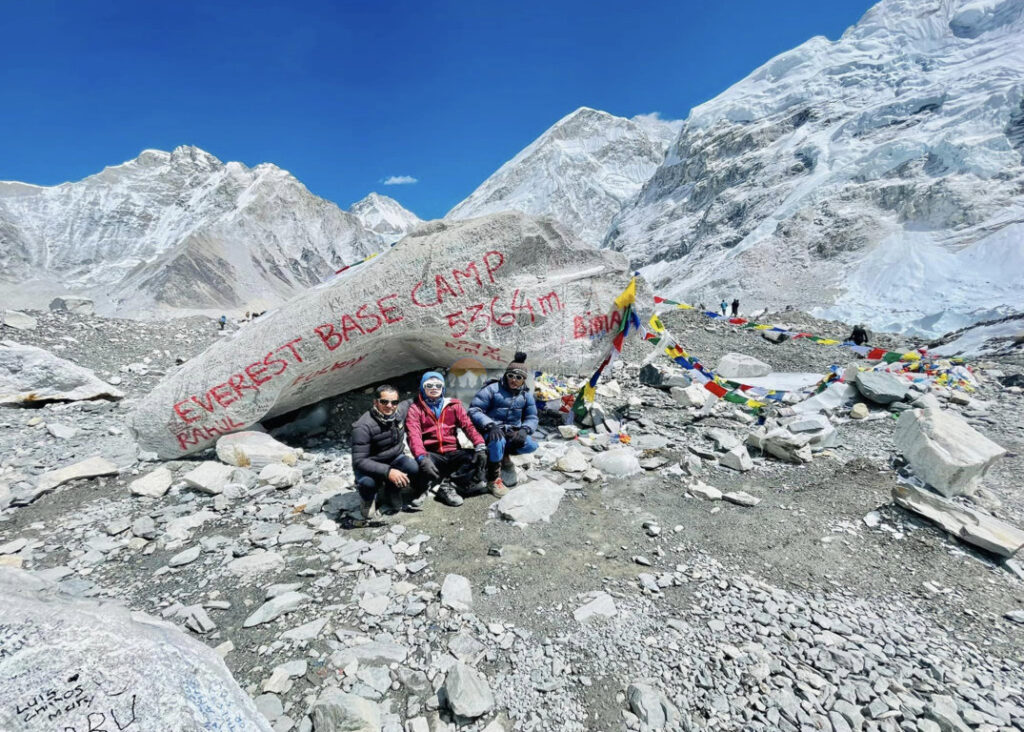 The sight of these majestic giants against the backdrop of a vivid blue sky will leave you in awe and inspire a sense of wonder.
Cultural Immersion
Beyond the awe-inspiring landscapes, the Pikey Peak region is a cultural treasure trove. This trek takes you through Sherpa and Tamang villages, where you'll have the opportunity to engage with the warm-hearted locals and gain insight into their unique way of life.
Discover the ancient traditions, visit monasteries adorned with vibrant prayer flags, and perhaps even partake in a cup of steaming butter tea as you listen to captivating tales of the mountains.
Serene Natural Beauty
The Pikey Peak Trek is a haven for nature lovers. The trail winds through rhododendron forests, carpeted with vibrant blooms that transform the hillsides into a kaleidoscope of colors. November brings a delightful crispness to the air, making each step through the pristine wilderness a rejuvenating experience.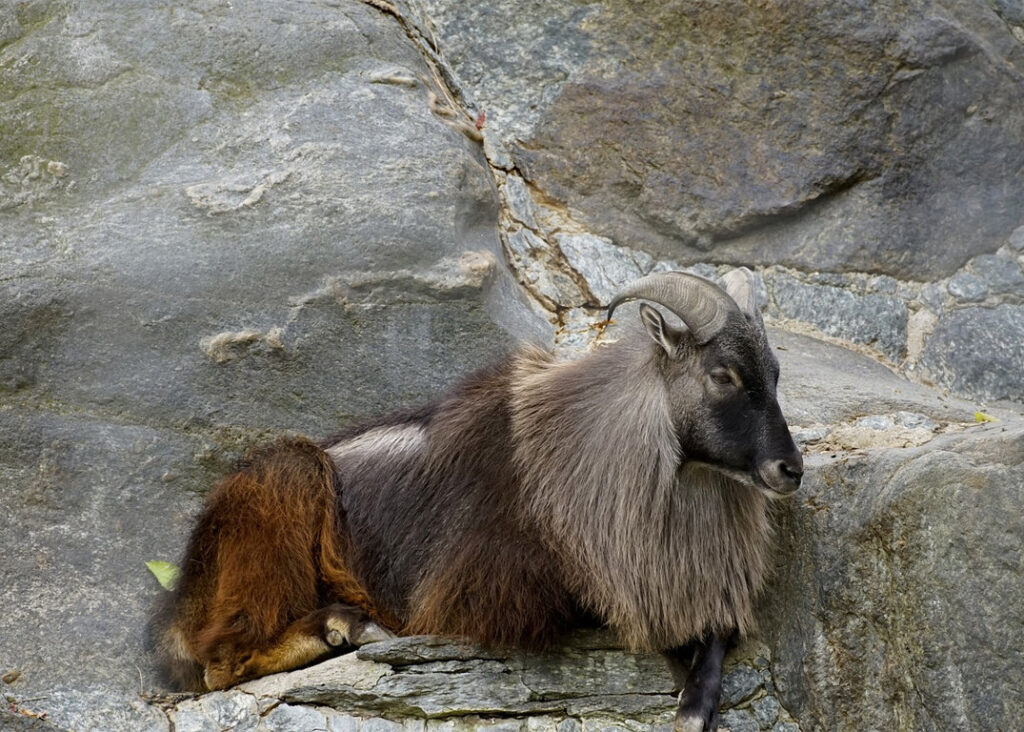 Keep an eye out for elusive wildlife such as musk deer, pheasants, and the majestic Himalayan Tahr, adding an element of excitement to your journey.
Sunrise and Sunset Splendor
Prepare yourself for moments of pure magic. As the sun begins to rise, the golden rays pierce the horizon, slowly illuminating the snow-capped peaks. Witness the ethereal beauty of nature unfolding before your eyes, casting a warm glow upon the Himalayas.
Similarly, as the sun sets, the mountains bask in hues of orange and pink, creating a breathtaking backdrop that seems straight out of a dream. These captivating moments will forever be etched in your memory.
Delicious Local Cuisine
Nepalese cuisine is a delight for food lovers, and the Pikey Peak Trek offers a chance to savor authentic local dishes. From hearty dal Bhat (lentil soup with rice) to momos (steamed dumplings), you'll experience the diverse flavors of the region.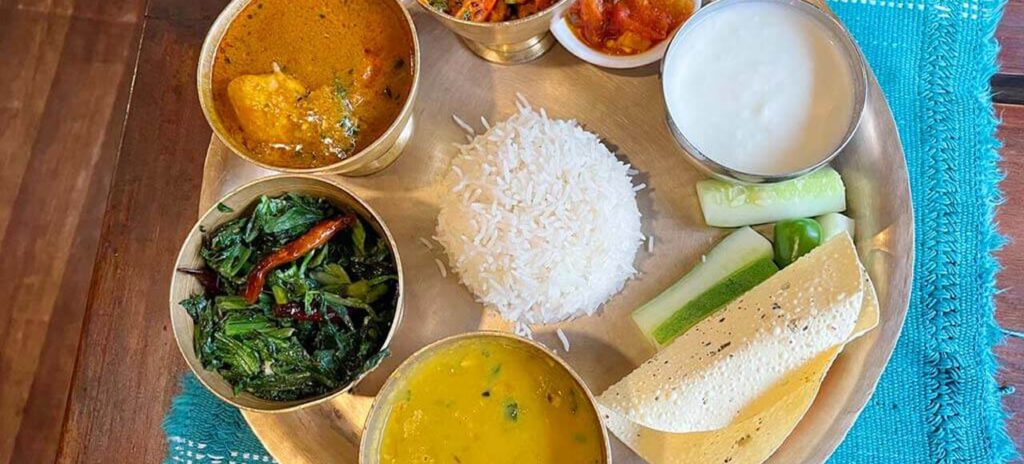 The traditional Sherpa stew, known as "Sherpa stew," is a must-try, packed with wholesome ingredients that provide the necessary energy for your trek. Don't miss the opportunity to indulge in these delightful culinary experiences along the trail.
Nighttime Stargazing
In the remote and unpolluted Pikey Peak region, the nighttime sky comes alive with a dazzling display of stars. After a day of trekking, take a moment to venture outside and marvel at the celestial wonders above.
Also Read: Pikey Peak Trek in October: Weather, Difficulty, Travel Tips, and More
With minimal light pollution, you'll witness a canopy of stars twinkling in the darkness, creating a mesmerizing spectacle. It's an opportunity to contemplate the vastness of the universe and find solace in the quietude of the mountains.
Warm Sherpa Hospitality
The Sherpa people are renowned for their warm hospitality and welcoming nature. Along the Pikey Peak Trek, you'll have the opportunity to experience their genuine kindness and generosity firsthand.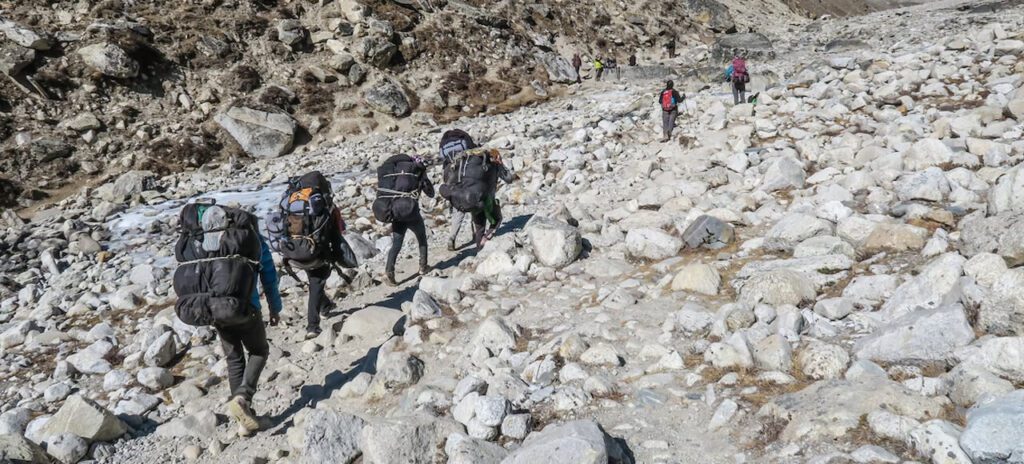 From the friendly smiles and greetings to the cozy accommodations and delicious meals, the Sherpa hospitality will make you feel like a part of their community. Engage in conversations, share stories, and create lasting connections with the local people who will leave a lasting impression on your journey.
Sacred Buddhist Sites
The Pikey Peak region is dotted with sacred Buddhist sites that hold deep spiritual significance. Explore ancient monasteries, visit sacred stupas, and walk along prayer flag–adorned trails. These sites offer a sense of tranquility and a chance for introspection and reflection.
Whether you participate in meditation sessions, receive blessings from the monks, or simply soak in the spiritual ambiance, these sacred sites provide a unique opportunity to deepen your connection with the Buddhist traditions of the Himalayas.
Birdwatching Paradise
The Pikey Peak region is a haven for birdwatching enthusiasts. With its diverse ecosystems and pristine habitats, it attracts a wide variety of avian species. November is an ideal time for birdwatching as many migratory birds can be spotted during this season.
Keep your binoculars handy and be prepared to spot colorful species like the Himalayan Monal, Blood Pheasant, and various species of eagles and falcons. The melodious songs and vibrant plumage of these birds add an extra layer of enchantment to your trekking experience.
Traditional Handicrafts and Artwork
The Pikey Peak region is known for its rich artistic heritage and traditional handicrafts. Along the trek, you'll have the chance to explore local craft centers and interact with skilled artisans.
You may also like: Pikey Peak Trek in September: Weather, Difficulty, Travel Tips, and More
Admire intricate woodcarvings, colorful thangka paintings, and beautifully woven textiles that showcase the craftsmanship of the Sherpa community. You can even purchase unique souvenirs, supporting the local artisans and taking home a piece of the region's cultural legacy.
Pikey Peak from Kathmandu
There are a few different ways to reach Pikey Peak from Kathmandu. Here are three common options:
Public Transportation:
Take a bus from Kathmandu to Dhap, which is the starting point for the Pikey Peak trek. The bus journey typically takes around 7-8 hours, depending on road conditions.
From Dhap, you can begin your trek towards Pikey Peak, following the trail through villages like Jhapre, Junbesi, and Taksindu.
This option is more budget-friendly but may take longer due to bus schedules and trekking distances.
Private Transportation:
Hire a private vehicle, such as a jeep or a car, from Kathmandu to Dhap. Private transportation offers more flexibility in terms of timing and allows you to reach Dhap more quickly.
Once you reach Dhap, you can start your trek towards Pikey Peak, passing through Jhapre, Junbesi, and Taksindu as mentioned earlier.
This option is more convenient and time-saving, but it can be more expensive compared to public transportation.
Fly to Phaplu:
Take a short domestic flight from Kathmandu to Phaplu. Several airlines operate regular flights to Phaplu Airport, and the flight duration is approximately 30 minutes.
After landing in Phaplu, you can start your trek towards Pikey Peak, following the route through villages like Taksindu, Junbesi, and Jhapre.
This option saves you significant time on the journey and allows you to start the trek closer to Pikey Peak.
Festivals
November brings forth a vibrant array of festivals that showcase the rich cultural heritage of the local communities. Let's discover the intriguing festivals celebrated in Pikey Peak during November.
Tihar Festival
Tihar, also known as the Festival of Lights, is a major celebration among the Nepalese people and is observed in November. While the festival is celebrated throughout Nepal, the festivities in the Pikey Peak region hold a distinct charm.
During Tihar, houses are adorned with colorful lights, marigold garlands, and intricate Rangoli designs. The locals also worship various animals such as cows, dogs, and crows as a sign of gratitude. The festival culminates with the lighting of oil lamps and the exchange of blessings and gifts between family members and friends.
Chhath Parva
Chhath Parva, also known as the Sun Worship Festival, is an important Hindu festival celebrated predominantly in the Terai region of Nepal. However, the festivities have also spread to the mountainous regions, including Pikey Peak.
Popular: Pikey Peak Trek in August: Weather, Difficulty, Travel Tips, and More
The festival is dedicated to Lord Surya (Sun) and is celebrated with fasting, prayer rituals, and offerings made to the rising and setting sun. The serene surroundings of Pikey Peak provide a serene backdrop for devotees to connect with nature and seek blessings from the celestial deity.
Mani Rimdu Festival
Mani Rimdu, a grand Buddhist festival celebrated by the Sherpa community, takes place in Tengboche Monastery, a prominent landmark in the Pikey Peak region. Although the exact dates may vary, it typically occurs in November. The festival features colorful masked dances, ancient rituals, and religious performances that depict the triumph of Buddhism over evil.
Monks adorned in elaborate costumes perform sacred dances and chant prayers, creating a captivating spectacle for visitors. Witnessing Mani Rimdu is a unique opportunity to delve into the spiritual traditions of the Sherpa community and experience the deep-rooted Buddhist culture that thrives in the region.
Difficulties of Pikey Peak Trek in November
While November is generally considered autumn in Nepal, it still presents a set of challenges that trekkers need to be aware of when planning their Pikey Peak adventure. Despite the season, here are some difficulties you might encounter during a November trek:
Weather Variability
Although autumn is characterized by stable weather conditions in most parts of Nepal, the higher altitudes, including Pikey Peak, can still experience unpredictable weather patterns. In November, you may encounter unexpected snowfall or rainfall, which can lead to slippery trails and reduced visibility. Trekkers should always be prepared with appropriate clothing and gear to tackle changing weather conditions.
More: Pikey Peak Trek in July: Weather, Difficulty, Travel Tips, and More
Lower Temperatures
As you ascend to higher altitudes, the temperature drops significantly, and this is particularly true during November. Even though it is autumn, you can expect freezing temperatures during the early mornings and evenings. It is crucial to have proper insulation layers, warm sleeping bags, and accessories like gloves, hats, and socks to stay warm and prevent the risk of hypothermia.
Limited Tea Houses and Facilities
While the Pikey Peak trek is not as crowded as some of the more popular treks in the region, the number of tea houses and accommodations available may still be limited, especially during the off-peak season.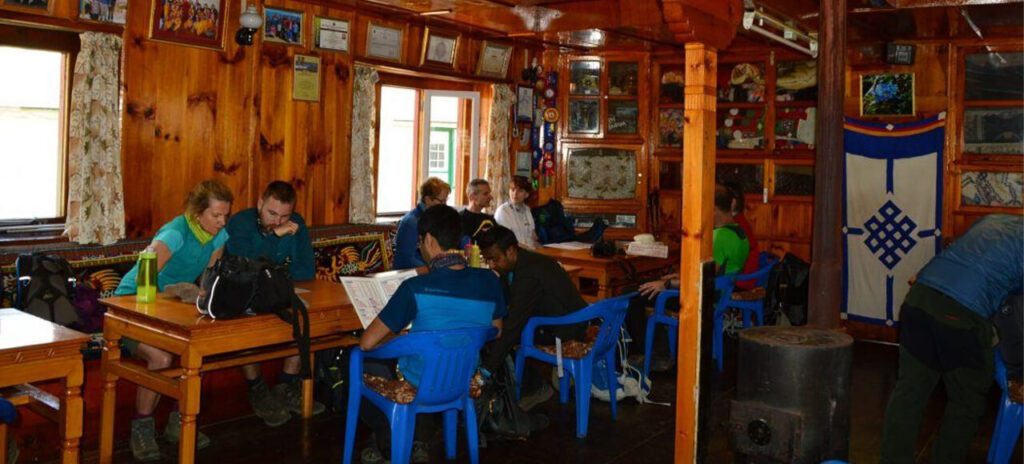 Some teahouses might close or have reduced services due to the lower number of visitors. This means you need to plan your accommodation and meals in advance, and it's advisable to carry some extra food supplies with you.
Flora
Let's embark on the journey of botanical wonder and discover the captivating flora that awaits you during the Pikey Peak trek in November.
Oaks: The Golden Embrace
Witness nature's alchemy as the oak trees don their autumn attire. Their leaves transition into radiant shades of gold, creating a warm and inviting atmosphere. These deciduous giants provide shelter and grace the hillsides, offering a stunning contrast against the azure skies and snow-capped peaks that surround you.
A Symphony of Juniper Trees
Immerse yourself in the refreshing aroma of the juniper trees that populate the landscape. These resilient evergreens add depth to the scenery with their needle–like leaves and blue–black berries. As you ascend the trail, their presence grows stronger, creating a symphony of green and providing a sanctuary for wildlife.
Pine Forests: Guardians of Serenity
As you venture through the dense pine forests, you'll discover a sense of tranquility enveloping the trail.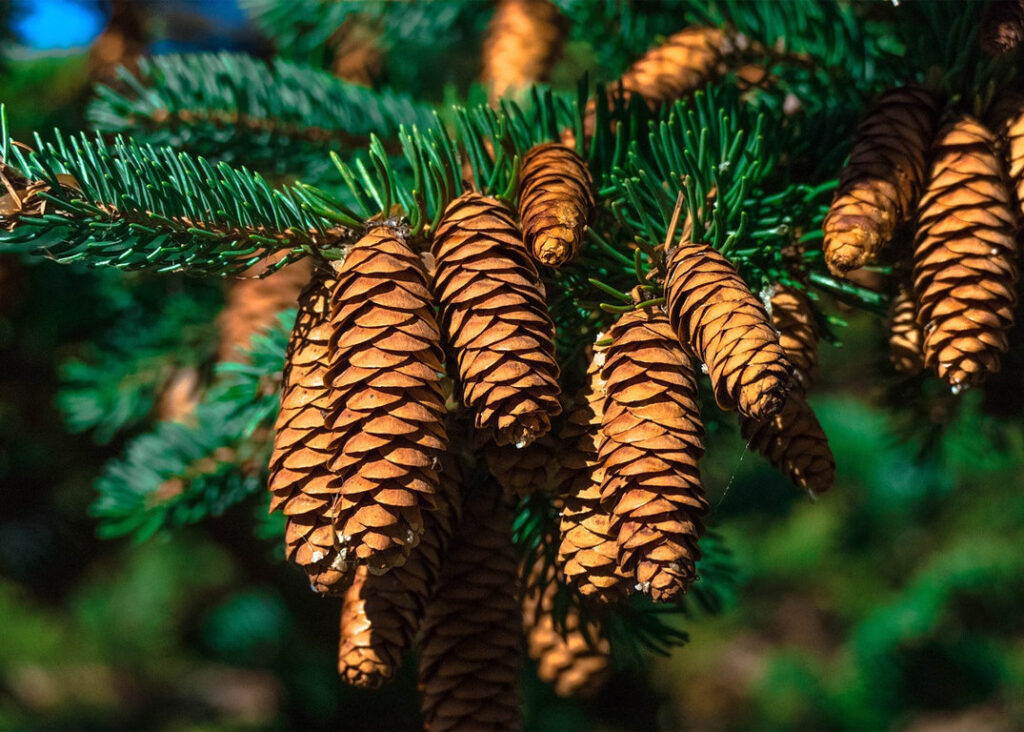 Tall and elegant, the pine trees stand sentinel, casting dappled shadows on the forest floor. The scent of pine fills the air, evoking a feeling of harmony and connection with nature.
Alpine Meadows: Nature's Living Tapestry
Prepare to be dazzled by the breathtaking alpine meadows that dot the higher altitudes. As autumn arrives, these meadows burst into a riot of colors. Delicate wildflowers like primroses and daisies mingle with various alpine types of grass, creating a stunning living tapestry. Amidst the emerald green meadows, flashes of yellow, purple, and white ignite the landscape, leaving you in awe of nature's artistry.
Willows: Nature's Elegance
As you continue your exploration along the Pikey Peak trek, you'll come across the graceful presence of willow trees. These elegant trees, with their long, slender branches and delicate foliage, add a touch of serenity to the landscape. During autumn, the willows transform into a medley of golden hues, swaying gently in the mountain breeze. Their cascading branches create a mesmerizing sight, offering a peaceful sanctuary where you can pause and reflect on the wonders of nature.
Birch Trees: A Delicate Elegance
As you venture deeper into the Pikey Peak region, you'll encounter the enchanting presence of birch trees. These slender and graceful trees add a touch of delicate elegance to the landscape. With their distinctive white bark, the birch trees stand out against the surrounding flora.
In November, their leaves transition to brilliant shades of yellow and gold which creates a stunning contrast against the deep green of the forests. The sight of sunlight filtering through their leaves creates a magical play of light and shadows which is gonna immerse you in a world of ethereal beauty.
Towering Firs: Majestic Guardians
Among the dominant figures of the Pikey Peak trek are the towering firs. These majestic evergreen trees, with their straight trunks and dense foliage, exude a sense of grandeur. As you trek through the region, you'll witness the firs standing tall, forming a protective canopy overhead.
Read: Pikey Peak Trek in May: Weather, Difficulty Travel Tips, and More
Their dark green needles and pinecones offer a striking contrast against the changing colors of autumn. Amidst the peaceful silence of the forest, the firs instill a sense of awe and reverence, reminding you of the age-old wisdom that resides within nature's embrace.
Fauna
November is a fantastic time to embark on this trek, as the region teems with fascinating fauna. From elusive mountain species to vibrant avian inhabitants, let's explore the captivating wildlife that can be spotted during the Pikey Peak Trek in November.
Himalayan Monal
As you ascend the trails of Pikey Peak, keep your eyes peeled for the resplendent Himalayan Monal. This magnificent bird, known for its kaleidoscopic plumage, is one of the highlights of the trek. The vibrant colors of its feathers, including shimmering greens, blues, and reds, make it a breathtaking sight amidst the snow-capped peaks.
Red Panda
Venture deeper into the forested areas surrounding Pikey Peak, and you might be lucky enough to catch a glimpse of the elusive Red Panda. Known for its adorable appearance and gentle nature, this endangered species is a master of camouflage.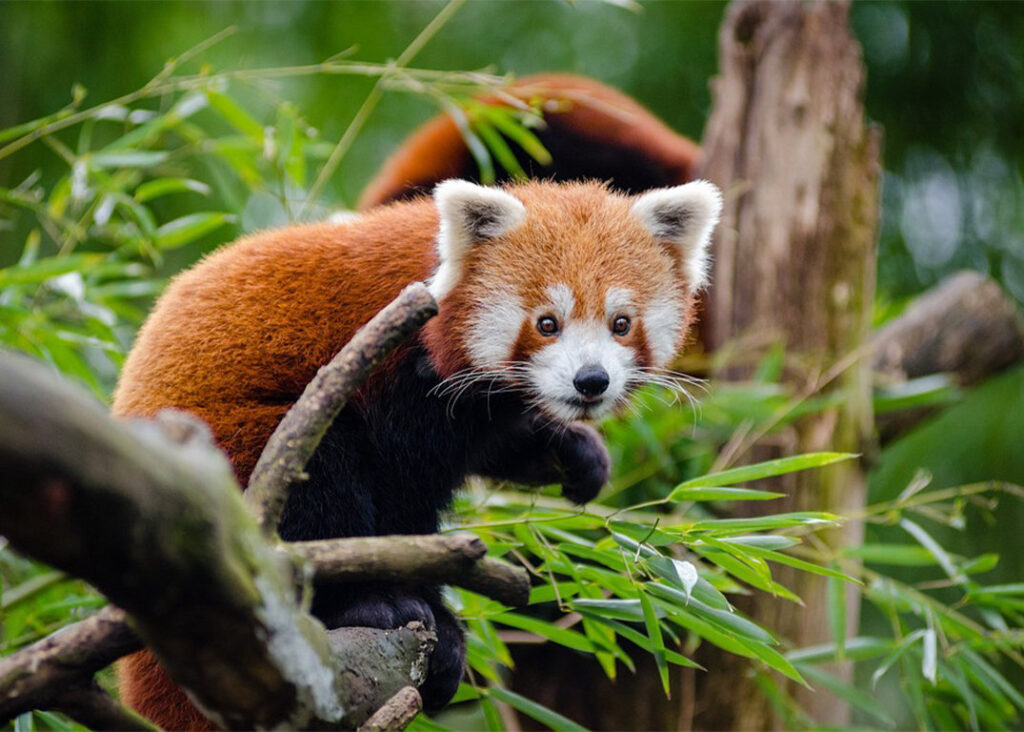 November offers an excellent opportunity to spot these charming creatures as they come down from the trees in search of food.
Himalayan Tahr
The rugged terrain of the Pikey Peak region is home to the Himalayan Tahr, a robust mountain goat with curved horns. Trekking through the alpine meadows and rocky slopes, you might spot these sure-footed creatures gracefully navigating the steep cliffs.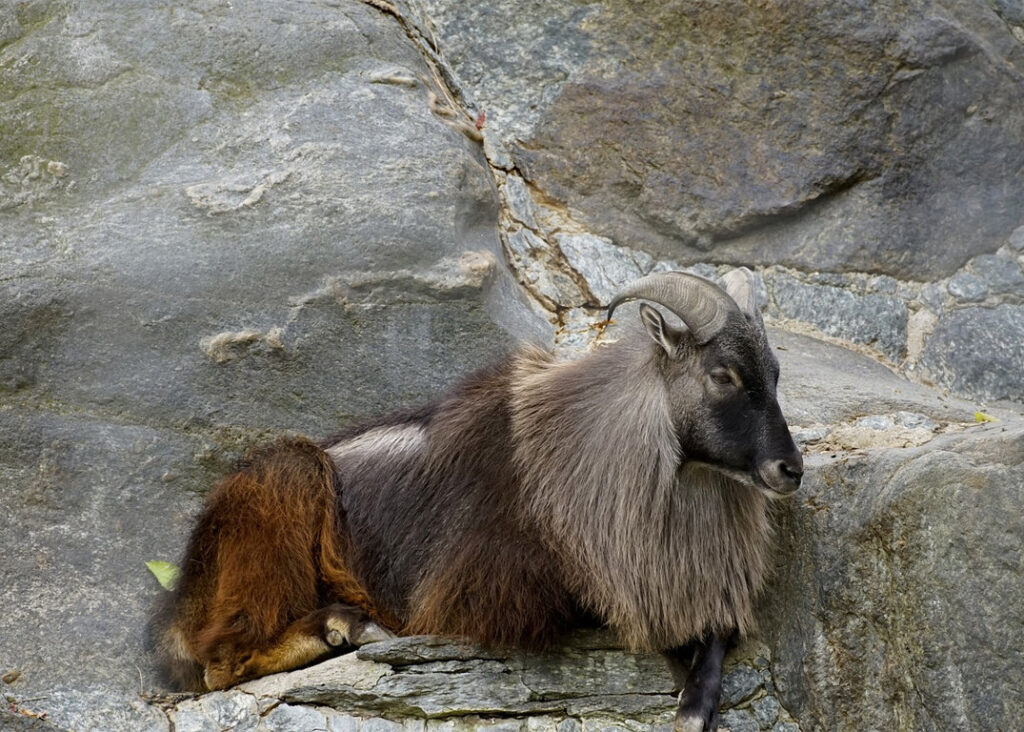 Their impressive adaptability to the harsh mountain environment is truly awe-inspiring.
Musk Deer
November brings a touch of mystery to the Pikey Peak Trek, as you may encounter the elusive Musk Deer. These shy creatures are known for their solitary nature and the captivating aroma, emitted from their musk glands.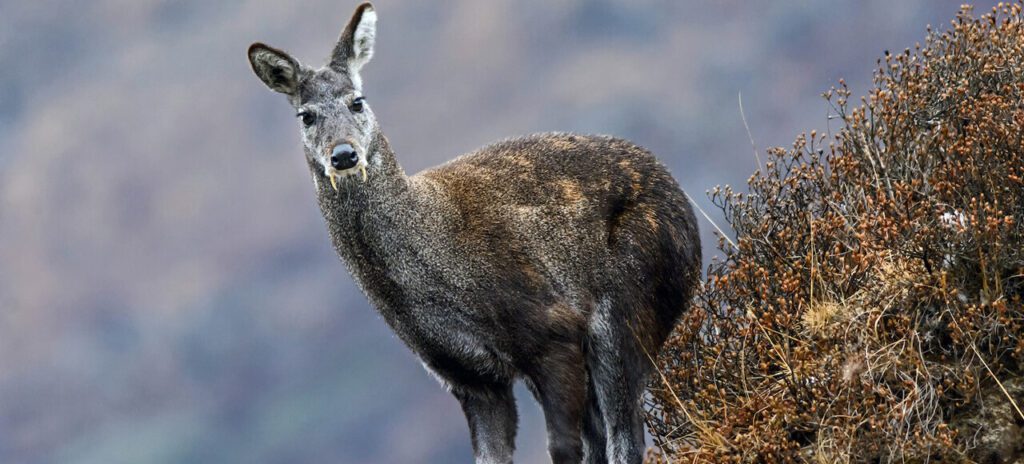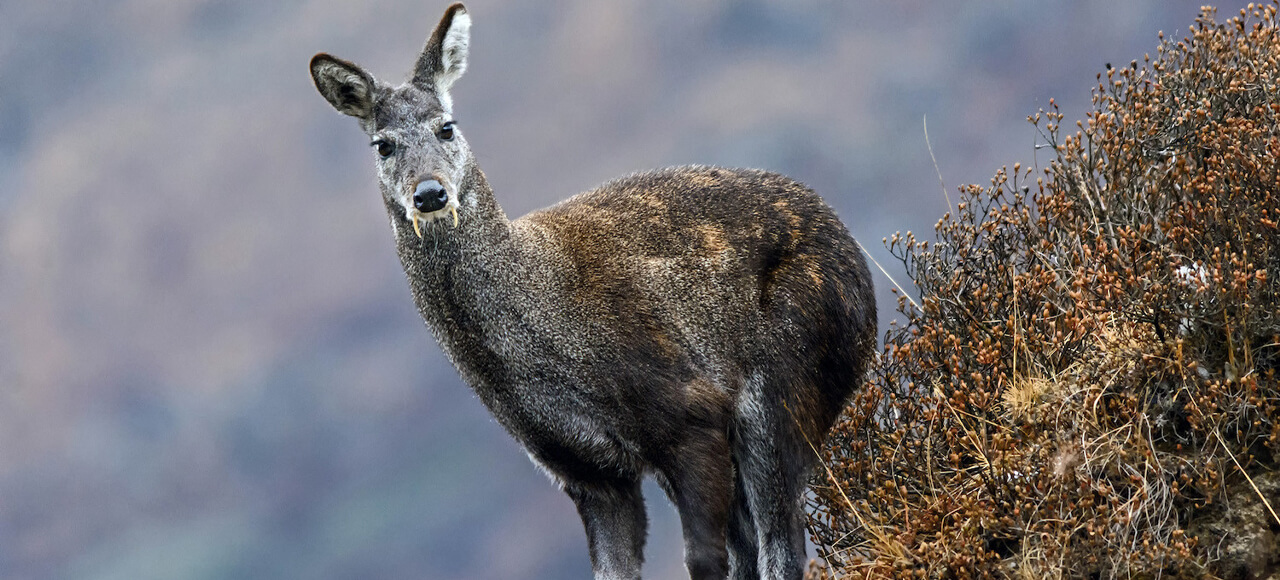 Although sighting a Musk Deer requires patience and a keen eye, the anticipation of spotting this enigmatic creature adds to the thrill of the trek.
Himalayan Black Bear
While the Himalayan Black Bear is known to be a nocturnal creature, the cooler temperatures of November sometimes encourage daytime foraging. As you traverse the forested sections of the trek, be observant of the signs of these powerful bears, such as claw marks on trees and disturbed undergrowth. If you're fortunate, you might catch a glimpse of these magnificent animals from a safe distance.
Side Treks
While the Pikey Peak Trek itself is awe-inspiring, there are several favorable side treks along the way that add an extra touch of adventure and exploration to your journey. Let's dive into the hidden gems and uncover the wonders that await during your November trek.
Namche Bazaar
As you make your way to Pikey Peak, consider taking a detour to Namche Bazaar, a bustling Sherpa town. Known as the gateway to Everest, Namche Bazaar offers a blend of traditional and modern vibes. Immerse yourself in the vibrant market, visit the Sherpa Museum.
You can also interact with local Sherpa people, whose rich culture and mountaineering legacy are truly captivating.
Taksindu Monastery
For a spiritual experience, make a side trip to Taksindu Monastery. Situated in the Solu region, this ancient Buddhist monastery is perched on a hilltop, surrounded by awe-inspiring mountain vistas. Explore the serene ambiance, witness the monks' daily rituals, and receive blessings for a safe and fulfilling journey.
Dudh Kunda Lake
For an extraordinary experience, embark on a side trek to Dudh Kunda Lake, also known as the "Lake of Milk". This sacred lake holds immense religious significance for both Buddhists and Hindus. The trek takes you through remote villages, picturesque landscapes, and rhododendron forests, culminating in the breathtaking sight of the pristine lake surrounded by snow-capped peaks.
Sherpa Heritage Trail
Immerse yourself in the rich Sherpa culture by exploring the Sherpa Heritage Trail, a side trek that takes you through traditional Sherpa villages and offers insights into their way of life.
Visit charming settlements like Kerung, Salleri, and Jubhing, where you can interact with locals, learn about their customs, and witness traditional Sherpa architecture. This trail provides a unique opportunity to connect with the local community and gain a deeper understanding of their traditions.
Tips for Pikey Peak Trek in November
If you're planning to embark on this trek in November, here are some helpful tips to make your journey more enjoyable and safe:
Prepare for the weather
November marks the end of the monsoon season in Nepal, and the weather is generally clear and stable. However, the temperatures can drop significantly, especially at higher altitudes.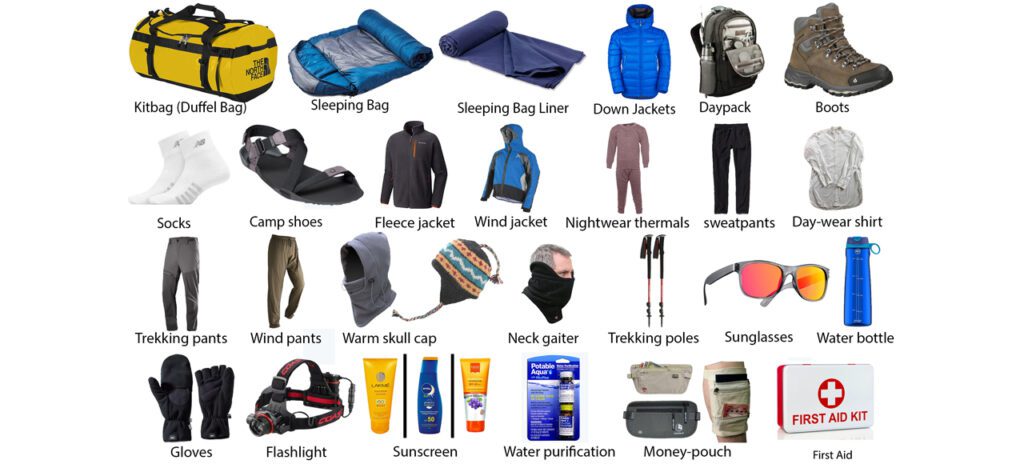 Pack warm clothing, including insulated jackets, hats, gloves, and thermal layers, to stay comfortable during chilly mornings and nights.
Pack essentials and limit your luggage
Keep your backpack light by packing only the essential items. Carry items such as a sturdy pair of trekking boots, comfortable socks, a rainproof jacket, a headlamp, sunscreen, sunglasses, a first–aid kit, and toiletries. Limit unnecessary items to avoid extra weight and strain during the trek.
Trek with a guide or porter
While Pikey Peak Trek can be done independently, considering the assistance of a guide or porter can enhance your overall experience. A local guide will provide valuable insights about the route, and culture, and ensure your safety. A porter can help carry your heavy backpack, allowing you to enjoy the trek more comfortably.
Also Read: Pikey Peak Trek in April: Weather, Crowd, Difficulty Travel Tips, and More
Carry snacks and energy food
Trekking at higher altitudes requires additional energy. Carry some high-energy snacks such as granola bars, nuts, and dried fruits to keep yourself fueled throughout the day. These snacks also come in handy during long stretches between meals or tea houses.
Carry a good quality map and navigation tools
While the trail to Pikey Peak is generally well-marked, it's always wise to carry a detailed map and navigation tools such as a compass or GPS device. This will help you stay on track and navigate any sections that may have fewer trail markings.
Pack a basic first-aid kit
A small first-aid kit is essential for any trekking adventure. Include items such as adhesive bandages, antiseptic ointment, blister patches, pain relievers, and any personal medications you may need. It's also helpful to carry a small guidebook on wilderness first aid to handle common trekking injuries.